Abstract
Background
Operations performed outpatient offer several benefits. The prevalence of outpatient operations is growing. Consequently, the proportion of patients with multiple comorbidities undergoing outpatient surgery is increasing. We compared 30-day mortality and overall morbidity between outpatient and inpatient elective operations.
Methods
Using the 2005–2018 ACS-NSQIP database, we evaluated trends in percent of hospital outpatient operations performed over time, and the percent of operations done outpatient versus inpatient by CPT code. Patient characteristics were compared for outpatient versus inpatient operations. We compared unadjusted and risk-adjusted 30-day mortality and morbidity for inpatient and outpatient operations.
Results
A total of 6,494,298 patients were included. The proportion of outpatient operations increased over time, from 37.8% in 2005 to 48.2% in 2018. We analyzed the 50 most frequent operations performed outpatient versus inpatient 25–75% of the time (n = 1,743,097). Patients having outpatient operations were younger (51.6 vs 54.6 years), female (70.3% vs 67.3%), had fewer comorbidities, and lower ASA class (I–II, 69.3% vs. 59.9%). On both unadjusted and risk-adjusted analysis, 30-day mortality and overall morbidity were less likely in outpatient versus inpatient operations.
Conclusion
In this large multi-specialty analysis, we found that patients undergoing outpatient surgery had lower risk of 30-day morbidity and mortality than those undergoing the same inpatient operation. Patients having outpatient surgery were generally healthier, suggesting careful patient selection occurred even with increasing outpatient operation frequency. Patients and providers can feel reassured that outpatient operations are a safe, reasonable option for selected patients.
Access options
Buy single article
Instant access to the full article PDF.
USD 39.95
Price excludes VAT (USA)
Tax calculation will be finalised during checkout.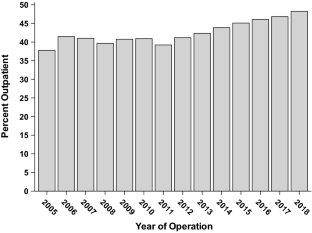 References
Friedlander DF, Krimphove MJ, Cole AP et al (2021) Where Is the value in ambulatory versus inpatient surgery? Ann Surg 273(5):909–916

Steiner CA KZ, Moore BJ, Imshaug MC, Pickens G (2017) Surgeries in Hospital-Based ambulatory surgery and hospital inpatient settings, 2014. In Healthcare Cost and Utilization Project (HCUP) statistical briefs. Agency for healthcare research and quality (US)

Warner MA, Shields SE, Chute CG (1993) Major morbidity and mortality within 1 month of ambulatory surgery and anesthesia. JAMA 270(12):1437–1441

Engbaek J, Bartholdy J, Hjortsø NC (2006) Return hospital visits and morbidity within 60 days after day surgery: a retrospective study of 18,736 day surgical procedures. Acta Anaesthesiol Scand 50(8):911–919

Hancox JG, Venkat AP, Coldiron B et al (2004) The safety of office-based surgery: review of recent literature from several disciplines. Arch Dermatol 140(11):1379–1382

Mathis MR, Naughton NN, Shanks AM et al (2013) Patient selection for day case-eligible surgery. Anesthesiology 119(6):1310–1321

Orszag PR, Emanuel EJ (2010) Health care reform and cost control. N Engl J Med 363(7):601–603

Fontanarosa PB, McNutt RA (2013) Revisiting hospital readmissions. JAMA 309(4):398

Rajan N (2020) The high-risk patient for ambulatory surgery. Curr Opin Anaesthesiol 33(6):724–731

Bovonratwet P, Ondeck NT, Nelson SJ et al (2017) Comparison of outpatient versus inpatient total knee arthroplasty: an ACS-NSQIP analysis. J Arthroplasty 32(6):1773–1778

Bovonratwet P, Ottesen TD, Gala RJ et al (2018) Outpatient elective posterior lumbar fusions appear to be safely considered for appropriately selected patients. Spine J 18(7):1188–1196

Bovonratwet P, Suhardi VJ, Andarawis-Puri N et al (2021) Outpatient surgical fixation of proximal humerus fractures can be performed without increased rates of short-term complications or readmissions. J Orthop Trauma 35(10):e356–e363

Brolin TJ, Mulligan RP, Azar FM, Throckmorton TW (2017) Neer Award 2016: Outpatient total shoulder arthroplasty in an ambulatory surgery center is a safe alternative to inpatient total shoulder arthroplasty in a hospital: a matched cohort study. J Shoulder Elbow Surg 26(2):204–208

Furman AA, Sherman AE, Plantz MA et al (2020) Differences in 30-day outcomes between inpatient and outpatient total elbow arthroplasty (TEA). J Shoulder Elbow Surg 29(12):2640–2645

Khalid SI, Adogwa O, Ni A et al (2019) A comparison of 30-day hospital readmission and complication rates after outpatient versus inpatient 1 and 2 level anterior cervical discectomy and fusion surgery: an analysis of a medicare patient sample. World Neurosurg 129:e233–e239

Khanna R, Kim RB, Lam SK et al (2018) Comparing short-term complications of inpatient versus outpatient single-level anterior cervical discectomy and fusion: an analysis of 6940 patients using the ACS-NSQIP database. Clin Spine Surg 31(1):43–47

McGirt MJ, Godil SS, Asher AL et al (2015) Quality analysis of anterior cervical discectomy and fusion in the outpatient versus inpatient setting: analysis of 7288 patients from the NSQIP database. Neurosurg Focus 39(6):E9

Nwankwo CD, Dutton P, Merriman JA et al (2018) outpatient total shoulder arthroplasty does not increase the 90-day risk of complications compared with inpatient surgery in prescreened patients. Orthopedics 41(4):e563–e568

Ode GE, Odum S, Connor PM, Hamid N (2020) Ambulatory versus inpatient shoulder arthroplasty: a population-based analysis of trends, outcomes, and charges. JSES Int 4(1):127–132

Patel DV, Yoo JS, Haws BE, et al (2019) Comparative analysis of anterior cervical discectomy and fusion in the inpatient versus outpatient surgical setting. J Neurosurg Spine. https://doi.org/10.3171/2019.1.SPINE181311

Plantz MA, Sherman AE, Kadakia AR (2020) A propensity score-matched analysis comparing outpatient and short-stay hospitalization to standard inpatient hospitalization following total ankle arthroplasty. J Orthop Surg Res 15(1):292

Reddy NC, Prentice HA, Paxton EW et al (2021) Frequency and timing of complications and catastrophic events after same-day discharge compared with inpatient total hip arthroplasty. J Arthroplasty 36(7s):S264-s271

Rosinsky PJ, Chen SL, Yelton MJ et al (2020) Outpatient versus inpatient hip arthroplasty: a matched case-control study on a 90-day complication rate and 2-year patient-reported outcomes. J Orthop Surg Res 15(1):1–9

Vajapey SP, Contreras ES, Neviaser AS et al (2021) Outpatient total shoulder arthroplasty: a systematic review evaluating outcomes and cost-effectiveness. JBJS Rev 9(5):e20

Christiansen UJ, Kruse AR, Olesen PG et al (2019) Outpatient versus inpatient total laparoscopic hysterectomy: a randomized controlled trial. Acta Obstet Gynecol Scand 98(11):1420–1428

Hicks CW, Bronsert M, Hammermeister KE et al (2018) Temporal trends, determinants, and outcomes of inpatient versus outpatient arteriovenous fistula operations. Ann Vasc Surg 46:65-74.e61

Khavanin N, Mlodinow A, Kim JYS et al (2015) Assessing safety and outcomes in outpatient versus inpatient thyroidectomy using the NSQIP: a propensity score matched analysis of 16,370 patients. Ann Surg Oncol 22(2):429–436

Reinhart HA, Snyder SK, Stafford SV et al (2018) Same day discharge after thyroidectomy is safe and effective. Surgery 164(4):887–894

Van Horn AJ, Goldman RA, Charnigo RJ et al (2017) Outpatient versus observation/inpatient parotidectomy: patient factors and perioperative complications. Eur Arch Otorhinolaryngol 274(9):3437–3442

Siddiqui SH, Singh R, Siddiqui E et al (2019) Outpatient versus inpatient parotidectomy: comparison of postoperative complication rates. Laryngoscope 129(3):655–661

Qin C, Antony AK, Aggarwal A et al (2015) Assessing outcomes and safety of inpatient versus outpatient tissue expander immediate breast reconstruction. Ann Surg Oncol 22(11):3724–3729

Nguyen DD, Marchese M, Ozambela M et al (2020) Ambulatory-based bladder outlet procedures offer significant cost savings and comparable 30-day outcomes relative to inpatient procedures. J Endourol 34(12):1248–1254

Sun J, Tong Z, Shi A et al (2019) Comparison between 1-day and inpatient procedure of holmium laser enucleation in patients with benign prostate hyperplasia. Am J Mens Health 13(6):1557988319894480

Turley RS, Mi X, Qualls LG et al (2017) The effect of clinical care location on clinical outcomes after peripheral vascular intervention in medicare beneficiaries. JACC Cardiovasc Interv 10(11):1161–1171

Whippey A, Kostandoff G, Paul J et al (2013) Predictors of unanticipated admission following ambulatory surgery: a retrospective case-control study. Can J Anesth/J Can d'anesthésie 60(7):675–683

Gupta A (2009) Preoperative screening and risk assessment in the ambulatory surgery patient. Curr Opin Anaesthesiol 22(6):705–711

Dyas AR, Henderson WG, Madsen HJ et al (2022) Development and validation of a prediction model for conversion of outpatient to inpatient surgery. Surgery 172(1):249–256. https://doi.org/10.1016/j.surg.2022.01.025
Funding
This project was supported by funding from the University of Colorado, Department of Surgery. The funding organization had no role in the design and conduct of the study; collection, management, analysis, and interpretation of the data; preparation, review, or approval of the manuscript; and decision to submit the manuscript for publication. The authors report no proprietary or commercial interest in any product mentioned or concept discussed in this article.
Ethics declarations
Conflict of interest
All authors had full access to all the data in the study and take responsibility for the integrity of the data and the accuracy of the data analysis. All authors have approved the final article. The ACS-NSQIP and participating hospitals are the source of these data; they have not verified and are not responsible for the statistical validity of the data analysis or the conclusions derived by the authors.
Informed consent
The Colorado Multiple Institutional Review Board determined this study exempt from review as it used publicly available deidentified data.
Additional information
Publisher's Note
Springer Nature remains neutral with regard to jurisdictional claims in published maps and institutional affiliations.
Rights and permissions
Springer Nature or its licensor (e.g. a society or other partner) holds exclusive rights to this article under a publishing agreement with the author(s) or other rightsholder(s); author self-archiving of the accepted manuscript version of this article is solely governed by the terms of such publishing agreement and applicable law.
About this article
Cite this article
Madsen, H.J., Henderson, W.G., Dyas, A.R. et al. Inpatient Versus Outpatient Surgery: A Comparison of Postoperative Mortality and Morbidity in Elective Operations. World J Surg 47, 627–639 (2023). https://doi.org/10.1007/s00268-022-06819-z
Accepted:

Published:

Issue Date:

DOI: https://doi.org/10.1007/s00268-022-06819-z