Abstract
Background
Postoperative stroke is a severe and potentially disabling complication following surgical intervention for acute type A aortic dissection (ATAAD). This retrospective study aims to compare the early and late outcomes between patients who had hemorrhagic and ischemic stroke after undergoing ATAAD repair surgery.
Methods
Between January 2007 and June 2020, a total of 685 consecutive patients underwent ATAAD repair at our institution. Patients who had a preoperative stroke or were unconscious at presentation were excluded from this study. Of the 656 included for analysis, 102 (15.5%) patients had a postoperative stroke confirmed by computed tomography angiography. The strokes were classified into the ischemia group (n = 83, 12.7%) and hemorrhage group (n = 19, 2.9%). Clinical features, surgical information, postoperative complications, modified Rankin Scale (mRS) scores after discharge, and 5-year cumulative survival rates were compared.
Results
Demographics, comorbidities, and presentations of ATAAD were similar between the two groups, except a higher rate of preoperative antithrombotic medication was found in the hemorrhage group. The hemorrhage group was associated with a higher complexity of aortic arch replacement, longer cardiopulmonary bypass, and aortic clamping times than the ischemia group. A higher in-hospital mortality rate (42.1% versus 20.5%; p = 0.048) and a higher median mRS score at the 3-month follow-up after discharge (6[3–6] versus 4[2–6]; p = 0.027) were found in the hemorrhage group. The hemorrhage group showed a lower 5-year cumulative survival rate (23.4% versus 57.8%; p = 0.003) compared with the ischemia group.
Conclusions
Postoperative hemorrhagic stroke was associated with poorer neurological outcomes and lower survival rates than those with ischemic stroke. Patients who have complex arch replacement, long cardiopulmonary bypass and aortic clamping times are at risk for postoperative hemorrhagic stroke and should have intensive neurological surveillance for early diagnosis and treatment after ATAAD repair surgery.
Access options
Buy single article
Instant access to the full article PDF.
USD 39.95
Price excludes VAT (USA)
Tax calculation will be finalised during checkout.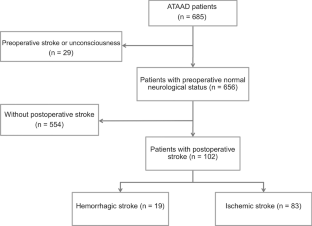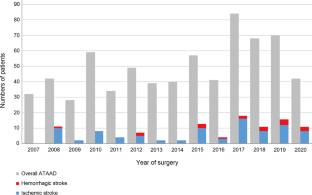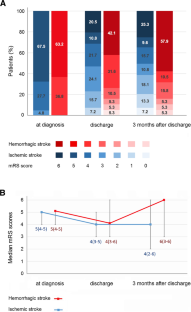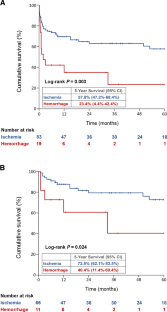 Abbreviations
ACP:

Antegrade cerebral perfusion

AsAo:

Ascending aorta

ATAAD:

Acute type A aortic dissection

CI:

Confidence interval

CPB:

Cardiopulmonary bypass

ED:

Emergency department

eGFR:

Estimated glomerular filtration rate

ICU:

Intensive care unit

mRS:

Modified Rankin Scale

OR:

Odds ratio

OR:

Operating room

RCP:

Retrograde cerebral perfusion
References
Pape LA, Awais M, Woznicki EM et al (2015) Presentation, diagnosis, and outcomes of acute aortic dissection: 17-year trends from the international registry of acute aortic dissection. J Am Coll Cardiol 66:350–358

Conzelmann LO, Krüger T, Hoffmann I et al (2011) German registry for acute aortic dissection type A (GERAADA): initial results. Herz 36:513–524

Ghoreishi M, Sundt TM, Cameron DE et al (2020) Factors associated with acute stroke after type A aortic dissection repair: an analysis of the society of thoracic surgeons national adult cardiac surgery database. J Thorac Cardiovasc Surg 159:2143–54.e3

Conzelmann LO, Hoffmann I, Blettner M et al (2012) GERAADA Investigators. Analysis of risk factors for neurological dysfunction in patients with acute aortic dissection type A: data from the German registry for acute aortic dissection type A (GERAADA). Eur J Cardiothorac Surg 42:557–565

Pan E, Gudbjartsson T, Ahlsson A et al (2018) Low rate of reoperations after acute type A aortic dissection repair from the nordic consortium registry. J Thorac Cardiovasc Surg 156:939–948

Dumfarth J, Kofler M, Stastny L et al (2018) Stroke after emergent surgery for acute type A aortic dissection: predictors, outcome and neurological recovery. Eur J Cardiothorac Surg 53:1013–1020

von Elm E, Altman DG, Egger M et al (2007) STROBE initiative. the strengthening the reporting of observational studies in epidemiology (STROBE) statement: guidelines for reporting observational studies. Lancet 370:1453–1457

Lin CY, Tseng CN, Lee HA et al (2019) Double arterial cannulation strategy for acute type A aortic dissection repair: a 10-year single-institution experience. PLoS One 14:e0211900

Lin CY, See LC, Tseng CN et al (2020) Surgical outcomes analysis in patients with uncomplicated acute type A aortic dissection: a 13-year institutional experience. Sci Rep 10:14883

Kusadokoro S, Kimura N, Hori D et al (2020) Utility of double arterial cannulation for surgical repair of acute type A dissection. Eur J Cardiothorac Surg 57:1068–1075

Broderick JP, Adeoye O, Elm J (2017) Evolution of the modified rankin scale and its use in future stroke trials. Stroke 48:2007–2012

Hemphill JC 3rd, Farrant M, Neill TA Jr (2009) Prospective validation of the ICH Score for 12-month functional outcome. Neurology 73:1088–1094

Benjamin EJ, Blaha MJ, Chiuve SE et al (2017) American heart association statistics committee and stroke statistics subcommittee. heart disease and stroke statistics-2017 update: a report from the American heart association. Circulation 135:e146–e603

Ojaghihaghighi S, Vahdati SS, Mikaeilpour A et al (2017) Comparison of neurological clinical manifestation in patients with hemorrhagic and ischemic stroke. World J Emerg Med 8:34–38

Go AS, Mozaffarian D, Roger VL et al (2013) Heart disease and stroke statistics: 2013 update: a report from the American Heart Association. Circulation 127:e6–e245

Uchida T, Hamasaki A, Ohba E et al (2017) Life-threatening subdural hematoma after aortic valve replacement in a patient with Heyde syndrome: a case report. J Cardiothorac Surg 12:65

Krous HF, Tenckhoff L, Gould NS et al (1974) Subdural hematoma following open-heart operations. Ann Thorac Surg 19:269–276

Osada H, Marui A, Tanaka S et al (2015) Acute subdural hematoma after aortic surgery: a retrospective comparative study. Asian Cardiovasc Thorac Ann 23:24–30

Andersen KK, Olsen TS, Dehlendorff C et al (2009) Hemorrhagic and ischemic strokes compared: stroke severity, mortality, and risk factors. Stroke 40:2068–2072

Henriksson KM, Farahmand B, Åsberg S et al (2012) Comparison of cardiovascular risk factors and survival in patients with ischemic or hemorrhagic stroke. Int J Stroke 7:276–281

Sennfält S, Norrving B, Petersson J et al (2019) Long-term survival and function after stroke. Stroke 50:53–61

Liu Y, Han L, Li J et al (2017) Consumption coagulopathy in acute aortic dissection: principles of management. J Cardiothorac Surg 12:50

Wahba A, Rothe G, Lodes H et al (2001) The influence of the duration of cardiopulmonary bypass on coagulation, fibrinolysis and platelet function. Thorac Cardiovasc Surg 49:153–156

Jung WS, Kim JH, Ahn SJ et al (2017) Prevalence of intracranial aneurysms in patients with aortic dissection. AJNR Am J Neuroradiol 38:2089–2093

Weisscher N, Vermeulen M, Roos YB et al (2008) What should be defined as good outcome in stroke trials; a modified Rankin score of 0–1 or 0–2? J Neurol 255:867–874
Ethics declarations
Conflict of interest
None of the authors has a direct conflict of interest to declare.
Additional information
Publisher's Note
Springer Nature remains neutral with regard to jurisdictional claims in published maps and institutional affiliations.
Supplementary Information
Below is the link to the electronic supplementary material.
About this article
Cite this article
Lin, CY., Lee, CY., Lee, HF. et al. Postoperative Stroke After Type A Aortic Dissection Repair: Hemorrhage Versus Ischemia. World J Surg 46, 690–700 (2022). https://doi.org/10.1007/s00268-021-06375-y
Accepted:

Published:

Issue Date:

DOI: https://doi.org/10.1007/s00268-021-06375-y