Abstract
Background
Despite increasing numbers of women surgeons globally, barriers to career advancement persist. While these barriers have been extensively discussed in high-income countries (HICs), the topic has received minimal attention in lower–middle-income countries (LMICs) like Pakistan.
Methods
The Association of Women Surgeons of Pakistan (AWSP)—an organization in Pakistan consisting of female surgeons and trainees—carried out this international cross-sectional study over July–Sept 2019. An anonymous online survey was disseminated via social media platforms and various institutions across Pakistan and internationally.
Results
A total of 218 female surgeons responded to the survey, with 146 (67%) from Pakistan and 72 (33%) from HICs. While HIC surgeons were more likely to report gender discrimination/bias (GD/bias) during residency (29.2% vs 11.6%; p = 0.001), more Pakistani surgeons reported that GD/bias negatively affected their job satisfaction (80.7% vs. 64.9%; p = 0.024). GD/bias manifested most commonly as differences in mentoring relationships (72%). A higher percentage Pakistani surgeons reported having experienced a family-related interruption in their career (24.7% vs. 11.1%; p = 0.019). The vast majority (95%) felt that surgery was perceived as a masculine field, and the majority (56.4%) of respondents reported having been told that they could not be a surgeon because of their gender.
Conclusion
Our study highlights keys factors that must be addressed to provide equal career opportunities to women surgeons. It is the responsibility of surgical educators, policy makers, and healthcare organizations to facilitate women surgeons' career progression by developing systems that support equitable career growth for women surgeons.
This is a preview of subscription content,
to check access.
Access this article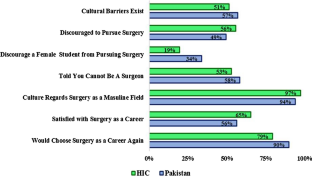 Notes
The CPSP publishes the list of fellows who have passed the qualifying examination for the Fellow of College of Physicians and Surgeons (FCPS). This number does not include surgeons who have completed their training and certification outside of Pakistan. https://www.cpsp.edu.pk/online-directories.php
References
Bickel J, Wara D, Atkinson BF, Cohen LS, Dunn M, Hostler S et al (2002) Increasing women's leadership in academic medicine: report of the AAMC project implementation committee. Acad Med 77(10):1043–1061

Epstein NE (2017) Discrimination against female surgeons is still alive: where are the full professorships and chairs of departments? SurgNeurolInt 8:93 Epub 2017/06/14

Inam H, Janjua M, Martins RS, Zahid N, Khan S, Sattar AK et al (2020) Cultural barriers for women in surgery: How thick is the glass ceiling? an analysis from a low middle-income country. World J Surg 44(9):2870–2878

Newman EA, Waljee J, Dimick JB, Mulholland MW (2019) Eliminating institutional barriers to career advancement for diverse faculty in academic surgery. Ann Surg 270(1):23–25

Schroen AT, Brownstein MR, Sheldon GF (2004) Women in academic general surgery. Acad Med 79(4):310–318 Epub 2004/03/27

Junaidi,I. 50% of female doctors never work after graduation. Published in Dawn, October 22nd, 2014

Moazam F, Shekhani S (2018) Why women go to medical college but fail to practise medicine: perspectives from the Islamic Republic of Pakistan. Med Educ 52(7):705–715 Epub 2018/03/07

Bruce AN, Battista A, Plankey MW, Johnson LB, Marshall MB (2015) Perceptions of gender-based discrimination during surgical training and practice. Med Educ Online 20:25923 Epub 2015/02/06

Janjua MB, Inam H, Martins RS, Zahid N, Sattar AK, Khan SM et al (2020) Gender discrimination against female surgeons: a cross-sectional study in a lower-middle-income country. Ann Med Surg 57:157–162

Hu Y-Y, Ellis RJ, Hewitt DB, Yang AD, Cheung EO, Moskowitz JT et al (2019) Discrimination, abuse, harassment, and burnout in surgical residency training. N Engl J Med 381(18):1741–1752

Seemann NM, Webster F, Holden HA, C-aE M, Baxter N, Desjardins C et al (2016) Women in academic surgery: why is the playing field still not level? Am J Surg 211(2):343–349

Alers M, van Leerdam L, Dielissen P, Lagro-Janssen A (2014) Gendered specialities during medical education: a literature review. Perspect Med Educ 3(3):163–178

Beebe KS, Krell ES, Rynecki ND, Ippolito JA (2019) The effect of sex on orthopaedic surgeon income. J Bone JtSurg 101(17):e87 Epub 2019/09/05

Cochran A, Hauschild T, Elder WB, Neumayer LA, Brasel KJ, Crandall ML (2013) Perceived gender-based barriers to careers in academic surgery. Am J Surg 206(2):263–268 Epub 2013/02/19

Zhuge Y, Kaufman J, Simeone DM, Chen H, Velazquez OC (2011) Is there still a glass ceiling for women in academic surgery? Ann Surg 253(4):637–643 Epub 2011/04/09

Mayer KL, Ho HS, Goodnight JE Jr (2001) Childbearing and child care in surgery. Arch Surg 136(6):649–655 Epub 2001/06/26

Sullivan MC, Yeo H, Roman SA, Bell RH Jr, Sosa JA (2013) Striving for work-life balance: effect of marriage and children on the experience of 4402 US general surgery residents. Ann Surg 257(3):571–576 Epub 2012/09/12

Yeo H, Bucholz E, Ann Sosa J, Curry L, Lewis FR Jr, Jones AT et al (2010) A national study of attrition in general surgery training: which residents leave and where do they go? Ann Surg 252(3):529–534 Discussion 34-6

Lawal TA, Afolabi AO (2013) Factors influencing the choice of surgery as a career by pre-registration interns. Afr Health Sci 13(3):814–819

Baptiste D, Fecher AM, Dolejs SC, Yoder J, Schmidt CM, Couch ME et al (2017) Gender differences in academic surgery, work-life balance, and satisfaction. J Surg Res 218:99–107

Rangel EL, Lyu H, Haider AH, Castillo-Angeles M, Doherty GM, Smink DS (2018) Factors associated with residency and career dissatisfaction in childbearing surgical residents. JAMA Surg 153(11):1004–1011 Epub 2018/08/04
Acknowledgements
The authors of this study wish to acknowledge the members of the AWSP for their assistance with the creation, piloting, and dissemination of this survey at the national level. The results from this study will be used by AWSP as a framework towards developing policies and strategies for the advancement and equitable representation of females in the field of surgery throughout Pakistan.
Additional information
Publisher's Note
Springer Nature remains neutral with regard to jurisdictional claims in published maps and institutional affiliations.
Electronic supplementary material
Below is the link to the electronic supplementary material.
About this article
Cite this article
Malik, M., Inam, H., Janjua, M.B.N. et al. Factors Affecting Women Surgeons' Careers in Low–Middle-Income Countries: An International Survey. World J Surg 45, 362–368 (2021). https://doi.org/10.1007/s00268-020-05811-9
Accepted:

Published:

Issue Date:

DOI: https://doi.org/10.1007/s00268-020-05811-9