Abstract
Background
Few data are available about the frequency of incisional hernia in an emergency subcostal laparotomy. Our objective is to analyze the incidence of incisional hernia after emergency subcostal laparotomy and evaluate if prophylactic mesh could help prevent it.
Methods
This study is a monocentric retrospective analysis following STROBE guideline statements of all patients who underwent an emergency subcostal laparotomy between January 2011 and July 2017 in our University Hospital. We compared complications and incidence of incisional hernia between patients who received sutures (Group S; N = 203) and patients with prophylactic onlay mesh (Group M; N = 80). A multivariate risk factor analysis of incisional hernia was performed. An incisional hernia-estimated risk calculator equation was created.
Results
A total of 283 patients were analyzed. There were 80 patients in Group M and 203 in Group S. In short-term outcomes, length of surgery (213 ± 115 min vs 165 ± 73.3 min, P = 0.001) and hospital stay (16.4 ± 18.7 vs 11.6 days ± 13.4, P = 0.038) were longer in Group M. Long-term follow-up was conducted in 207 patients with a mean follow-up time of 39.3 ± 23 months. Incisional hernia was detected in 29 (19.1%) patients in Group S but in only two (3.8%) patients in Group M (P = 0.008). In the multivariate analysis, a risk factor analysis included wound infection (4.91 HR (2.12–11.4); P < 0.001), previous hernia repair (2.86 HR (1.24–6.61); P = 0.014), and shock (2.64 HR (1.01–6.93); P = 0.048).
Conclusions
The incidence of incisional hernia after emergency subcostal laparotomy is high. Risk factors are wound infection, shock, and previous hernia surgery. The use of prophylactic mesh augmentation was safe and reduced the incidence of incisional hernia.
Access options
Buy single article
Instant access to the full article PDF.
US$ 39.95
Tax calculation will be finalised during checkout.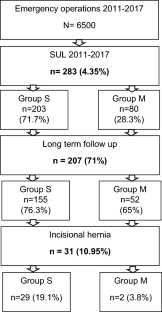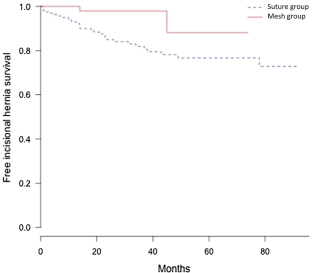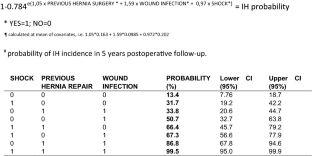 References
1.

D'Angelica M, Maddineni S, Fong Y, Martin RC, Cohen MS, Ben-Porat L, Gonen M, DeMatteo RP, Blumgart LH, Jarnagin WR (2006) Optimal abdominal incision for partial hepatectomy: increased late complications with Mercedes-type incisions compared to extended right subcostal incisions. World J Surg 30(3):410–418. https://doi.org/10.1007/s00268-005-0183-x

2.

Donataccio M, Genco B, Donataccio D (2006) Right subcostal incision in liver transplantation: prospective study of feasibility. Transpl Proc 38(4):1109–1110. https://doi.org/10.1016/j.transproceed.2006.03.044

3.

Hernando LA, García-Ureña MÁ, López-Monclús J, Hernández SG, de Lersundi ÁR, Cidoncha AC, Montes DM, Pavón CC, González EG, García NP (2016) Prophylactic mesh can be used safely in the prevention of incisional hernia after bilateral subcostal laparotomies. Surgery 160(5):1358–1366. https://doi.org/10.1016/j.surg.2016.05.010

4.

Araujo-Teixeira JP, Rocha-Reis J, Costa-Cabral A, Barros H, Saraiva AC, Araujo-Teixeira AM (1999) Laparoscopie ou laparotomie dans la cholécystite aiguë (200 cas). Comparaison des résultats et facteurs prédisposant à la conversion. Chirurgie 124(5):529–535. https://doi.org/10.1016/s0001-4001(00)88276-8

5.

Muysoms FE, Antoniou SA, Bury K, Campanelli G, Conze J, Cuccurullo D, Berrevoet F (2015) European Hernia Society guidelines on the closure of abdominal wall incisions. Hernia 19(1):1–24. https://doi.org/10.1007/s10029-014-1342-5

6.

Veyrie N, Poghosyan T, Corigliano N, Canard G, Servajean S, Bouillot J-L (2012) Lateral incisional hernia repair by the retromuscular approach with polyester standard mesh: topographic considerations and long-term follow-up of 61 consecutive patients. World J Surg 37(3):538–544. https://doi.org/10.1007/s00268-012-1857-9

7.

Patel PP, Warren JA, Mansour R, Cobb WS, Carbonell AM (2016) A large single-center experience of open lateral abdominal wall hernia repairs. Am Surg 82(7):608–612

8.

Slater NJ, Montgomery A, Berrevoet F, Carbonell AM, Chang A, Franklin M, Kercher KW, Lammers BJ, Parra-Davilla E, Roll S, Towfigh S, van Goor H (2013) Criteria for definition of a complex abdominal wall hernia. Hernia 18(1):7–17. https://doi.org/10.1007/s10029-013-1168-6

9.

Hernández-Granados P, López-Cano M, Morales-Conde S, Muysoms F, García-Alamino J, Pereira-Rodríguez JA (2018) Incisional hernia prevention and use of mesh. A narrative review. Cirugía Española (Engl Ed) 96(2):76–87. https://doi.org/10.1016/j.cireng.2018.01.010

10.

Sørensen LT, Kallehave F, Wille-Jørgensen P, Kjærgaard J, Nørgaard L, Jørgensen T (2005) Risk factors for tissue and wound complications in gastrointestinal surgery. Ann Surg 241(4):654–658. https://doi.org/10.1097/01.sla.0000157131.84130.12

11.

Herbert GS, Tausch TJ, Carter PL (2009) Prophylactic mesh to prevent incisional hernia: a note of caution. Am J Surg 197(5):595–598. https://doi.org/10.1016/j.amjsurg.2009.01.002

12.

Bevis PM, Windhaber RAJ, Lear PA, Poskitt KR, Earnshaw JJ, Mitchell DC (2010) Randomized clinical trial of mesh versus sutured wound closure after open abdominal aortic aneurysm surgery. Br J Surg 97(10):1497–1502. https://doi.org/10.1002/bjs.7137

13.

Argudo N, Iskra MP, Pera M, Sancho JJ, Grande L, López-Cano M, Pereira JA (2017) The use of an algorithm for prophylactic mesh use in high risk patients reduces the incidence of incisional hernia following laparotomy for colorectal cancer resection. Cirugía Española (Engl Ed) 95(4):222–228. https://doi.org/10.1016/j.cireng.2017.03.016

14.

Argudo N, Pereira JA, Sancho JJ, Membrilla E, Pons MJ, Grande L (2014) Prophylactic synthetic mesh can be safely used to close emergency laparotomies, even in peritonitis. Surgery 156(5):1238–1244. https://doi.org/10.1016/j.surg.2014.04.035

15.

Pereira JA, Pera M, López-Cano M, Pascual M, Alonso S, Salvans S, Jiménez-Toscano M, González-Martín A, Grande-Posa L (2019) Hernias at the extraction incision after laparoscopic colon and rectal resection: influence of incision location and use of prophylactic mesh. Cirugía Española (Engl Ed) 97(1):20–26. https://doi.org/10.1016/j.cireng.2018.12.008

16.

Von Elm E, Altman DG, Egger M, et al, for the STROBE Initiative (2007) The Strengthening the Reporting of Observational Studies in Epidemiology (STROBE) statement: guidelines for reporting observational studies. Ann Intern Med 147:573–577. https://doi.org/10.7326/0003-4819-147-8-200710160-00010

17.

Muysoms FE, Detry O, Vierendeels T, Huyghe M, Miserez M, Ruppert M, Tollens T, Defraigne JO, Berrevoet F (2016) Prevention of incisional hernias by prophylactic mesh-augmented reinforcement of midline laparotomies for abdominal aortic aneurysm treatment. Ann Surg 263(4):638–645. https://doi.org/10.1097/sla.0000000000001369

18.

Chevrel JP, Rath AM (2000) Classification of incisional hernias of the abdominal wall. Hernia 4(1):7–11. https://doi.org/10.1007/bf01230581

19.

Sørensen LT (2005) Smoking is a risk factor for incisional hernia. Arch Surg 140(2):119. https://doi.org/10.1001/archsurg.140.2.119

20.

Höer J, Lawong G, Klinge U, Schumpelick V (2002) Einflussfaktoren der Narbenhernienentstehung Retrospektive Untersuchung an 2.983 laparotomierten Patienten über einen Zeitraum von 10 Jahren. Der Chirurg 73(5):474–480. https://doi.org/10.1007/s00104-002-0425-5

21.

Bucknall TE, Cox PJ, Ellis H (1982) Burst abdomen and incisional hernia: a prospective study of 1129 major laparotomies. BMJ 284(6320):931–933. https://doi.org/10.1136/bmj.284.6320.931

22.

Muysoms FE, Miserez M, Berrevoet F et al (2009) Classification of primary and incisional abdominal wall hernias. Hernia 13:407. https://doi.org/10.1007/s10029-009-0518

23.

Kroese LF, Sneiders D, Kleinrensink GJ et al (2018) Comparing different modalities for the diagnosis of incisional hernia: a systematic review. Hernia 22:229. https://doi.org/10.1007/s10029-017-1725-5

24.

Chevrel JP, Rath AM (2000) Classification of incisional hernias of the abdominal wall. Hernia 4(1):7–11. https://doi.org/10.1007/bf01230581

25.

Geisler DJ, Reilly JC, Vaughan SG, Glennon EJ, Kondylis PD (2003) Safety and outcome of use of nonabsorbable mesh for repair of fascial defects in the presence of open bowel. Dis Colon Rectum 46(8):1118–1123. https://doi.org/10.1007/s10350-004-7290-x

26.

Majumder A, Winder JS, Wen Y, Pauli EM, Belyansky I, Novitsky YW (2016) Comparative analysis of biologic versus synthetic mesh outcomes in contaminated hernia repairs. Surgery 160(4):828–838. https://doi.org/10.1016/j.surg.2016.04.041

27.

Montgomery A (2013) The battle between biological and synthetic meshes in ventral hernia repair. Hernia 17(1):3–11. https://doi.org/10.1007/s10029-013-1043-5

28.

Harth KC, Krpata DM, Chawla A, Blatnik JA, Halaweish I, Rosen MJ (2012) Biologic mesh use practice patterns in abdominal wall reconstruction: a lack of consensus among surgeons. Hernia 17(1):13–20. https://doi.org/10.1007/s10029-012-1029-8

29.

Breuing K, Butler CE, Ferzoco S, Franz M, Hultman CS, Kilbridge JF, Rosen M, Silverman RP, Vargo D (2010) Incisional ventral hernias: review of the literature and recommendations regarding the grading and technique of repair. Surgery 148(3):544–558. https://doi.org/10.1016/j.surg.2010.01.008

30.

Rosen MJ, Bauer JJ, Harmaty M, Carbonell AM, Cobb WS, Matthews B, Goldblatt MI, Selzer DJ, Poulose BK, Hansson BM, Rosman C, Jacobsen G (2017) Multicenter, prospective, longitudinal study of the recurrence, surgical site infection, and quality of life after contaminated ventral hernia repair using biosynthetic absorbable mesh. Ann Surg 265(1):205–211. https://doi.org/10.1097/sla.0000000000001601

31.

Scott JR, Deeken CR, Martindale RG, Rosen MJ (2016) Evaluation of a fully absorbable poly-4-hydroxybutyrate/absorbable barrier composite mesh in a porcine model of ventral hernia repair. Surg Endosc 30(9):3691–3701. https://doi.org/10.1007/s00464-016-5057-9

32.

Söderbäck H, Mahteme H, Hellman P, Sandblom G (2016) Prophylactic resorbable synthetic mesh to prevent wound dehiscence and incisional hernia in high high-risk laparotomy: a pilot study of using TIGR matrix mesh. Front Surg 3:28. https://doi.org/10.3389/fsurg.2016.00028

33.

Van Rooijen MM, Jairam AP, Tollens T, Jørgensen LN, de Vries Reilingh TS, Piessen G, Köckerling F, Miserez M, Windsor AC, Berrevoet F, Fortelny RH, Jeekel J (2018) A post-market, prospective, multi-center, single-arm clinical investigation of Phasix™ mesh for VHWG grade 3 midline incisional hernia repair: a research protocol. BMC Surg 18(1):104. https://doi.org/10.1186/s12893-018-0439-7

34.

Dindo D, Demartines N, Clavien P-A (2004) Classification of surgical complications. Ann Surg 240(2):205–213. https://doi.org/10.1097/01.sla.0000133083.54934.ae
Additional information
Publisher's Note
Springer Nature remains neutral with regard to jurisdictional claims in published maps and institutional affiliations.
About this article
Cite this article
Bravo-Salva, A., González-Castillo, A.M., Vela-Polanco, F.F. et al. Incidence of Incisional Hernia After Emergency Subcostal Unilateral Laparotomy: Does Augmentation Prophylaxis Play a Role?. World J Surg 44, 741–748 (2020). https://doi.org/10.1007/s00268-019-05282-7