Abstract
Background
Projections based on regulations curtailing asbestos use in the USA suggest that peak incidence of pleural mesothelioma would occur between 2000 and 2005 and then decline. We analyzed the National Cancer Database (NCDB) to assess current trends in disease incidence, patient demographics, cancer treatment, and survival.
Methods
The NCDB was queried to identify patients diagnosed with pleural mesothelioma from 2004 through 2014. Clinical and pathologic characteristics, treatments, and survival were analyzed. Risk factors for death were identified by multivariable Cox regression.
Results
A total of 20,988 patients with pleural mesothelioma were reported to the NCDB. The number of cases per year increased from 1783 to 1961, accounting for roughly 0.3% of all reported cancers each year. The proportion of elderly patients increased from 75 to 80%, but distribution by sex remained constant (20% female). The proportion of patients undergoing treatment increased from 34 to 54%. One-year survival increased from 37 to 47% and 3-year survival from 9 to 15% (p < 0.001). Factors associated with improved survival included younger age, female sex, epithelioid histology, treatment in an academic center, health insurance, higher income, and multimodality therapy.
Conclusions
The annual incidence of mesothelioma has not declined this century and remains stable. Reporting of histologic and clinical staging has improved. National trends suggest that survival is slowly increasing despite an aging cohort. Multimodal therapy and treatment at academic centers are modifiable risk factors associated with improved survival.
Access options
Buy single article
Instant access to the full article PDF.
US$ 39.95
Tax calculation will be finalised during checkout.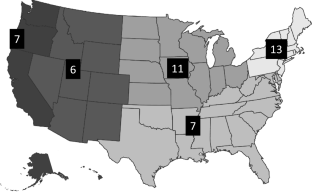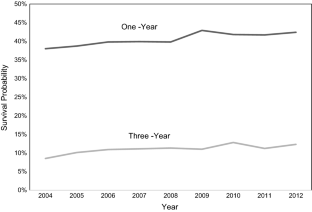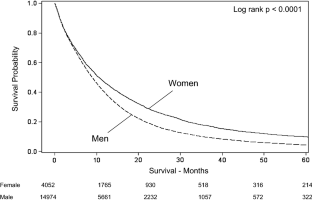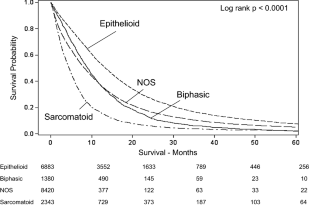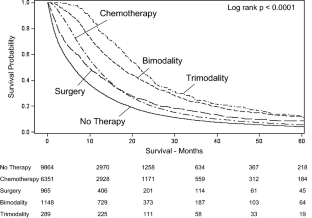 Abbreviations
CD :

Charlson–Deyo

NCDB :

National Cancer Database

NOS :

Not otherwise specified
References
1.

Selikoff IJ, Churg J, Hammond EC (1965) Relation between exposure to asbestos and mesothelioma. N Engl J Med 272:560–565

2.

Selikoff IJ, Churg J, Hammond EC (1964) Asbestos exposure and neoplasia. JAMA 188:22–26

3.

Wagner JC, Sleggs CA, Marchand P (1960) Diffuse pleural mesothelioma and asbestos exposure in the North Western Cape Province. Br J Ind Med 17:260–271

4.

Christensen BC, Godleski JJ, Roelofs CR et al (2008) Asbestos burden predicts survival in pleural mesothelioma. Environ Health Perspect 116(6):723–726

5.

Budgen A (2004) Asbestos: A clear and present danger—a UK perspective. Lung Cancer 45(Suppl 1):S77–S79

6.

Christensen BC, Houseman EA, Poage GM et al (2010) Integrated profiling reveals a global correlation between epigenetic and genetic alterations in mesothelioma. Cancer Res 70(14):5686–5694

7.

Menck HR, Cunningham MP, Jessup JM et al (1997) The growth and maturation of the National Cancer Database. Cancer 80(12):2296–2304

8.

Winchester DP, Stewart AK, Phillips JL, Ward EE (2010) The National Cancer Database: past, present, and future. Ann Surg Oncol 17(1):4–7

9.

Olsen NJ, Franklin PJ, Reid A et al (2011) Increasing incidence of malignant mesothelioma after exposure to asbestos during home maintenance and renovation. Med J Aust 195(5):271–274

10.

Flores RM, Pass HI, Seshan VE et al (2008) Extrapleural pneumonectomy versus pleurectomy/decortication in the surgical management of malignant pleural mesothelioma: results in 663 patients. J Thorac Cardiovasc Surg 135(3):620–626

11.

Keshava HB, Rosen JE, DeLuzio MR, Kim AW, Detterbeck FC, Boffa DJ (2017) What if I do nothing? The natural history of operable cancer of the alimentary tract. Eur J Surg Oncol 43(4):788–795

12.

Charlson ME, Pompei P, Ales KL, MacKenzie CR (1987) A new method of classifying prognostic comorbidity in longitudinal studies: development and validation. J Chronic Diseases 40:373–383

13.

National cancer database—PUF data dictionary items. https://ncdbpuf.facs.org/node/259. Updated 2017. Accessed 6/15, 2017

14.

Greene FL, Page DL, Fleming ID et al (2002) AJCC cancer staging manual, 6th edn. Springer, New York, NY

15.

Edge S, Byrd DR, Compton CC, et al. (eds) (2010) AJCC cancer staging manual, 7th edn. Springer, New York

16.

van der Bij S, Baas P, van de Vijver MJ, de Mol BA, Burgers JA (2013) Legal claims for malignant mesothelioma: dealing with all cases. Lung Cancer 80(2):153–158

17.

Renner RUS (2007) EPA to revisit asbestos toxicity. Environ Sci Technol 41(6):1808–1809

18.

Samuels A (2015) Mesothelioma and the law. Med Leg J 83(1):26–28

19.

National Institute for Occupational Safety and Health (NIOSH). Work-Related Lung Disease Surveillance Report. September 2008.

20.

OSHA, OSHA Fact Sheet. Asbestos. January 2014.

21.

Shearer C (2015) On corporate accountability: lead, asbestos, and fossil fuel lawsuits. New Solut 25(2):172–188

22.

McCulloch J (2006) Saving the asbestos industry, 1960 to 2006. Public Health Rep 121(5):609–614

23.

Miller A (2005) Mesothelioma in household members of asbestos-exposed workers: 32 United States cases since 1990. Am J Ind Med 47(5):458–462

24.

Vanderlinden LK (2011) Left in the dust: negotiating environmental illness in the aftermath of 9/11. Med Anthropol 30(1):30–55

25.

Nolan RP, Ross M, Nord GL et al (2005) Risk assessment for asbestos-related cancer from the 9/11 attack on the World Trade Center. J Occup Environ Med 47(8):817–825

26.

Ekenga CC, Friedman-Jimenez G (2011) Epidemiology of respiratory health outcomes among World Trade Center disaster workers: review of the literature 10 years after the September 11, 2001 terrorist attacks. Disaster Med Public Health Prep 5(Suppl 2):S189–S196

27.

Taioli E, Wolf AS, Camacho-Rivera M, Flores RM (2014) Women with malignant pleural mesothelioma have a threefold better survival rate than men. Ann Thorac Surg 98(3):1020–1024

28.

Wolf AS, Richards WG, Tilleman TR et al (2010) Characteristics of malignant pleural mesothelioma in women. Ann Thorac Surg 90(3):949–956

29.

De Rienzo A, Archer MA, Yeap BY et al (2016) Gender-specific molecular and clinical features underlie malignant pleural mesothelioma. Cancer Res 76(2):319–328

30.

Rai AJ, Flores RM (2011) Association of malignant mesothelioma and asbestos related conditions with ovarian cancer: shared biomarkers and a possible etiological link? Clin Chem Lab Med 49(1):5–7

31.

Inai K (2008) Pathology of mesothelioma. Environ Health Prev Med 13(2):60–64

32.

Flores RM, Zakowski M, Venkatraman E et al (2007) Prognostic factors in the treatment of malignant pleural mesothelioma at a large tertiary referral center. J Thorac Oncol 2(10):957–965

33.

Saddoughi SA, Abdelsattar ZM, Blackmon SH (2018) National trends in the epidemiology of malignant pleural mesothelioma: a national cancer data base study. Ann Thorac Surg 105(2):432–437

34.

Richards WG (2009) Recent advances in mesothelioma staging. Semin Thorac Cardiovasc Surg 21(2):105–110

35.

Tsao AS, Lindwasser OW, Adjei AA, et al. Current and future management of malignant mesothelioma: a consensus report from the National Cancer Institute Thoracic Malignancy Steering Committee, International Association for the Study of Lung Cancer, and Mesothelioma Applied Research Foundation. J Thorac Oncol 13(11):1655–1667.

36.

Husain AN, Colby TV, Ordóñez NG et al (2018) Guidelines for pathologic diagnosis of malignant mesothelioma 2017 Update of the consensus statement from the international mesothelioma interest group. Arch Pathol Lab Med 142(1):89–108

37.

National Comprehensive Cancer Network. Malignant Pleural Mesothelioma (Version 2.2018). https://www.nccn.org/professionals/physician_gls/pdf/mpm.pdf.

38.

Saddoughi SA, Abdelsattar ZM, Blackmon SH (2018) National trends in the epidemiology of malignant pleural mesothelioma: a national cancer data base study. Ann Thor Surg 105(2):432–437
Funding
The Mary Elizabeth Holdsworth Fund and Cleveland Clinic Heart and Vascular Institute. Andrew Tang is a National Heart, Lung, and Blood Institute Clinical Research Scholar of the Cardiothoracic Surgical Trials Network (National Institutes of Health Grant U01 HL088955).
Additional information
Publisher's Note
Springer Nature remains neutral with regard to jurisdictional claims in published maps and institutional affiliations.
Disclosures Dr. Raja is a consultant for Smiths Medical, which does not pertain to this manuscript.
Electronic supplementary material
Below is the link to the electronic supplementary material.
About this article
Cite this article
Keshava, H.B., Tang, A., Siddiqui, H.U. et al. Largely Unchanged Annual Incidence and Overall Survival of Pleural Mesothelioma in the USA. World J Surg 43, 3239–3247 (2019). https://doi.org/10.1007/s00268-019-05132-6