Abstract
Background and Aims
Partial fundoplication is commonly performed in conjunction with Heller Myotomy. It is, however, controversial whether anterior Dor or posterior Toupet partial fundoplication is the antireflux procedure of choice. The aim was to perform a systematic review and meta-analysis of studies comparing these two procedures.
Material and Methods
A search of PubMed, Cochrane database, Medline, Embase, Science Citation Index, Google scholar and current contents for English language articles comparing Dor and Toupet fundoplication following HM between 1991 and 2018 was performed. The outcome variables analyzed included operating time, length of hospital stay (LOHS), overall complication rate, quality of life (QOL), postoperative reflux, residual postoperative dysphagia, treatment failure and reoperations. The meta-analysis was prepared in accordance with the PRISMA-P statement.
Results
Seven studies totaling 486 patients (Dor = 245, Toupet = 241) were analyzed. LOHS was significantly shorter for Toupet repair compared to Dor procedure (WMD 0.73, 95% CI 0.47 to 0.99; P < 0.0001). Furthermore, patients after Toupet experienced significantly better QOL than those after Dor (WMD 1.68, 95% CI 0.68 to 2.73, P < 0.001). All other variables showed comparable effects for these two procedures.
Conclusion
Our systematic review and meta-analysis revealed that Toupet fundoplication is superior to Dor in terms of LOHS and QOL following HM. For other variables such as postoperative reflux, postoperative dysphagia, complication rates and treatment failure, both Dor and Toupet fundoplication produced effective and equivalent results.
This is a preview of subscription content,
to check access.
Access this article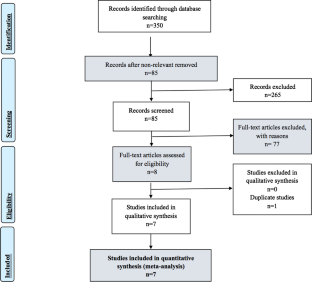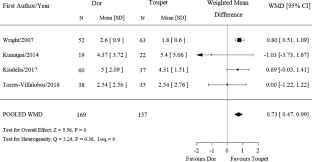 Similar content being viewed by others
References
Boeckxstaens GE, Annese V, des Varannes SB, Chaussade S, Costantini M, Cuttitta A et al (2011) Pneumatic dilation versus laparoscopic Heller's myotomy for idiopathic achalasia. N Engl J Med 364(19):1807–1816. https://doi.org/10.1056/nejmoa1010502

Yaghoobi M, Mayrand S, Martel M, Roshan-Afshar I, Bijarchi R, Barkun A (2013) Laparoscopic Heller's myotomy versus pneumatic dilation in the treatment of idiopathic achalasia: a meta-analysis of randomized, controlled trials. Gastrointest Endosc 78(3):468–475. https://doi.org/10.1016/j.gie.2013.03.1335

Rebecchi F, Giaccone C, Farinella E, Campaci R, Morino M (2008) Randomized controlled trial of laparoscopic Heller myotomy plus Dor fundoplication versus Nissen fundoplication for achalasia: long-term results. Ann Surg 248(6):1023–1030. https://doi.org/10.1097/sla.0b013e318190a776

Rawlings A, Soper NJ, Oelschlager B, Swanstrom L, Matthews BD, Pellegrini C et al (2012) Laparoscopic Dor versus Toupet fundoplication following Heller myotomy for achalasia: results of a multicenter, prospective, randomized-controlled trial. Surg Endosc 26(1):18–26. https://doi.org/10.1007/s00464-011-1822-y

Campos GM, Vittinghoff E, Rabl C, Takata M, Gadenstatter M, Lin F et al (2009) Endoscopic and surgical treatments for achalasia: a systematic review and meta-analysis. Ann Surg 249(1):45–57. https://doi.org/10.1097/sla.0b013e31818e43ab

Richardson WS, Kennedy CI, Bolton JS (2006) Midterm follow-up evaluation after a novel approach to anterior fundoplication for achalasia. Surg Endosc 20(12):1914–1918. https://doi.org/10.1007/s00464-006-0227-9

Falkenback D, Johansson J, Oberg S, Kjellin A, Wenner J, Zilling T et al (2003) Heller's esophagomyotomy with or without a 360 degrees floppy Nissen fundoplication for achalasia. Long-term results from a prospective randomized study. Dis Esophagus Off J Int Soc Dis Esophagus 16(4):284–290

Hunter JG, Trus TL, Branum GD, Waring JP (1997) Laparoscopic Heller myotomy and fundoplication for achalasia. Ann Surg 225(6):655–664

Oelschlager BK, Chang L, Pellegrini CA (2003) Improved outcome after extended gastric myotomy for achalasia. Arch Surg 138(5):490–495. https://doi.org/10.1001/archsurg.138.5.490

Patti MG, Herbella FA (2010) Fundoplication after laparoscopic Heller myotomy for esophageal achalasia: what type? J Gastrointest Surg 14(9):1453–1458. https://doi.org/10.1007/s11605-010-1188-9

Zaninotto G, Costantini M, Rizzetto C, Zanatta L, Guirroli E, Portale G et al (2008) Four hundred laparoscopic myotomies for esophageal achalasia: a single centre experience. Ann Surg 248(6):986–993. https://doi.org/10.1097/sla.0b013e3181907bdd

Torres-Villalobos G, Coss-Adame E, Furuzawa-Carballeda J, Romero-Hernandez F, Blancas-Brena B, Torres-Landa S et al (2018) Dor versus Toupet fundoplication after laparoscopic Heller myotomy: long-term randomized controlled trial evaluated by high-resolution manometry. J Gastrointest Surg 22(1):13–22. https://doi.org/10.1007/s11605-017-3578-8

Kumagai K, Kjellin A, Tsai JA, Thorell A, Granqvist S, Lundell L et al (2014) Toupet versus Dor as a procedure to prevent reflux after cardiomyotomy for achalasia: results of a randomised clinical trial. Int J Surg 12(7):673–680. https://doi.org/10.1016/j.ijsu.2014.05.077

Kiudelis M, Kubiliute E, Sakalys E, Jonaitis L, Mickevicius A, Endzinas Z (2017) The choice of optimal antireflux procedure after laparoscopic cardiomyotomy: two decades of clinical experience in one center. Wideochir Inne Tech Maloinwazyjne 12(3):238–244. https://doi.org/10.5114/wiitm.2017.68547

Tomasko JM, Augustin T, Tran TT, Haluck RS, Rogers AM, Lyn-Sue JR(2014) Quality of life comparing dor and toupet after heller myotomy for achalasia. JSLS J Soc Laparoendosc Surg 18(3). Epub 2014/11/14. https://doi.org/10.4293/jsls.2014.00191. PubMed PMID: 25392612; PubMed Central PMCID: PMCPMC4154402

Wright AS, Williams CW, Pellegrini CA, Oelschlager BK (2007) Long-term outcomes confirm the superior efficacy of extended Heller myotomy with Toupet fundoplication for achalasia. Surg Endosc 21(5):713–718. https://doi.org/10.1007/s00464-006-9165-9

Moher D, Cook DJ, Eastwood S, Olkin I, Rennie D, Stroup DF (2000) Improving the quality of reports of meta-analyses of randomized controlled trials: the QUOROM statement. Rev Esp Salud Publica 74(2):107–118

Hutton B, Catala-Lopez F, Moher D (2016) The PRISMA statement extension for systematic reviews incorporating network meta-analysis: PRISMA-NMA. Med Clin (Barc) 147(6):262–266. https://doi.org/10.1016/j.medcli.2016.02.025

Jadad AR, Moore RA, Carroll D, Jenkinson C, Reynolds DJ, Gavaghan DJ et al (1996) Assessing the quality of reports of randomized clinical trials: is blinding necessary? Control Clin Trials 17(1):1–12

Stang A (2010) Critical evaluation of the Newcastle-Ottawa scale for the assessment of the quality of nonrandomized studies in meta-analyses. Eur J Epidemiol 25(9):603–605. https://doi.org/10.1007/s10654-010-9491-z

Hozo SP, Djulbegovic B, Hozo I (2005) Estimating the mean and variance from the median, range, and the size of a sample. BMC Med Res Methodol 5:13. https://doi.org/10.1186/1471-2288-5-13

Higgins JP, Thompson SG (2002) Quantifying heterogeneity in a meta-analysis. Stat Med 21(11):1539–1558. https://doi.org/10.1002/sim.1186

Wg C (1954) The combination of estimates from different experiments. Biometric 10:101–129

R. The R project for statistical computing 2018, July 02. Available from: https://www.r-project.org/

Stefanidis D, Richardson W, Farrell TM, Kohn GP, Augenstein V, Fanelli RD et al (2012) SAGES guidelines for the surgical treatment of esophageal achalasia. Surg Endosc 26(2):296–311. https://doi.org/10.1007/s00464-011-2017-2

Eckardt AJ, Eckardt VF (2011) Treatment and surveillance strategies in achalasia: an update. Nat Rev Gastroenterol Hepatol 8(6):311–319. https://doi.org/10.1038/nrgastro.2011.68

Vantrappen G, Hellemans J (1980) Treatment of achalasia and related motor disorders. Gastroenterology 79(1):144–154

Khajanchee YS, Kanneganti S, Leatherwood AE, Hansen PD, Swanstrom LL (2005) Laparoscopic Heller myotomy with Toupet fundoplication: outcomes predictors in 121 consecutive patients. Arch Surg 140(9):827–833. https://doi.org/10.1001/archsurg.140.9.827

Junghard O, Wiklund I (2008) Validation of a four-graded scale for severity of heartburn in patients with symptoms of gastroesophageal reflux disease. Value Health J Int Soc Pharmacoeconomics Outcomes Res 11(4):765–770. https://doi.org/10.1111/j.1524-4733.2007.00313.x

Torres-Villalobos G, Martin-Del-Campo LA (2013) Surgical treatment for achalasia of the esophagus: laparoscopic heller myotomy. Gastroenterol Res Pract 2013:708327. https://doi.org/10.1155/2013/708327

Clarke A (1996) Why are we trying to reduce length of stay? Evaluation of the costs and benefits of reducing time in hospital must start from the objectives that govern change. Qual Health Care QHC 5(3):172–179

Velanovich V, Karmy-Jones R (1998) Measuring gastroesophageal reflux disease: relationship between the health-related quality of life score and physiologic parameters. Am Surg 64(7):649–653

Velanovich V (2007) The development of the GERD-HRQL symptom severity instrument. Dis Esophagus Off J Int Soc Dis Esophagus 20(2):130–134. https://doi.org/10.1111/j.1442-2050.2007.00658.x
Ethics declarations
Conflict of interest
All authors declare that there is no conflict of interest.
Additional information
Publisher's Note
Springer Nature remains neutral with regard to jurisdictional claims in published maps and institutional affiliations.
Electronic supplementary material
Below is the link to the electronic supplementary material.
About this article
Cite this article
Siddaiah-Subramanya, M., Yunus, R.M., Khan, S. et al. Anterior Dor or Posterior Toupet with Heller Myotomy for Achalasia Cardia: A Systematic Review and Meta-Analysis. World J Surg 43, 1563–1570 (2019). https://doi.org/10.1007/s00268-019-04945-9
Published:

Issue Date:

DOI: https://doi.org/10.1007/s00268-019-04945-9