Abstract
Introduction
Some articles have recently shown that robotic pancreaticoduodenectomy (PD) is feasible and can be a safe method. On the other hand, pancreatic fistulas (PF) remain the most dreaded complication after PD, and a secured pancreaticoenteric reconstruction may be essential in this regard. Previous articles have highlighted the usefulness of telescoped pancreaticogastrostomy (PG) in open PD to reduce the risk of postoperative PF. Additionally, in 2016, Addeo et al. described a double purse-string telescoped PG (DPS-PG), simplified from previous techniques, with favorable short-term results.
Materials and methods
The attached video reports our standardized technique for robotic DPS-PG, which is based on Addeo's approach. The main characteristic of this technique is an easy placement of two seromuscular purse-string sutures without the need for gastric wall dissection or deep pancreatic parenchymal sutures. We modified and developed Addeo's technique to suit the robotic PD. In our robotic DPS-PG, there is no need to perform the opening of the distal gastric stump, the anterior gastrostomy, or the suture fixation of the pancreatic parenchyma to the stomach, as it could lead to a rupture of the pancreas, particularly when the parenchyma is soft.
Results
We consider that our technique of robotic DPS-PG might be feasible and can be safely performed, just as a previously described technique in open surgery.
Conclusions
Further evaluation with clinical trials is required to validate its real benefits.
This is a preview of subscription content, log in to check access.
Access options
Buy single article
Instant access to the full article PDF.
US$ 39.95
Price includes VAT for USA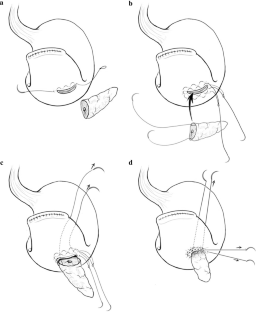 References
1.

Kornaropoulos M, Moris D, Beal EW et al (2017) Total robotic pancreaticoduodenectomy: a systematic review of the literature. Surg Endosc 31:4382–4392

2.

Chen S, Chen J-Z, Zhan Q et al (2015) Robot-assisted laparoscopic versus open pancreaticoduodenectomy: a prospective, matched, mid-term follow-up study. Surg Endosc 29:3698–3711

3.

Addeo P, Rosso E, Fuchshuber P et al (2013) Double purse-string telescoped pancreaticogastrostomy: an expedient, safe, and easy technique. J Am Coll Surg 216:e27–e33

4.

Memeo R, Tzedakis S, de Blasi V et al (2016) Robotic pancreaticoduodenectomy: operative steps (with video). Surg Laparosc Endosc Percutan Tech 26:e91–e94

5.

Giulianotti PC, Gonzalez-Heredia R, Esposito S et al (2018) Trans-gastric pancreaticogastrostomy reconstruction after pylorus-preserving robotic Whipple: a proposal for a standardized technique. Surg Endosc 32:2169–2174
Acknowledgements
The authors are grateful to Iana Shutrova, Christopher Burel and Guy Temporal for their assistance in proofreading the manuscript, as well as to Catherine Cers for her digital illustrations, which serve as schematics in the present article.
Ethics declarations
Conflict of interest
The authors declare that they have no conflict of interests.
Electronic supplementary material
Below is the link to the electronic supplementary material.
Supplementary material 1 (MP4 176299 kb)
About this article
Cite this article
Wakabayashi, T., Felli, E. & Pessaux, P. Robotic Double Purse-String Telescoped Pancreaticogastrostomy: How I Do It. World J Surg 43, 604–607 (2019). https://doi.org/10.1007/s00268-018-4808-2