Abstract
Background
The Volta River Authority Hospital (VRAH) is a district hospital associated with a large public works project in Akosombo, Ghana, that has developed a reputation for high-quality care. We hypothesized that this stems from a culture of safety and standardized processes typical of high-risk engineering environments. To investigate this, we evaluated staff and patient perceptions of safety and quality, as well as perioperative process variability.
Materials and methods
The Safety Attitudes Questionnaire (SAQ) and Hospital Consumer Assessment of Healthcare Providers and Systems (HCAHPS) surveys were used to evaluate staff and patient perceptions of safety. Perioperative general surgery and obstetrical procedure observations generated process maps, which were analyzed for variability and waste.
Results
Thirty-one SAQs were administered. 83% of workers held a positive perception of teamwork, and 77.4% held a positive perception of safety culture. Fifteen HCAHPS surveys of surgical inpatients showed a median hospital rating of 10 [IQR 8.5–10] on a ten-point scale. 90% gave maximal scores for pain management and 84.4% for nurse communication. Ten general surgery and obstetrical procedures were observed for which process map analysis was notable for no consistent waste steps and 100% adherence to the World Health Organization Safe Surgery Checklist.
Conclusions
Surveys suggest an institutional commitment to safety with strong teamwork culture and patient communication. Perioperative process mapping supports this culture, with low levels of variability and waste, and is useful for evaluating standardization of care. VRAH demonstrates the feasibility of delivering high standards of perioperative care in a low-resource setting.
Access options
Buy single article
Instant access to the full article PDF.
US$ 39.95
Tax calculation will be finalised during checkout.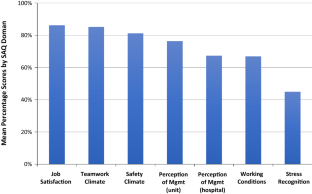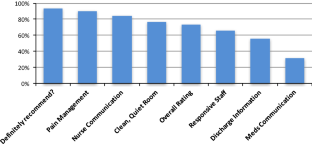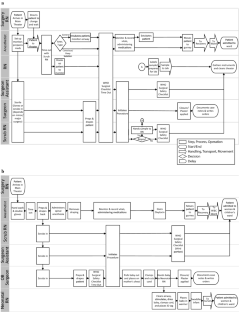 References
1.

Alkire BC, Raykar NP, Shrime MG et al (2015) Global access to surgical care: a modelling study. Lancet Glob Health 3:e316–e323

2.

Weiser TG, Regenbogen SE, Thompson KD et al (2008) An estimation of the global volume of surgery: a modelling strategy based on available data. Lancet 372:139–144

3.

Leslie HH, Sun Z, Kruk ME (2017) Association between infrastructure and observed quality of care in 4 healthcare services: a cross-sectional study of 4,300 facilities in 8 countries. PLoS Med 14:e1002464

4.

Wilson RM, Michel P, Olsen S et al (2012) Patient safety in developing countries: retrospective estimation of scale and nature of harm to patients in hospital. BMJ 344:e832

5.

Akachi Y, Kruk ME (2017) Quality of care: measuring a neglected driver of improved health. Bull World Health Organ 95:465–472

6.

Singer S, Lin S, Falwell A, Gaba D, Baker L (2009) Relationship of safety climate and safety performance in hospitals. Health Serv Res 44:399–421

7.

Sexton JB, Thomas EJ, Helmreich RL (2000) Error, stress, and teamwork in medicine and aviation: cross sectional surveys. BMJ 320:745–749

8.

Shortell SM, Zimmerman JE, Rousseau DM et al (1994) The performance of intensive care units: does good management make a difference? Med Care 32:508–525

9.

Baggs JG, Ryan SA, Phelps CE, Richeson JF, Johnson JE (1992) The association between interdisciplinary collaboration and patient outcomes in a medical intensive care unit. Heart Lung 21:18–24

10.

Mazzocco K, Petitti DB, Fong KT et al (2009) Surgical team behaviors and patient outcomes. Am J Surg 197:678–685

11.

Akosombo Hospital. http://www.vra.com/subsidiaries/akosombo_hospital.php. Accessed 10 Feb 2017

12.

Sexton JB, Helmreich RL, Neilands TB et al (2006) The Safety Attitudes Questionnaire: psychometric properties, benchmarking data, and emerging research. BMC Health Serv Res 6:44

13.

Makary MA, Sexton JB, Freischlag JA et al (2006) Patient safety in surgery. Ann Surg 243:628–632 (discussion 32–5)

14.

Haynes AB, Weiser TG, Berry WR et al (2011) Changes in safety attitude and relationship to decreased postoperative morbidity and mortality following implementation of a checklist-based surgical safety intervention. BMJ Qual Saf 20:102–107

15.

Safety Attitudes and Safety Climate Questionnaire. https://med.uth.edu/chqs/surveys/safety-attitudes-and-safety-climate-questionnaire/. Accessed 15 Mar 2018

16.

Centers for Medicare & Medicaid Services. HCAHPS: Hospital Consumer Assessment of Healthcare Providers and Systems. Baltimore, MD2018

17.

Giordano LA, Elliott MN, Goldstein E, Lehrman WG, Spencer PA (2010) Development, implementation, and public reporting of the HCAHPS survey. Med Care Res Rev 67:27–37

18.

Singer SJ, Jiang W, Huang LC et al (2015) Surgical team member assessment of the safety of surgery practice in 38 South Carolina hospitals. Med Care Res Rev 72:298–323

19.

Fan CJ, Pawlik TM, Daniels T et al (2016) Association of safety culture with surgical site infection outcomes. J Am Coll Surg 222:122–128

20.

Jha AK, Orav EJ, Zheng J, Epstein AM (2008) Patients' perception of hospital care in the United States. N Engl J Med 359:1921–1931

21.

Iannuzzi JC, Kahn SA, Zhang L, Gestring ML, Noyes K, Monson JR (2015) Getting satisfaction: drivers of surgical Hospital Consumer Assessment of Health care Providers and Systems survey scores. J Surg Res 197:155–161

22.

Thiels CA, Hanson KT, Yost KJ et al (2016) Achieving a 5-star rating: analysis of Hospital Consumer Assessment of Healthcare Providers and Systems (HCAHPS) scores among patients undergoing elective colorectal operations. Surgery 160:902–914

23.

Kane RL, Maciejewski M, Finch M (1997) The relationship of patient satisfaction with care and clinical outcomes. Med Care 35:714–730

24.

Glickman SW, Boulding W, Manary M et al (2010) Patient satisfaction and its relationship with clinical quality and inpatient mortality in acute myocardial infarction. Circ Cardiovasc Qual Outcomes 3:188–195

25.

Tsai TC, Orav EJ, Jha AK (2015) Patient satisfaction and quality of surgical care in US hospitals. Ann Surg 261:2–8

26.

Chung RD, Hunter-Smith DJ, Spychal RT, Ramakrishnan VV, Rozen WM (2017) A systematic review of intraoperative process mapping in surgery. Gland Surg 6:715–725

27.

Marsh D, Patel NG, Rozen WM, Chowdhry M, Sharma H, Ramakrishnan VV (2016) Three routine free flaps per day in a single operating theatre: principles of a process mapping approach to improving surgical efficiency. Gland Surg 5:107–114

28.

Cima RR, Brown MJ, Hebl JR et al (2011) Use of lean and six sigma methodology to improve operating room efficiency in a high-volume tertiary-care academic medical center. J Am Coll Surg 213:83–92 (discussion 3–4)

29.

DeGirolamo K, D'Souza K, Hall W et al (2018) Process mapping as a framework for performance improvement in emergency general surgery. Can J Surg 61:13–18

30.

McLaughlin N, Rodstein J, Burke MA, Martin NA (2014) Demystifying process mapping: a key step in neurosurgical quality improvement initiatives. Neurosurgery 75:99–109 (discussion)

31.

Mayeng LM, Wolvaardt JE (2015) Patient safety culture in a district hospital in South Africa: An issue of quality. Curationis 38:1–7

32.

Gabrani A, Hoxha A, Simaku A, Gabrani JC (2015) Application of the Safety Attitudes Questionnaire (SAQ) in Albanian hospitals: a cross-sectional study. BMJ Open 5:e006528

33.

Nie Y, Mao X, Cui H, He S, Li J, Zhang M (2013) Hospital survey on patient safety culture in China. BMC Health Serv Res 13:228

34.

Khater WA, Akhu-Zaheya LM, Al-Mahasneh SI, Khater R (2015) Nurses' perceptions of patient safety culture in Jordanian hospitals. Int Nurs Rev 62:82–91

35.

Huang L, Kim R, Berry W (2013) Creating a culture of safety by using checklists. AORN J 97:365–368
Acknowledgements
The authors would like to acknowledge Clinical Investigators Dr. Charles Arhinful and Dr. Tarus Valmont who provided and cared for study patients and were instrumental in accessing surgical facilities at the Volta River Authority Hospital. We would also like to acknowledge Jill Rhead Bednarik for her assistance in preparing the process mapping figures for the manuscript. There are no external funding sources or conflicts of interest to report for any author.
About this article
Cite this article
Smiley, K., Ofori, L., Spangler, C. et al. Safety Culture and Perioperative Quality at the Volta River Authority Hospital in Akosombo, Ghana. World J Surg 43, 16–23 (2019). https://doi.org/10.1007/s00268-018-4763-y