Abstract
Purpose
To assess the reduction of 6 and 12 months postoperatively of Framingham risk score in morbidly obese patients with laparoscopic sleeve gastrectomy (LSG).
Material and methods
In total, 870 morbid obesity patients received LSG in Taipei Medical University Hospital from June 2007 to June 2014 were retrospectively studied preoperatively, 6 and 12 months after surgery. The coronary heart disease risk was calculated using Framingham risk score.
Results
The body mass index in men and women decreased from 43.3 ± 6.9, 39.2 ± 6.0 kg/m2 preoperatively to 32.9 ± 6.7, 31.0 ± 5.2 kg/m2 and to 30.4 ± 5.6 , 28.2 ± 4.7 kg/m2, respectively, at 6 and 12 months after surgery (P < 0.0001). At 6 and 12 months after LSG, there was a marked improvement on lipid profile as well as a significant decline in the prevalence of diabetes mellitus, systemic hypertension, and smoking. The Framingham risk score in men and women reduced from 3.2 ± 5.7, 6.1 ± 5.7 preoperatively to 1.4 ± 5.9, 3.3 ± 5.9 and 0.1 ± 6.2, 2.8 ± 6.1, respectively, at 6 and 12 months after surgery (P < 0.0001).
Conclusions
Laparoscopic sleeve gastrectomy is efficient not only in the reduction of obesity and its related comorbidities but also in decreasing the long-term coronary event risk. Early intervention for the high-risk group is strongly recommended.
Access options
Buy single article
Instant access to the full article PDF.
US$ 39.95
Tax calculation will be finalised during checkout.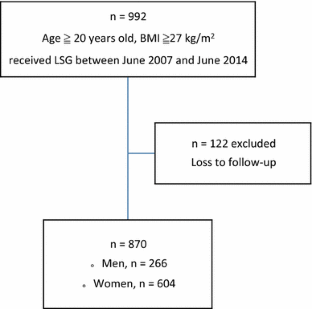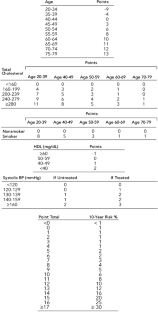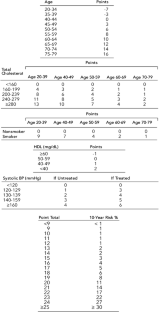 References
1.

WHO (2015) Obesity and overweight

2.

Health Promotion Administration (2014) Ministry of Health and Welfare. Annual Report

3.

Hess DS, Hess DW (1998) Biliopancreatic diversion with a duodenal switch. Obes Surg 8(267–28):2

4.

Cottam D, Qureshi FG, Mattar SG et al (2006) Laparoscopic sleeve gastrectomy as an initial weight-loss procedure for high-risk patients with morbid obesity. Surg Endosc 20(859–86):3

5.

Nocca D, Krawczykowsky D, Bomans B et al (2008) A prospective multicenter study of 163 sleeve gastrectomies: results at 1 and 2 years. Obes Surg 18:560–565

6.

Deitel M, Crosby RD, Gagner M (2008) The first international consensus summit for sleeve gastrectomy (SG), New York City, October 25–27, 2007. Obes Surg 18:487–496

7.

Deitel M, Gagner M, Erickson AL et al (2011) Third International summit: current status of sleeve gastrectomy. Surg Obes Relat Dis 7(749–75):9

8.

Gagner M, Deitel M, Kalberer TL et al (2009) The second international consensus summit for sleeve gastrectomy. Surg Obes Relat Dis 5:476–485

9.

Pok EH, Lee WJ, Ser KH et al (2016) Laparoscopic sleeve gastrectomy in Asia: long term outcome and revisional surgery. Asian J Surg 39(1):21–28

10.

Vest AR, Heneghan HM, Agarwal S et al (2012) Bariatric surgery and cardiovascular outcomes: a systematic review. Heart 98(1763–177):7

11.

Wilson PW, Bozeman SR, Burton TM et al (2008) Prediction of first events of coronary heart disease and stroke with consideration of adiposity. Circulation 118:124–130

12.

Chin CY (2009) Pengal S Cardiovascular disease risk in a semirural community in Malaysia. Asia Pac J Public Health 21:410–420

13.

Ford ES (2005) Risks for all-cause mortality, cardiovascular disease, and diabetes associated with the metabolic syndrome: a summary of the evidence. Diabetes Care 28:1769–1778

14.

Galassi A, Reynolds K, He J (2006) Metabolic syndrome and risk of cardiovascular disease: a meta-analysis. Am J Med 119(812–81):9

15.

Gami AS, Witt BJ, Howard DE et al (2007) Metabolic syndrome and risk of incident cardiovascular events and death: a systematic review and meta-analysis of longitudinal studies. J Am Coll Cardiol 49(403–41):4

16.

Zambon S, Zanoni S, Romanato G et al (2009) Metabolic syndrome and all-cause and cardiovascular mortality in an Italian elderly population: the Progetto Veneto Anziani (Pro.V.A). Study Diabetes Care 32:153–159

17.

Chien KL, Hsu HC, Sung FC et al (2007) Metabolic syndrome as a risk factor for coronary heart disease and stroke: an 11-year prospective cohort in Taiwan community. Atherosclerosis 194:214–221

18.

Sun DL, Wang JH, Jiang B et al (2012) Metabolic syndrome vs. its components for prediction of cardiovascular mortality: a cohort study in Chinese elderly adults. J Geriatr Cardiol 9:123–129

19.

Ford ES, Giles WH, Mokdad AH (2004) The distribution of 10-Year risk for coronary heart disease among US adults: findings from the National Health and Nutrition Examination Survey III. J Am Coll Cardiol 43:1791–1796

20.

Wilson PW, D'Agostino RB, Levy D et al (1998) Prediction of coronary heart disease using risk factor categories. Circulation 97(1837–184):7

21.

National Cholesterol Education Program Expert Panel on Detection E, Treatment of High Blood Cholesterol in A Third Report of the National Cholesterol Education Program (NCEP) (2002) Expert Panel on Detection, Evaluation, and Treatment of High Blood Cholesterol in Adults (Adult Treatment Panel III) final report. Circulation 106:3143–3421

22.

D'Agostino RB Sr, Vasan RS, Pencina MJ et al (2008) General cardiovascular risk profile for use in primary care: the framingham heart study. Circulation 117(743–75):3

23.

Chia YC, Gray SY, Ching SM et al (2015) Validation of the Framingham general cardiovascular risk score in a multiethnic Asian population: a retrospective cohort study. BMJ Open 5:e007324

24.

Gutierrez-Blanco D, Funes-Romero D, Madiraju S et al (2017) Reduction of Framingham BMI score after rapid weight loss in severely obese subjects undergoing sleeve gastrectomy: a single institution experience. Surg Endosc 1:1–7

25.

Li Z, Yang X, Yang J et al (2016) The cohort study on prediction of incidence of all-cause mortality by metabolic syndrome. PLoS ONE 11(5):e0154990

26.

Brethauer SA, Hammel JP, Schauer PR (2009) Systematic review of sleeve gastrectomy as staging and primary bariatric procedure. Surg Obes Relat Dis 5(469–47):5

27.

Puzziferri N, Nakonezny PA, Livingston EH et al (2008) Variations of weight loss following gastric bypass and gastric band. Ann Surg 248(233–24):2

28.

Heneghan HM, Meron-Eldar S, Brethauer SA et al (2011) Effect of bariatric surgery on cardiovascular risk profile. Am J Cardiol 108(1499–150):7

29.

Iancu M, Copaescu C, Serban M et al (2013) Laparoscopic sleeve gastrectomy reduces the predicted coronary heart disease risk and the vascular age in obese subjects. Chirurgia 108(659–66):5

30.

Schauer PR, Kashyap SR, Wolski K et al (2012) Bariatric surgery versus intensive medical therapy in obese patients with diabetes. N Engl J Med 366(1567–157):6

31.

Martinez-Larrad MT, Corbaton-Anchuelo A, Fernandez-Perez C et al (2016) Metabolic syndrome, glucose tolerance categories and the cardiovascular risk in Spanish population. Diabetes Res Clin Pract 114:23–31

32.

Batsis JA, Romero-Corral A, Collazo-Clavell ML et al (2007) Effect of weight loss on predicted cardiovascular risk: change in cardiac risk after bariatric surgery. Obesity (Silver Spring) 15(772–78):4

33.

Vogel JA, Franklin BA, Zalesin KC et al (2007) Reduction in predicted coronary heart disease risk after substantial weight reduction after bariatric surgery. Am J Cardiol 99(222–22):6
Ethics declarations
Conflict of interest
All the authors declare that they have no conflict of interest.
About this article
Cite this article
Huang, CC., Wang, W., Chen, RJ. et al. Predicted Coronary Heart Disease Risk Decreases in Obese Patients After Laparoscopic Sleeve Gastrectomy. World J Surg 42, 2173–2182 (2018). https://doi.org/10.1007/s00268-017-4416-6