Abstract
Background
The impact of the weekday of surgery in major elective cases of the upper-GI has been discussed controversially. The objective of this study was to assess whether weekday of surgery influences outcome in patients undergoing D2-gastrectomy.
Materials and methods
Patients who underwent D2-gastrectomy for gastric adenocarcinoma between 1996 and 2016 were included. Weekday of surgery was recognized, and subgroups were analyzed regarding clinical and histopathological differences. Survival analysis was performed based on weekday of surgery, and early weekdays (Monday–Tuesday) were compared with late weekdays (Wednesday–Friday).
Results
In total, 460 patients, 71% male and 29% female, were included into analysis. The median age was 65 years. Distribution to each weekday was equal and ranged from 86 cases (Wednesday) to 96 cases (Tuesday). The pT, pN and M category and the rate of patients who underwent neoadjuvant treatment did not show significant differences (p = 0.641; p = 0.337; p = 0.752; p = 0.342, respectively). The subgroups did not differ regarding the number of dissected lymph nodes and rate of R-1/2 resections (p = 0.590; p = 0.241, respectively). Survival analysis showed a median survival of 43 months (95% CI 31–55 months), and there was no single weekday or a combination of weekdays (Mon/Tue vs Wed/Thu/Fri) with a significant favorable or worse outcome (p = 0.863; p = 0.30, respectively). The outcome did not differ regarding mortality within the first 90 days after surgery (p = 0.948).
Conclusions
The present study does not show any evidence for a significant impact of weekday of surgery on short- and long-term outcome of patients undergoing gastrectomy for gastric adenocarcinoma.
Access options
Buy single article
Instant access to the full article PDF.
USD 39.95
Price excludes VAT (USA)
Tax calculation will be finalised during checkout.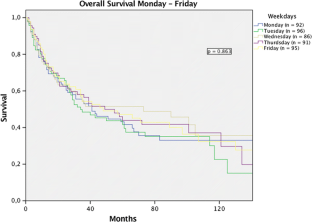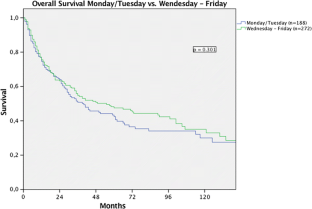 References
Torre LA, Bray F, Siegel RL et al (2015) Global cancer statistics, 2012. CA Cancer J Clin 65:87–108

Al-Batran SE, Hofheinz RD, Pauligk C et al (2016) Histopathological regression after neoadjuvant docetaxel, oxaliplatin, fluorouracil, and leucovorin versus epirubicin, cisplatin, and fluorouracil or capecitabine in patients with resectable gastric or gastro-oesophageal junction adenocarcinoma (FLOT4-AIO): results from the phase 2 part of a multicentre, open-label, randomised phase 2/3 trial. Lancet Oncol 17:1697–1708

Cho H, Nakamura J, Asaumi Y et al (2015) Long-term survival outcomes of advanced gastric cancer patients who achieved a pathological complete response with neoadjuvant chemotherapy: a systematic review of the literature. Ann Surg Oncol 22:787–792

Tsuburaya A, Sakamoto J, Morita S et al (2005) A randomized phase III trial of post-operative adjuvant oral fluoropyrimidine versus sequential paclitaxel/oral fluoropyrimidine; and UFT versus S1 for T3/T4 gastric carcinoma: the Stomach Cancer Adjuvant Multi-institutional Trial Group (Samit) Trial. Jpn J Clin Oncol 35:672–675

Tsuburaya A, Yoshida K, Kobayashi M et al (2014) Sequential paclitaxel followed by tegafur and uracil (UFT) or S-1 versus UFT or S-1 monotherapy as adjuvant chemotherapy for T4a/b gastric cancer (SAMIT): a phase 3 factorial randomised controlled trial. Lancet Oncol 15:886–893

Degiuli M, Sasako M, Ponti A et al (2014) Randomized clinical trial comparing survival after D1 or D2 gastrectomy for gastric cancer. Br J Surg 101:23–31

Memon MA, Subramanya MS, Khan S et al (2011) Meta-analysis of D1 versus D2 gastrectomy for gastric adenocarcinoma. Ann Surg 253:900–911

Mocellin S, McCulloch P, Kazi H et al (2015) Extent of lymph node dissection for adenocarcinoma of the stomach. The Cochrane database of systematic reviews; Cd001964

Lee KG, Lee HJ, Yang JY et al (2014) Risk factors associated with complication following gastrectomy for gastric cancer: retrospective analysis of prospectively collected data based on the Clavien–Dindo system. J Gastrointest Surg 18:1269–1277

Nakagawa M, Kojima K, Inokuchi M et al (2016) Identification of frequency, severity and risk factors of complications after open gastrectomy: retrospective analysis of prospectively collected database using the Clavien–Dindo classification. J Med Dent Sci 63:53–59

Lagergren J, Mattsson F, Lagergren P (2016) Weekday of esophageal cancer surgery and its relation to prognosis. Ann Surg 263:1133–1137

Zare MM, Itani KM, Schifftner TL et al (2007) Mortality after nonemergent major surgery performed on Friday versus Monday through Wednesday. Ann Surg 246:866–874

Visser E, van Rossum PS, Verhoeven RH et al (2016) Impact of weekday of esophagectomy on short-term and long-term oncological outcomes: a nationwide population-based cohort study in the Netherlands. Ann Surg 266:76–81

Meyer HJ, Holscher AH, Lordick F et al (2012) Current S3 guidelines on surgical treatment of gastric carcinoma. Der Chirurg; Zeitschrift fur alle Gebiete der operativen Medizen 83:31–37

Bowman FTCF, Hruban RH, Lauwers GY, Carneiro F, Graham DY (2010) Classification of tumours of the digestive system. IARC, Lyon (in press)

Tokunaga M, Hiki N, Fukunaga T et al (2009) Effect of individual fat areas on early surgical outcomes after open gastrectomy for gastric cancer. Br J Surg 96:496–500

Wong J, Rahman S, Saeed N et al (2014) Effect of body mass index in patients undergoing resection for gastric cancer: a single center US experience. J Gastrointest Surg 18:505–511

Yoshikawa K, Shimada M, Kurita N et al (2011) Visceral fat area is superior to body mass index as a predictive factor for risk with laparoscopy-assisted gastrectomy for gastric cancer. Surg Endosc 25:3825–3830

Glance LG, Osler T, Li Y et al (2016) Outcomes are worse in US patients undergoing surgery on weekends compared with weekdays. Med Care 54:608–615

Mohan S, Foley K, Chiles MC et al (2016) The weekend effect alters the procurement and discard rates of deceased donor kidneys in the United States. Kidney Int 90:157–163

Romain B, Grass F, Addor V et al (2016) Impact of weekday surgery on application of enhanced recovery pathway: a retrospective cohort study. BMJ Open 6:e011067

Li Y, Yu W, Dai W et al (2016) Can the weekday of surgery influence the prognosis of colorectal cancer patients? A retrospective study based on a single-center of large sample. Zhonghua wei chang wai ke za zhi = Chin J Gastrointest Surg 19:1129–1132
Ethics declarations
Conflict of interest
All authors declare no financial and personal relationships with other people or organizations that could inappropriately influence (bias) their work.
About this article
Cite this article
Berlth, F., Messerle, K., Plum, P.S. et al. Impact of the Weekday of Surgery on Outcome in Gastric Cancer Patients who Underwent D2-Gastrectomy. World J Surg 42, 1811–1818 (2018). https://doi.org/10.1007/s00268-017-4398-4
Published:

Issue Date:

DOI: https://doi.org/10.1007/s00268-017-4398-4