Abstract
Background
We occasionally experience cases of severe secondary hyperparathyroidism (SHPT) that require parathyroidectomy (PTX) despite undergoing short-term renal replacement therapy (RRT). Because the characteristics of such cases have never been discussed, we aimed to elucidate the pathophysiology of severe SHPT after short-term RRT by retrospectively analyzing clinical data.
Methods
A total of 1013 patients with severe SHPT underwent PTX between January 2007 and April 2016 at Nagoya Daini Red Cross Hospital. Of these patients, 570 underwent RRT for ≥10 years (long RRT group) and 23 for ≤1 year (short RRT group). We retrospectively investigated and compared patient characteristics, preoperative data, subjective symptoms, and bone lesion incidence between the two groups.
Results
A higher proportion of subjects with congenital or hereditary diseases as primary disease for chronic kidney disease (CKD) (21.7% (5/23) vs. 6.3% (36/570); P = 0.016) and longer predialysis period (21.2 ± 14.0 vs. 10.1 ± 9.2 years; P < 0.001) were observed in the short RRT group than in the long RRT group. Furthermore, lower serum calcium and phosphate levels, heavier parathyroid glands, and severe bone lesions were observed in the short RRT group than in the long RRT group.
Conclusion
Severe SHPT after short-term RRT appeared to occur because of long-term CKD before initiating RRT. Therefore, treating mineral and bone disorders during the early CKD stage might prevent severe SHPT development before initiating RRT.
This is a preview of subscription content, log in to check access.
Access options
Buy single article
Instant access to the full article PDF.
US$ 39.95
Price includes VAT for USA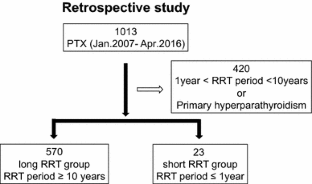 References
1.

Block GA, Klassen PS, Lazarus JM et al (2004) Mineral metabolism, mortality, and morbidity in maintenance hemodialysis patients. J Am Soc Nephrol 15:2208–2218

2.

Stevens LA, Djurdjev O, Cardew S et al (2004) Calcium, phosphate, and parathyroid hormone levels in combination and as a function of dialysis duration predict mortality: evidence for the complexity of the association between mineral metabolism and outcomes. J Am Soc Nephrol 15:770–779

3.

Block GA, Shearon EH, Levin NW et al (1998) Association of serum phosphorus and calcium × phosphate product with mortality risk in chronic hemodialysis patients: a national study. Am J Kidney 31:607–617

4.

Block GA, Port FK (2000) Re-evaluation of risks associated with hyperphosphatemia and hyperparathyroidism in dialysis patients: recommendations for a change in management. Am J Kidney 35:1226–1237

5.

Guideline Working Group, Japanese Society for Dialysis therapy (2008) Clinical practice guideline for the management of secondary hyperparathyroidism in chronic dialysis patients. Ther Apher Dial 6:514–525

6.

Fukagawa M, Yokoyama K, Koiwa F et al (2013) Clinical practice guideline for the management of chronic kidney disease-mineral and bone disorder. Ther Apher Dial 17:247–288

7.

Cunningham J, Locatelli F, Rodriguez M (2011) Secondary hyperparathyroidism: pathogenesis, disease progression, and therapeutic options. Clin J Am Soc Nephrol 6:913–921

8.

Torres VE, Harris PC, Pirson Y (2007) Autosomal dominant polycystic kidney disease. Lancet 369:1287–1301

9.

Wilson L, Felsenfeld A, Drezner MK et al (1985) Altered divalent ion metabolism in early renal failure: role of 1,25(OH)2D. Kidney Int 27:565–573

10.

Koenig KG, Lindberg JS, Zerwekh JE et al (1992) Free and total 1,25-dihydroxyvitamin D levels in subjects with renal disease. Kidney Int 41:161–165

11.

Levin A, Bakris GL, Molitch M et al (2007) Prevalence of abnormal serum vitamin D, PTH, calcium, and phosphorus in patients with chronic kidney disease: results of the study to evaluate early kidney disease. Kidney Int 71:31–38

12.

Gutiérrez OM, Isakova T, Andress DL et al (2008) Prevalence and severity of disordered mineral metabolism in Blacks with chronic kidney disease. Kidney Int 73:956–962

13.

Gutierrez O, Isakova T, Rhee E et al (2005) Fibroblast growth factor-23 mitigates hyperphosphatemia but accentuates calcitriol deficiency in chronic kidney disease. J Am Soc Nephrol 16:2205–2215

14.

Saito H, Kusano K, Kinosaki M et al (2003) Human fibroblast growth factor-23 mutants suppress Na+-dependent phosphate co-transport activity and 1alpha,25-dihydroxyvitamin D3 production. J Bio Chem 278:2206–2211

15.

Silver J, Naveh-Many T, Mayer H et al (1986) Regulation by vitamin D metabolites of parathyroid hormone gene transcription in vivo in the rat. J Clin Investig 78:1296–1301

16.

Hsu CH, Patel SR, Young EW et al (1994) The biological action of calcitriol in renal failure. Kidney Int 46:605–612

17.

Malluche HH, Mawad H, Koszewski NJ (2002) Update on vitamin D and its newer analogues: actions and rationale for treatment in chronic renal failure. Kidney Int 62:367–374

18.

Hamdy NA, Kanis JA, Beneton MN et al (1995) Effect of alfacalcidol on natural course of renal bone disease in mild to moderate renal failure. BMJ 310:358–363

19.

Rix M, Eskildsen P, Olgaard K (2004) Effect of 18 months of treatment with alfacalcidol on bone in patients with mild to moderate chronic renal failure. Nephrol Dial Transplant 19:870–876

20.

Coyne D, Acharya M, Qiu P et al (2006) Paricalcitol capsule for the treatment of secondary hyperparathyroidism in stages 3 and 4 CKD. Am J Kidney Dis 47:263–276

21.

Teng M, Wolf M, Lowrie E et al (2003) Survival of patients undergoing hemodialysis with paricalcitol or calcitriol therapy. N Engl J Med 349:446–456
Acknowledgements
The authors thank Ms. Sayoko Itou and Ms. Naoko Imai for valuable sample collection and Enago (www.enago.jp) for the English language review.
Ethics declarations
Conflict of interest
The authors declare no conflicts of interests.
About this article
Cite this article
Okada, M., Tominaga, Y., Hiramitsu, T. et al. Development of Severe Hyperparathyroidism Despite Short-Term Renal Replacement Therapy. World J Surg 42, 425–430 (2018). https://doi.org/10.1007/s00268-017-4164-7