Abstract
Backgrounds
Although transanal endoscopic surgery is practiced worldwide, there is no consensus on comparative outcomes between transanal endoscopic operation (TEO) and transanal excision (TAE). In this study, we reviewed our experiences with these techniques and compared patients who underwent TEO and TAE using propensity score matching (PSM).
Methods
A total of 207 patients underwent local rectal tumor excision between January 2008 and November 2015. To overcome selection bias, we used PSM to achieve a one-to-one TEO: TAE ratio. We included baseline characteristics, age, sex, surgeon, American Society of Anesthesiologists score, tumor location (clockwise direction), involved circumference quadrants, tumor size, and pathology.
Results
After PSM, 72 patients were included in each group. The tumor distance from the anal verge was higher in the TEO group (8.0 [5–10] vs. TAE: 4.0 [3–5], p < 0.001). Complication rates did not differ between the groups (TEO: 8.3% vs. TAE: 11.1%, p = 0.39). TEO was associated with a shorter hospital stay (3.01 vs. 4.68 days, p = 0.001), higher negative margin rate (95.8 vs. 86.1%, p = 0.039), and non-fragmented specimen rate vs. TAE (98.6 vs. 90.3%, p = 0.029).
Conclusions
TEO was more beneficial for patients with higher rectal tumors. Regardless of tumor location, involved circumference quadrants, and tumor size, TEO may more effectively achieve negative resection margins and non-fragmented specimens. Consequently, although local excision method according to tumor distance may be important, TEO will become the standard for rectal tumors.
Access options
Buy single article
Instant access to the full article PDF.
US$ 39.95
Tax calculation will be finalised during checkout.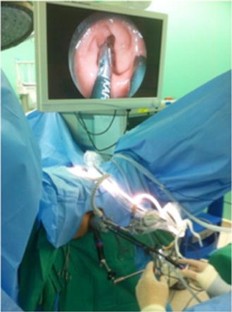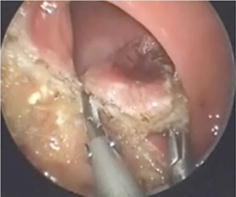 References
1.

Balch GC, De Meo A, Guillem JG (2006) Modern management of rectal cancer: a 2006 update. World J Gastroenterol 12(20):3186–3195

2.

Bentrem DJ, Okabe S, Wong WD, Guillem JG, Weiser MR, Temple LK, Ben-Porat LS, Minsky BD, Cohen AM, Paty PB (2005) T1 adenocarcinoma of the rectum: transanal excision or radical surgery? Ann Surg 242(4):472–477 (discussion 477–479)

3.

Bretagnol F, Rullier E, George B, Warren BF, Mortensen NJ (2007) Local therapy for rectal cancer: still controversial? Dis Colon Rectum 50(4):523–533. doi:10.1007/s10350-006-0819-4

4.

Gonzalez QH, Heslin MJ, Shore G, Vickers SM, Urist MM, Bland KI (2003) Results of long-term follow-up for transanal excision for rectal cancer. Am Surg 69(8):675–678 (discussion 678

5.

Pigot F, Bouchard D, Mortaji M, Castinel A, Juguet F, Chaume JC, Faivre J (2003) Local excision of large rectal villous adenomas: long-term results. Dis Colon Rectum 46(10):1345–1350. doi:10.1097/01.dcr.0000089122.05565.c0

6.

Sengupta S, Tjandra JJ (2001) Local excision of rectal cancer: what is the evidence? Dis Colon Rectum 44(9):1345–1361

7.

Saclarides TJ (2007) TEM/local excision: indications, techniques, outcomes, and the future. J Surg Oncol 96(8):644–650. doi:10.1002/jso.20922

8.

Parks AG, Stuart AE (1973) The management of villous tumours of the large bowel. Br J Surg 60(9):688–695

9.

Muldoon JP (1975) Treatment of benign tumours of the rectum. Clin Gastroenterol 4(3):563–570

10.

Neary P, Makin GB, White TJ, White E, Hartley J, MacDonald A, Lee PW, Monson JR (2003) Transanal endoscopic microsurgery: a viable operative alternative in selected patients with rectal lesions. Ann Surg Oncol 10(9):1106–1111

11.

Chiu YS, Spencer RJ (1978) Villous lesions of the colon. Dis Colon Rectum 21(7):493–495

12.

Garcia-Aguilar J, Mellgren A, Sirivongs P, Buie D, Madoff RD, Rothenberger DA (2000) Local excision of rectal cancer without adjuvant therapy: a word of caution. Ann Surg 231(3):345–351

13.

Mellgren A, Sirivongs P, Rothenberger DA, Madoff RD, Garcia-Aguilar J (2000) Is local excision adequate therapy for early rectal cancer? Dis Colon Rectum 43(8):1064–1071 (discussion 1071–1064)

14.

Sakamoto GD, MacKeigan JM, Senagore AJ (1991) Transanal excision of large, rectal villous adenomas. Dis Colon Rectum 34(10):880–885

15.

Buess G, Hutterer F, Theiss J, Bobel M, Isselhard W, Pichlmaier H (1984) A system for a transanal endoscopic rectum operation. Der Chirurg; Zeitschrift fur alle Gebiete der operativen Medizen 55(10):677–680

16.

Morino M, Allaix ME (2013) Transanal endoscopic microsurgery: what indications in 2013? Gastroenterol Rep 1(2):75–84. doi:10.1093/gastro/got012

17.

Austin PC (2011) An introduction to propensity score methods for reducing the effects of confounding in observational studies. Multivar Behav Res 46(3):399–424. doi:10.1080/00273171.2011.568786

18.

Brookhart MA, Schneeweiss S, Rothman KJ, Glynn RJ, Avorn J, Sturmer T (2006) Variable selection for propensity score models. Am J Epidemiol 163(12):1149–1156. doi:10.1093/aje/kwj149

19.

Kudo S (1993) Endoscopic mucosal resection of flat and depressed types of early colorectal cancer. Endoscopy 25(7):455–461. doi:10.1055/s-2007-1010367

20.

deBeche-Adams T, Nassif G (2015) Transanal minimally invasive surgery. Clin Colon Rectal Surg 28(3):176–180. doi:10.1055/s-0035-1555008

21.

Lloyd GM, Sutton CD, Marshall LJ, Baragwanath P, Jameson JS, Scott AD (2002) Transanal endoscopic microsurgery–lessons from a single UK centre series. Colorectal Dis Off J Assoc Coloproctol G B Irel 4(6):467–472

22.

McCloud JM, Waymont N, Pahwa N, Varghese P, Richards C, Jameson JS, Scott AN (2006) Factors predicting early recurrence after transanal endoscopic microsurgery excision for rectal adenoma. Colorectal Dis Off J Assoc Coloproctol G B Irel 8(7):581–585. doi:10.1111/j.1463-1318.2006.01016.x

23.

Galandiuk S, Fazio VW, Jagelman DG, Lavery IC, Weakley FA, Petras RE, Badhwar K, McGonagle B, Eastin K, Sutton T (1987) Villous and tubulovillous adenomas of the colon and rectum. A retrospective review, 1964–1985. Am J Surg 153(1):41–47

24.

Moore JS, Cataldo PA, Osler T, Hyman NH (2008) Transanal endoscopic microsurgery is more effective than traditional transanal excision for resection of rectal masses. Dis Colon Rectum 51(7):1026–1030. doi:10.1007/s10350-008-9337-x (discussion 1030–1021)

25.

Langer C, Liersch T, Suss M, Siemer A, Markus P, Ghadimi BM, Fuzesi L, Becker H (2003) Surgical cure for early rectal carcinoma and large adenoma: transanal endoscopic microsurgery (using ultrasound or electrosurgery) compared to conventional local and radical resection. Int J Colorectal Dis 18(3):222–229. doi:10.1007/s00384-002-0441-4
Ethics declarations
Conflict of interest
The authors declare that they have no conflict of interest.
About this article
Cite this article
Han, J., Noh, G.T., Cheong, C. et al. Transanal Endoscopic Operation Versus Conventional Transanal Excision for Rectal Tumors: Case-Matched Study with Propensity Score Matching. World J Surg 41, 2387–2394 (2017). https://doi.org/10.1007/s00268-017-4017-4
Keywords
Resection Margin

Local Excision

Propensity Score Match

Anal Verge

Rectal Tumor