Abstract
Objectives
Critical limb ischemia (CLI) is a clinical diagnosis, confirmed by objective tests, usually ankle-brachial index (ABI), toe pressure (TP) and TcPO2. Furthermore, the anatomical lesions in patients affected by CLI were visualized by ultrasound, angiography, CTA, or MRA. Indocyanine green fluorescence imaging (ICG-FI) is a diagnostic modality for assessing foot perfusion. We aimed to study the usefulness of ICG-FI in the quality control of revascularization.
Materials and methods
One hundred and four CLI limbs in 101 patients were studied with ICG-FI using SPY Elite before and after open or endovascular revascularization. ABI and TP were also measured. After ICG-FI, assessment of circulation was done using time–intensity curve derived from the two regions of interest the one being in the plantar side of the foot and the other in the dorsal side of the foot. Three parameters were derived from the curves: maximum intensity (the absolute value of the maximum intensity); intensity rate (the value from the time–intensity curve describing the increase in maximum intensity/s) and SPY10 (the intensity achieved during the first 10 s after the foot starts to gain intensity).
Results
Sixty-two limbs presented category 3 of Rutherford classification, 12 limbs category 4, and 30 limbs category 5. Ninety-five technically successful procedures were achieved, 63 (66.3%) endovascular and 32 (33.7%) surgical revascularizations. In 9 (9.5%) patients, an in-line flow from the aorta to the foot was not achieved due to a failure to recanalize the occlusion (n = 7) or due to distal embolization (n = 2). ABI was not reliable in 58 patients (57.4%) mostly due to pseudohypertension and TPs in 49 (48.5%) patients mostly due to previous minor amputations. ICG-FI was successful in all patients. The mean intensity values before and after the procedure in patients who underwent successful revascularization were 81 ± 47 units and 120 ± 5 units of intensity (p < .001) and intensity rates 4.2 ± 4 and 8.0 ± 6.2 units/s (p = .001), respectively. In the PTA patients in whom the revascularization was unsuccessful, no changes were seen in the hemodynamic parameters. In 6 (8.8%) patients who underwent technically successful revascularization, the SPY values were worse after the revascularization than at the baseline.
Conclusions
ICG-FI with SPY Elite provides reliable information on the increase in perfusion after revascularization, in addition to implicating possible failure if there is no improvement in the ICG-FI variables. Unlike ABI and TP, it can be performed in all patients. It gives valuable information to complement traditional assessment methods.
Access options
Buy single article
Instant access to the full article PDF.
USD 39.95
Price includes VAT (USA)
Tax calculation will be finalised during checkout.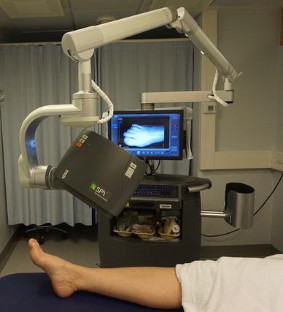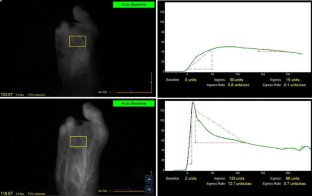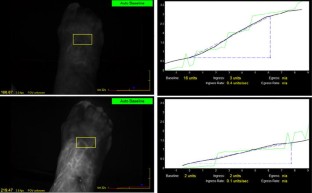 References
1.

Norgren L, Hiatt WR, Dormandy JA, Nehler MR, Harris KA, Fowkes FG, TASC II Working Group (2007) Inter-society consensus for the management of peripheral arterial disease (TASC II). J Vasc Surg 45(Suppl S):S5–S67

2.

Widmer LW, Vikatmaa P, Aho P, Lepäntalo M, Venermo M (2012) Reliability and repeatability of toe pressures measured with laser Doppler and portable and stationary photoplethysmography devices. Ann Vasc Surg 26(3):404–410

3.

Patel KM, Bhanot P, Franklin B, Albino F, Nahabedian MY (2013) Use of intraoperative indocyanin-green angiography to minimize wound healing complications in abdominal wall reconstruction. J Plast Surg Hand Surg 47:476–480

4.

Liu DZ, Mathes DW, Zenn MR, Neligan PC (2011) The application of indocyanine green fluorescence angiography in plastic surgery. J Reconstr Microsurg 27:355–364

5.

Newman MI, Samson MC, Tamburrino JF, Schwarz KA, Brunworth L (2011) An investigation of the application of laser assisted indocyanine green fluorescent dye angiography in pedicle transverse rectus abdominus myocutaneous breast reconstruction. Can J Plast Surg 19:1–5

6.

Terasaki H, Inoue Y, Sugano N, Jibiki M, Kudo T, Lepäntalo M, Venermo M (2013) A quantitative method for evaluating local perfusion using indocyanine green fluorescence imaging. Ann Vasc Surg 27:1154–1161

7.

Unno N, Nishiyama M, Suzuki M, Yamamoto N, Inuzuka K, Sagara D et al (2008) Quantitative lymph imaging for assessment of lymph function using indocyanine green fluorescence lymphography. Eur J Vasc Endovasc Surg 36:230–236

8.

Braun JD, Trinidad-Hernandez M, Perry D, Armstrong DG, Mills JL Sr (2013) Early quantitative evaluation of indocyanine green angiography in patients with critical limb ischemia. J Vasc Surg 57:1213–1218

9.

Venermo M, Settembre N, Albäck A, Vikatmaa P, Aho PS, Lepäntalo M, Inoue Y, Terasaki H (2016) Pilot assessment of the repeatability of indocyanine green fluorescence imaging and correlation with traditional foot perfusion assessments. Eur J Vasc Endovasc Surg 52:527–533

10.

SPY-Q Analysis Toolkit Operator's Manual Document: 012-50101-000 Edition: USA Revision: B, 2012 Printed in Canada, pp 51–52

11.

Rutherford RB, Baker JD, Ernst C, Johnston KW, Porter JM, Ahn S et al (1997) Recommended standards for reports dealing with lower extremity ischemia: revised version. J Vasc Surg 26(3):517–538

12.

Wyman RA, Keevil JG, Busse KL, Aeschlimann SE, Korcarz CE, Stein JH (2006) Is the ankle-brachial index a useful screening test for subclinical atherosclerosis in asymptomatic, middle-aged adults? WMJ 105:50–54

13.

De Graaff JC, Ubbink DT, Legemate DA, de Haan RJ, Jacobs MJ (2001) Interobserver and intraobserver reproducibility of peripheral blood and oxygen pressure measurements in the assessment of lower extremity arterial disease. J Vasc Surg 33:1033–1040

14.

Cheng Z, Wu Y, Xiong Z, Gambhir SS, Chen X (2005) Near-infrared fluorescent RGD peptides for optical imaging of integrin alphavbeta3 expression in living mice. Bioconjug Chem 16:1433–1441

15.

Frangioni JV (2003) In vivo near-infrared fluorescence imaging. Curr Opin Chem Biol 7:626–634

16.

Alander JT, Kaartinen I, Laakso A, Pätilä T, Spillmann T, Tuchin VV, Venermo M, Välisuo P (2012) A review of indocyanine green fluorescent imaging in surgery. Int J Biomed Imaging 2012:940585

17.

Kang Y, Lee J, Kwon K, Choi C (2010) Dynamic fluorescence imaging of indocyanine green for reliable and sensitive diagnosis of peripheral vascular insufficiency. Microvasc Res 80:552–555
About this article
Cite this article
Settembre, N., Kauhanen, P., Albäck, A. et al. Quality Control of the Foot Revascularization Using Indocyanine Green Fluorescence Imaging. World J Surg 41, 1919–1926 (2017). https://doi.org/10.1007/s00268-017-3950-6
Keywords
Intensity Curve

Intensity Rate

Critical Limb Ischemia

Distal Embolization

Surgical Revascularization