Abstract
Objective
Regret is a powerful motivating factor in medical decision making among patients and surgeons. Regret can be particularly important for surgical decisions, which often carry significant risk and may have uncertain outcomes. We performed a systematic review of the literature focused on patient and physician regret in the surgical setting.
Methods
A search of the English literature between 1986 and 2016 that examined patient and physician self-reported decisional regret was carried out using the MEDLINE/PubMed and Web of Science databases. Clinical studies performed in patients and physicians participating in elective surgical treatment were included.
Results
Of 889 studies identified, 73 patient studies and 6 physician studies met inclusion criteria. Among the 73 patient studies, 57.5% examined patients with a cancer diagnosis, with breast (26.0%) and prostate (28.8%) cancers being most common. Interestingly, self-reported patient regret was relatively uncommon with an average prevalence across studies of 14.4%. Factors most often associated with regret included type of surgery, disease-specific quality of life, and shared decision making. Only 6 studies were identified that focused on physician regret; 2 pertained to surgical decision making. These studies primarily measured regret of omission and commission using hypothetical case scenarios and used the results to develop decision curve analysis tools.
Conclusion
Self-reported decisional regret was present in about 1 in 7 surgical patients. Factors associated with regret were both patient- and procedure related. While most studies focused on patient regret, little data exist on how physician regret affects shared decision making.
Access options
Buy single article
Instant access to the full article PDF.
US$ 39.95
Tax calculation will be finalised during checkout.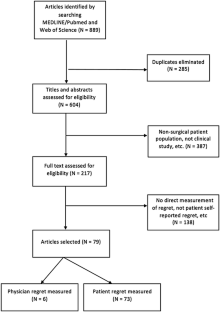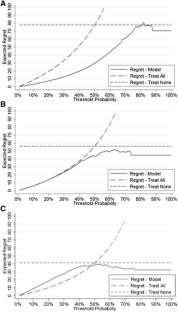 References
1.

Boss EF, Mehta N, Nagarajan N et al (2016) Shared decision making and choice for elective surgical care: a systematic review. Otolaryngol Head Neck Surg 154(3):405–420

2.

Legare F, Ratte S, Stacey D et al (2010) Interventions for improving the adoption of shared decision making by healthcare professionals. Cochrane Database Syst Rev. doi:10.1002/14651858.CD006732.pub3

3.

Stiggelbout AM, Van der Weijden T, De Wit MP et al (2012) Shared decision making: really putting patients at the centre of healthcare. BMJ 344:e256

4.

Connolly T, Reb J (2005) Regret in cancer-related decisions. Health Psychol 24(4 Suppl):S29–S34

5.

Sorum PC, Mullet E, Shim J, Bonnin-Scaon S, Chasseigne G, Cogneau J (2004) Avoidance of anticipated regret: the ordering of prostate-specific antigen tests. Med Decis Mak 24(2):149–159

6.

Zeelenberg M (1999) Anticipated regret, expected feedback and behavioral decision making. J Behav Decis Mak 12(2):93

7.

Connolly T, Zeelenberg M (2002) Regret in decision making. Curr Dir Psychol Sci 11(6):212–216

8.

Speck RM, Neuman MD, Resnick KS, Mellers BA, Fleisher LA (2016) Anticipated regret in shared decision-making: a randomized experimental study. Perioper Med (Lond) 5:5

9.

Djulbegovic B, Hozo I, Schwartz A, McMasters KM (1999) Acceptable regret in medical decision making. Med Hypotheses 53(3):253–259

10.

Hozo I, Djulbegovic B (2008) When is diagnostic testing inappropriate or irrational? Acceptable regret approach. Med Decis Mak 28(4):540–553

11.

Moher D, Liberati A, Tetzlaff J, Altman DG, Group PRISMA (2009) Preferred reporting items for systematic reviews and meta-analyses: the PRISMA statement. J Clin Epidemiol 62(10):1006–1012

12.

Hellgren L, Stahle E (2005) Quality of life after heart valve surgery with prolonged intensive care. Ann Thorac Surg 80(5):1693–1698

13.

Ratcliff CG, Cohen L, Pettaway CA, Parker PA (2013) Treatment regret and quality of life following radical prostatectomy. Support Care Cancer 21(12):3337–3343

14.

Brehaut JC, O'Connor AM, Wood TJ et al (2003) Validation of a decision regret scale. Med Decis Mak 23(4):281–292

15.

Pérez MMB, Menear M, Brehaut JC, Légaré F (2016) Extent and predictors of decision regret about health care decisions a systematic review. Med Decis Mak 36(6):777–790

16.

Sheehan J, Sherman KA, Lam T, Boyages J (2007) Association of information satisfaction, psychological distress and monitoring coping style with post-decision regret following breast reconstruction. Psychooncology 16(4):342–351

17.

Sheehan J, Sherman KA, Lam T, Boyages J (2008) Regret associated with the decision for breast reconstruction: the association of negative body image, distress and surgery characteristics with decision regret. Psychol Health 23(2):207–219

18.

Nicolai J, Buchholz A, Seefried N et al (2016) When do cancer patients regret their treatment decision? A path analysis of the influence of clinicians' communication styles and the match of decision-making styles on decision regret. Patient Educ Couns 99(5):739–746

19.

Zhong T, Bagher S, Jindal K et al (2013) The influence of dispositional optimism on decision regret to undergo major breast reconstructive surgery. J Surg Oncol 108(8):526–530

20.

Diefenbach MA, Mohamed NE (2007) Regret of treatment decision and its association with disease-specific quality of life following prostate cancer treatment. Cancer Investig 25(6):449–457

21.

Abdul-Muhsin HM, Tyson MD, Andrews PE et al (2016) Analysis of benign prostatic hyperplasia patients' perspective through a third party-administered survey. Urology 88:155–160

22.

Chou SH, Kao EL, Lin CC, Chang YT, Huang MF (2006) The importance of classification in sympathetic surgery and a proposed mechanism for compensatory hyperhidrosis: experience with 464 cases. Surg Endosc 20(11):1749–1753

23.

Schroeck FR, Krupski TL, Sun L et al (2008) Satisfaction and regret after open retropubic or robot-assisted laparoscopic radical prostatectomy. Eur Urol 54(4):785–793

24.

Lantz PM, Janz NK, Fagerlin A et al (2005) Satisfaction with surgery outcomes and the decision process in a population-based sample of women with breast cancer. Health Serv Res 40(3):745–767

25.

Nguyen PL, Chen M-H, Hoffman KE et al (2012) Cardiovascular comorbidity and treatment regret in men with recurrent prostate cancer. BJU Int 110(2):201–205

26.

Lavery HJ, Levinson AW, Hobbs AR et al (2012) Baseline functional status may predict decisional regret following robotic prostatectomy. J Urol 188(6):2213–2218

27.

Collingwood SA, McBride RB, Leapman M et al (2014) Decisional regret after robotic-assisted laparoscopic prostatectomy is higher in African American men. Urol Oncol Semin Orig Investig 32(4):419–425

28.

Hawley ST, Janz NK, Hamilton A et al (2008) Latina patient perspectives about informed treatment decision making for breast cancer. Patient Educ Couns 73(2):363–370

29.

Hu JC, Kwan L, Krupski TL et al (2008) Determinants of treatment regret in low-income, uninsured men with prostate cancer. Urology 72(6):1274–1279

30.

Mahal BA, Chen MH, Bennett CL et al (2015) The association between race and treatment regret among men with recurrent prostate cancer. Prostate Cancer Prostatic Dis 18(1):38–42

31.

Martinez KA, Li Y, Resnicow K, Graff JJ, Hamilton AS, Hawley ST (2015) Decision regret following treatment for localized breast cancer: is regret stable over time? Med Decis Mak 35(4):446–457

32.

Hu JC, Kwan L, Saigal CS, Litwin MS (2003) Regret in men treated for localized prostate cancer. J Urol 169(6):2279–2283

33.

Montgomery LL, Tran KN, Heelan MC et al (1999) Issues of regret in women with contralateral prophylactic mastectomies. Ann Surg Oncol 6(6):546–552

34.

Sidana A, Hernandez DJ, Feng Z et al (2012) Treatment decision-making for localized prostate cancer: what younger men choose and why. Prostate 72(1):58–64

35.

Katie Lee SY, Knobf MT (2015) Primary breast cancer decision-making among Chinese American women: satisfaction, regret. Nurs Res 64(5):391–401

36.

Davison BJ, So AI, Goldenberg SL (2007) Quality of life, sexual function and decisional regret at 1 year after surgical treatment for localized prostate cancer. BJU Int 100(4):780–785

37.

Smidfelt K, Drott C (2011) Late results of endoscopic thoracic sympathectomy for hyperhidrosis and facial blushing. Br J Surg 98(12):1719–1723

38.

Borgen PI, Hill ADK, Tran KN et al (1998) Patient regrets after bilateral prophylactic mastectomy. Ann Surg Oncol 5(7):603–606

39.

Clark JA, Wray NP, Ashton CM (2001) Living with treatment decisions: regrets and quality of life among men treated for metastatic prostate cancer. J Clin Oncol 19(1):72–80

40.

Lam WW, Kwok M, Chan M et al (2014) Does the use of shared decision-making consultation behaviors increase treatment decision-making satisfaction among Chinese women facing decision for breast cancer surgery? Patient Educ Couns 94(2):243–249

41.

Livaudais JC, Franco R, Fei K, Bickell NA (2013) Breast cancer treatment decision-making: are we asking too much of patients? J Gen Int Med 28(5):630–636

42.

Berry DL, Wang Q, Halpenny B, Hong F (2012) Decision preparation, satisfaction and regret in a multi-center sample of men with newly diagnosed localized prostate cancer. Patient Educ Couns 88(2):262–267

43.

Hacking B, Wallace L, Scott S, Kosmala-Anderson J, Belkora J, McNeill A (2013) Testing the feasibility, acceptability and effectiveness of a 'decision navigation' intervention for early stage prostate cancer patients in Scotland–a randomised controlled trial. Psycho-oncology 22(5):1017–1024

44.

Good DW, Delaney H, Laird A, Hacking B, Stewart GD, McNeill SA (2015) Consultation audio-recording reduces long-term decision regret after prostate cancer treatment: a non-randomised comparative cohort study. Surg J R Coll Surg Edinb Irel 14(6):308–314

45.

Bagante F, Spolverato G, Cucchetti A et al (2016) Defining when to offer operative treatment for intrahepatic cholangiocarcinoma: a regret-based decision curves analysis. Surgery 160(1):106–117

46.

Cucchetti A, Djulbegovic B, Tsalatsanis A et al (2015) When to perform hepatic resection for intermediate-stage hepatocellular carcinoma. Hepatology 61(3):905–914

47.

Gross CP, Vogel EW, Dhond AJ et al (2003) Factors influencing physicians' reported use of anticoagulation therapy in nonvalvular atrial fibrillation: a cross-sectional survey. Clin Ther 25(6):1750–1764

48.

Schmidt RE, Cullati S, Mostofsky E et al (2015) Healthcare-related regret among nurses and physicians is associated with self-rated insomnia severity: a cross-sectional study. Plos One 10(10):e0139770

49.

Courvoisier DS, Cullati S, Haller CS et al (2013) Validation of a 10-item care-related Regret Intensity Scale (RIS-10) for health care professionals. Med Care 51(3):285–291

50.

Ejaz A, Kim Y, Winner M et al (2016) Associations between patient perceptions of communication, cure, and other patient-related factors regarding patient-reported quality of care following surgical resection of lung and colorectal cancer. J Gastrointest Surg 20(4):812–826

51.

Kim Y, Winner M, Page A et al (2015) Patient perceptions regarding the likelihood of cure after surgical resection of lung and colorectal cancer. Cancer 121(20):3564–3573

52.

El Douaihy Y, Sooriakumaran P, Agarwal M et al (2011) A cohort study investigating patient expectations and satisfaction outcomes in men undergoing robotic assisted radical prostatectomy. Int Urol Nephrol 43(2):405–415

53.

Tsalatsanis A, Barnes LE, Hozo I, Djulbegovic B (2011) Extensions to regret-based decision curve analysis: an application to hospice referral for terminal patients. BMC Med Inform Decis Mak 11:77

54.

Davison BJ, Goldenberg SL (2003) Decisional regret and quality of life after participating in medical decision-making for early-stage prostate cancer. BJU Int 91(1):14–17

55.

Davison BJ, Matthew A, Gardner AM (2014) Prospective comparison of the impact of robotic-assisted laparoscopic radical prostatectomy versus open radical prostatectomy on health-related quality of life and decision regret. Can Urol Assoc J 8(1–2):E68–E72

56.

Lin Y-H (2011) Treatment decision regret and related factors following radical prostatectomy. Cancer Nurs 34(5):417–422

57.

Luan A, Hui KJ, Remington AC, Liu X, Lee GK (2016) Effects of a novel decision aid for breast reconstruction a randomized prospective trial. Ann Plast Surg 76:S249–S254

58.

Eiser C, Darlington AS, Stride CB, Grimer R (2001) Quality of life implications as a consequence of surgery: limb salvage, primary and secondary amputation. Sarcoma 5(4):189–195

59.

Yossepowitch O, Aviv D, Wainchwaig L, Baniel J (2011) Testicular prostheses for testis cancer survivors: patient perspectives and predictors of long-term satisfaction. J Urol 186(6):2249–2252

60.

de Andrade Filho LO, Kuzniec S, Wolosker N, Yazbek G, Kauffman P, Milanez de Campos JR (2013) Technical difficulties and complications of sympathectomy in the treatment of hyperhidrosis: an analysis of 1731 cases. Ann Vasc Surg 27(4):447–453

61.

Gossot D, Galetta D, Pascal A et al (2003) Long-term results of endoscopic thoracic sympathectomy for upper limb hyperhidrosis. Ann Thorac Surg 75(4):1075–1079

62.

Kopelman D, Hashmonai M, Ehrenreich M, Bahous H, Assalia A (1996) Upper dorsal thoracoscopic sympathectomy for palmar hyperhidrosis: improved intermediate-term results. J Vasc Surg 24(2):194–199

63.

Leao LEV, de Oliveira R, Szulc R, Mari JdJ, Crotti PLR, Goncalves JJS (2003) Role of video-assisted thoracoscopic sympathectomy in the treatment of primary hyperhidrosis. Sao Paulo Med J 121(5):191–197

64.

Libson S, Kirshtein B, Mizrahi S, Lantsberg L (2007) Evaluation of compensatory sweating after bilateral thoracoscopic sympathectomy for palmar hyperhidrosis. Surg Laparosc Endosc Percutaneous Tech 17(6):511–513

65.

Licht PB, Jorgensen OD, Ladegaard L, Pilegaard HK (2005) Thoracoscopic sympathectomy for axillary hyperhidrosis: the influence of T4. Ann Thorac Surg 80(2):455–460

66.

Rodriguez PM, Freixinet JL, Hussein M et al (2008) Side effects, complications and outcome of thoracoscopic sympathectomy for palmar and axillary hyperhidrosis in 406 patients. Eur J Cardiothorac Surg 34(3):514–519

67.

Thune TH, Ladegaard L, Licht PB (2006) Thoracoscopic sympathectomy for Raynaud's phenomenon—a long term follow-up study. Eur J Vasc Endovasc Surg 32(2):198–202

68.

Weksler B, Blaine G, Souza ZBB, Gavina R (2009) Transection of more than one sympathetic chain ganglion for hyperhidrosis increases the severity of compensatory hyperhidrosis and decreases patient satisfaction. J Surg Res 156(1):110–115

69.

Crisp CC, Book NM, Cunkelman JA, Tieu AL, Pauls RN (2016) Body image, regret, and satisfaction 24 weeks after colpocleisis: a multicenter study. Female Pelvic Med Reconstr Surg 22(3):132–135

70.

Wheeler TL, Richter HE, Burgio KL et al (2005) Regret, satisfaction, and symptom improvement: analysis of the impact of partial colpocleisis for the management of severe pelvic organ prolapse. Am J Obstet Gynecol 193(6):2067–2070

71.

Vij M, Bombieri L, Dua A, Freeman R (2014) Long-term follow-up after colpocleisis: regret, bowel, and bladder function. Int Urogynecol J 25(6):811–815

72.

Takase-Sanchez MM, Brooks HM, Hale DS, Heit MH (2015) Obliterative surgery for the treatment of pelvic organ prolapse a patient survey on reasons for surgery selection and postoperative decision regret and satisfaction. Female Pelvic Med Reconstr Surg 21(6):325–331

73.

Tos T, Caye-Thomasen P, Stangerup SE, Tos M, Thomsen J (2003) Patients' fears, expectations and satisfaction in relation to management of vestibular schwannoma: a comparison of surgery and observation. Acta Otolaryngol 123(5):600–605

74.

Somani BK, Kumar V, Wong S et al (2007) Bowel dysfunction after transposition of intestinal segments into the urinary tract: 8-year prospective cohort study. J Urol 177(5):1793–1798

75.

McLeod RS, Lavery IC, Leatherman JR et al (1986) Factors affecting quality-of-life with a conventional ileostomy. World J Surg 10(3):474–480

76.

Gullick JG, Colleen Stainton M (2009) Taking a chance: the experience of lung volume reduction procedures for chronic obstructive pulmonary disease. Chronic Illn 5(4):293–304

77.

Blumenthal-Barby JS, Kostick KM, Delgado ED et al (2015) Assessment of patients' and caregivers' informational and decisional needs for left ventricular assist device placement: implications for informed consent and shared decision-making. J Heart Lung Transplant 34(9):1182–1189

78.

AlKharafi L, AlHajery D, Andersson L (2014) Orthognathic surgery: pretreatment information and patient satisfaction. Med Princ Pract 23(3):218–224

79.

Reid K, Herbert A, Baker GA (2004) Epilepsy surgery: patient-perceived long-term costs and benefits. Epilepsy Behav 5(1):81–87

80.

Taylor CJ, Chester DL (2012) Bilateral breast reduction surgery in elderly women—a retrospective review of outcomes. J Plast Reconstr Aesthet Surg 65(3):304–311

81.

Tung TC, Wei FC (1997) Excision of subcutaneous tissue for the treatment of axillary osmidrosis. Br J Plast Surg 50(1):61–66

82.

Wood JJ, Chant H, Laugharne M, Chant T, Mitchell DC (2005) A prospective study of cutaneous nerve injury following long saphenous vein surgery. Eur J Vasc Endovasc Surg 30(6):654–658
Ethics declarations
Conflict of interest
None.
About this article
Cite this article
Wilson, A., Ronnekleiv-Kelly, S.M. & Pawlik, T.M. Regret in Surgical Decision Making: A Systematic Review of Patient and Physician Perspectives. World J Surg 41, 1454–1465 (2017). https://doi.org/10.1007/s00268-017-3895-9
Keywords
Radical Prostatectomy

Biliary Tract Cancer

Anticipate Regret

Decisional Regret

Decision Curve Analysis