Abstract
Background
Patients undergoing surgery often use Dietary and Herbal Supplements (DHS). We explored the risk of DHS–drug interactions in the perioperative setting.
Methods
In this cross-sectional prospective study, participants hospitalized for surgery completed a questionnaire regarding DHS use. We used pharmacological databases to assess DHS–drug interactions. We then applied univariate and multivariate logistic regression analyses to characterize patients at risk for DHS–drug interactions.
Results
Of 526 interviewees, 230 (44%) patients reported DHS use, with 16.5% reporting using DHS that could potentially interact with anesthesia. Twenty-four (10%) patients used DHS that could potentially interact with antithrombotic drugs taken perioperatively. The medical files of three patients included reports of intraoperative bleeding. The patient files of only 11% of DHS users documented DHS use.
Conclusions
DHS use poses a significant health risk due to potential interactions. Guidelines should emphasize perioperative management of DHS use.
Access options
Buy single article
Instant access to the full article PDF.
US$ 39.95
Tax calculation will be finalised during checkout.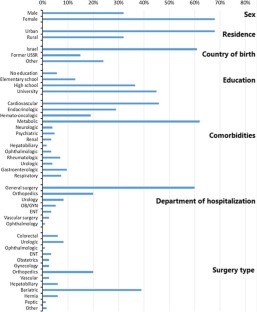 References
1.

Dietary Supplements Health and Education Act (1994) https://ods.od.nih.gov/About/dshea_wording.aspx. Accessed June 15, 2015

2.

Tsen LC, Segal S, Pothier M, Bader AM (2000) Alternative medicine use in presurgical patients. Anesthesiology 93:148–151

3.

Kaye AD, Clarke RC, Sabar R et al (2000) Herbal medications: current trends in anesthesiology practice—a hospital survey. J Clin Anesth 12:468–471

4.

Leung JM, Dzankic S, Manku K, Yuan S (2001) The prevalence and predictors of the use of alternative medicine in pre-surgical patients in five California hospitals. Anesth Analg 93(4):1062–1068

5.

Newmaster SG, Grguric M, Shanmughanandhan D, Ramalingam S, Ragupathy S (2013) DNA barcoding detects contamination and substitution in North American herbal products. BMC Med 11:222

6.

Alexopoulou A, Dourakis SP, Mantzoukis D et al (2008) Adverse drug reactions as a cause of hospital admissions: a 6-month experience in a single center in Greece. Eur J Intern Med 19(7):505–510

7.

Shapiro LE, Shear NH (1999) Drug-drug interactions: how scared should we be? CMAJ 161(10):1266–1267

8.

Abe A, Kaye AD, Gritsenko K, Urman RD, Kaye AM (2014) Perioperative analgesia and the effects of dietary supplements. J Clin Anesth 28(2):183–189

9.

Ang-Lee MK, Moss J, Yuan CS (2001) Herbal medicines and perioperative care. JAMA 286(2):208–216

10.

Lee A, Chui PT, Aun CS, Lau AS, Gin T (2006) Incidence and risk of adverse perioperative events among surgical patients taking traditional Chinese herbal medicines. Anesthesiology 105(3):454–461

11.

Franco Ruiz S, Gonzalez Maldonado P (2014) Dietary supplements and the anesthesiologist: research results and state of the art. Rev Colomb Anesthesiol 42:90–99

12.

Ben-Arye E, Halabi I, Goldstein L, Attias S, Schiff E (2014) Asking patients the right questions about herbal and dietary supplements: cross-cultural perspectives. Complement Ther Med 22(2):304–310

13.

Natural Medicines Comprehensive Database. http://naturaldatabase.therapeuticresearch.com. Accessed June 15, 2015

14.

Horn JR, Hansten PD, Chan LN (2007) Proposal for a new tool to evaluate drug interaction cases. Ann Pharmacother 41(4):674–680

15.

Lima CF, Fernandes-Ferreira M, Pereira Wilson C (2007) Drinking of Salvia officinalis tea increases CCI(4)-induced hepatotoxicity in mice. Food Chem Toxicol 45(3):456–464

16.

Perry NS, Bollen C, Perry EK, Ballard C (2003) Salvia for dementia therapy: review of pharmacological activity and pilot tolerability clinical trial. Pharmacol Biochem Behav 75(3):651–659

17.

Avallone R, Zanoli P, Puia G, Kleinschnitz M, Schreier P, Baraldi M (2000) Pharmacological profile of apigenin, a flavonoid isolated from Matricaria chamomilla. Biochem Pharmacol 59(11):1387–1394

18.

Kennedy DO, Scholey AB, Tildesley NT, Perry EK, Wesnes KA (2002) Modulation of mood and cognitive performance following acute administration of Melissa officinalis (lemon balm). Pharmacol Biochem Behav 72(4):953–964

19.

Forrest WH Jr, Bellville JW, Brown BW Jr (1972) The interaction of caffeine with pentobarbital as a nighttime hypnotic. Anesthesiology 36:37–41

20.

Lev EI, Solodky A, Harel N, Mager A, Brosh D, Assali A, Roller M, Battler A, Kleiman NS, Kornowski R (2010) Treatment of aspirin-resistant patients with omega-3 fatty acids versus aspirin dose escalation. J Am Coll Cardiol 55(2):114–121

21.

Son DJ, Cho MR, Jin YR, Kim SY, Park YH, Lee SH, Akiba S, Sato T, Yun YP (2004) Antiplatelet effect of green tea catechins: a possible mechanism through arachidonic acid pathway. Prostaglandins Leukot Essent Fatty Acids 71(1):25–31

22.

Lee JJ, Jin YR, Lee JH, Yu JY, Han XH, Oh KW, Hong JT, Kim TJ, Yun YP (2007) Antiplatelet activity of carnosic acid, a phenolic diterpene from Rosmarinus officinalis. Planta Med 73(2):121–127

23.

Ravn HB, Vissinger H, Kristensen SD, Wennmalm A, Thygesen K, Husted SE (1996) Magnesium inhibits platelet activity—an infusion study in healthy volunteers. Thromb Haemost 75(6):939–944

24.

Nordström DC, Honkanen VE, Nasu Y, Antila E, Friman C, Konttinen YT (1995) Alpha-linolenic acid in the treatment of rheumatoid arthritis. A double-blind, placebo-controlled and randomized study: flaxseed vs. safflower seed. Rheumatol Int 14(6):231–234

25.

Backon J (1991) Ginger as an antiemetic: possible side effects due to its thromboxane synthetase activity. Anesthesia 46(8):705–706

26.

Ganzera M, Schneider P, Stuppner H (2006) Inhibitory effects of the essential oil of chamomile (Matricaria recutita L.) and its major constituents on human cytochrome P450 enzymes. Life Sci 78(8):856–861

27.

Cochrane ML (2015) Inhibition of cytochrome P450 2C9 by essential oils. Medical Sciences Thesis

28.

Kaye AD, Baluch A, Kaye AJ, Frass M, Hofbauer R (2007) Pharmacology of herbals and their impact in anesthesia. Curr Opin Anaesthesiol 20(4):294–299

29.

Practice Guidelines for Perioperative Blood Management. http://www.asahq.org/quality-and-practice-management/standards-and-guidelines/search?q=herb. Accessed Sept 12, 2015

30.

Hogg LA, Foo I (2010) Management of patients taking herbal medicines in the perioperative period: a survey of practice and policies within Anaesthetic Departments in the United Kingdom. Eur J Anaesthesiol 27(1):11–15

31.

Wirsansky I (2012) Educational interventions for developing awareness and imparting skill questioning about use of dietary and herbal supplements among hospitalized patients. Fundamental Sciences MD Thesis. Technion

32.

Douketis JD, Spyropoulos AC, Spencer FA, Mayr M, Jaffer AK, Eckman MH, Dunn AS, Kunz R (2012) American college of chest physicians. Perioperative management of antithrombotic therapy: antithrombotic Therapy and prevention of thrombosis, 9th ed: American college of chest physicians evidence-based clinical practice guidelines. Chest 141(2 suppl):e326S
Acknowledgements
We thank Ms. Silvi Auerbach, Ms. Rita Stern, Ms. Anat Melamed, Ms. Ramzia Sarouzi, Ms. Alexandra Kamladi-nov, Ms. Shani Shitrit, Ms. Nur Zahawa, Ms. Wafa Halabi, Ms. Rana Huri, Ms. Riham Hanifes, Ms. Missa Abu-Hussein, Ms. Rachel Alberg, Ms. Meital Attias, Ms. Yulia Korshov, Ms. Dikla Cogan, Ms. Marina Ukon, Ms. Michal Fassoua, Ms. Einav Kadour, Ms. Inbal Halabi, Ms. Shlomit Grimberg, Ms. Sarah Ben Shlosh and Ms. Myriam Rosenblum for their contribution in interviewing patients; Ms. Ilana Merhav and Ms. Tanya Kligerman for their assistance in the literature search; Ms. Ronit Leiba for the statistical processing.
Ethics declarations
Conflict of interest
None of the authors has a conflict of interest.
Additional information
Ilana Levy and Samuel Attias have contributed equally to this work.
About this article
Cite this article
Levy, I., Attias, S., Ben-Arye, E. et al. Perioperative Risks of Dietary and Herbal Supplements. World J Surg 41, 927–934 (2017). https://doi.org/10.1007/s00268-016-3825-2
Keywords
Drug Interaction

Enoxaparin

Laparoscopic Sleeve Gastrectomy

Medical File

Antithrombotic Drug