Abstract
Background
The diagnosis of primary hyperparathyroidism (1°HP) has become more complex, as fewer patients present with classic phenotype of concomitant elevation of calcium and parathyroid hormone (PTH). In addition, the distinction between normal versus abnormal patients is challenging, with an increasing number of patients with 1°HP, who have calcium and/or PTH values within the "reference" range. Patients with "inappropriately" elevated PTH values relative to their serum calcium are considered to have 1°HP.
Methods
The study population consisted of 1753 patients with pathologically proven 1°HP and 74 healthy control patients. Nomograms were created by plotting PTH versus calcium of the two groups. The 95 % confidence zone of calcium and PTH for normal individuals was plotted and compared to patients with 1°HP.
Results
The comparison of control and disease groups showed a clear demarcation zone on the plots of calcium versus PTH. In the group of 1°HP, 70 % had classic 1°HP presentation with the concomitant elevation of both calcium (≥10.5 mg/dL) and PTH (≥65 pg/dL). 21 % had "normocalcemic" HP with calcium ≤10.5 mg/dL and PTH ≥65 pg/dL. 6 % had "normohormonal" HP with calcium ≥10.5 mg/dL and PTH ≤65 pg/dL. 3 % had both calcium and PTH within the reference range. 68.5 % of patients had single adenoma, 16 % double adenoma, and 15.5 % hyperplasia.
Conclusion
This nomogram serves as a diagnostic tool to distinguish normal patients from those with 1°HP, particularly those with atypical presentations. This recognition would permit previously observed patients to benefit from curative surgery.
Access options
Buy single article
Instant access to the full article PDF.
US$ 39.95
Tax calculation will be finalised during checkout.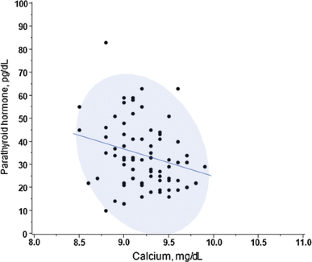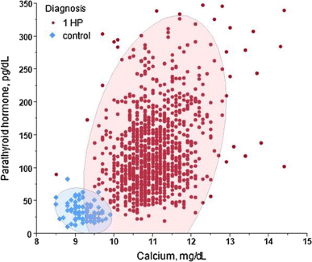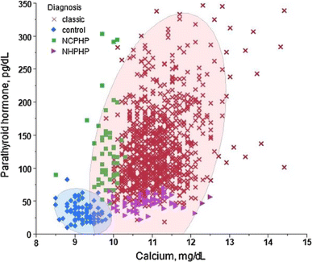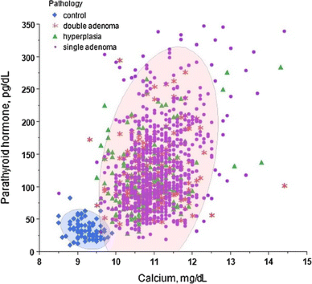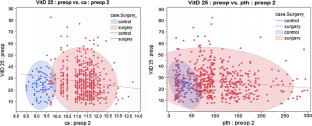 References
1.

Nauck MA, Meier JJ (2012) Diagnostic accuracy of an "amended" insulin-glucose ratio for the biochemical diagnosis of insulinomas. Ann Intern Med 157(11):767–775

2.

AACE/AAES Task Force on Primary Hyperparathyroidism (2005) The american association of clinical endocrinologists and the american association of endocrine surgeons position statement on the diagnosis and management of primary hyperparathyroidism. Endocr Pract 11(1):49–54

3.

Siperstein A, Berber E, Barbosa GF et al (2008) Predicting the success of limited exploration for primary hyperparathyroidism using ultrasound, sestamibi, and intraoperative parathyroid hormone: Analysis of 1158 cases. Ann Surg 248(3):420–428

4.

Press DM, Siperstein AE, Berber E et al (2013) The prevalence of undiagnosed and unrecognized primary hyperparathyroidism: a population-based analysis from the electronic medical record. Surgery 154(6):1232–1237 (discussion 1237–8)

5.

Barczynski M, Branstrom R, Dionigi G, Mihai R (2015) Sporadic multiple parathyroid gland disease-a consensus report of the european society of endocrine surgeons (ESES). Langenbecks Arch Surg 400(8):887–905

6.

Jin J, Mitchell J, Shin J, Berber E, Siperstein AE, Milas M (2012) Calculating an individual maxPTH to aid diagnosis of normocalemic primary hyperparathyroidism. Surgery 152(6):1184–1192

7.

Wallace LB, Parikh RT, Ross LV et al (2011) The phenotype of primary hyperparathyroidism with normal parathyroid hormone levels: How low can parathyroid hormone go? Surgery 150(6):1102–1112

8.

Dalemo S, Hjerpe P, Bostrom Bengtsson K (2006) Diagnosis of patients with raised serum calcium level in primary care, Sweden. Scand J Prim Health Care 24(3):160–165

9.

Harvey A, Hu M, Gupta M et al (2012) A new, vitamin D-based, multidimensional nomogram for the diagnosis of primary hyperparathyroidism. Endocr Pract. 18(2):124–131

10.

Mayer GP, Hurst JG (1978) Sigmoidal relationship between parathyroid hormone secretion rate and plasma calcium concentration in calves. Endocrinology 102(4):1036–1042

11.

O'Neill SS, Gordon CJ, Guo R, Zhu H, McCudden CR (2011) Multivariate analysis of clinical, demographic, and laboratory data for classification of disorders of calcium homeostasis. Am J Clin Pathol 135(1):100–107

12.

Norman J, Goodman A, Politz D (2011) Calcium, parathyroid hormone, and vitamin D in patients with primary hyperparathyroidism: normograms developed from 10,000 cases. Endocr Pract. 17(3):384–394

13.

Milas M, Wagner K, Easley KA, Siperstein A, Weber CJ (2003) Double adenomas revisited: nonuniform distribution favors enlarged superior parathyroids (fourth pouch disease). Surgery 134(6):995–1003 (discussion 1003-4)

14.

Thier M, Nordenstrom E, Bergenfelz A, Almquist M (2015) Presentation and outcomes after surgery for primary hyperparathyroidism during an 18-year period. World J Surg 40(2):356–364

15.

Almquist M, Bergenfelz A, Martensson H, Thier M, Nordenstrom E (2010) Changing biochemical presentation of primary hyperparathyroidism. Langenbecks Arch Surg. 395(7):925–928

16.

Aloia JF, Feuerman M, Yeh JK (2006) Reference range for serum parathyroid hormone. Endocr Pract 12(2):137–144

17.

Rolighed L, Rejnmark L, Sikjaer T et al (2014) Vitamin D treatment in primary hyperparathyroidism: A randomized placebo controlled trial. J Clin Endocrinol Metab 99(3):1072–1080
Ethics declarations
Conflict of interest
None.
About this article
Cite this article
Lavryk, O.A., Siperstein, A.E. Use of Calcium and Parathyroid Hormone Nomogram to Distinguish Between Atypical Primary Hyperparathyroidism and Normal Patients. World J Surg 41, 122–128 (2017). https://doi.org/10.1007/s00268-016-3716-6
Keywords
Reference Range

Primary Hyperparathyroidism

Bilateral Neck Exploration

Single Adenoma

Parathyroid Disease