Abstract
Background
Techniques for accurately delineating the tumor bed after breast-conserving surgery (BCS) can be challenging. As a result, the accuracy, and efficiency of radiation treatment (RT) planning can be negatively impacted. Surgically placed clips or the post-surgical seroma are commonly used to determine target volume; however, these methods can lead to a high degree of uncertainty and variability. A novel 3-dimensional bioabsorbable marker was used during BCS and assessed for its impact on RT planning.
Methods
One hundred and ten implants were sutured to the margins of the tumor bed excision site in 108 patients undergoing BCS. Routine CT imaging of the breast tissue was performed for RT planning, and the marker was assessed for visibility and utility in target delineation. RT regimens, target volumes and associated treatment costs were analyzed.
Results
In all patients, the marker was easily visible and in 95.7 % of cases, it proved useful for RT planning. 36.8 % of patients received conventional whole breast irradiation plus boost, 56.6 % received hypo-fractionation plus boost, and 6.6 % received accelerated partial breast irradiation. A shift toward increased use of hypo-fractionated regimens was noted over the three year period of this study. There were no device-related complications or cancer recurrences in this group of patients.
Conclusions
This study demonstrated the use of a novel 3-dimensional marker as a safe and effective method for delineating the tumor bed with a significant utility for RT planning. With routine use of the device, an increased use of hypofractionation with a resultant 25 % cost savings was noted.
Access options
Buy single article
Instant access to the full article PDF.
USD 39.95
Price excludes VAT (USA)
Tax calculation will be finalised during checkout.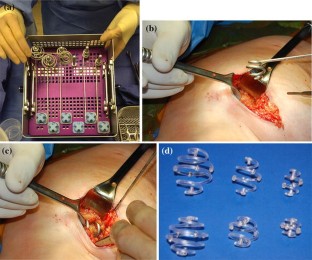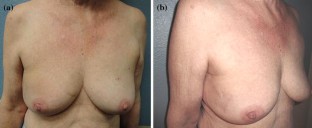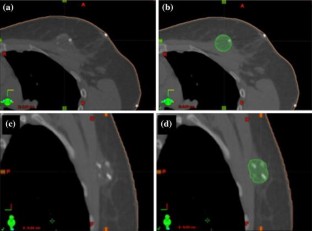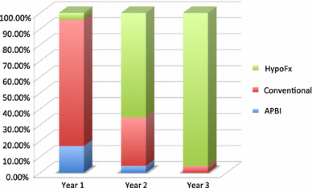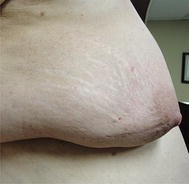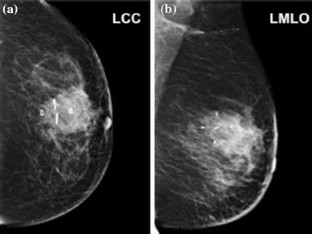 References
Veronesi U, Cascinelli N, Mariani L, Greco M, Saccozzi R, Luini A, Aguilar M, Marubini E (2002) Twenty-year follow-up of a randomized study comparing breast-conserving surgery with radical mastectomy for early breast cancer. N Engl J Med 347:1227–1232

Fisher B, Anderson S, Bryant J, Margolese RG, Deutsch M, Fisher ER, Jeong JH, Wolmark N (2002) Twenty-year follow-up of a randomized trial comparing total mastectomy, lumpectomy, and lumpectomy plus irradiation for the treatment of invasive breast cancer. N Engl J Med 347:1233–1241

Pierce LJ, Griffith KA, Hayman JA, Douglas KR, Lichter AS (2005) Conservative surgery and radiotherapy for stage I/II breast cancer using lung density correction: 10-year and 15-year results. Int J Radiat Oncol Biol Phys 61:1317–1327

Nattinger AB, Hoffmann RG, Kneusel RT, Schapira MM (2000) Relation between appropriateness of primary therapy for early stage breast carcinoma and increased use of breast-conserving surgery. Lancet 356:1148–1153

Bouboul E, Buffat L, Belkacémi Y, Lefranc JP, Uzan S, Lhuillier P, Faivre C et al (1999) Local recurrences and distant metastases after breast-conserving surgery and radiation therapy for early breast cancer. Int J Radiat Oncol Biol Phys 43:25–38

Veronesi U, Marubini E, Del Vecchio M, Manzari A, Andreola S, Greco M, Luini A, Merson M, Saccozzi R, Rilke F et al (1995) Local recurrences and distant metastases after conservative breast cancer treatments: partly independent events. J Natl Cancer Inst 87:19–27

Liljegren G, Holmberg L, Bergh J, Lindgren A, Tabár L, Nordgren H, Adami HO (1999) 10-year results after sector resection with or without postoperative radiotherapy for stage I berast cancer: a randomized trial. J Clin Oncol 17:2326–2333

Moran MS, Schnitt SJ, Giuliano AE, Harris JR, Khan SA, Horton J, Klimberg S et al (2014) Society of Surgical Oncology—American Society for Radiation Oncology consensus guideline on margins for breast-conserving surgery with whole-breast irradiation in stages I and II invasive breast cancer. Ann Surg Oncol 21:704–716

Bekelman JE, Sylwestrzak G, Barron J, Liu J, Epstein AJ, Freedman G, Malin J, Emanuel EJ (2014) Uptake and costs of hypofractionated vs conventional whole breast irradiation after breast conserving surgery in the United States, 2008–2013. JAMA 312(23):2542–2550

Vicini FA (2005) A randomized phase III study of conventional whole breast irradiation (WBI) versus partial breast irradiation (PBI) for women with stage 0, I, or II breast cancer. Radiation Therapy Oncology Group, Philadelphia, PA, protocol #0413

Arthur DW, Vicini FA (2005) Accelerated partial breast irradiation as a part of breast conservation therapy. J Clin Oncol 23:1726–1735

Scanderberg D (2010) Yashar C, White G, Rice R, Pawlicki T. Evaluation of three APBI techniques under NSABP B-39 guidelines. J Appl Clin Med Phys 11(1):274–280

Livi Lorenzo, Meattini I, Marrazzo L, Simontacchi G, Pallotta S, Saieva C, Paiar F et al (2015) Accelerated partial breast irradiation using intensity-modulated radiotherapy versus whole breast irradiation: 5-year survival analysis of a phase 3 randomized controlled trial. Eur J Cancer 51:451–463

Hepel JT, Leonard KL, Hiatt JR, DiPetrillo TA, Wazer DE (2014) Factors influencing eligibility for breast boost using noninvasive image-guided breast brachytherapy. Brachytherapy 13(6):579–583

Hepel JT, Hiatt JR, Sha S, Leonard KL, Graves TA, Wiggins DL, Mastras D, Pittier A (2014) The rationale, technique, and feasibility of partial breast irradiation using noninvasive image-guided breast brachytherapy. Brachytherapy 13(5):493–501

Murphy JO, Sacchini VS (2013) New innovative techniques in radiotherapy for breast cancer. Minerva Chir 68(2):139–154

Benitez PR, Chen PY, Vicini FA, Wallace M, Kestin L, Edmundson G, Gustafson G, Martinez A (2004) Partial breast irradiation in breast-conserving therapy by way of interstitial brachytherapy. Am J Surg 188:355–364

Xu Q, Chen Y, Grimm J (2012) Dosimetric investigation of accelerated partial breast irradiation (APBI) using CyberKnife. Med Phys 39(11):6621–6628

Chafe S, Moughan J, McCormick B, Wong J, Pass H, Rabinovitch R, Arthur DW et al (2013) Late Toxicity and patient self-assessment of breast appearance/satisfaction on RTOG 0319: A Phase 2 trial of 3-dimensional conformal radiation therapy—accelerated partial breast irradiation following lumpectomy for stages I and II breast cancer. Int J Rad Onc Biol Phys 86(5):854–859

Polgar C, Fodor J, Major T, Takacsi-Nagy Z, Kasler M, Hammer J, Van Limbergen E, Nemeth G (2002) Radiotherapy confined to the tumor bed following breast conserving surgery current status, controversies, and future projects. Strahlenther Onkol 178(11):597–606

Polgar C, Major T, Somogyi A, Takacsi-Nagy Z, Mangel LC, Forrai G, Sulyok Z, Fodor J, Nemeth G (2000) CT-image-bassed conformal brachytherapy of breast cancer. The significance of semi-3-D and 3-D treatment planning. Strahlenther Onkol 176(3):118–124

Benda RK (2003) Yasuda G, Sethi A, Gabram SG, Hinerman RW, Mendenhall NP. Breast boost: are we missing the target? Cancer 97:905–909

Hanbeukers B, van den Ende P, van der Ent F, Houben R, Jager J, Keymeulen K, Murrer L, Sastrowijoto S, van de Vijver K, Boersma L (2009) Customized computed tomography-based boost volumes in breast-conserving therapy: use of three-dimensional histologic information for clinical target volume margins. Int J Radiat Oncol Biol Phys 75(3):757–763

Hepel JT, Evans SB, Hiatt JR, Price LL, DiPetrillo T, Wazer DE, MacAusland SG (2009) Planning the breast boost: comparison of three techniques and evolution of tumor bed during treatment. Int J Radiat Oncol Biol Phys 74(2):458–463

Machtay M, Lanciano R, Hoffman J, Hanks GE (1994) Inaccuracies in using the lumpectomy scar for planning electron boosts in primary breast carcinoma. Int J Radiat Oncol Biol Phys 30(1):43–48

Roth AM, Kauer-Dorner D, Resch A, Schmid A, thill M, Niehoff P, Melchert C, Berger D, Kovacs G (2013) Is oncoplastic surgery a contraindication for accelerated partial breast radiation using the interstitial multicatheter brachytherapy method? Brachytherapy 13(4):394–399

Eblan MJ, Vanderwalde NA, Zeman EM, Jones E (2014) Hypofractionation for breast cancer: lessons learned from our neighbors to the north and across the pond. Oncology 28(6):536–546

Kirby AM, Yarnold JR, Evans PM, Morgan VA, Schmidt MA, Scurr ED, Desouza NM (2009) Tumor bed delineation for partial breast and breast boost radiotherapy planned in the prone position: what does MRI add to X-ray CT localization of titanium clips placed in the excision cavity wall? Int J Radiat Oncol Biol Phys 74(4):1276–1282

van der Laan HP, Dolsma WV, Maduro JH, Korevaar EW, Langendijk JA (2008) Dosimetric consequences of the shift towards computed tomography guided target definition and planning for breast conserving radiotherapy. Radiat Oncol 3:6

Kirby AM, Evans PM, Nerukar AY, Desai SS, Krupa J, Devalia H, della Rovere GQ, Harris EJ, Kyriakidou J, Yarnold JR (2010) How does knowledge of three-dimensional excision margins following breast conservation surgery impact upon clinical target volume definition for partial breast radiotherapy? Radiother Oncol 94(3):292–299

Peterson D, Truong PT, Parpia S, Olivottto IA, Berrang T, Kim DH, Kong I, Germain I et al (2015) Predictors of adverse cosmetic outcome in the RAPID trial: an exploratory analysis. Int J of Rad Onc Biol Phys 91(5):968–976

Smith LA, Kuske RR, Cross MJ (2014) Improved targeting of the lumpectomy cavity using a spiral 3-dimensional marker. Poster presentation; Am Soc Ther Rad Onc (ASTRO), San Francisco, October, (2014)

Harman J, Govender S, Benjamin B, Simpson J (2014) Poster presentation; An improved method for marking the surgical cavity during partial mastectomy. Royal Aust New Zealand Conf Clin Radiol (RANZCR), Auckland, October, (2014)

Kaufman CS, Hall W, Hill L, Caro R, Nix S, Evans E, Zacharias K et al (2015) Poster presentation; Initial experience with a novel 3-dimensional bioabsorbable lumpectomy marker. Am Soc of Breast Surgeons, Orlando, April

Eaton BR, Losken A, Okwan-Duodu D, Schuster DM, Switchenko JM, Mister D et al (2014) Local recurrence patterns in breast cancer patients treated with Oncoplastic reduction mammoplasty and radiotherapy. Ann Surg Onc 21:93–99

Landis DM, Luo W, Song J, Bellon JR, Punglia RS, Wong JS, Killoran JH, Gelman R, Harris JR (2007) Variability among breast radiation oncologists in delineation of the postsurgical lumpectomy cavity. Int J Radiat Oncol Biol Phys 67:1299–1308

Rabinovitch R, Finlayson C, Pan Z, Lewin J, Humphries S, Biffi W, Francoise R (2000) Radiographic evaluation of surgical clips is better than ultrasound for defining the lumpectomy cavity in breast boost treatment planning: a prospective clinical study. Int J Radiat Oncol Biol Phys 47(2):313–317

Harrington KJ, Harrison M, Bayle P, Evans K, Dunn PA, Lambert HE, Saidan Z, Lynn J, Stewart JS (1996) Surgical clips in planning the electron boost in breast cancer: a qualitative and quantitative evaluation. Int J Radiat Oncol Biol Phys 34(3):579–584

Penninkhof J, Quint S, Boer HD, Mens JW, Heijmen B, Dirkx M (2009) Surgical clips for position verification and correction of non-rigid breast tissue in simultaneously integrated boost (SIB) treatments. Radiother Oncol 90(1):110–115

Coles CE, Wilson CB, Cumming J, Benson JR, Forouhi P, Wilkinson JS, Jena R, Wishart GC (2009) Titanium clip placement to allow accurate tumour bed localization following breast conserving surgery: audit on behalf on the IMPORT Trial Management Group. Eur J Surg Oncol 35(6):578–582

Pirlamarla A, Ferro A, Yue NJ, Haffty BG, Goyal S (2014) Optimization of surgical clip placement for breast-conservation therapy. Pract Radiat Oncol 4:153–159

Coles CE, Harris EJ, Donovan EM, Bliss P, Evans PM, Fairfoul J, Mackenzie C, Rawlings C et al (2011) Evaluation of implanted gold seeds for breast radiotherapy planning and on treatment verification: a feasibility study on behalf of the IMPORT trialists. Radiother Oncol 100:276–281

Shaikh T, Chen T, Khan A, Yue NJ, Kearney T, Cohler A, Haffty BG, Goyal S (2010) Improvement in interobserver accuracy in delineation of the lumpectomy cavity using fiducial markers. Int J Radiat Oncol Biol Phys 78:1127–1134

Kirby AM, Evans PM, Nerurkar AY, Desai SS, Krupa J, Devalia H, della Rovere GQ et al (2010) How does knowledge of three-dimensional excision margins following breast conservation surgery impact upon clinical target volume definition for partial-breast radiotherapy? Radiother Oncol 94:292–299

Kirby AM, Coles CE, Yarnold JR (2010) Target volume definition for external beam partial breast radiotherapy: clinical, pathological and technical studies informing current approaches. Radiother Oncol 94:255–263

Njeh CF (2008) Tumor delineation: the weakest link in the search for accuracy in radiotherapy. J Med Phys 33:136–140

Giezen M, Kouwenhoven E, Scholten AN, Coerkamp EG, Heijenbrok M, Jansen WP, Mast ME et al (2010) MRI versus CT-based volume delineation of lumpectomy cavity in supine position in breast-conserving therapy: an exploratory study. Int J Radiat Oncol Biol Phys 82:1332–1340
Disclosures
Dr. Lebovic is a consultant for Focal Therapeutics, Inc., Aliso Viejo, California.
Ethics declarations
Conflicts of interest
There are no conflicts of interest to disclose.
About this article
Cite this article
Cross, M.J., Lebovic, G.S., Ross, J. et al. Impact of a Novel Bioabsorbable Implant on Radiation Treatment Planning for Breast Cancer. World J Surg 41, 464–471 (2017). https://doi.org/10.1007/s00268-016-3711-y
Published:

Issue Date:

DOI: https://doi.org/10.1007/s00268-016-3711-y
Keywords
Accelerate Partial Breast Irradiation

Radiation Therapy Planning

Reduction Mammoplasty

Whole Breast Irradiation

Tissue Flap