Abstract
Background
Globally, a staggering five billion people lack access to adequate surgical care. Sub-Saharan Africa represents one of the regions of greatest need. We sought to understand how geographic factors related to unmet surgical need (USN) in Uganda.
Methods
We performed a geographic information system analysis of a nationwide survey on surgical conditions performed in 105 enumeration areas (EAs) representing the national population. At the district level, we determined the spatial autocorrelation of the following study variables: prevalence of USN, hub distance (distance from EA to the nearest surgical center), area of coverage (geographic catchment area of each center), tertiary facility transport time (average respondent-reported travel time), and care availability (rate of hospital beds by population and by district). We then used local indicators of spatial association (LISA) and spatial regression to identify any significant clustering of these study variables among the districts.
Results
The survey enumerated 4248 individuals. The prevalence of USN varied from 2.0–45 %. The USN prevalence was highest in the Northern and Western Regions. Moran's I bivariate analysis indicated a positive correlation between USN and hub distance (p = 0.03), area of coverage (p = 0.02), and facility transport time (p = 0.03). These associations were consistent nationally. The LISA analysis showed a high degree of clustering among sets of districts in the Northern Sub-Region.
Conclusions
This study demonstrates a statistically significant association between USN and the geographic variables examined. We have identified the Northern Sub-Region as the highest priority areas for financial investment to reduce this unmet surgical disease burden.
Access options
Buy single article
Instant access to the full article PDF.
US$ 39.95
Tax calculation will be finalised during checkout.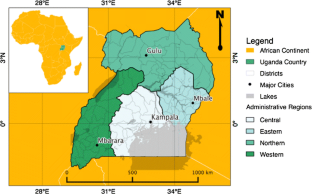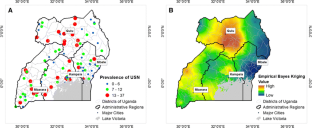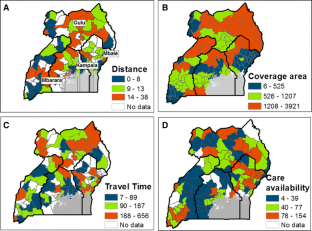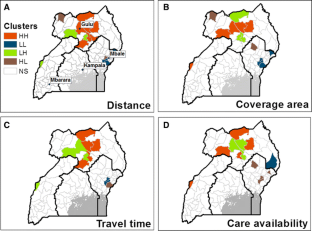 References
1.

Rose J, Chang DC, Weiser TG et al (2014) The role of surgery in global health: analysis of United States inpatient procedure frequency by condition using the Global Burden of Disease 2010 framework. PLoS One 9(2):e89693

2.

Meara JG, Leather AJ, Hagander L et al (2015) Global surgery 2030: evidence and solutions for achieving health, welfare, and economic development. Lancet 386(9993):569–624

3.

Galukande M, von Schreeb J, Wladis A et al (2010) Essential surgery at the district hospital: a retrospective descriptive analysis in three African countries. PLoS Med 7(3):e1000243

4.

Linden AF, Sekidde FS, Galukande M et al (2012) Challenges of surgery in developing countries: a survey of surgical and anesthesia capacity in Uganda's public hospitals. World J Surg 36(5):1056–1065. doi:10.1007/s00268-012-1482-7

5.

Walker IA, Obua AD, Mouton F et al (2010) Paediatric surgery and anaesthesia in south-western Uganda: a cross-sectional survey. Bul World Health Organ 88(12):897–906

6.

Luboga S, Galukande M, Mabweijano J et al (2010) Key aspects of health policy development to improve surgical services in Uganda. World J Surg 34(11):2511–2517. doi:10.1007/s00268-010-0585-2

7.

Groen RS, Samai M, Petroze RT et al (2012) Pilot testing of a population-based surgical survey tool in Sierra Leone. World J Surg 36(4):771–774. doi:10.1007/s00268-012-1448-9

8.

Groen RS, Samai M, Stewart KA et al (2012) Untreated surgical conditions in Sierra Leone: a cluster randomised, cross-sectional, countrywide survey. Lancet 380(9847):1082–1087

9.

Elliott IS, Groen RS, Kamara TB et al (2015) The burden of musculoskeletal disease in Sierra Leone. Clin Orthop Relat Res 473(1):380–389

10.

Ntirenganya F, Petroze RT, Kamara TB et al (2014) Prevalence of breast masses and barriers to care: results from a population-based survey in Rwanda and Sierra Leone. J Surg Oncol 110(8):903–906

11.

Patel HD, Kamara TB, Kushner AL et al (2014) Estimating the prevalence of urinary and fecal incontinence in a nationally representative survey in Sierra Leone. Int J Gyn Obs 126(2):175–176

12.

Gupta S, Ranjit A, Shrestha R et al (2014) Surgical needs of Nepal: pilot study of population based survey in Pokhara, Nepal. World J Surg 38(12):3041–3046. doi:10.1007/s00268-014-2753-2

13.

Butler EK, Tran TM, Fuller AT et al (2015) Pilot study of a population-based survey to assess the prevalence of surgical conditions in Uganda. Surgery 158(3):764–772

14.

Fuller AT, Butler EK, Tran TM et al (2015) Surgeons overseas assessment of surgical need (SOSAS) Uganda: update for household survey. World J Surg 39(12):2900–2907. doi:10.1007/s00268-015-3191-5

15.

Tollefson TT, Shaye D, Durbin-Johnson B et al (2015) Cleft lip-cleft palate in Zimbabwe: estimating the distribution of the surgical burden of disease using geographic information systems. Laryngoscope 125(Suppl 1):S1–14

16.

Hanson C, Cox J, Mbaruku G et al (2015) Maternal mortality and distance to facility-based obstetric care in rural southern Tanzania: a secondary analysis of cross-sectional census data in 226 000 households. Lancet Glob Health 3(7):e387–e395

17.

Lwasa S (2007) Geospatial analysis and decision support for health services planning in Uganda. Geogr Health 2(1):29–40

18.

Uganda Bureau of Statistics (2014) National population and housing census 2014: provisional data. Uganda Bureau of Statistics, Kampala

19.

Uganda Ministry of Finance, Planning, and Economic Development (2015). National Budget Framework Paper. Ministry of Finance, Planning, and Economic Development, Kampala

20.

Annan J, Blattman C, Horton R (2006) The state of youth and youth protection in Northern Uganda: findings from the survey for war affected youth. UNICEF Uganda, Kampala

21.

Uganda Ministry of Health (2015) Annual health sector performance report, financial year 2014/2015. Ministry of Health, Kampala

22.

Uganda Bureau of Statistics (UBOS) and ICF International Inc. (2012) Uganda Demographic and Health Survey 2011. UBOS, Kampala and ICF International Inc., Calverton, MD

23.

Okabe A, Boots B, Sugihara K et al (2000) Spatial tessellations: concepts and applications of voronoi diagrams, 2nd edn. Wiley, London

24.

Moura ACM (2003) Geoprocessamento na gestão e planejamento urbano. Interciencia, Belo Horizonte

25.

Wang F, Luo W (2005) Assessing spatial and nonspatial factors for healthcare access: towards an integrated approach to defining health professional shortage areas. Health Place 11:131–146. doi:10.1016/j.healthplace.2004.02.003

26.

Druck S, Carvalho MS, Câmara G et al (2004) Análise Espacial de Dados Geográficos. EMBRAPA, Brasília

27.

Krempi AP (2004). Exploring spatial statistics tools for an accessibility analysis in the city of Bauru. Dissertation—Engineering School of São Carlos, University of São Paulo

28.

Anselin L, Syabri I, Kho Y (2006) GeoDa: an introduction to spatial data analysis. Geogr Anal 38:5–22

29.

Anselin L (1998) Interactive techniques and exploratory spatial analysis. In: Longley PA, Goodchild MF, Maguire DJ, Rhind DW (eds) Geographical information systems: principles, techniques, management and applications. Wiley, New York, pp 253–265

30.

Dare AJ, Ng-Kamstra JS, Patra J et al (2015) Deaths from acute abdominal conditions and geographical access to surgical care in India: a nationally representative spatial analysis. Lancet Glob Health 3:e646–e653

31.

Perobelli FS, Haddad EA (2006) Padrões de comércio interestadual no Brasil, 1985 e 1997. Rev Econ Contemp 10:61–88

32.

Bivand RS, Gebhardt A (2004) Implementing functions for spatial statistical analysis using the R language. J Geogr Syst 2:307–317

33.

Bivand RS, Portnov BA (2004) Exploring spatial data analysis techniques using R: the case of observations with no neighbours. In: Anselin L, Florax RJ, Rey SJ (eds) Advances in spatial econometrics: methodology, tools and applications. Springer, Berlin, pp 121–142

34.

Zhang L, Gove JH, Heath LS (2005) Spatial residual analysis of six modeling techniques. Ecol Model 186:154–177

35.

Lambert DM, Brown JP, Florax RJG (2010) A two-step estimator for a spatial lag model of counts: Theory, small sample performance and an application. Reg Sci Urban Ecol 40:241–252

36.

Ministry of Health (MOH) [Uganda] and Macro International Inc. (2008) Uganda Service Provision Assessment Survey 2007. Ministry of Health, Kampala and Macro International Inc., Calverton, MD

37.

Uganda Ministry of Finance, Planning, and Economic Development (2014) Poverty status report 2014. Ministry of Finance, Planning, and Economic Development, Kampala

38.

Roehler DR, Naumann RB, Mutatina B et al (2013) Using baseline and formative evaluation data to inform the Uganda helmet vaccine initiative. Glob Health Promot 20(4 Suppl):37–44

39.

Hsia RY, Ozgediz D, Mutto M et al (2010) Epidemiology of injuries presenting to the national hospital in Kampala, Uganda: implications for research and policy. Int J Em Med 3(3):165–172

40.

Kiwanuka SN, Ekirapa EK, Peterson S et al (2008) Access to and utilisation of health services for the poor in Uganda: a systematic review of available evidence. Trans R Soc Trop Med Hyg 102(11):1067–1074

41.

Grimes CE, Bowman KG, Dodgion CM et al (2011) Systematic review of barriers to surgical care in low-income and middle-income countries. World J Surg 35(5):941–950. doi:10.1007/s00268-011-1010-1

42.

Friedman JM, Hagander L, Hughes CD et al (2013) Distance to hospital and utilization of surgical services in Haiti: do children, delivering mothers, and patients with emergent surgical conditions experience greater geographical barriers to surgical care? Int J Health Plan Mgmt 28(3):248–256

43.

Raykar NP, Bowder AN, Liu C et al (2015) Geospatial mapping to estimate timely access to surgical care in nine low-income and middle-income countries. Lancet 385(Suppl 2):S16
Acknowledgments
We thank the Uganda Bureau of Statistics for methodological advice and for providing randomized EAs and the Uganda Ministry of Health and Makerere College of Health Sciences for institutional support. We thank the following enumerators and field supervisors for their dedication to data quality and the field supervisors for their leadership of implementation: Samuel Kagongwe, Mark Kashaija, Sheila Kisakye, Mable Luzze, and Hassard Sempeera. We benefitted from the generous collaboration of the Gates Institute for Population and Reproductive Health at Johns Hopkins Bloomberg School of Public Health, specifically Professors Scott Radloff and Amy Tsui. We are grateful to the Surgeons OverSeas organization, and in particular Dr. Reinou Groen, Dr. Shailvi Gupta, and Dr. Adam Kushner, for guidance from initial design to analysis of SOSAS and this specific report. We thank Ashley Morgan for editing this manuscript. We dedicate this report in memory of Mr. Charles Bambaiha, Mr. Allan Ssekindi, and Ms. Irene Tusiime.
Author contributions
SHF, TMT, ATF, and EKB conducted the literature search. TMT, LA, and JRV made the tables and figures. ATF, EKB, CS, FM, SL, CM, DBN, JGC, MG, and MMH designed the study. ATF, TMT, and CM supervised data collection. SHF, JRV, TMT, ATF, EKB, LA, CS, FM, SL, JGC, MG, and MMH analyzed and interpreted the data. DBN helped interpret the data. SHF, JRV, and TMT wrote the report. All authors commented on and critically revised the manuscript.
Funding
Funding was provided by the Duke Global Health Institute, Duke University Department of Neurosurgery, University of Minnesota Department of Surgery, Makerere University College of Health Sciences, and Johnson and Johnson Family of Companies. Dr. Staton would like to acknowledge salary support funding from the Fogarty International Center (Staton, K01 TW010000-01A1). Funding sources played no role in study design, data collection, data analysis, or writing of the manuscript. All authors had full access to the data and had final responsibility for the decision to submit for publication.
Ethics declarations
Conflict of interest
The authors report no conflicts of interest.
About this article
Cite this article
Farber, S.H., Vissoci, J.R.N., Tran, T.M. et al. Geospatial Analysis of Unmet Surgical Need in Uganda: An Analysis of SOSAS Survey Data. World J Surg 41, 353–363 (2017). https://doi.org/10.1007/s00268-016-3689-5
Keywords
Spatial Autocorrelation

Travel Time

Geographical Access

Care Availability

Geographic Information System Analysis