Abstract
Background
Acute colonic diverticulitis is a common clinical condition. Severity of the disease is based on clinical, laboratory, and radiological investigations and dictates the need for medical or surgical intervention. Recent clinical trials have improved the understanding of the natural history of the disease resulting in new approaches to and better evidence for the management of acute diverticulitis.
Methods
We searched the Cochrane Library (years 2004–2015), MEDLINE (years 2004–2015), and EMBASE (years 2004–2015) databases. We used the search terms "diverticulitis, colonic" or "acute diverticulitis" or "divertic*" in combination with the terms "management," "antibiotics," "non-operative," or "surgery." Registers for clinical trials (such as the WHO registry and the https://clinicaltrials.gov/) were searched for ongoing, recruiting, or closed trials not yet published.
Results
Antibiotic treatment can be avoided in simple, non-complicated diverticulitis and outpatient management is safe. The management of complicated disease, ranging from a localized abscess to perforation with diffuse peritonitis, has changed towards either percutaneous or minimally invasive approaches in selected cases. The role of laparoscopic lavage without resection in perforated non-fecal diverticulitis is still debated; however, recent evidence from two randomised controlled trials has found a higher re-intervention in this group of patients.
Conclusions
A shift in management has occurred towards conservative management in acute uncomplicated disease. Those with uncomplicated acute diverticulitis may be treated without antibiotics. For complicated diverticulitis with purulent peritonitis, the use of peritoneal lavage appears to be non-superior to resection.
This is a preview of subscription content,
to check access.
Access this article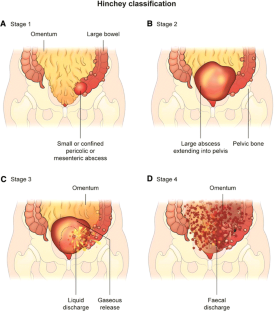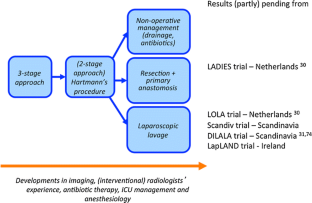 Similar content being viewed by others
References
Viniol A, Keunecke C, Biroga T et al (2014) Studies of the symptom abdominal pain—a systematic review and meta-analysis. Fam Pract 31(5):517–529

Vennix S, Morton DG, Hahnloser D et al (2014) Systematic review of evidence and consensus on diverticulitis: an analysis of national and international guidelines. Colorectal Dis 16(11):866–878

Leifeld L, Germer CT, Bohm S et al (2014) S2 k guidelines diverticular disease/diverticulitis. Z Gastroenterol 52(7):663–710

Pappalardo G, Frattaroli FM, Coiro S et al (2013) Effectiveness of clinical guidelines in the management of acute sigmoid diverticulitis. Results of a prospective diagnostic and therapeutic clinical trial. Ann Ital Chir 84:171–177

Andeweg CS, Mulder IM, Felt-Bersma RJ et al (2013) Guidelines of diagnostics and treatment of acute left-sided colonic diverticulitis. Dig Surg 30(4–6):278–292

Fujita T (2012) Feasibility of the practice guidelines for colonic diverticulitis. Surgery 151(3):491–492

Andersen JC, Bundgaard L, Elbrond H et al (2012) Danish national guidelines for treatment of diverticular disease. Dan Med J 59(5):C4453

SSAT. SSAT Patient Care Guidelines: Surgical Treatment of Diverticulitis. 2007 [cited 2014 31.12.2014]; Available from: http://www.ssat.com/cgi-bin/divert.cgi

Jafferji MS, Hyman N (2014) Surgeon, not disease severity, often determines the operation for acute complicated diverticulitis. J Am Coll Surg 218(6):1156–1161

O'Leary DP, Lynch N, Clancy C et al (2015) International, Expert-Based, consensus statement regarding the management of acute diverticulitis. JAMA Surg 150(9):899–904

Lameris W, van Randen A, van Es HW et al (2009) Imaging strategies for detection of urgent conditions in patients with acute abdominal pain: diagnostic accuracy study. BMJ 338:b2431

Laurell H, Hansson LE, Gunnarsson U (2007) Acute diverticulitis–clinical presentation and differential diagnostics. Colorectal Dis 9(6):496–501 dicussion 501–492

Kiewiet JJ, Andeweg CS, Laurell H et al (2014) External validation of two tools for the clinical diagnosis of acute diverticulitis without imaging. Dig Liver Dis 46(2):119–124

van Randen A, Lameris W, van Es HW et al (2011) A comparison of the accuracy of ultrasound and computed tomography in common diagnoses causing acute abdominal pain. Eur Radiol 21(7):1535–1545

Laméris W, Randen A, Bipat S et al (2008) Graded compression ultrasonography and computed tomography in acute colonic diverticulitis: meta-analysis of test accuracy. Eur Radiol 18(11):2498–2511

Hinchey EJ, Schaal PG, Richards GK (1978) Treatment of perforated diverticular disease of the colon. Adv Surg 12:85–109

Wasvary H, Turfah F, Kadro O et al (1999) Same hospitalization resection for acute diverticulitis. Am Surg 65(7):632–635 discussion 636

Kaiser AM, Jiang JK, Lake JP et al (2005) The management of complicated diverticulitis and the role of computed tomography. Am J Gastroenterol 100(4):910–917

Ambrosetti P, Grossholz M, Becker C et al (1997) Computed tomography in acute left colonic diverticulitis. Br J Surg 84(4):532–534

Dharmarajan S, Hunt SR, Birnbaum EH et al (2011) The efficacy of nonoperative management of acute complicated diverticulitis. Dis Colon Rectum 54(6):663–671

Schechter S, Mulvey J, Eisenstat TE (1999) Management of uncomplicated acute diverticulitis: results of a survey. Dis Colon Rectum 42(4):470–475 discussion 475–476

Shabanzadeh DM, Wille-Jorgensen P (2012) Antibiotics for uncomplicated diverticulitis. Cochrane Database Syst Rev 11(92):CD009092

de Korte N, Unlu C, Boermeester MA et al (2011) Use of antibiotics in uncomplicated diverticulitis. Br J Surg 98(6):761–767

Chabok A, Pahlman L, Hjern F et al (2012) Randomized clinical trial of antibiotics in acute uncomplicated diverticulitis. Br J Surg 99(4):532–539

Unlu C, de Korte N, Daniels L et al (2010) A multicenter randomized clinical trial investigating the cost-effectiveness of treatment strategies with or without antibiotics for uncomplicated acute diverticulitis (DIABOLO trial). BMC Surg 10:23

Binda GA, Karas JR, Serventi A et al (2012) Primary anastomosis vs nonrestorative resection for perforated diverticulitis with peritonitis: a prematurely terminated randomized controlled trial. Colorectal Dis 14(11):1403–1410

Oberkofler CE, Rickenbacher A, Raptis DA et al (2012) A multicenter randomized clinical trial of primary anastomosis or Hartmann's procedure for perforated left colonic diverticulitis with purulent or fecal peritonitis. Ann Surg 256(5):819–826 discussion 826–817

Moore FA, Catena F, Moore EE et al (2013) Position paper: management of perforated sigmoid diverticulitis. World J Emerg Surg 8(1):55

Vennix S, Musters GD, Mulder IM et al (2015) Laparoscopic peritoneal lavage or sigmoidectomy for perforated diverticulitis with purulent peritonitis: a multicentre, parallel-group, randomised, open-label trial. Lancet 386(10000):1269–1277

Schultz JK, Yaqub S, Wallon C et al (2015) Laparoscopic lavage vs primary resection for acute perforated diverticulitis: The SCANDIV Randomized Clinical Trial. JAMA 314(13):1364–1375

Angenete E, Thornell A, Burcharth J et al (2016) Laparoscopic lavage is feasible and safe for the treatment of perforated diverticulitis with purulent peritonitis: the first results from the randomized controlled trial DILALA. Ann Surg 263(1):117–122. doi:10.1097/SLA.0000000000001061

Broderick-Villa G, Burchette RJ, Collins JC et al (2005) Hospitalization for acute diverticulitis does not mandate routine elective colectomy. Arch Surg 140(6):576–581 discussion 581–573

Etzioni DA, Chiu VY, Cannom RR et al (2010) Outpatient treatment of acute diverticulitis: rates and predictors of failure. Dis Colon Rectum 53(6):861–865. doi:10.1007/DCR.0b013e3181cdb243

Biondo S, Golda T, Kreisler E et al (2014) Outpatient versus hospitalization management for uncomplicated diverticulitis: a prospective, multicenter randomized clinical trial (DIVER Trial). Ann Surg 259(1):38–44

Katz LH, Guy DD, Lahat A et al (2013) Diverticulitis in the young is not more aggressive than in the elderly, but it tends to recur more often: systematic review and meta-analysis. J Gastroenterol Hepatol 28(8):1274–1281

Unlu C, van de Wall BJ, Gerhards MF et al (2013) Influence of age on clinical outcome of acute diverticulitis. J Gastrointest Surg 17(9):1651–1656

Etzioni DA, Mack TM, Beart RWJ et al (2009) Diverticulitis in the United States: 1998–2005: changing patterns of disease and treatment. Ann Surg 249(2):210–217

Feingold D, Steele SR, Lee S et al (2014) Practice parameters for the treatment of sigmoid diverticulitis. Dis Colon Rectum 57(3):284–294

Meurs-Szojda MM (2008) J.S. Terhaar sive Droste, D.J. Kuik, et al., Diverticulosis and diverticulitis form no risk for polyps and colorectal neoplasia in 4,241 colonoscopies. Int J Colorectal Dis 23(10):979–984

Daniels L, Unlu C, de Wijkerslooth TR et al (2014) Routine colonoscopy after left-sided acute uncomplicated diverticulitis: a systematic review. Gastrointest Endosc 79(3):378–389 quiz 498-498.e375

Chabok A, Smedh K, Nilsson S et al (2013) CT-colonography in the follow-up of acute diverticulitis: patient acceptance and diagnostic accuracy. Scand J Gastroenterol 48(8):979–986

McDermott FD, Collins D, Heeney A et al (2014) Minimally invasive and surgical management strategies tailored to the severity of acute diverticulitis. Br J Surg 101(1):e90–e99

Buchs NC, Konrad-Mugnier B, Jannot AS et al (2013) Assessment of recurrence and complications following uncomplicated diverticulitis. Br J Surg 100(7):976–979 discussion 979

Van Arendonk KJ, Tymitz KM, Gearhart SL et al (2013) Outcomes and costs of elective surgery for diverticular disease: a comparison with other diseases requiring colectomy. JAMA Surg 148(4):316–321

Regenbogen SE, Hardiman KM, Hendren S et al (2014) Surgery for diverticulitis in the 21st century: A systematic review. JAMA Surg. 149(3):292–303

van de Wall BJ, Draaisma WA, Consten EC et al (2010) DIRECT trial. Diverticulitis recurrences or continuing symptoms: Operative versus conservative treatment. A multicenter randomised clinical trial. BMC Surg 10:25

Fozard JBJ, Armitage NC, Schofield JB et al (2011) ACPGBI position statement on elective resection for diverticulitis. Colorectal Dis 13:1–11
Author Contributions
KS and MB planned the review. All authors (MB, DH, GV, KS) drafted sections and performed literature searches. All authors contributed to several revisions of the manuscript sections towards the final version and approved the submitted manuscript.
Funding
DJH is funded by a National Institute for Health Research Post-Doctoral Fellowship.
Ethics declarations
Conflict of interest
MB has received grants for diverticulitis research from the Dutch Health Care and Efficacy Research (ZonMW), the Dutch Digestive Diseases Foundation (MLDS), and non-diverticulitis-related grants from Baxter, Abbott, Ipsen, LifeCell/Acelity, and GSK. She has spoken at a Dr Falk Pharmaceuticals Symposium as an invited speaker on diverticulitis. DH has received research funding from the Royal College of Surgeons of England, Research into Ageing, and the BUPA foundation for research on diverticular disease. He has spoken at a Dr Falk Pharmaceuticals Symposium as an invited speaker on diverticular disease. GV none. KS none.
About this article
Cite this article
Boermeester, M.A., Humes, D.J., Velmahos, G.C. et al. Contemporary Review of Risk-Stratified Management in Acute Uncomplicated and Complicated Diverticulitis. World J Surg 40, 2537–2545 (2016). https://doi.org/10.1007/s00268-016-3560-8
Published:

Issue Date:

DOI: https://doi.org/10.1007/s00268-016-3560-8
Keywords