Abstract
Background
The BRAF V600E mutation is a recognised molecular marker in papillary thyroid cancer (PTC), reported incidence from 30 to 80 %. BRAFV600E aberrantly activates the MAPK pathway, a central regulator of cell growth and proliferation. Previous studies have reported conflicting data regarding the impact of BRAFV600E on clinicopathological features of PTC. The study aims to determine whether BRAFV600E is useful as a prognostic biomarker in PTC.
Methods
A cohort study of patients undergoing surgery for PTC was undertaken. The primary outcome measure was disease-free survival. Secondary outcome measures were tumour size, nodal positivity and radioactive iodine ablation rate. All cases were re-examined to confirm PTC. Immunohistochemistry for BRAFV600E was performed on tissue microarrays. A single endocrine pathologist, blinded to clinicopathological data, interpreted staining.
Results
496 patients with PTC were included, and 309 (62 %) were BRAFV600E positive. Tumour size was similar for BRAFV600E-positive and -negative tumours (21.3 vs. 23.2 mm, p = 0.23). BRAFV600E-positive patients were significantly older at first operation (mean age 45 versus 49 years, p = 0.003). BRAFV600E-positive PTCs had a higher rate of disease recurrence (12.9 vs. 5.6 %, p = 0.004), lymph node metastasis (44 vs. 29.4 %, p = 0.004) and extra-thyroidal extension (44 vs. 22 %, p < 0.001). Five-year disease-free survival was 89.6 % for BRAFV600E positive and 96.3 % for negative tumours, p < 0.001. There was no difference between groups for vascular invasion or multifocality. The mean follow-up was 57 months for both groups.
Conclusion
BRAFV600E in PTC predicts an increased risk of lymph node metastasis, extra-thyroidal extension and reduced disease-free survival. It is an additional useful prognostic biomarker.
This is a preview of subscription content, log in to check access.
Access options
Buy single article
Instant access to the full article PDF.
US$ 39.95
Price includes VAT for USA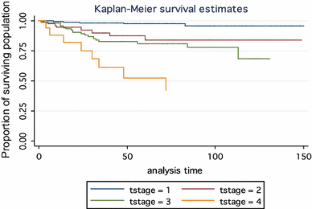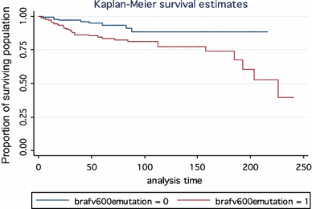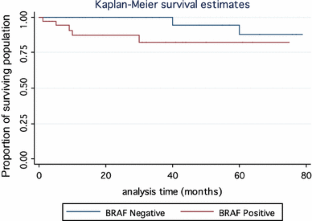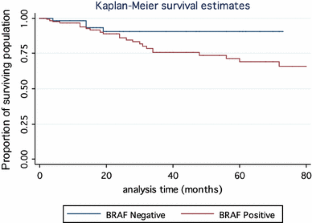 References
1.

Schlumberger MJ (1998) Papillary and follicular thyroid carcinoma. N Engl J Med 338(5):297–306

2.

Tang KT, Lee CH (2010) BRAF mutation in papillary thyroid carcinoma: pathogenic role and clinical implications. J Chin Med Assoc 73(3):113–128

3.

Cooper DS, Doherty GM, Haugen BR, Kloos RT, Lee SL, Mandel SJ et al (2009) Revised American Thyroid Association management guidelines for patients with thyroid nodules and differentiated thyroid cancer. Thyroid 19(11):1167–1214

4.

Dean DS, Hay ID (2000) Prognostic indicators in differentiated thyroid carcinoma. Cancer Control 7(3):229–239

5.

Gilliland FD, Hunt WC, Morris DM, Key CR (1997) Prognostic factors for thyroid carcinoma. A population-based study of 15,698 cases from the Surveillance, Epidemiology and End Results (SEER) program 1973-1991. Cancer 79(3):564–573

6.

Xing M, Westra WH, Tufano RP, Cohen Y, Rosenbaum E, Rhoden KJ et al (2005) BRAF mutation predicts a poorer clinical prognosis for papillary thyroid cancer. J Clin Endocrinol Metab 90(12):6373–6379

7.

Kitamura Y, Shimizu K, Nagahama M, Sugino K, Ozaki O, Mimura T et al (1999) Immediate causes of death in thyroid carcinoma: clinicopathological analysis of 161 fatal cases. J Clin Endocrinol Metab 84(11):4043–4049

8.

Loh KC, Greenspan FS, Gee L, Miller TR, Yeo PP (1997) Pathological tumor-node-metastasis (pTNM) staging for papillary and follicular thyroid carcinomas: a retrospective analysis of 700 patients. J Clin Endocrinol Metab 82(11):3553–3562

9.

Davies H, Bignell GR, Cox C, Stephens P, Edkins S, Clegg S et al (2002) Mutations of the BRAF gene in human cancer. Nature 417(6892):949–954

10.

Frasca F, Nucera C, Pellegriti G, Gangemi P, Attard M, Stella M et al (2008) BRAF(V600E) mutation and the biology of papillary thyroid cancer. Endocr Relat Cancer 15(1):191–205

11.

Mercer KE, Pritchard CA (2003) Raf proteins and cancer: B-Raf is identified as a mutational target. Biochim Biophys Acta 1653(1):25–40

12.

Garnett MJ, Marais R (2004) Guilty as charged: B-RAF is a human oncogene. Cancer Cell 6(4):313–319

13.

Kim TH, Park YJ, Lim JA, Ahn HY, Lee EK, Lee YJ et al (2012) The association of the BRAF(V600E) mutation with prognostic factors and poor clinical outcome in papillary thyroid cancer: a meta-analysis. Cancer 118(7):1764–1773

14.

Lee JH, Lee ES, Kim YS (2007) Clinicopathologic significance of BRAF V600E mutation in papillary carcinomas of the thyroid: a meta-analysis. Cancer 110(1):38–46

15.

Namba H, Nakashima M, Hayashi T, Hayashida N, Maeda S, Rogounovitch TI et al (2003) Clinical implication of hot spot BRAF mutation, V599E, in papillary thyroid cancers. J Clin Endocrinol Metab 88(9):4393–4397

16.

Nikiforova MN, Kimura ET, Gandhi M, Biddinger PW, Knauf JA, Basolo F et al (2003) BRAF mutations in thyroid tumors are restricted to papillary carcinomas and anaplastic or poorly differentiated carcinomas arising from papillary carcinomas. J Clin Endocrinol Metab 88(11):5399–5404

17.

Fugazzola L, Mannavola D, Cirello V, Vannucchi G, Muzza M, Vicentini L et al (2004) BRAF mutations in an Italian cohort of thyroid cancers. Clin Endocrinol (Oxf) 61(2):239–243

18.

Liu RT, Chen YJ, Chou FF, Li CL, Wu WL, Tsai PC et al (2005) No correlation between BRAFV600E mutation and clinicopathological features of papillary thyroid carcinomas in Taiwan. Clin Endocrinol (Oxf) 63(4):461–466

19.

Puxeddu E, Moretti S, Elisei R, Romei C, Pascucci R, Martinelli M et al (2004) BRAF(V599E) mutation is the leading genetic event in adult sporadic papillary thyroid carcinomas. J Clin Endocrinol Metab 89(5):2414–2420

20.

Kim KH, Kang DW, Kim SH, Seong IO, Kang DY (2004) Mutations of the BRAF gene in papillary thyroid carcinoma in a Korean population. Yonsei Med J 45(5):818–821

21.

Elisei R, Viola D, Torregrossa L, Giannini R, Romei C, Ugolini C et al (2012) The BRAF(V600E) mutation is an independent, poor prognostic factor for the outcome of patients with low-risk intrathyroid papillary thyroid carcinoma: single-institution results from a large cohort study. J Clin Endocrinol Metab 97(12):4390–4398

22.

Kim TY, Kim WB, Rhee YS, Song JY, Kim JM, Gong G et al (2006) The BRAF mutation is useful for prediction of clinical recurrence in low-risk patients with conventional papillary thyroid carcinoma. Clin Endocrinol (Oxf) 65(3):364–368

23.

Riesco-Eizaguirre G, Gutierrez-Martinez P, Garcia-Cabezas MA, Nistal M, Santisteban P (2006) The oncogene BRAF V600E is associated with a high risk of recurrence and less differentiated papillary thyroid carcinoma due to the impairment of Na+/I− targeting to the membrane. Endocr Relat Cancer 13(1):257–269

24.

Xing M, Alzahrani AS, Carson KA, Shong YK, Kim TY, Viola D et al (2015) Association between BRAF V600E mutation and recurrence of papillary thyroid cancer. J Clin Oncol 33(1):42–50

25.

Bullock M, O'Neill C, Chou A, Clarkson A, Dodds T, Toon C et al (2012) Utilization of a MAB for BRAF(V600E) detection in papillary thyroid carcinoma. Endocr Relat Cancer 19(6):779–784

26.

Pellegriti G, Frasca F, Regalbuto C, Squatrito S, Vigneri R (2013) Worldwide increasing incidence of thyroid cancer: update on epidemiology and risk factors. J Cancer Epidemiol: 965212

27.

Vigneri R, Malandrino P, Vigneri P (2015) The changing epidemiology of thyroid cancer: why is incidence increasing? Curr Opin Oncol 27(1):1–7

28.

Chen AY, Jemal A, Ward EM (2009) Increasing incidence of differentiated thyroid cancer in the United States, 1988-2005. Cancer 115(16):3801–3807

29.

Ringel MD (2009) Molecular markers of aggressiveness of thyroid cancer. Curr Opin Endocrinol Diabetes Obes 16(5):361–366

30.

Kebebew E, Weng J, Bauer J, Ranvier G, Clark OH, Duh QY et al (2007) The prevalence and prognostic value of BRAF mutation in thyroid cancer. Ann Surg 246(3):466–470

31.

Ito Y, Kudo T, Kobayashi K, Miya A, Ichihara K, Miyauchi A (2012) Prognostic factors for recurrence of papillary thyroid carcinoma in the lymph nodes, lung, and bone: analysis of 5768 patients with average 10-year follow-up. World J Surg 36(6):1274–1278

32.

Niederer-Wust SM, Jochum W, Forbs D, Brandle M, Bilz S, Clerici T et al (2015) Impact of clinical risk scores and BRAF V600E mutation status on outcome in papillary thyroid cancer. Surgery 157(1):119–125

33.

Henke LE, Pfeifer JD, Ma C, Perkins SM, DeWees T, El-Mofty S, et al (2015) BRAF mutation is not predictive of long-term outcome in papillary thyroid carcinoma. Cancer Med

34.

Perros P, Boelaert K, Colley S, Evans C, Evans RM, Gerrard Ba G et al (2014) Guidelines for the management of thyroid cancer. Clin Endocrinol (Oxf) 81(Suppl 1):1–122

35.

Mallick U, Harmer C, Yap B, Wadsley J, Clarke S, Moss L et al (2012) Ablation with low-dose radioiodine and thyrotropin alfa in thyroid cancer. N Engl J Med 366(18):1674–1685

36.

Melck AL, Yip L, Carty SE (2010) The utility of BRAF testing in the management of papillary thyroid cancer. Oncologist 15(12):1285–1293

37.

Brose MS, Nutting CM, Jarzab B, Elisei R, Siena S, Bastholt L et al (2014) Sorafenib in radioactive iodine-refractory, locally advanced or metastatic differentiated thyroid cancer: a randomised, double-blind, phase 3 trial. Lancet 384(9940):319–328

38.

Kim KB, Cabanillas ME, Lazar AJ, Williams MD, Sanders DL, Ilagan JL et al (2013) Clinical responses to vemurafenib in patients with metastatic papillary thyroid cancer harboring BRAF(V600E) mutation. Thyroid 23(10):1277–1283
About this article
Cite this article
Fraser, S., Go, C., Aniss, A. et al. BRAFV600E Mutation is Associated with Decreased Disease-Free Survival in Papillary Thyroid Cancer. World J Surg 40, 1618–1624 (2016). https://doi.org/10.1007/s00268-016-3534-x
Keywords
Thyroid Cancer

Papillary Thyroid Carcinoma

Papillary Thyroid Cancer

Vemurafenib

Cervical Lymph Node Metastasis