Abstract
Background
The gold standard for treatment of soft tissue sarcomas (STS) includes wide local excision and limb salvage surgery. There is currently a lack of reports on the effectiveness of these techniques in a resource-poor setting with a lack of access to imaging and adjuvant therapies. This article reports the experience and outcome of patients presenting with STS to the Children's Surgical Centre (CSC), Phnom Penh, Cambodia.
Methods
Patients with a diagnosis of STS and the operations they received were retrospectively sourced from the CSC database. Follow-up data were obtained through a telephone questionnaire and home visits.
Results
Forty STS patients were identified. Definitive surgery was performed in 31 cases, the majority receiving initial local excision of the lesion (19/31), some went on to have secondary amputations (5/19), and the rest had primary amputation (12/31). Eight patients suffered perioperative complications: 6 had infections, 1 haemorrhage, and 1 patient suffered from prolonged pain. Follow-up information was available for 25 patients, 8 of whom survived whilst 17 had died. Two of the deceased and 2 of the surviving patients had received adjuvant therapy. Seven survivors reported that they had resumed employment. Estimated average survival for STS in Cambodia was 25 months with a 58 % 1-year survival rate in treated cases.
Conclusions
Despite the loss to follow-up, some STS patients in Cambodia have been successfully managed by the CSC. An evolving increase in survival will hopefully be seen as access to adjuvant therapies and imaging technology improves.
Access options
Buy single article
Instant access to the full article PDF.
USD 39.95
Price excludes VAT (USA)
Tax calculation will be finalised during checkout.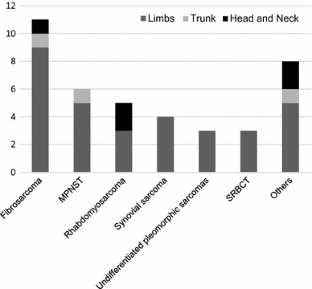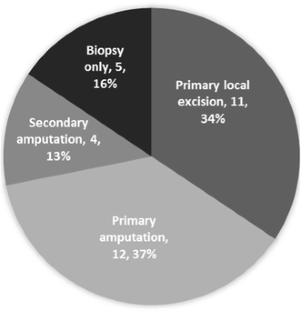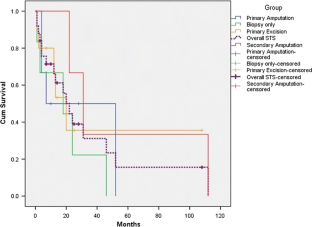 References
Dennis N, Francis M, Lawrence G (2012) Soft tissue sarcoma, incidence and survival; report on tumours diagnosed between 1985 and 2009; National Cancer Intelligence Network Report. NCIN, R12/06

Stiller CA, Trama A, Serraino D, Rossi S, Navarro C, Chirlaque MD et al (2013) Descriptive epidemiology of sarcomas in Europe: report from the RARECARE project. Eur J Cancer 49(3):684–695

Cutts S, Andrea F, Piana R, Haywood R (2012) The management of soft tissue sarcomas. Surgeon 10(1):25–32

Simon MA, Enneking WF (1976) The management of soft-tissue sarcomas of the extremities. J Bone Joint Surg Am 58(3):317–327

Alamanda VK, Crosby SN, Archer KR, Song Y, Schwartz HS, Holt GE (2012) Amputation for extremity soft tissue sarcoma does not increase overall survival: a retrospective cohort study. Eur J Surg Oncol 38(12):1178–1183

Rosenberg SA, Tepper J, Glatstein E, Costa J, Baker A, Brennan M et al (1982) The treatment of soft-tissue sarcomas of the extremities: prospective randomized evaluations of (1) limb-sparing surgery plus radiation therapy compared with amputation and (2) the role of adjuvant chemotherapy. Ann Surg 196(3):305–315

Novais EN, Demiralp B, Alderete J, Larson MC, Rose PS, Sim FH (2010) Do surgical margin and local recurrence influence survival in soft tissue sarcomas? Clin Orthop Relat Res 468(11):3003–3011

Liu CY, Yen CC, Chen WM, Chen TH, Chen PC, Wu HT et al (2010) Soft tissue sarcoma of extremities: the prognostic significance of adequate surgical margins in primary operation and reoperation after recurrence. Ann Surg Oncol 17(8):2102–2111

Brauchli K, Oberholzer M (2005) The iPath telemedicine platform. J Telemed Telecare 11(Suppl 2):S3–S7

Bannasch H, Eisenhardt SU, Grosu AL, Heinz J, Momeni A, Stark GB (2011) The diagnosis and treatment of soft tissue sarcomas of the limbs. Dtsch Arztebl Int 108(3):32–38

Gutierrez JC, Perez EA, Moffat FL, Livingstone AS, Franceschi D, Koniaris LG (2007) Should soft tissue sarcomas be treated at high-volume centers? An analysis of 4205 patients. Ann Surg 245(6):952–958

Antillon F, Castellanos M, Valverde P, Luna-Fineman S, Garrido C, Serrato T et al (2008) Treating Pediatric soft tissue sarcomas in a country with limited resources: the experience of the Unidad Nacional de Oncologia Pediatrica in Guatemala. Pediatr Blood Cancer 51(6):760–764

Bhargavan RV, Kumar P, Kothari KC (2012) Limb sparing surgery in soft tissue sarcoma of extremities: an Indian perspective. Gulf J Oncol 12:47–54
Acknowledgments
No specific grant support was received.
Ethics declarations
Conflict of interest
The authors declare no conflict of interest.
About this article
Cite this article
Boam, T., Hueschelrath, A., Tho, L. et al. Managing Soft Tissue Sarcomas in a Developing Health System. World J Surg 40, 1542–1549 (2016). https://doi.org/10.1007/s00268-016-3455-8
Published:

Issue Date:

DOI: https://doi.org/10.1007/s00268-016-3455-8
Keywords
Soft Tissue Sarcoma

Local Excision

Synovial Sarcoma

Angiosarcoma

Malignant Peripheral Nerve Sheath Tumour