Abstract
Background
The failure to preserve parathyroid function in patients who have undergone total thyroidectomy is of major concern, because hypocalcemia is difficult to prevent and remains a common postoperative complication. Here, we describe procedures designed to preserve the vasculature supplying the parathyroid glands and examine both recent outcomes and retrospective reports of results obtained prior to the application of these preservation techniques.
Methods
Our technique for preserving parathyroid function during thyroidectomy was adopted in 2009 and involves separating a relatively long segment of a vessel distally from the thyroid gland. We reviewed the medical records of 1,411 patients who underwent total thyroidectomy, with or without lateral neck dissection, at the Samsung Medical Center from January 2006 through June 2014 to determine outcomes. Patients were divided into three groups according to the time period during which the surgery took place: Group A, 2006–2008 (before the vasculature-preserving technique was applied); Group B, 2009–2011 (the time when the technique was first adopted); and Group C, 2012–2014 (more recent results of the technique). We analyzed the incidence of hypoparathyroidism in the three groups, as well as risk factors that influenced its development.
Results
The rates of transient and permanent hypoparathyroidism in Group A were 25.4 and 4.3 %, respectively. However, the incidence of hypoparathyroidism decreased significantly over time after the vasculature-preserving procedure was adopted. Transient hypoparathyroidism developed in 4.8 % of Group C patients, and only four (0.7 %) of the 565 patients in this group required calcium supplementation, despite the fact that a greater number of patients were included who underwent total thyroidectomy combined with lateral neck dissection. Although female sex and lateral neck dissection tended to increase the rate of transient hypoparathyroidism, multivariate analysis showed that the vasculature-preserving procedure was the only significant risk factor related to postoperative hypoparathyroidism.
Conclusion
The blood flow of the final branch to the parathyroid gland is mostly in the lateral-to-medial direction; therefore, mobilization and preservation of the vessels lateral to the gland is essential to prevent devascularization of the parathyroid gland.
Access options
Buy single article
Instant access to the full article PDF.
USD 39.95
Price includes VAT (USA)
Tax calculation will be finalised during checkout.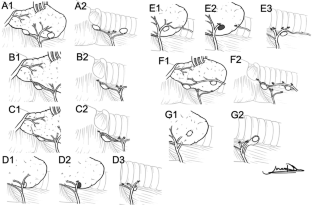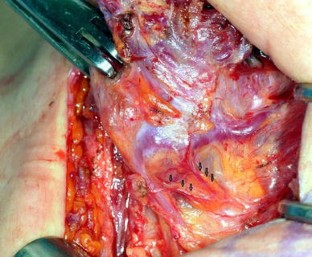 References
1.

Underbjerg L, Sikjaer T, Mosekilde L et al (2013) Cardiovascular and renal complications to postsurgical hypoparathyroidism: a Danish nationwide controlled historic follow-up study. J Bone Miner Res 28:2277–2285

2.

Chadwick D, Kinsman R, Walton P (2012) The British Association of Endocrine and Thyroid Surgeons Fourth National Audit Report 2012. Dendrite Clinic Syst Ltd, Henley-on-Thames, UK, pp 86–88

3.

Chow TL, Choi CY, Chiu AN (2014) Postoperative PTH monitoring of hypocalcemia expedites discharge after thyroidectomy. Am J Otolaryngol 35:736–740

4.

Lee DY, Cha W, Jeong WJ et al (2014) Preservation of the inferior thyroidal vein reduces post-thyroidectomy hypocalcemia. Laryngoscope 124:1272–1277

5.

Pradeep PV, Ramalingam K, Jayashree B (2013) Post total thyroidectomy hypocalcemia: a novel multi-factorial scoring system to enable its prediction to facilitate an early discharge. J Postgrad Med 59:4–8

6.

Prazenica P, O'Keeffe L, Holy R (2015) Dissection and identification of parathyroid glands during thyroidectomy: association with hypocalcemia. Head Neck 37:393–399

7.

Attie JN, Khafif RA (1975) Preservation of parathyroid glands during total thyroidectomy. Improved technic utilizing microsurgery. Am J Surg 130:399–404

8.

Fancy T, Gallagher D 3rd, Hornig JD (2010) Surgical anatomy of the thyroid and parathyroid glands. Otolaryngol Clin North Am 43:221–227

9.

Mohebati A, Shaha AR (2012) Anatomy of thyroid and parathyroid glands and neurovascular relations. Clin Anat 25:19–31

10.

El Malki HO, Abouqal R (2014) Systematic review and meta-analysis of predictors of post-thyroidectomy hypocalcaemia. Br J Surg 101:883

11.

Randolph G (2012) Principles in thyroid surgery. Surgery of the thyroid and parathyroid glands. Elsevier Health Sciences, Philadelphia, pp 286–288

12.

Lang BH, Ng SH, Lau LL et al (2013) A systematic review and meta-analysis of prophylactic central neck dissection on short-term locoregional recurrence in papillary thyroid carcinoma after total thyroidectomy. Thyroid 23:1087–1098
About this article
Cite this article
Park, I., Rhu, J., Woo, JW. et al. Preserving Parathyroid Gland Vasculature to Reduce Post-thyroidectomy Hypocalcemia. World J Surg 40, 1382–1389 (2016). https://doi.org/10.1007/s00268-016-3423-3
Keywords
Thyroid Gland

Parathyroid Gland

Total Thyroidectomy

Hypoparathyroidism

Central Neck Dissection