Abstract
Background
Globally, injury deaths largely occur in low- and middle-income countries. No estimates of injury-associated mortality exist in Rwanda. This study aimed to describe the patterns of injury-related deaths in Kigali, Rwanda using existing data sources.
Methods
We created a database of all deaths reported by the main institutions providing emergency care in Kigali—four major hospitals, two divisions of the Rwanda National Police, and the National Emergency Medical Service—during 12 months (Jan–Dec 2012) and analyzed it for demographics, diagnoses, mechanism and type of injury, causes of death, and all-cause and cause-specific mortality rates.
Results
There were 2682 deaths, 57 % in men, 67 % in adults >18 year, and 16 % in children <5 year. All-cause mortality rate was 236/100,000; 35 % (927) were due to probable surgical causes. Injury-related deaths occurred in 22 % (593/2682). The most common injury mechanism was road traffic crash (cause-specific mortality rate of 20/100,000). Nearly half of all injury deaths occurred in the prehospital setting (47 %, n = 276) and 49 % of injury deaths at the university hospital occurred within 24 h of arrival. Being injured increased the odds of dying in the prehospital setting by 2.7 times (p < 0.0001).
Conclusions
Injuries account for 22 % of deaths in Kigali with road traffic crashes being the most common cause. Injury deaths occurred largely in the prehospital setting and within the first 24 h of hospital arrival suggesting the need for investment in emergency infrastructure. Accurate documentation of the cause of death would help policy-makers make data-driven resource allocation decisions.
Access options
Buy single article
Instant access to the full article PDF.
US$ 39.95
Tax calculation will be finalised during checkout.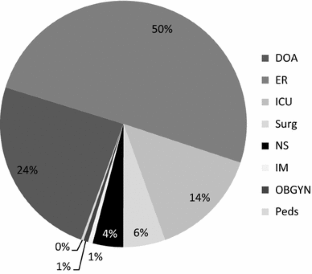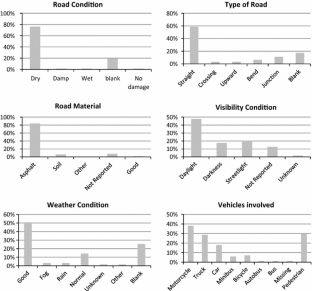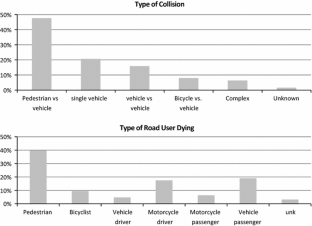 References
1.

Lopez AD et al (2006) Global and regional burden of disease and risk factors, 2001: systematic analysis of population health data. Lancet 367(9524):1747–1757

2.

WHO (2005) Prehospital trauma care systems. World Health Organization, Geneva

3.

WHO (2004) World report on road traffic injury prevention. World Health Organization, Geneva

4.

Nantulya VM, Reich MR (2003) Equity dimensions of road traffic injuries in low- and middle-income countries. Inj Control Saf Promot 10(1–2):13–20

5.

Lozano R et al (2012) Global and regional mortality from 235 causes of death for 20 age groups in 1990 and 2010: a systematic analysis for the Global Burden of Disease Study 2010. Lancet 380(9859):2095–2128

6.

Bhalla K et al (2009) Building national estimates of the burden of road traffic injuries in developing countries from all available data sources: Iran. Inj Prev 15(3):150–156

7.

Mathers CD et al. (2003) Global burden of disease in 2002: data sources, methods and results. Global Programme on Evidence for Health Policy Discussion Paper No. 54. World Health Organization, Geneva

8.

Jayaraman S et al (2011) Disparities in injury mortality between Uganda and the United States: comparative analysis of a neglected disease. World J Surg 35(3):505–511

9.

Web-based injury statistics query and reporting system (WISQARS) (2005). http://webappa.cdc.gov/sasweb/ncipc/mortrate10_sy.html. [cited 2009 Mar 18], Centers for Disease Control and Prevention, National Center for Injury Prevention and Control

10.

Jayaraman S et al (2009) Current patterns of prehospital trauma care in Kampala, Uganda and the feasibility of a lay-first-responder training program. World J Surg 33(12):2512–2521

11.

Jayaraman S et al (2009) First things first: effectiveness and scalability of a basic prehospital trauma care program for lay first-responders in Kampala, Uganda. PLoS One 4(9):e6955

12.

Petroze RT et al (2012) Comprehensive national analysis of emergency and essential surgical capacity in Rwanda. Br J Surg 99(3):436–443

13.

Nsereko E, Brysiewicz P (2010) Injury surveillance in a central hospital in Kigali, Rwanda. J Emerg Nurs 36(3):212–216

14.

Petroze RT et al (2013) Estimating operative disease prevalence in a low-income country: results of a nationwide population survey in Rwanda. Surgery 153(4):457–464

15.

Petroze RT et al (2015) Injury, disability and access to care in Rwanda: results of a nationwide cross-sectional population study. World J Surg 39(1):62–69

16.

National Institute of Statistics of Rwanda 2012 Population and Housing Census (Provisional Results) (2012). Kigali

17.

Chalya PL et al (2012) Injury characteristics and outcome of road traffic crash victims at Bugando Medical Centre in Northwestern Tanzania. J Trauma Manag Outcomes 6(1):1

18.

Tran TM et al (2015) Distribution and characteristics of severe traumatic brain injury at mulago national referral hospital in Uganda. World Neurosurg 83(3):269–277

19.

Meara JG et al (2015) Global Surgery 2030: evidence and solutions for achieving health, welfare, and economic development. Lancet 386:569–624

20.

Meara JG, Greenberg SL (2015) The Lancet Commission on Global Surgery Global surgery 2030: evidence and solutions for achieving health, welfare and economic development. Surgery 157(5):834–835

21.

Mutasingwa DR, Aaro LE (2001) Injury registration in a developing country. A study based on patients' records from four hospitals in Dar es Salaam, Tanzania. Cent Afr J Med 47(8):203–209

22.

Outwater AH, Campbell JC, Mgaya E (2011) Implementation of WHO/CDC guidelines for intentional injury death surveillance: a mixed-methods approach in Dar es Salaam, Tanzania. Homicide Stud 15(3):253–267

23.

Cox JA et al (2010) Autopsy causes of death in HIV-positive individuals in sub-Saharan Africa and correlation with clinical diagnoses. AIDS Rev 12(4):183–194

24.

Webpage of systems improvement at district hospitals and regional training in emergency care. [cited 2014 Nov 28]. http://www.sidharte.org/site/
Acknowledgments
We would like to thank the hospitals' administrative leaders; Department chairmen and head nurses of all the hospital wards, data analysts of the hospital statistics offices, and hospital morgue officers contributing to this study. We are also grateful for assistance and the vision of the Rwanda National Police, particularly the Commissioners of Traffic Police and Criminal Investigation Division and their staff who understood and supported this project from the outset.
Funding
Dr Jayaraman was sponsored by the Harvard Medical School Health Disparities Fellowship and by Brigham and Women's Hospital where she was a Clinical Instructor in Surgery at the time this project was developed, funded, and conducted. Ms. Kim was a medical student at Emory University School of Medicine and was sponsored by Emory School of Medicine and Emory Global Health Institute when she conducted this project.
Ethics declarations
Conflict of interest
None.
Additional information
Woon Cho Kim and Jean Claude Byiringiro are co-first authors.
About this article
Cite this article
Kim, W.C., Byiringiro, J.C., Ntakiyiruta, G. et al. Vital Statistics: Estimating Injury Mortality in Kigali, Rwanda. World J Surg 40, 6–13 (2016). https://doi.org/10.1007/s00268-015-3258-3
Keywords
Road Traffic

Injury Surveillance

Prehospital Setting

Road Traffic Injury

Injury Death