Abstract
Background
In modern operating rooms, clean and unused medical supplies are routinely discarded and can be effectively recovered and redistributed abroad to alleviate the environmental burden of donor hospitals and to generate substantial health benefits at resource-poor recipient institutions.
Methods
We established a recovery and donation program to collect clean and unused supplies for healthcare institutions in developing nations. We analyzed items donated over a 3-year period (September 2010–November 2013) by quantity and weight, and estimated the projected value of the program under potential nationwide participation. To capture the health benefits attributable to the donated supplies at recipient institutions, we partnered with two tertiary-care centers in Guayaquil, Ecuador and conducted a pilot study on the utility of the donated supplies at the recipient institutions (October 2013). We determined the disability-adjusted life years (DALY) averted for all patients undergoing procedures involving donated items and estimated the annual attributable DALY as well as the cost per DALY averted both by supply and by procedure.
Results
Approximately, 2 million lbs (907,185 kg) per year of medical supplies are recoverable from large non-rural US academic medical centers. Of these supplies, 19 common categories represent a potential for donation worth US $15 million per year, at a cost-utility of US $2.14 per DALY averted.
Conclusions
Hospital operating rooms continue to represent a large source of recoverable surgical supplies that have demonstrable health benefits in the recipient communities. Cost-effective recovery and need-based donation programs can significantly alleviate the global burden of surgical diseases.
Access options
Buy single article
Instant access to the full article PDF.
USD 39.95
Price excludes VAT (USA)
Tax calculation will be finalised during checkout.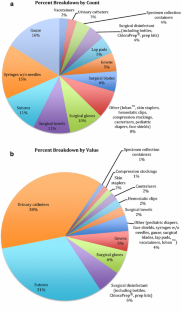 References
Grimes CE, Lane RHS (2013) Surgery and the global health agenda. J R Soc Med 106:256–258. doi:10.1177/0141076813476678

Bae JY, Groen RS, Kushner AL (2011) Surgery as a public health intervention: common misconceptions versus the truth. Bull World Health Organ 89:394. doi:10.2471/BLT.11.088229

Meara JG, Hagander L, Leather AJM (2014) Surgery and global health: a Lancet Commission. Lancet 383:12–13. doi:10.1016/S0140-6736(13)62345-4

Binagwaho A, Kyamanywa P, Farmer PE et al (2013) The human resources for health program in Rwanda–new partnership. N Engl J Med 369:2054–2059. doi:10.1056/NEJMsr1302176

Farmer P, Meara JG (2013) Commentary: the agenda for academic excellence in "global" surgery. Surgery 153:321–322. doi:10.1016/j.surg.2012.08.047

McCord C, Chowdhury Q (2003) A cost effective small hospital in Bangladesh: what it can mean for emergency obstetric care. Int J Gynaecol Obstet 81:83–92

Farmer PE, Kim JY (2008) Surgery and global health: a view from beyond the OR. World J Surg 32:533–536. doi:10.1007/s00268-008-9525-9

Weiser TG, Regenbogen SE, Thompson KD et al (2008) An estimation of the global volume of surgery: a modelling strategy based on available data. Lancet 372:139–144. doi:10.1016/S0140-6736(08)60878-8

Debas HT, Gosselin R, Mccord C, Thind A (2006) Surgery. In: Jamison DT, Breman JG, Measham AR et al (eds) Disease control priorities developing countries, 2nd edn. World Bank, Washington DC, pp 1245–1259

Luboga S, Macfarlane SB, von Schreeb J et al (2009) Increasing access to surgical services in sub-saharan Africa: priorities for national and international agencies recommended by the Bellagio Essential Surgery Group. PLoS Med 6:1–5. doi:10.1371/journal.pmed.1000200

Luboga S, Galukande M, Mabweijano J et al (2010) Key aspects of health policy development to improve surgical services in Uganda. World J Surg 34:2511–2517. doi:10.1007/s00268-010-0585-2

Rosenblatt WH, Ariyan C, Gutter V, Silverman DG (1993) Case-by-case assessment of recoverable materials for overseas donation from 1318 surgical procedures. JAMA 269:2647–2649

Miller S (2002) The REMEDY Program: recovery and donation of unused surgical supplies to developing countries. Einstein Q J Biol Med 19:121–124

Pennino R, Mayer AM, Dahn AT, Husser W (1994) Recycling unused medical supplies: a surgeon's response. Plast Reconstr Surg 94:397–399

Rosenblatt WH, Silverman DG (1992) Recovery, resterilization, and donation of unused surgical supplies. JAMA 268:1441–1443

World Health Organization (2000) Guidelines for health care equipment donations. World Health Organization, Geneva

HCUP Nationwide Inpatient Sample (NIS). Healthcare Cost and Utilization Project (HCUP). 2007–2009. Agency for Healthcare Research and Quality, Rockville http://www.hcup-us.ahrq.gov/tech_assist/citations.jsp

Murray CJ (1994) Quantifying the burden of disease: the technical basis for disability-adjusted life years. Bull World Health Organ 72:429–445

American Society of Anesthesiologists ASA Physical Status Classification System. http://www.asahq.org/For-Members/Clinical-Information/ASA-Physical-Status-Classification-System.aspx. Accessed 6 Feb 2014

Tinker JH, Miles RR, Newland MC, et al. (2006) Recommendations and guidelines for preoperative evaluation of the surgical patient with emphasis on the cardiac patient for non-cardiac surgery. University of Nebraska Medical Center, pp 1–82. Available at http://webmedia.unmc.edu/anesthesia/Anesthesia%20Guide.pdf

Rosenblatt WH, Silverman DG (1994) Cost-effective use of operating room supplies based on the REMEDY database of recovered unused materials. J Clin Anesth 6:400–404

Remme JHF, Feenstra P, Lever PR et al (2006) Tropical diseases targeted for elimination: chagas disease, lymphatic filariasis, onchocerciasis, and leprosy. In: Jamison DT, Breman JG, Measham AR et al (eds) Disease control priorities in developing countries, 2nd edn. World Bank, Washington DC, pp 433–449

Kwakye G, Brat GA, Makary MA (2011) Green surgical practices for health care. Arch Surg 146:131–136. doi:10.1001/archsurg.2010.343
Acknowledgments
We thank all the SHARE volunteers who contributed to the success of the program. We also thank John G. Meara, MD, DMD, MBA for crucial feedback and Fizan Abdullah, MD, PhD for assistance in expanding the reach of SHARE. We also thank our operating room staff whose collaboration was critical for recovering supplies. We thank Peter Kalugin for his assistance with data analysis. ELW and MB were funded by the Woodrow Wilson Undergraduate Research Fellowship Program, Krieger School of Arts & Sciences, Johns Hopkins University.
Conflict of interest
Authors do not declare any potential or real conflicts of interest.
Ethical Approval
This study is not human subjects' research and we obtained approval for the review of supply and patient characteristics from the institutional review board at the Johns Hopkins Medical Institutions. This study conforms to the Declaration of Helsinki ethical principles for medical research.
Electronic supplementary material
Below is the link to the electronic supplementary material.
About this article
Cite this article
Wan, E.L., Xie, L., Barrett, M. et al. Global Public Health Impact of Recovered Supplies from Operating Rooms: A Critical Analysis with National Implications. World J Surg 39, 29–35 (2015). https://doi.org/10.1007/s00268-014-2834-2
Published:

Issue Date:

DOI: https://doi.org/10.1007/s00268-014-2834-2
Keywords