Abstract
Background
Disparities in access to quality injury care are a growing concern worldwide, with over 90 % of global injury-related morbidity and mortality occurring in low-income countries. We describe the use of a survey tool that evaluates the prevalence of surgical conditions at the population level, with a focus on the burden of traumatic injuries, subsequent disabilities, and barriers to injury care in Rwanda.
Methods
The Surgeons OverSeas Assessment of Surgical Need (SOSAS) tool is a cross-sectional, cluster-based population survey designed to measure conditions that may necessitate surgical consultation or intervention. Questions are structured anatomically and designed around a representative spectrum of surgical conditions. Households in Rwanda were sampled using two-stage cluster sampling, and interviews were conducted over a one-month period in 52 villages nationwide, with representation of all 30 administrative districts. Injury-related results were descriptively analyzed and population-weighted by age and gender.
Results
A total of 1,627 households (3,175 individuals) were sampled; 1,185 lifetime injury-related surgical conditions were reported, with 38 % resulting in some form of perceived disability. Of the population, 27.4 % had ever had a serious injury-related condition, with 2.8 % having an injury-related condition at the time of interview. Over 30 % of household deaths in the previous year may have been surgically treatable, but only 4 % were injury-related.
Conclusions
Determining accurate injury and disability burden is crucial to health system planning in low-income countries. SOSAS is a useful survey for determining injury epidemiology at the community level, which can in turn help to plan prevention efforts and optimize provision of care.
Access options
Buy single article
Instant access to the full article PDF.
USD 39.95
Price excludes VAT (USA)
Tax calculation will be finalised during checkout.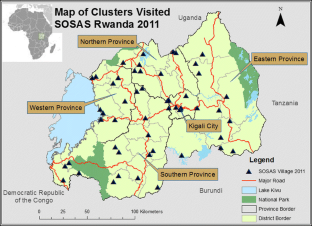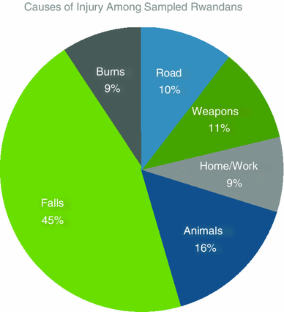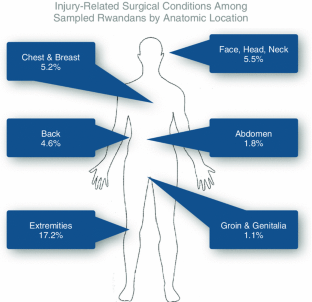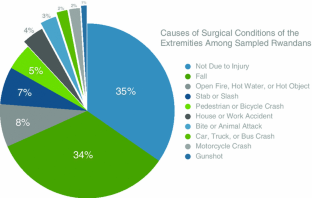 References
Lozano R, Naghavi M, Foreman K, Lim S, Shibuya K, Aboyans V et al (2012) Global and regional mortality from 235 causes of death for 20 age groups in 1990 and 2010: a systematic analysis for the Global Burden of Disease Study 2010. Lancet 380(9859):2095–2128

Murray CJ, Vos T, Lozano R, Naghavi M, Flaxman AD, Michaud C et al (2012) Disability-adjusted life years (DALYs) for 291 diseases and injuries in 21 regions, 1990–2010: a systematic analysis for the Global Burden of Disease Study 2010. Lancet 380(9859):2197–2223

Chandran A, Hyder AA, Peek-Asa C (2010) The global burden of unintentional injuries and an agenda for progress. Epidemiol Rev 32(1):110–120

World Health Organization (2010) Injuries and violence: the facts. WHO, Geneva

World Health Organization (2011) World report on disability. WHO, Geneva

Weiser TG, Regenbogen SE, Thompson KD, Haynes AB, Lipsitz SR, Berry WR et al (2008) An estimation of the global volume of surgery: a modelling strategy based on available data. Lancet 372(9633):139–144

Barnighausen T, Bloom DE, Humair S (2011) Going horizontal: shifts in funding of global health interventions. N Engl J Med 364(23):2181–2183

Debas H, Gosseln R, McCord C, Thind A (2006) Surgery. In: Jamison DT, Breman JG, Measham AR, Alleyne G, Claeson M et al (eds) Disease control priorities in developing countries, 2nd edn. World Bank, Washington

Groen RS, Samai M, Stewart KA, Cassidy LD, Kamara TB, Yambasu SE et al (2012) Untreated surgical conditions in Sierra Leone: a cluster randomised, cross-sectional, countrywide survey. Lancet 380(9847):1082–1087

Petroze RT, Groen RS, Niyonkuru F, Mallory M, Ntaganda E, Joharifard S et al (2013) Estimating operative disease prevalence in a low-income country: results of a nationwide population survey in Rwanda. Surgery 153(4):457–464

World Bank (2012) http://www.data.worldbank.org

National Institute of Statistics of Rwanda (NISR), Rwanda Ministry of Health (MOH), and ICF International (2011) Rwanda demographic and health survey 2010. NISR, MOH, and ICF International, Calverton

Lu C, Chin B, Lewandowski JL, Basinga P, Hirschhorn LR, Hill K et al (2012) Towards universal health coverage: an evaluation of Rwanda Mutuelles in its first eight years. PLoS One 7(6):e39282

Petroze RT, Nzayisenga A, Rusanganwa V, Ntakiyiruta G, Calland JF (2012) Comprehensive national analysis of emergency and essential surgical capacity in Rwanda. Br J Surg 99(3):436–443

McGee K, Sethi D, Peden M, Habibula S (2004) Guidelines for conducting community surveys on injuries and violence. Inj Control Saf Promot 11(4):303–306

Groen RS, Samai M, Petroze RT, Kamara TB, Yambasu SE, Calland JF et al (2012) Pilot testing of a population-based surgical survey tool in Sierra Leone. World J Surg 36(4):771–774. doi:10.1007/s00268-012-1448-9

Gosselin RA, Spiegel DA, Coughlin R, Zirkle LG (2009) Injuries: the neglected burden in developing countries. Bull World Health Organ 87(4):246

Stewart KA, Groen RS, Kamara TB, Farahzad MM, Samai M, Cassidy LD et al (2013) Traumatic injuries in developing countries: report from a nationwide cross-sectional survey of Sierra Leone. JAMA Surg 148(5):463–469

United Nations Development Programme (2011) Human development report 2011: sustainability and equity: a better future for all. Palgrave Macmillan, Basingstoke

Hyder AA (2013) Injuries in low- and middle-income countries: a neglected disease in global public health. Injury 44(5):479–480

Mukhopadhyay B, Boniface R, Razek T (2009) Trauma in Tanzania: researching injury in a low-resource setting. Mcgill J Med 12(2):27

Kobusingye OC, Guwatudde D, Owor G, Lett RR (2002) Citywide trauma experience in Kampala, Uganda: a call for intervention. Inj Prev 8(2):133–136

Navaratne KV, Fonseka P, Rajapakshe L, Somatunga L, Ameratunga S, Ivers R et al (2009) Population-based estimates of injuries in Sri Lanka. Inj Prev 15(3):170–175

Gilyoma JM, Mabula JB, Chalya PL (2013) Animal-related injuries in a resource-limited setting: experiences from a Tertiary health institution in northwestern Tanzania. World J Emerg Surg 8(1):7

Kobusingye O, Guwatudde D, Lett R (2001) Injury patterns in rural and urban Uganda. Inj Prev 7(1):46–50

Atijosan O, Rischewski D, Simms V, Kuper H, Linganwa B, Nuhi A et al (2008) A national survey of musculoskeletal impairment in Rwanda: prevalence, causes and service implications. PLoS One 3(7):e2851

Mock CN, nii-Amon-Kotei D, Maier RV (1997) Low utilization of formal medical services by injured persons in a developing nation: health service data underestimate the importance of trauma. J Trauma 42(3):504–511 discussion 11–3

Jayaraman S, Mabweijano JR, Lipnick MS, Caldwell N, Miyamoto J, Wangoda R et al (2009) First things first: effectiveness and scalability of a basic prehospital trauma care program for lay first-responders in Kampala, Uganda. PLoS One 4(9):e6955

Nafissi N, Saghafinia M, Balochi K (2008) Improving trauma care in rural Iran by training existing treatment chains. Rural Remote Health 8(4):881

Mock CN, Tiska M, Adu-Ampofo M, Boakye G (2002) Improvements in prehospital trauma care in an African country with no formal emergency medical services. J Trauma 53(1):90–97

Sun JH, Shing R, Twomey M, Wallis LA (2012) A strategy to implement and support pre-hospital emergency medical systems in developing, resource-constrained areas of South Africa. Injury 45(1):31–38
Acknowledgments
Special thanks to Barbara Choo, Yue Li, Dave Morris, Dominique Habimana (NISR), Manasse Nzayirambaho (NUR School of Public Health), Center for Survey Research at UVA, Elias Nyandwi (CGIS), Rwanda Surgical Society, Faculty of Medicine at the National University of Rwanda, Rwandan Ministry of Health, and our student interviewers: Georges Gasana, Marie Grace Kansayisa, Theoneste Maniragaba, Achille Manirakiza, Yvette Ntaganda, Innocent Nzeyimana, Herman Rwambibi, Gallican Nshogoza Rwibasira, Chantal Uwamariya.
Conflict of interest
The authors declare no conflicts of interest.
Ethical Approval
The study was conducted under the leadership of the Faculty of Medicine at the National University of Rwanda in Butare, Rwanda. Ethical approval was obtained from the University of Virginia Institutional Review Board for the Behavioral Sciences (#2011-0261-00), the Rwanda National Ethics Committee (#006/RNEC/2011), and the Rwanda National Institute of Statistics (#893/2011/10/NISR). Results were presented to the Rwandan Ministry of Health, the Rwandan National Institute of Statistics, the National University of Rwanda's Directorate of Research, and the Rwanda Surgical Society before publication.
Funding
Surgeons OverSeas (SOS) provided the survey tool and technical assistance and funded the logistical execution of data collection.
About this article
Cite this article
Petroze, R.T., Joharifard, S., Groen, R.S. et al. Injury, Disability and Access to Care in Rwanda: Results of a Nationwide Cross-Sectional Population Study. World J Surg 39, 62–69 (2015). https://doi.org/10.1007/s00268-014-2544-9
Published:

Issue Date:

DOI: https://doi.org/10.1007/s00268-014-2544-9
Keywords
Vital Statistic Data

Road Traffic Crash

Injury Epidemiology

Disability Burden

Health System Planning