Abstract
Background
Ingested toothpicks are a relatively rare event, but may cause serious gut injuries with peritonitis, sepsis, or death. Numerous case reports describing the clinical course in this setting are available but there is no concise guideline. The aim of the present study was to develop practical guidelines to aid clinicians in the diagnosis and management of acute tooth pick ingestion.
Method
Our Medline search identified 116 publications containing case reports of ingested toothpicks. We then performed a retrospective analysis of patients' characteristics, medical history, diagnostics, therapy, and clinical outcome.
Results
A total of 136 cases (74 % male, age 52 [5–92] years) have been reported in the literature. From the available information, more than 50 % (n = 48) of patients were not aware of having swallowed a toothpick. The most common presenting symptoms were abdominal pain (82 %), fever (39 %), and nausea (31 %). The toothpick caused gut perforation in 79 % of all patients. The locations of toothpicks prior removal were esophagus (2 %), stomach (20 %), duodenum (23 %), small intestine (18 %), and large intestine (37 %). The diagnostic procedures included endoscopy (63 %), computed tomography scan (63 %), and ultrasound (47 %); however, in 35 % of cases these investigations failed to detect the toothpick. Therapy was surgery in most cases (58 %). The overall mortality was 9.6 %.
Conclusions
Toothpick ingestion is a medical emergency. Perforations of the intestine are common and the associated mortality is high. Adequate therapy depends on localization of the toothpick in the gastrointestinal tract. Ingested toothpicks should be kept in mind as an important differential diagnosis in patients with acute abdomen.
Access options
Buy single article
Instant access to the full article PDF.
USD 39.95
Price excludes VAT (USA)
Tax calculation will be finalised during checkout.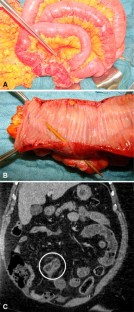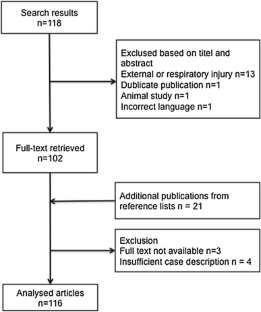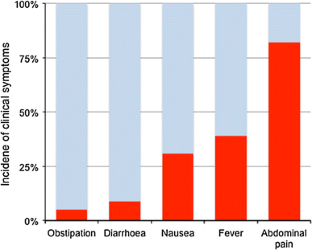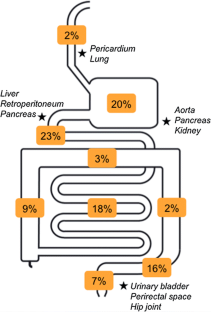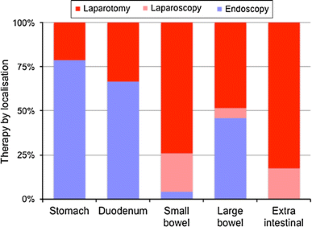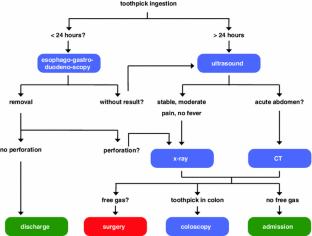 Abbreviations
CT:

Computed tomography

US:

Ultrasound

GI:

Gastrointestinal
References
Leelouche N, Ayoub N, Bruneel F et al (2003) Thigh cellulitis caused by toothpick ingestion. Intensive Care Med 29:662–663

Henderson CT, Engel J, Schlesinger P (1987) Foreign body ingestion: review and suggested guidelines for management. Endoscopy 19:68–71

Li SF, Ender K (2002) Toothpick injury mimicking renal colic: case report and systematic review. J Emerg Med 23:35–38

St. John EG (1955) Toothpick injuries of the intestinal tract. NY State J Med 55:3115–3119

Bee DM, Citron M, Vannix RS et al (1989) Delayed death from ingestion of a toothpick. N Engl J Med 320:673

Wang YP, Shi B (2012) Toothpick impaction with localized sigmoid perforation: successful double-balloon enteroscopic management. Endoscopy 44(Suppl 2 UCTN):E29

Matsubara M, Hirasaki S, Suzuki S (2007) Gastric penetration by an ingested toothpick successfully managed with computed tomography and endoscopy. Intern Med 46:971–974

Nigri GR, Di Giulio E, Di Nardo R et al (2008) Duodenal perforation and right hydronephrosis due to toothpick ingestion. J Emerg Med 34:55–57

Rioux M, Langis P (1994) Sonographic detection of clinically unsuspected swallowed toothpicks and their gastrointestinal complications. J Clin Ultrasound 22:483–490

Alagiri M, Rabinovitch HH (1998) Toothpick migration into bladder presents as abdominal pain and hematuria. Urology 52:1130–1131

Chiang TH, Liu KL, Lee YC et al (2006) Sonographic diagnosis of a toothpick traversing the duodenum and penetrating into the liver. J Clin Ultrasound 34:237–240

El-Tarchichi MA, Yafi MF, Debek AH (2009) Electronic clinical challenges and images in GI. Perforating toothpick mimicking Crohn's disease of the ileum. Gastroenterology 136:e8–e9

Stoica M, Saftoiu A, Gheonea DI et al (2007) Pyogenic liver abscess caused by accidental ingestion of a wooden toothpick: role of preoperative imaging. J Gastrointest Liver Dis 16:221–222

Singh AC, Gurney M (2003) Toothpick penetration of stomach. Gastrointest Endosc 57:239

Kanazawa S, Ishigaki K, Miyake T et al (2003) A granulomatous liver abscess which developed after a toothpick penetrated the gastrointestinal tract: report of a case. Surg Today 33:312–314

Cheung YC, Ng SH, Tan CF et al (2000) Hepatic inflammatory mass secondary to toothpick perforation of the stomach: triphasic CT appearances. Clin Imaging 24:93–95

Neumann U, Fielitz J, Ehlert HG (2000) Perforation of the cecum by a toothpick—a rare differential acute appendicitis diagnosis. Case report and review of the literature. Chirurg 71:1405–1408

Perko Z, Bilan K, Pogorelic Z et al (2008) Acute appendicitis and ileal perforation with a toothpick treated by laparoscopy. Coll Antropol 32:307–309

Dente M, Santi F, Solinas L et al (2009) Laparoscopic diagnosis and management of jejunal perforation resulting from accidental toothpick ingestion. Am Surg 75:178–179
Acknowledgments
The authors are grateful to Diarmaid Houlihan for thorough revision of the manuscript and crucial comments.
About this article
Cite this article
Steinbach, C., Stockmann, M., Jara, M. et al. Accidentally Ingested Toothpicks Causing Severe Gastrointestinal Injury: A Practical Guideline for Diagnosis and Therapy Based on 136 Case Reports. World J Surg 38, 371–377 (2014). https://doi.org/10.1007/s00268-013-2307-z
Published:

Issue Date:

DOI: https://doi.org/10.1007/s00268-013-2307-z
Keywords