Abstract
Introduction
The distribution of survival times after injury has been described as "trimodal," but several studies have not confirmed this. The purpose of this study was to clarify the distribution of survival times after injury.
Methods
We defined survival time (ts) as the interval between injury time and declared death time. We constructed histograms for ts ≤ 150 min from the 2004–2007 Fatality Analysis Reporting System (FARS, for traffic crashes) and National Violent Death Reporting System (NVDRS, for homicides). We estimated statistical models in which death times known only within intervals were treated as interval-censored. For confirmation, we also obtained EMS response times (tr), prehospital times (tp), and hospital times (th) for decedents in the 2008 National Trauma Data Bank (NTDB) with ts = tp + th ≤ 150. We approximated times until circulatory arrest (tx) as tr for patients pulseless at the injury scene, tp for other patients pulseless at hospital admission, and ts for the rest; for any declared ts, we calculated mean tx/ts. We used this ratio to estimate tx for hospital deaths in FARS or NVDRS and provide independent support for using interval-censored methods.
Results
FARS and NVDRS deaths were most frequent in the first few minutes. Both showed a second peak at 35–40 min after injury, corresponding to peaks in hospital deaths. Third peaks were not present. Estimated tx in FARS and NVDRS did not show second peaks and were similar to estimates treating some death times as interval-censored.
Conclusions
Increases in frequency of survival times at 35–40 min are primarily artifacts created because declaration of death in hospitals is delayed until completing resuscitative attempts. By avoiding these artifacts, interval censoring methods are useful for analysis of injury survival times.
This is a preview of subscription content, log in to check access.
Access options
Buy single article
Instant access to the full article PDF.
US$ 39.95
Price includes VAT for USA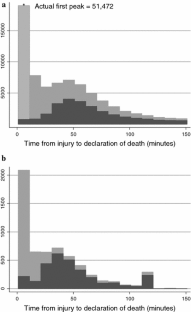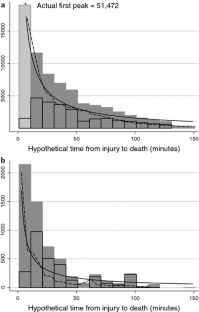 References
1.

Trunkey DD (1983) Trauma. Sci Am 249:28–35

2.

American College of Surgeons (2008) Advanced trauma life support, 8th edn. ACS, Chicago

3.

Sauaia A, Moore FA, Moore EE et al (1995) Epidemiology of trauma deaths: a reassessment. J Trauma 38:185–193

4.

Demetriades D, Kimbrell B, Salim A et al (2005) Trauma deaths in a mature urban trauma system: is "trimodal" distribution a valid concept? J Am Coll Surg 201:343–348

5.

McGwin G Jr, Nunn AM, Mann JC et al (2009) Reassessment of the tri-modal mortality distribution in the presence of a regional trauma system. J Trauma 66:526–530

6.

Evans JA, van Wessem KJ, McDougall D et al (2010) Epidemiology of traumatic deaths: comprehensive population-based assessment. World J Surg 34:158–163

7.

Kruger AJ, Søreide K (2008) Trimodal temporal distribution of fatal trauma–fact or fiction? Injury 39:960–961

8.

Bakke HK, Wisborg T (2011) Rural high north: a high rate of fatal injury and prehospital death. World J Surg 35:1615–1620

9.

Gomes E, Araujo R, Carneiro A et al (2008) Mortality distribution in a trauma system: from data to health policy recommendations. Eur J Trauma Emerg Surg 34:561–569

10.

Lindsey JC, Ryan LM (1998) Tutorial in biostatistics: methods for interval-censored data. Stat Med 17:219–238

11.

Zhang Z, Sun J (2010) Interval censoring. Stat Methods Med Res 19:53–70

12.

Griffin J (2005) Intcens: Stata module to perform interval-censored survival analysis

13.

Turnbull BW (1976) The empirical distribution function with arbitrarily grouped, censored and truncated data. J R Stat Soc Series B 38:290–295

14.

Therneau T, Lumley T (2011) http://CRAN.R-project.org/package=survival

15.

Wyatt J, Beard D, Gray A et al (1995) The time of death after trauma. BMJ 310:1502

16.

Meislin H, Criss EA, Judkins D et al (1997) Fatal trauma: the modal distribution of time to death is a function of patient demographics and regional resources. J Trauma 43:433–440

17.

Søreide K, Kruger AJ, Vardal AL et al (2007) Epidemiology and contemporary patterns of trauma deaths: changing place, similar pace, older face. World J Surg 31:2092–2103

18.

Pang JM, Civil I, Ng A et al (2008) Is the trimodal pattern of death after trauma a dated concept in the 21st century? Trauma deaths in Auckland 2004. Injury 39:102–106

19.

de Knegt C, Meylaerts SA, Leenen LP (2008) Applicability of the trimodal distribution of trauma deaths in a Level I trauma centre in the Netherlands with a population of mainly blunt trauma. Injury 39:993–1000

20.

Gunst M, Ghaemmaghami V, Gruszecki A et al (2010) Changing epidemiology of trauma deaths leads to a bimodal distribution. Proc (Bayl Univ Med Cent) 23:349–354

21.

Luchter S (1998) Fatal injuries in light vehicle crashes: time to death and cause of death. Annu Proc Assoc Adv Automot Med 42:277–286

22.

Clark DE, Cushing BM (2002) Predicted effect of automatic crash notification on traffic mortality. Accid Anal Prev 34:103–109

23.

Clark DE, Ahmad S (2005) Is the number of traffic fatalities in American hospitals decreasing? Accid Anal Prev 37:755–760
Acknowledgments
Supported by Grant R01CE001594 from the National Center for Injury Prevention and Control. Content reproduced from the National Trauma Data Bank remains the full and exclusive copyrighted property of the American College of Surgeons. The American College of Surgeons is not responsible for any claims arising from works based on the original data, text, tables, or figures.
About this article
Cite this article
Clark, D.E., Qian, J., Sihler, K.C. et al. The Distribution of Survival Times after Injury. World J Surg 36, 1562–1570 (2012). https://doi.org/10.1007/s00268-012-1549-5
Keywords
Emergency Medical Service

Circulatory Arrest

Death Time

Suicide Death

Hospital Arrival