Abstract
Background
Transient postthyroidectomy hypocalcemia occurs in up to 30% of patients. We evaluated the effect of vitamin D deficiency on postthyroidectomy hypocalcemia.
Methods
Data were collected prospectively between January 2006 and March 2009. A total of 166 consecutive total thyroidectomies were analyzed regarding the relation between preoperative vitamin D3 levels and postoperative corrected calcium levels. Patients were divided into three groups dependent upon the preoperative vitamin D3 level: group 1, <25 nmol/l; group 2, 25–50 nmol/l; group 3, >50 nmol/l (conversion factor of 2.5× between nanomoles per liter and nanograms per milliliter). Hypocalcemia was defined as a postoperative calcium level <2.00 mmol/l (8 mg/dl). Hospital length of stay was recorded.
Results
There was a difference in postoperative hypocalcemia between the three vitamin D3 groups (group 1 (32%) vs. group 2 (24%) vs. group 3 (13%). Hypocalcemia in group 1 (vit D <25 nmol/l, <10 ng/ml) was significantly more likely than in group 3 (vit D >50 nmol/l, >20 ng/ml) (P = 0.025, χ2 test. Vitamin D3 deficiency was also associated with a longer hospital stay (median stay 2 days vs. 1 day, P < 0.001, Wilcoxon rank test).
Conclusions
There is a significant difference in postoperative hypocalcemia rates between those with vitamin D levels >50 nmol/l (>20 ng/ml) and those with a level of <25 nmol/l (<10 ng/ml). Vitamin D deficiency leads to a delay in discharge owing to a higher likelihood of hypocalcemia.
Access options
Buy single article
Instant access to the full article PDF.
US$ 39.95
Tax calculation will be finalised during checkout.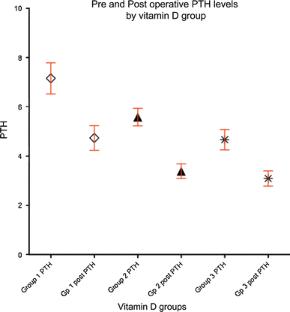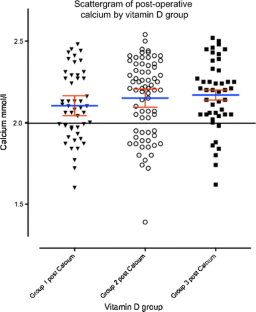 References
1.

Pappalardo G, Guadalaxara A, Frattaroli FM et al (1998) Total compared with subtotal thyroidectomy in benign nodular disease: personal series and review of published reports. Eur J Surg 164:501–506

2.

BAETS (2009) In: Scott-Coombes D (eds) British association of endocrine and thyroid surgeons third national audit report. Dendrite Clinical Systems. BAETS, Henley-on-Thames

3.

Peix JL, Zabot JM (1988) Complications and sequelae of thyroid surgery. Presse Med 17:1749–1753

4.

Pederson WC, Johnson CL, Gaskill HV et al (1984) Operative management of thyroid disease: technical considerations in a residency training program. Am J Surg 148:350–352

5.

Pattou F, Combemale F, Fabre S et al (1998) Hypocalcemia following thyroid surgery: incidence and prediction of outcome. World J Surg 22:718–724

6.

Thomusch O, Machens A, Sekulla C et al (2000) Multivariate analysis of risk factors for postoperative complications in benign goiter surgery: prospective multicenter study in Germany. World J Surg 24:1335–1341

7.

Erbil Y, Barbaros U, Temel B et al (2009) The impact of age, vitamin D(3) level, and incidental parathyroidectomy on postoperative hypocalcemia after total or near total thyroidectomy. Am J Surg 197:439–446

8.

Thomusch O, Machens A, Sekulla C et al (2003) The impact of surgical technique on postoperative hypoparathyroidism in bilateral thyroid surgery: a multivariate analysis of 5846 consecutive patients. Surgery 133:180–185

9.

Yamashita H, Noguchi S, Murakami T et al (2001) Predictive risk factors for postoperative tetany in female patients with Graves' disease. J Am Coll Surg 192:465–468

10.

Tartaglia F, Giuliani A, Sgueglia M et al (2005) Randomized study on oral administration of calcitriol to prevent symptomatic hypocalcemia after total thyroidectomy. Am J Surg 190:424–429

11.

Bellantone R, Lombardi CP, Raffaelli M et al (2002) Is routine supplementation therapy (calcium and vitamin D) useful after total thyroidectomy? Surgery 132:1109–1112 discussion 1112–1113

12.

Roh JL, Park CI (2006) Routine oral calcium and vitamin D supplements for prevention of hypocalcemia after total thyroidectomy. Am J Surg 192:675–678

13.

Testa A, Fant V, De Rosa A et al (2006) Calcitriol plus hydrochlorothiazide prevents transient post-thyroidectomy hypocalcemia. Horm Metab Res 38:821–826

14.

Weaver S, Doherty DB, Jimenez C et al (2009) Peer-reviewed, evidence-based analysis of vitamin D and primary hyperparathyroidism. World J Surg 33:2292–2302

15.

Melamed ML, Muntner P, Michos ED et al (2008) Serum 25-hydroxyvitamin D levels and the prevalence of peripheral arterial disease: results from NHANES 2001 to 2004. Arterioscler Thromb Vasc Biol 28:1179–1185

16.

Geller JL, Hu B, Reed S et al (2008) Increase in bone mass after correction of vitamin D insufficiency in bisphosphonate-treated patients. Endocr Pract 14:293–297

17.

Welbourn RB (1990) The history of endocrine surgery. Praeger, New York

18.

Palazzo FF, Sywak MS, Sidhu SB et al (2005) Parathyroid autotransplantation during total thyroidectomy: does the number of glands transplanted affect outcome? World J Surg 29:629–631

19.

Lo CY, Luk JM, Tam SC (2002) Applicability of intraoperative parathyroid hormone assay during thyroidectomy. Ann Surg 236:564–569

20.

Soon PS, Magarey CJ, Campbell P et al (2005) Serum intact parathyroid hormone as a predictor of hypocalcemia after total thyroidectomy. ANZ J Surg 75:977–980

21.

Quiros RM, Pesce CE, Wilhelm SM et al (2005) Intraoperative parathyroid hormone levels in thyroid surgery are predictive of postoperative hypoparathyroidism and need for vitamin D supplementation. Am J Surg 189:306–309

22.

Payne RJ, Hier MP, Tamilia M et al (2005) Same-day discharge after total thyroidectomy: the value of 6-hour serum parathyroid hormone and calcium levels. Head Neck 27:1–7

23.

Sywak MS, Palazzo FF, Yeh M et al (2007) Parathyroid hormone assay predicts hypocalcemia after total thyroidectomy. ANZ J Surg 77:667–670

24.

Lam A, Kerr PD (2003) Parathyroid hormone: an early predictor of postthyroidectomy hypocalcemia. Laryngoscope 113:2196–2200

25.

Cahill RA, Harty R, Cotter S et al (2006) Parathormone response to thyroid surgery. Am J Surg 191:453–459

26.

Nygren P, Larsson R, Johansson H et al (1988) 1,25 (OH)2D3 inhibits hormone secretion and proliferation but not functional dedifferentiation of cultured bovine parathyroid cells. Calcif Tissue Int 43:213–218

27.

Carrillo-López N, Fernández-Martín JL, Cannata-Andía JB (2009) The role of calcium, calcitriol and their receptors in parathyroid regulation. Nefrologia 29:103–108

28.

Carrillo-López N, Alvarez-Hernández D, González-Suárez I et al (2008) Simultaneous changes in the calcium-sensing receptor and the vitamin D receptor under the influence of calcium and calcitriol. Nephrol Dial Transplant 23:3479–3484

29.

Garfia B, Canadillas S, Canalejo A et al (2002) Regulation of parathyroid vitamin D receptor expression by extracellular calcium. J Am Soc Nephrol 13:2945

30.

Kirkby-Bott J, El-Khatib Z, Caiazzo R et al (2010) Vitamin D3 deficiency causes asymmetrical parathyroid hyperplasia. Langenbecks Arch Surg 395:474
Conflicts of interest
The authors have no conflicts to disclose.
About this article
Cite this article
Kirkby-Bott, J., Markogiannakis, H., Skandarajah, A. et al. Preoperative Vitamin D Deficiency Predicts Postoperative Hypocalcemia After Total Thyroidectomy. World J Surg 35, 324–330 (2011). https://doi.org/10.1007/s00268-010-0872-y
Keywords
Parathyroid Gland

Total Thyroidectomy

Normal Reference Range

Permanent Hypoparathyroidism

Corrected Calcium