Abstract
Background
There are limited data available on the ability of computed tomography (CT) to accurately diagnose abdominopelvic pathology in acutely ill inpatients suspected of having an acute abdominal process. The purpose of this study was to evaluate the diagnostic accuracy of abdominal/pelvic CT with varying use of contrast agents in hospitalized patients.
Methods
A retrospective review of all hospital inpatients (3/1/07–5/31/07) who underwent urgent or emergent abdominal/pelvic CT with any combination of contrast, intravenous (IV), oral, rectal, or unenhanced for a suspected acute abdominal process was performed. Data collected included demographics, combination of contrast used, CT diagnosis, time from CT scan to subsequent intervention, intervention type, and actual diagnosis of the acute abdominal process. Accuracy of CT was compared between enhanced and unenhanced imaging using Fisher's exact test.
Results
A total of 661 patients were identified. Use of IV contrast alone was found in 54.2% of CT scans and was correct in 92.5% of cases. IV and oral contrast was used in 22.2% of CT scans and was 94.6% correct. Unenhanced imaging was performed in 16.2% and was correct in 92.5%. Oral contrast alone was used in 7.0% and was 93.5% correct. There was no significant difference in the ability to correctly diagnose a suspected acute abdominal process when enhanced CT imaging was compared to unenhanced (p > 0.05).
Conclusions
CT contrast administration in critically ill hospitalized patients is not necessary to accurately diagnose an acute abdominal process. Eliminating the use of contrast may improve patient comfort, decrease patient risk, and minimize financial cost.
Access options
Buy single article
Instant access to the full article PDF.
USD 39.95
Price excludes VAT (USA)
Tax calculation will be finalised during checkout.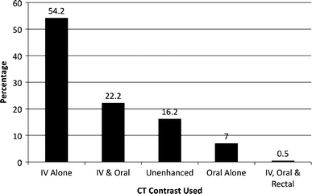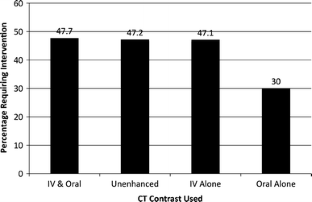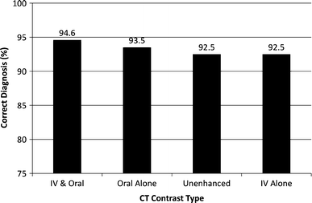 References
Brenner DJ, Hall EJ (2007) Computed tomography—an increasing source of radiation exposure. N Engl J Med 357:2277–2284

Stern SH (2007) Nationwide Evaluation of X-Ray Trends (NEXT): tabulation and graphical summary of 2000 survey of computed tomography. (CRCPD publication no. NEXT_2000CT) Conference of Radiation Control Program Directors. http://www.fda.gov/cdrh/ct/2000survey.pdf. Accessed 3 January 2008

Balthazar EJ, Megibow AJ, Siegel SE et al (1991) Appendicitis: prospective evaluation with high-resolution CT. Radiology 180:21–24

Gore RM, Miller FH, Pereles FS et al (2000) Helical CT in the evaluation of the acute abdomen. Am J Roentgenol 174:901–913

Strömberg C, Johansson G, Adolfsson A (2007) Acute abdominal pain: diagnostic impact of immediate CT scanning. World J Surg 31:2347–2354

in't Hof KH, van Lankeren W, Krestin GP et al (2004) Surgical validation of unenhanced helical computed tomography in acute appendicitis. Br J Surg 91:1641–1645

Basak S, Nazarian LN, Wechsler RJ et al (2002) Is unenhanced CT sufficient for evaluation of acute abdominal pain? Clin Imaging 26:405–407

MacKersie AB, Lane MJ, Gerhardt RT et al (2005) Nontraumatic acute abdominal pain: unenhanced helical CT compared with three-view acute abdominal series. Radiology 237:114–122

Mun S, Ernst RD, Chen K et al (2006) Rapid CT diagnosis of acute appendicitis with IV contrast material. Emerg Radiol 12:99–102

Huyn LN, Coughlin B, Wolfe JM et al (2004) Patient encounter time intervals in the evaluation of emergency department patients requiring abdominopelvic CT: oral contrast versus no contrast. Emerg Radiol 10:310–313

Lee SY, Coughlin B, Wolfe JM et al (2006) Prospective comparison of helical CT of the abdomen and pelvis without and with oral contrast in assessing acute abdominal pain in adult emergency department patients. Emerg Radiol 12:150–157

Jacobs JE, Birnbaum BA, Macari M et al (2001) Acute appendicitis: comparison of helical CT diagnosis-focused technique with oral contrast material versus nonfocused technique with oral and intravenous contrast material. Radiology 220:683–690

Lane MJ, Liu DM, Huynh MD et al (1999) Suspected acute appendicitis: nonenhanced helical CT in 300 consecutive patients. Emerg Radiol 213:341–346
Acknowledgments
The authors are grateful for Alan T. Davis, PhD and Tracy Frieswyk, BA for their guidance and advising throughout this project and their assistance editing this manuscript.
About this article
Cite this article
Hill, B.C., Johnson, S.C., Owens, E.K. et al. CT Scan for Suspected Acute Abdominal Process: Impact of Combinations of IV, Oral, and Rectal Contrast. World J Surg 34, 699–703 (2010). https://doi.org/10.1007/s00268-009-0379-6
Published:

Issue Date:

DOI: https://doi.org/10.1007/s00268-009-0379-6
Keywords
Compute Tomography

Appendicitis

Diverticulitis

Oral Contrast

Unenhanced Compute Tomography