Abstract
Background
The lack of standardized procedures of intraoperative neuromonitoring (IONM) during thyroid operations may lead to highly variable results, and many of these results can cause misleading information and, conversely, increase the risk of recurrent laryngeal nerve (RLN) injury. Therefore, standardization of IONM procedures is necessary.
Methods
A total of 289 patients (435 nerves at risk) who underwent thyroidectomy by the same surgeon were enrolled in this study. Each patient was intubated with EMG endotracheal tube by the same anesthesiologist. Standardized IONM procedures were applied in each patient. The procedures include preoperative and postoperative video-recording of vocal cord movement, ensuring the correct position of electrodes after the neck was placed at full extension, vagal stimulation and registration of EMG signals before and after RLN dissection, and photographic documentation of the exposed RLN.
Results
Five patients encountered dysfunction of IONM, which was caused by malposition of electrodes and the problem was detected at once. One patient with non-RLN was detected at the earlier stage of operation. Eighteen nerves experienced loss of EMG signals during thyroid dissection, and the causes of nerve injuries were well elucidated with the application of our standardized IONM procedures.
Conclusions
The standardized IONM procedures are useful and helpful not only to eliminate false IONM results, but also to elucidate the mechanism of RLN injury. After ascertaining the surgical pitfalls and improving the surgical techniques, the palsy rate was significantly reduced in this study.
Access options
Buy single article
Instant access to the full article PDF.
USD 39.95
Price excludes VAT (USA)
Tax calculation will be finalised during checkout.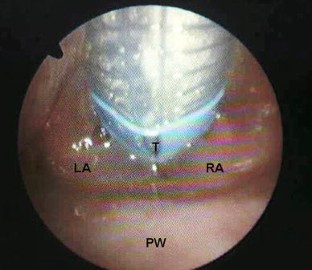 References
Kern KA (1993) Medicolegal analysis of errors in diagnosis and treatment of surgical endocrine disease. Surgery 114:1167–1173; discussion 1173-1164

Lore JM, Jr, Kim D, Elias S (1977) Total thyroid lobectomy and isthmusectomy with exposure and preservation of the recurrent laryngeal nerve. Trans Sect Otolaryngol Am Acad Ophthalmol Otolaryngol 84:ORL896–ORL897

Harness JK, Fung L, Thompson NW et al (1986) Total thyroidectomy: complications and technique. World J Surg 10:781–786

Karlan MS, Catz B, Dunkelman D et al (1984) A safe technique for thyroidectomy with complete nerve dissection and parathyroid preservation. Head Neck Surg 6:1014–1019

Jatzko GR, Lisborg PH, Muller MG et al (1994) Recurrent nerve palsy after thyroid operations—principal nerve identification and a literature review. Surgery 115:139–144

Steurer M, Passler C, Denk DM et al (2002) Advantages of recurrent laryngeal nerve identification in thyroidectomy and parathyroidectomy and the importance of preoperative and postoperative laryngoscopic examination in more than 1000 nerves at risk. Laryngoscope 112:124–133

Chiang FY, Wang LF, Huang YF et al (2005) Recurrent laryngeal nerve palsy after thyroidectomy with routine identification of the recurrent laryngeal nerve. Surgery 137:342–347

Snyder SK, Lairmore TC, Hendricks JC et al (2008) Elucidating mechanisms of recurrent laryngeal nerve injury during thyroidectomy and parathyroidectomy. J Am Coll Surg 206:123–130

Thomusch O, Sekulla C, Machens A et al (2004) Validity of intraoperative neuromonitoring signals in thyroid surgery. Langenbecks Arch Surg 389:499–503

Yarbrough DE, Thompson GB, Kasperbauer JL et al (2004) Intraoperative electromyographic monitoring of the recurrent laryngeal nerve in reoperative thyroid and parathyroid surgery. Surgery 136:1107–1115

Snyder SK, Hendricks JC (2005) Intraoperative neurophysiology testing of the recurrent laryngeal nerve: plaudits and pitfalls. Surgery 138:1183–1191; discussion 1191-1182

Shindo M, Chheda NN (2007) Incidence of vocal cord paralysis with and without recurrent laryngeal nerve monitoring during thyroidectomy. Arch Otolaryngol Head Neck Surg 133:481–485

Chan WF, Lang BH, Lo CY (2006) The role of intraoperative neuromonitoring of recurrent laryngeal nerve during thyroidectomy: a comparative study on 1000 nerves at risk. Surgery 140:866–872; discussion 872-863

Chiang FY, Lu IC, Kuo WR et al (2008) The mechanism of recurrent laryngeal nerve injury during thyroid surgery–the application of intraoperative neuromonitoring. Surgery 143:743–749

Randolph GW, Kobler JB, Wilkins J (2004) Recurrent laryngeal nerve identification and assessment during thyroid surgery: laryngeal palpation. World J Surg 28:755–760

Beldi G, Kinsbergen T, Schlumpf R (2004) Evaluation of intraoperative recurrent nerve monitoring in thyroid surgery. World J Surg 28:589–591

Chan WF, Lo CY (2006) Pitfalls of intraoperative neuromonitoring for predicting postoperative recurrent laryngeal nerve function during thyroidectomy. World J Surg 30:806–812

Tomoda C, Hirokawa Y, Uruno T et al (2006) Sensitivity and specificity of intraoperative recurrent laryngeal nerve stimulation test for predicting vocal cord palsy after thyroid surgery. World J Surg 30:1230–1233

Hermann M, Hellebart C, Freissmuth M (2004) Neuromonitoring in thyroid surgery: prospective evaluation of intraoperative electrophysiological responses for the prediction of recurrent laryngeal nerve injury. Ann Surg 240:9–17

Timmermann W, Hamelmann WH, Thomusch O et al (2004) [Effectiveness and results of intraoperative neuromonitoring in thyroid surgery. Statement of the Interdisciplinary Study Group on Intraoperative Neuromonitoring of Thyroid Surgery. Chirurg 75:916–922

Dralle H, Sekulla C, Lorenz K et al (2008) Intraoperative monitoring of the recurrent laryngeal nerve in thyroid surgery. World J Surg 32:1358–1366

Beneragama T, Serpell JW (2006) Extralaryngeal bifurcation of the recurrent laryngeal nerve: a common variation. ANZ J Surg 76:928–931

Katz AD (1986) Extralaryngeal division of the recurrent laryngeal nerve. Report on 400 patients and the 721 nerves measured. Am J Surg 152:407–410

Randolph GW (2003) Surgical anatomy of the recurrent laryngeal nerve. In: Randolph GW (ed) Surgery of the thyroid and parathyroid glands. Saunders, Philadelphia, pp 300–342

Lu IC, Chu KS, Tsai CJ et al (2008) Optimal depth of NIM EMG endotracheal tube for intraoperative neuromonitoring of the recurrent laryngeal nerve during thyroidectomy. World J Surg 32:1935–1939

Huppler EG, Schmidt HW, Devine KD et al (1956) Ultimate outcome of patients with vocal-cord paralysis of undetermined cause. Am Rev Tuberc 73:52–60

Rueger RG (1974) Benign disease of the thyroid gland and vocal cord paralysis. Laryngoscope 84:897–907

Randolph GW, Kamani D (2006) The importance of preoperative laryngoscopy in patients undergoing thyroidectomy: voice, vocal cord function, and the preoperative detection of invasive thyroid malignancy. Surgery 139:357–362
Electronic supplementary material
Below is the link to the electronic supplementary material.
Supplementary material 1 (2101647 kb)
About this article
Cite this article
Chiang, FY., Lee, KW., Chen, HC. et al. Standardization of Intraoperative Neuromonitoring of Recurrent Laryngeal Nerve in Thyroid Operation. World J Surg 34, 223–229 (2010). https://doi.org/10.1007/s00268-009-0316-8
Published:

Issue Date:

DOI: https://doi.org/10.1007/s00268-009-0316-8
Keywords
Vagus Nerve

Recurrent Laryngeal Nerve

Thyroid Operation

Recurrent Laryngeal Nerve Injury

Vocal Cord Movement