Abstract
Background
Variously described as Courvoisier's law, sign, or even gallbladder, this eponymous "law" has been taught to medical students since the publication of Courvoisier's treatise in 1890.
Methods
We reviewed Courvoisier's original "law," the modern misconceptions surrounding it, and the contemporary evidence supporting and explaining his observations.
Results
Courvoisier never stated a "law" in the context of a jaundiced patient with a palpable gallbladder. He described 187 cases of common bile duct obstruction, observing that gallbladder dilatation seldom occurred with stone obstruction of the bile duct. The classic explanation for Courvoisier's finding is based on the underlying pathologic process. With the presence of gallstones come repeated episodes of infection and subsequent fibrosis of the gallbladder. In the event that a gallstone causes the obstruction, the gallbladder is shrunken owing to fibrosis and is unlikely to be distensible and, hence, palpable. With other causes of obstruction, the gallbladder distends as a result of the back-pressure from obstructed bile flow. However, recent experiments show that gallbladders are equally distensible in vitro, irrespective of the pathology, suggesting that chronicity of the obstruction is the key. Chronically elevated intraductal pressures are more likely to develop with malignant obstruction owing to the progressive nature of the disease. Gallstones cause obstruction in an intermittent fashion, which is generally not consistent enough to produce such a chronic rise in pressure.
Conclusion
We hope that reminding clinicians of Courvoisier's actual observations will reestablish the usefulness of this clinical sign in the way he intended.
This is a preview of subscription content, log in to check access.
Access options
Buy single article
Instant access to the full article PDF.
US$ 39.95
Price includes VAT for USA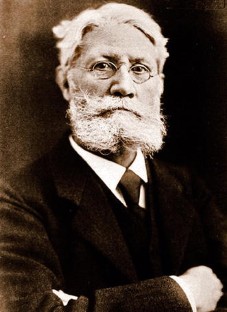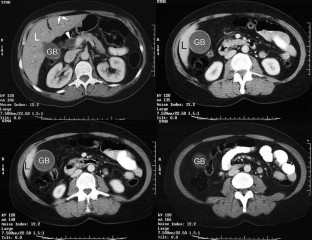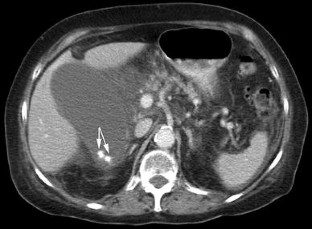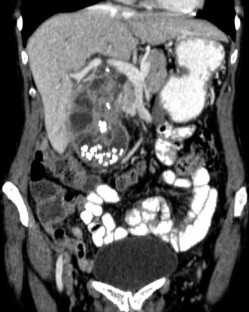 References
1.

Courvoisier LG (1890) Casuistich-statistische Beiträge zur Pathologie und Chirurgie der Gallenwege. Verlag von F.C.W, Vogel, Leipzig

2.

Verghese A, Dison C, Berk SL (1987) Courvoisier's "law"—an eponym in evolution. Am J Gastroenterol 82:248–250

3.

Ludwig Courvoisier (1843–1918). Courvoisier's sign. JAMA 204:627 (1968)

4.

Rhoads JE (1957) Pancreas. In: Allen JG, Harkins HN, Moyer CA, Rhoads JE (eds) Surgery: principles and practice. Pitman Medical Publishing, London, pp 715–740

5.

Ooi K, Merrett N (2004) Autoimmune pancreatitis in a patient presenting with obstructive jaundice and pancreatic mass. HPB (Oxford) 6:126–127

6.

Lim JH, Kim SY, Park CM (2007) Parasitic diseases of the biliary tract. AJR Am J Roentgenol 188:1596–1603

7.

Fournier AM, Michel J (1992) Courvoisier's sign revisited: two patients with palpable gallbladder. South Med J 85:548–550

8.

Lapointe R, Gamache A, Pare P (1984) Bile-duct cyst with cystlithiasis: a case report. Can J Surg 27:271–273

9.

Viteri AL (1980) Courvoisier's law and evaluation of the jaundiced patient. Tex Med 76:60–61

10.

Munzer D (1999) Assessment of Courvoisier's law. Saudi J Gastroenterol 5:106–112

11.

Watts G (1985) Courvoisier's law. Lancet 2:1293–1294

12.

Chung RS (1983) Pathogenesis of the "Courvoisier gallbladder". Dig Dis Sci 28:33–38

13.

Ginzburg L, Payson BA (1957) A variant of the Courvoisier syndrome in carcinoma of the gallbladder. Ann Surg 146:976–982

14.

Chen JJ, Changchien CS, Tai DI et al (1994) Gallbladder volume in patients with common hepatic duct dilatation: an evaluation of Courvoisier's sign using ultrasonography. Scand J Gastroenterol 29:284–288

15.

Bromley PJ, Keller FS (2001) Images in clinical medicine: Courvoisier's gallbladder. N Engl J Med 345:1542

16.

Verghese A, Berk SL (1986) Courvoisier's law. Lancet 1:99

17.

Schneiderman H (2004) It's not the law. Can Med Assoc J 171:312

18.

Woywodt A, Matteson E (2007) Should eponyms be abandoned? Yes. BMJ 335:424
Acknowledgments
The authors thank Dr. Zeno Stanga for his help in translating the original German text of Courvoisier's Casuistisch-statistische Beiträge zur Patholgie und Chirurgie der Gallenwege.
About this article
Cite this article
Fitzgerald, J.E.F., White, M.J. & Lobo, D.N. Courvoisier's Gallbladder: Law or Sign?. World J Surg 33, 886–891 (2009). https://doi.org/10.1007/s00268-008-9908-y
Keywords
Common Bile Duct

Obstructive Jaundice

Malignant Obstruction

Jaundice Patient

Gallbladder Volume