Abstract
Background
Laparoscopic adrenalectomy is the procedure of choice for small adrenal tumors, but some concerns have been voiced when this approach is adopted for larger tumors and pheochromocytomas. The aim of this study was to examine the results of the laparoscopic resection of large pheochromocytomas.
Methods
A retrospective review of adrenalectomies performed for adrenal pheochromocytomas >6 cm in diameter. We compiled and analyzed the early operative complications, histologic findings, and cure rates with a minimum of 1 year of follow-up after surgery.
Results
From 1996 to 2005, a total of 445 laparoscopic adrenalectomies were performed in our institution using the anterolateral transperitoneal approach. From this series we identified 18 procedures for pheochromocytomas with an average diameter on imaging of 78.2 mm (range 60–130 mm). All patients were rendered safe with a standard departmental protocol involving calcium-channel blockade initiated at least 2 weeks prior to surgery. The average peak intraoperative blood pressure was 187 mmHg. Capsular disruption occurred in two cases. One patient required an intraoperative blood transfusion due to intraoperative blood loss. No immediate conversions to an open procedure were required, but one patient underwent a delayed laparotomy for hematoma formation. Histologically, four of the adrenal tumors displayed evidence of vascular invasion. Biochemical cure was achieved in all patients after a median follow-up of 58 months (16–122 months).
Conclusions
Laparoscopic adrenalectomy appears to be a safe and effective approach for large pheochromocytomas when no preoperative or intraoperative evidence of local invasion is present.
Access options
Buy single article
Instant access to the full article PDF.
US$ 39.95
Tax calculation will be finalised during checkout.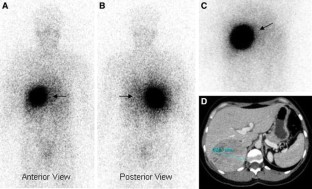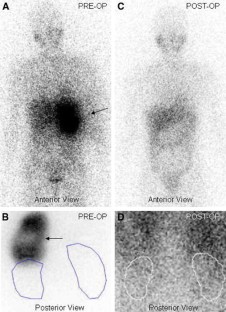 References
1.

Dudley NE, Harrison BJ (1999) Comparison of open posterior versus transperitoneal laparoscopic adrenalectomy. Br J Surg 178:50–53

2.

Jacobs JK, Goldstein RE, Geer RJ (1997) Laparoscopic adrenalectomy: a new standard of care. Ann Surg 225:495–501

3.

Gagner M, Pomp A, Heniford BT, et al. (1997) Laparoscopic adrenalectomy: lessons learned from 100 consecutive procedures. Ann Surg 226:238–246

4.

Kercher KW, Novitsky YW, Park A, et al. (2005) Laparoscopic curative resection of pheochromocytomas. Ann Surg 241:919–926

5.

Wilhelm SM, Prinz RA, Barbu AM, et al. (2006) Analysis of large versus small pheochromocytomas: operative approaches and patient outcomes. Surgery 140:553–559

6.

Taïeb D, Sebag F, Hubbard JG, et al. (2004) Does iodine–131 meta-iodobenzylguanidine (MIBG) scintigraphy have an impact on the management of sporadic and familial phaeochromocytoma? Clin Endocrinol (Oxf) 61:102–108

7.

Gagner M, Lacroix A, Bolte E (1992) Laparoscopic adrenalectomy in Cushing's syndrome and pheochromocytoma. N Engl J Med 327:1033

8.

Henry JF, Sebag F, Iacobone M, et al. (2002) Lessons learned from 274 laparoscopic adrenalectomies. Ann Chir 127:512–519

9.

Henry JF, Defechereux T, Raffaelli M, et al. (2000) Complications of laparoscopic adrenalectomy: results of 169 consecutive procedures. World J Surg 24:1342–1346

10.

Shen WT, Kebebew E, Clark OH, et al. (2004) Reasons for conversion from laparoscopic to open or hand-assisted adrenalectomy: review of 261 laparoscopic adrenalectomies from 1993 to 2003. World J Surg 28:1176–1179

11.

Ito Y, Obara T, Yamashita T, et al. (1996) Pheochromocytomas: tendency to degenerate and cause paroxysmal hypertension. World J Surg 20:923–926

12.

Atuk NO, Teja K, Mondzelewski P, et al. (1977) Avasucular necrosis of pheochromocytoma followed by spontaneous remission. Arch Intern Med 137:1073–1075

13.

Crout JR, Sjoerdsma A (1964) Turnover and metabolic of catecholamines in patients with pheochromocytoma. J Clin Invest 43:94–102

14.

Fernandez-Cruz L, Taura P, Saenz A, et al. (1996) Laparoscopic approach to pheochromocytoma: hemodynamic changes and catecholamine secretion. World J Surg 20:762–768

15.

Flavio Rocha M, Faramarzi-Roques R, Tauzin-Fin P, et al. (2004) Laparoscopic surgery for pheochromocytoma. Eur Urol 45:226–232

16.

Bravo EL, Tarazi RC, Gifford RW, et al. (1979) Circulating and urinary catecholamines in pheochromocytoma: diagnostic and pathophysiologic implications. N Engl J Med 301:682–686

17.

Bravo EL, Tagle R (2003) Pheochromocytoma: state-of-the-art and future prospects. Endocr Rev 24:539–553

18.

Thompson LD (2002) Pheochromocytoma of the adrenal gland scaled score (PASS) to separate benign from malignant neoplasms: a clinicopathologic and immunophenotypic study of 100 cases. Am J Surg Pathol 26:551–566

19.

Goldstein RE, O'Neill JA Jr, Holcomb GW 3rd, et al. (1999) Clinical experience over 48 years with pheochromocytoma. Ann Surg 229:755–764

20.

Shen WT, Sturgeon C, Clark OH, et al. (2004) Should pheochromocytoma size influence surgical approach? A comparison of 90 malignant and 60 benign pheochromocytomas. Surgery 136:1129–1137

21.

Van Heerden JA, Roland CF, Carney JA, et al. (1990) Long-term evaluation following resection of apparently benign pheochromocytoma(s)/paraganglioma(s). World J Surg 14:325–329

22.

Meng MV, Koppie TM, Duh QY, et al. (2001) Novel method of assessing surgical margin status in laparoscopic specimens. Urology 58:677–681

23.

Scott HW Jr, Halter SA (1984) Oncologic aspects of pheochromocytoma: the importance of follow-up. Surgery 96:1061–1066

24.

Harrison TS, Freier DT, Cohen EL (1974) Recurrent pheochromocytoma. Arch Surg 108:450–454

25.

Palazzo FF, Sebag F, Sierra M, et al. (2006) Long-term outcome following laparoscopic adrenalectomy for large solid adrenal cortex tumors. World J Surg 30:893–898
About this article
Cite this article
Ippolito, G., Palazzo, F.F., Sebag, F. et al. Safety of Laparoscopic Adrenalectomy in Patients with Large Pheochromocytomas: A Single Institution Review. World J Surg 32, 840–844 (2008). https://doi.org/10.1007/s00268-007-9327-5
Keywords
Laparoscopic Approach

Esmolol

Adrenal Tumor

Laparoscopic Adrenalectomy

Adrenal Vein