Abstract
Background
Repair of complex incisional hernias poses a major challenge.
Aim
The aim of this study was to review the outcomes of the modified Rives-Stoppa repair of complex incisional hernias using a synthetic prosthesis.
Methods
We reviewed patients undergoing a modified Rives-Stoppa repair of complex incisional hernias from 1990 to 2003. Patients were followed through clinic visits and mailed questionnaires. Follow-up data were complete in all patients (mean 70 months, range 24–177 months), and 87% of patients completed a mailed questionnaire. Primary outcome included mortality, morbidity, and hernia recurrence. Secondary outcome measures were duration of hospital stay, long-term abdominal wall pain, and self-reported patient satisfaction.
Results
Altogether, 254 patients underwent a modified Rives-Stoppa repair. Among them, 60% had a significant co-morbidity, and 30% had one or more previously failed hernia repairs. Mortality was zero, and overall morbidity was 13% (wound infection 4%, prosthetic infection 3%, seroma/hematoma 4%). The overall hernia recurrence rate was 5%, including explantation of mesh because of infection. Wound/prosthetic infection was predictive for hernia recurrence (31% vs. 4%, p = 0.003). Among the respondents, 89% reported overall satisfaction with their repair.
Conclusion
The Rives-Stoppa repair of complex incisional hernias using synthetic prosthetic materials is safe with a low recurrence rate (5%) and high patient satisfaction. Postoperative wound infection is a risk factor for hernia recurrence.
This is a preview of subscription content, log in to check access.
Access options
Buy single article
Instant access to the full article PDF.
US$ 39.95
Price includes VAT for USA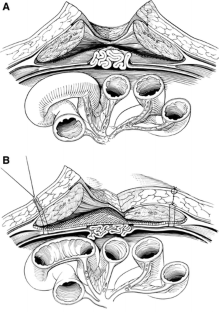 References
1.

Flum DR, Horvath K, Koepsell T (2003) Have outcomes of incisional hernia repair improved with time? Ann Surg 237:129–135

2.

Mudge M, Hughes LE (1985) Incisional hernia: a 10-year prospective study of incidence and attitudes. Br J Surg 72:70–71

3.

Cassar K, Munro A (2002) Surgical treatment of incisional hernia. Br J Surg 89:534–545

4.

Van der Linden FT, van Vroonhoven TJ (1988) Long-term results after surgical correction of incisional hernia. Neth J Surg 40:127–129

5.

Langer S, Christianson J (1985) Long-term results after incisional hernia repair. Acta Chir Scand 151:217–219

6.

Koller R, Miholic J, Jakl RJ (1997) Repair of incisional hernias with expanded polytetratfluoroethylene. Eur J Surg 163:261–266

7.

Luijendijk RW, Hop WC, van den Tol MP, et al. (2000) A comparison of suture repair with mesh repair for incisional hernia. N Engl J Med 343:392–398

8.

Burger JWA, Luijendijk RW, Hop WCJ, et al. (2004) Long-term follow-up of randomized controlled trial of suture versus mesh repair of incisional hernia. Ann Surg 240:578–585

9.

Girotto JA, Chiaramonte M, Menon NG, et al. (2003) Recalcitrant abdominal wall hernias: long-term superiority of autologous tissue repair. Plast Reconstr Surg 112:106–114

10.

de Vries Reilingh TS, van Goor H, Rosman C, et al. (2003) "Components separation technique" for the repair of large abdominal wall hernias. J Am Coll Surg 196:32–37

11.

Disa JJ, Goldberg NH, Carlton JM, et al. (1998) Restoring abdominal wall integrity in contaminated tissue-deficient wounds using autologous fascia grafts. Plast Reconstr Surg 101:979–986

12.

Vargo D (2004) Components separation in the management of the difficult abdominal wall. Am J Surg 188:633–637

13.

LeBlanc KA, Booth WV, Whitaker JM, et al. (2001) Laparoscopic incisional and ventral herniorraphy: our initial 100 patients. Hernia 5:41–45

14.

Temudom T, Siadati M, Sarr MG (1996) Repair of complex giant or recurrent ventral hernias by using tension-free intraparietal prosthetic mesh (Stoppa technique): lessons learned from our initial experience (fifty patients). Surgery 120:738–743, discussion 743–744

15.

Stoppa R, Louis D, Henry X, et al. (1985) [Postoperative eventrations: apropos of a series of 247 surgically treated patients.] Chirurgie 111:303–305

16.

Stoppa R, Henry X, Verhaeghe P, et al. (1981) [Trends in the surgical treatment of chronic dehiscences of the abdominal walls.] Bull Acad Natl Med 165:493–501

17.

Rives J, Stoppa R, Fortesa L, et al. (1968) [Dacron patches and their place in surgery of groin hernia: 65 cases collected from a complete series of 274 hernia operations.] Ann Chir 22:159–171

18.

Rives J, Pire JC, Flament JB, et al. (1977) [Treatment of large eventrations (apropos of 133 cases).] Minerva Chir 32:749–756

19.

Bendavid R (2004) The unified theory of hernia formation. Hernia 8:171–176

20.

Jansen PL, Mertens PrP, Schumpelick V, et al. (2004) The biology of hernia formation. Surgery 136:1–4
Additional information
This work was presented in part at the 47th Annual Meeting of the Society for Surgery of the Alimentary Tract during Digestive Disease Week, Los Angeles, CA, May 2006. The abstract was published in Gastroenterology 2006;130:A891.
About this article
Cite this article
Iqbal, C.W., Pham, T.H., Joseph, A. et al. Long-Term Outcome of 254 Complex Incisional Hernia Repairs Using the Modified Rives-Stoppa Technique. World J Surg 31, 2398–2404 (2007). https://doi.org/10.1007/s00268-007-9260-7
Keywords
Chronic Obstructive Pulmonary Disease

Hernia Repair

Incisional Hernia

Rectus Muscle

Hernia Recurrence