Abstract
Background
High-reliability organizations have stressed the importance of nontechnical skills for safety and of regularly providing such training to their teams. Recently safety skills training has been applied in the practice of medicine. In this study, we developed and piloted a module using multidisciplinary crisis scenarios in a simulated operating theatre to train entire surgical teams.
Methods
Twenty teams participated (n = 80); each consisted of a trainee surgeon, anesthetist, operating department practitioner (ODP), and scrub nurse. Crisis scenarios such as difficult intubation, hemorrhage, or cardiac arrest were simulated. Technical and nontechnical skills (leadership, communication, team skills, decision making, and vigilance), were assessed by clinical experts and by two psychologists using relevant technical and human factors rating scales. Participants received technical and nontechnical feedback, and the whole team received feedback on teamwork.
Results
Trainees assessed the training favorably. For technical skills there were no differences between surgical trainees' assessment scores and the assessment scores of the trainers. However, nurses overrated their technical skill. Regarding nontechnical skills, leadership and decision making were scored lower than the other three nontechnical skills (communication, team skills, and vigilance). Surgeons scored lower than nurses on communication and teamwork skills. Surgeons and anesthetists scored lower than nurses on leadership.
Conclusions
Multidisciplinary simulation-based team training is feasible and well received by surgical teams. Nontechnical skills can be assessed alongside technical skills, and differences in performance indicate where there is a need for further training. Future work should focus on developing team performance measures for training and on the development and evaluation of systematic training for technical and nontechnical skills to enhance team performance and safety in surgery.
Access options
Buy single article
Instant access to the full article PDF.
US$ 39.95
Tax calculation will be finalised during checkout.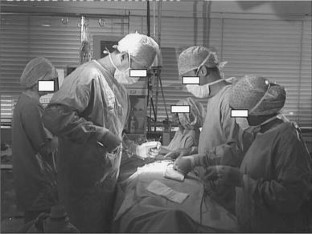 References
1.

Flin RH, O'Connor P, Mearns K. (2002) Crew resource management: improving safety in high reliability industries. Team Perform Manage 8:68–78

2.

Helmreich RL, Merritt AC, Wilhelm JA. (1999) The evolution of crew resource management training in commercial aviation. Int J Aviat Psychol 9:19–32

3.

Donchin Y, Gopher D, Olin M, et al. (2003) A look into the nature and causes of human errors in the intensive care unit. Qual Saf Health Care 12:143–147

4.

Sexton JB, Helmreich RL. (2003) Communication and team work in the surgical operating room. Panel presentation at 2000 Aerospace Medical Association conference, Houston, Texas

5.

Ludbrook GL, Webb RK, Fox MA, et al. (1993) The Australian Incident Monitoring Study. Problems before induction of anaesthesia: an analysis of 2000 incident reports. Anaesth Intensive Care 21:593–595

6.

Lingard L, Espin S, Whyte S, et al. (2004) Communication failures in the operating room: an observational classification of recurrent types and effects. Qual Saf Health Care 13:330–334

7.

Vincent C, Moorthy K, Sarker SK, et al. (2004) Systems approaches to surgical quality and safety: from concept to measurement. Ann Surg 239:475–482

8.

Duffy FD, Gordon GH, Whelan G, et al. (2004) Assessing competence in communication and interpersonal skills: the Kalamazoo II report. Acad Med 79:495–507

9.

General Medical Council U (2001) Good Medical Practice

10.

Baldwin PJ, Paisley AM, Brown SP. (1999) Consultant surgeons' opinion of the skills required of basic surgical trainees. Br J Surg 86:1078–1082

11.

Grantcharov TP, Kristiansen VB, Bendix J, et al. (2004) Randomized clinical trial of virtual reality simulation for laparoscopic skills training. Br J Surg 91:146–150

12.

Salas E, Burke CS, Bowers CA, et al. (2001) Team training in the skies: does crew resource management (CRM) training work? Hum Factors 43:641–674

13.

Gaba DM, Howard SK, Flanagan B, et al. (1998) Assessment of clinical performance during simulated crises using both technical and behavioral ratings. Anesthesiology 89:8–18

14.

Holzman RS, Cooper JB, Gaba DM, et al. (1995) Anesthesia crisis resource management: real-life simulation training in operating room crises. J Clin Anesth 7:675–687

15.

Morey JC, Simon R, Jay GD, et al. (2002) Error reduction and performance improvement in the emergency department through formal teamwork training: evaluation results of the MedTeams project. Health Serv Res 37:1553–1581

16.

Moorthy K, Munz Y, Adams S, et al. (2005) A human factors analysis of technical and team skills among surgical trainees during procedural simulations in a simulated operating theatre. Ann Surg 242:631–639

17.

Moorthy K, Munz Y, Forrest D, et al. (2004) Face validity and participants' perceptions of the value of surgical crisis management (SCM) training. Br J Surg 91(Suppl 1):79

18.

Martin JA, Regehr G, Reznick R, et al. (1997) Objective structured assessment of technical skill (OSATS) for surgical residents. Br J Surg 84:273–278

19.

Moorthy K, Munz Y, Forrest D, et al. (2006) Surgical crisis management skills training and assessment: a simulation[corrected]-based approach to enhancing operating room performance. Ann Surg 244:139–147

20.

Healey AN, Undre S, Vincent CA. (2004) Developing observational measures of performance in surgical teams. Qual Saf Health Care 13(Suppl 1):i33–i40

21.

Undre S, Healey AN, Darzi A, et al. (2006) Observational assessment of surgical teamwork: a feasibility study. World J Surg 30:1774–1783

22.

Undre S, Sevdalis N, Healey AN, et al. (2007) The Observational Teamwork Assessment for Surgery (OTAS): refinement and application in urological surgery. World J Surg (Epub ahead of print)

23.

Salas E, Wilson KA, Burke CS, et al. (2006) Does crew resource management training work? An update, an extension, and some critical needs. Hum Factors 48:392–412

24.

Reznek M, Smith-Coggins R, Howard S, et al. (2003) Emergency medicine crisis resource management (EMCRM): pilot study of a simulation-based crisis management course for emergency medicine. Acad Emerg Med 10:386–389
Acknowledgments
The authors thank Andrew Healey for his contribution while setting up this project and for ongoing support and contribution to the teams' research. We also thank the entire simulation group for their contribution to the project: Simon Cunniffe, Kausi Rao, Paul Sidebottom, Janet Henry, Elaine Sydney, Charmaine Clovis, Piers Thomas, Anoma Dias, Sara Khan, Brian Dornan, Stephen Dowsett, Katherine Nichols, and the trainees who participated in the research.
We thank the BUPA foundation and Department of Health: Patient Safety Research Programme for partially funding this work.
Appendices
Appendix 1 Scrub nurse identifier (initials) assessor (EXPERT)
Virtual operating theatre technical skills rating scale
Please follow the key given below and circle the number corresponding to the scrub nurse's performance
Appendix 2 Surgeon identifier (initials) assessor (HF expert)
Virtual operating theatre human factors rating scale
Please follow the key given below and circle the number corresponding to the surgeon's performance
Appendix 3 Anesthetist identifier (initials) assessor (HF expert)
Virtual operating theatre human factors rating scale
Please follow the key given below and circle the number corresponding to the anesthetist's performance
About this article
Cite this article
Undre, S., Koutantji, M., Sevdalis, N. et al. Multidisciplinary Crisis Simulations: The Way Forward for Training Surgical Teams. World J Surg 31, 1843–1853 (2007). https://doi.org/10.1007/s00268-007-9128-x
Received:

Revised:

Accepted:

Published:

Issue Date:
Keywords
Technical Skill

Trainee Nurse

Team Training

Scrub Nurse

Trainee Surgeon