Abstract
Introduction
Parathyroid cysts are rare but clinically significant lesions. They can be functional, mistaken for a thyroid cyst, and/or managed nonoperatively on occasion.
Methods
We identified seven patients (1 male, 6 females) with the diagnosis of parathyroid cyst from 1998 to 2003.
Results
Altogether, 33% of the patients had functional cysts. Sestamibi scans were performed in three of the seven patients, including two with functional cysts; none showed focal uptake. In toto, six of the seven cysts (86%) were found in an inferior parathyroid gland. All of the cysts had crystal-clear aspirate. C-terminal parathormone (PTH) levels were obtained from the aspirate from five of the seven (71%) patients. The mean level was 269,736 pg/ml (1970–1,268,074 pg/ml). Surgery was performed in three of the seven (43%) patients. All patients who underwent surgery improved postoperatively based on symptoms and serum levels of calcium and PTH. The four patients (57%) who were treated nonoperatively were subjected to aspiration alone; three (75%) of those patients required multiple aspirations.
Conclusions
Most parathyroid cysts are nonfunctional and are rarely symptomatic. They are usually located in an inferior gland. If aspirated, most of the cysts reaccumulate fluid. Operative management is usually straightforward and alleviates symptoms and any biochemical abnormalities caused by the cyst.
Access options
Buy single article
Instant access to the full article PDF.
USD 39.95
Price excludes VAT (USA)
Tax calculation will be finalised during checkout.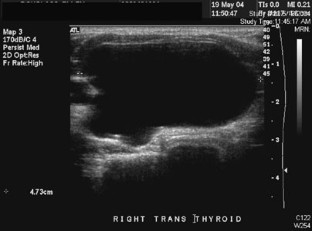 References
Clark OH. Parathyroid cysts. Am J Surg 1978;35:395–402

Rosenberg J, Orlando R, Ludwig M, et al. Parathyroid cysts. Am J Surg 1982;143:473–480

Ramos-Gabatin A, Young RL, Schenk D. Parathyroid cyst: medical diagnosis and therapy. South Med J 1982;75:1138–1140

Gough IR. Parathyroid cysts. Aust N Z J Surg 1999;69:404–406

Hughes CR, Kanmaz B, Isitman AT, et al. Misleading imaging results in the diagnosis of parathyroid cysts. Clin Nucl Med 1994;19:422–425

Krudy AG, Doppman JL, Shawker TH, et al. Hyperfunctioning cystic parathyroid glands: CT and sonographic findings. AJR Am J Roentgenol 1984;142:175–178

Mills KA, Aanning HL. Parathyroid cyst: case report of a rare surgical lesion of the neck. SD J Med 1990;43:15–17

Haid SP, Method HL, Beal JM. Parathyroid cysts. Arch Surg 1967;94:421–426

Shields TW. Mesothelial cysts and other and other less common cysts of the mediastinum. In Shields TW, editor. General Thoracic Surgery. Lippincott Williams & Wilkins, Philadelphia, 2005, pp 2858–2862

McCluggage WG. Parathyroid cyst of the thymus. Thorax 1995;50:913–914

Rangnekar N, Bailer WJ, Ghani A, et al. Parathyroid cysts. Int Surg 1996;81:412–414

Gurbuz AT. 1996 Giant mediastinal parathyroid cyst: an unusual cause of hypercalcemic crisis. Surgery 1996;120:795–800

Silverman JF, Khazanie PG, Norris HT, et al. Parathyroid hormone (PTH) assay of parathyroid cysts examined by fine-needle aspiration biopsy. Am J Clin Pathol 1986;86:776–780

Akel M, Salti I, Azar ST. Successful treatment of parathyroid cyst using ethanol sclerotherapy. Am J Med Sci 1999;317:50–52

Sanchez A, Carretto H. Treatment of nonfunctioning parathyroid cyst with tetracycline injection. Head Neck 1993;15:263–265

Prinz RA, Peters JR, Kane JM, et al. Needle aspiration of nonfunctioning parathyroid cysts. Am Surg 1990;56:420–422

Absher KJ, Truong LD, Khurana KK, et al. Parathyroid cytology: avoiding diagnostic pitfalls. Head Neck 2002;24:157–164

Calandra DB, Shah KH, Prinz RA, et al. 1983 Parathyroid cysts: a report of eleven cases including two associated with hyperparathyroid crisis. Surgery 1983;94:887–892
Additional information
This study was presented as a poster at the meeting of the American Thyroid Association, Vancouver, BC, October 2004
About this article
Cite this article
Ujiki, M.B., Nayar, R., Sturgeon, C. et al. Parathyroid Cyst: Often Mistaken for a Thyroid Cyst. World J. Surg. 31, 60–64 (2007). https://doi.org/10.1007/s00268-005-0748-8
Published:

Issue Date:

DOI: https://doi.org/10.1007/s00268-005-0748-8
Keywords
Hyperparathyroidism

Thyroid Nodule

Cyst Wall

Parathyroid Adenoma

Parathyroid Tissue