Abstract
Collaborative governance involves convening of government and non-government actors in policy formulation and implementation. Motivating collaborative governance is the expectation that engagement of diverse arrays of stakeholders in the public policy process allows policymakers and administrators to draw on the expertise, resources, and perspectives of these stakeholders to develop more contextually appropriate and effective policies. Since collaborative governance is fundamentally premised on the representation of diverse stakeholders in collaborative processes, assessing the extent to which representation is actualized is paramount. This paper adds to recent scholarship that examines representation dynamics in collaborative governance arrangements, focusing specifically on: (i) how diverse stakeholders included in collaborative governance arrangements are descriptively and substantively represented; (ii) how substantively represented stakeholders are coordinating on informational and relationship building activities; (iii) how representation and coordination dynamics change over time; and (iv) the extent to which representation and coordination dynamics are indicative of collaboration life cycle stage. Additionally, in responding to this latter aim, the paper presents a novel approach for measuring life cycle stages. The paper reports on a comparative case study of environmental justice councils, which are collaborative governance arrangements convened by states to assist in the design and implementation of policies aimed at reducing environmental harms within low income and minority populated communities.
Access options
Buy single article
Instant access to the full article PDF.
USD 39.95
Price excludes VAT (USA)
Tax calculation will be finalised during checkout.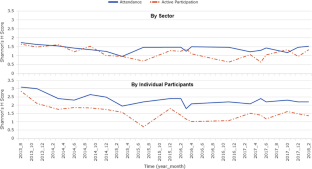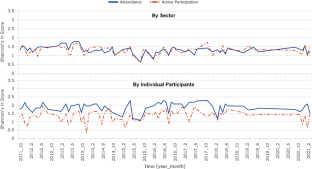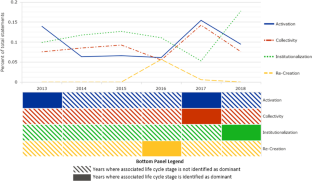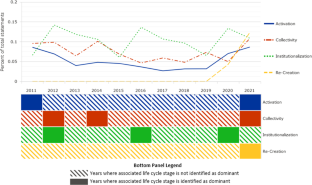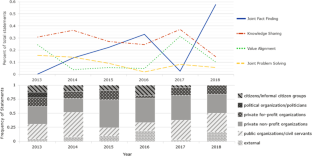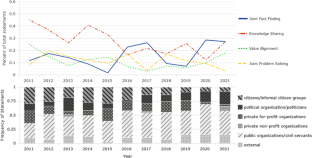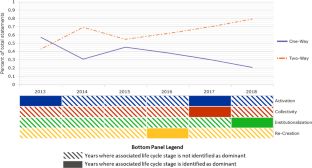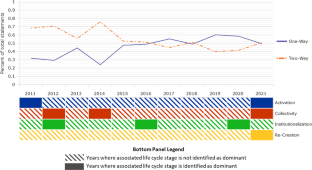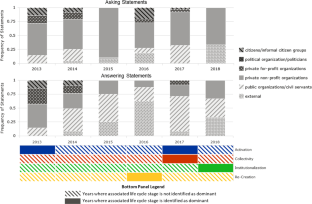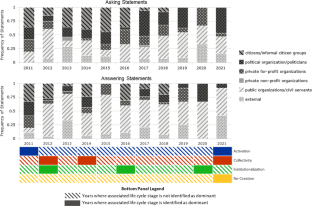 References
Ansell C, Gash A (2008) Collaborative governance in theory and practice. J Public Adm Res Theory 18(4):543–571

Ansell C, Doberstein C, Henderson H, Siddiki S, t Hart P (2020) Understanding inclusion in collaborative governance: a mixed methods approach. Policy Soc 39(4):570–591

Beierle TC, Cayford J (2002) Democracy in Practice: Public Participation in Environmental Decisions. Resources for the Future, Washington, DC

Biddle JC (2017) Improving the effectiveness of collaborative governance regimes: Lessons from watershed partnerships. J Water Resour Plan Manag 143(9):04017048

Biddle JC, Koontz TM (2014) Goal specificity: A proxy measure for improvements in environmental outcomes in collaborative governance. J Environ Manag 145:268–276

Bingham, L. B. (2011). Collaborative governance. The SAGE handbook of governance, 386-401

Bryson JM, Crosby BC, Stone MM (2006) The design and implementation of Cross‐Sector collaborations: Propositions from the literature. Public Adm Rev 66:44–55

Buuren AV (2009) Knowledge for governance, governance of knowledge: Inclusive knowledge management in collaborative governance processes. Int Public Manag J 12(2):208–235

Calanni JC, Siddiki SN, Weible CM, Leach WD (2015) Explaining coordination in collaborative partnerships and clarifying the scope of the belief homophily hypothesis. J Public Adm Res Theory 25(3):901–927

Cobb R, Ross JK, Ross MH (1976) Agenda building as a comparative political process. Am Political Sci Rev 70(1):126–138

Cook, K. S., Hardin, R., & Levi, M. (2007). Cooperation without Law or Trust [2005]. Contemporary Sociological Theory, 125

Dobbin KB, Lubell M (2021) Collaborative governance and environmental justice: Disadvantaged community representation in California sustainable groundwater management. Policy Stud J 49(2):562–590

Douglas S, Ansell C, Parker CF, Sørensen E, T Hart P, Torfing J (2020) Understanding collaboration: introducing the collaborative Governance Case Databank. Policy Soc 39(4):495–509

Emerson, K., & Nabatchi, T. (2015). Collaborative governance regimes. Georgetown University Press

Imperial MT, Johnston E, Pruett‐Jones M, Leong K, Thomsen J (2016) Sustaining the useful life of network governance: life cycles and developmental challenges. Front Ecol Environ 14(3):135–144

Imperial, M. (2022). Life cycle Dynamics and Developmental Processes in Collaborative Partnerships: Examples from four watersheds in the U.S. of this special issue

Kim J, Siddiki S (2018) Linking diversity of collaborative policymaking venues with procedural justice perceptions: A study of US marine aquaculture partnerships. Am Rev Public Adm 48(2):159–174

Kingdon JW (1984) Processes: Origins, rationality, incrementalism, and garbage cans. Agendas, Alternatives, and Public Policies. Longman, New York, NY, 75–94

Koontz TM (2014) Social learning in collaborative watershed planning: the importance of process control and efficacy. J Environ Plan Manag 57(10):1572–1593

Koski C, Siddiki S, Sadiq AA, Carboni J (2018) Representation in collaborative governance: A case study of a food policy council. Am Rev Public Adm 48(4):359–373

Leach WD (2006) Collaborative public management and democracy: Evidence from western watershed partnerships. Public Adm Rev 66:100–110

Maggioni E, Nelson H, Mazmanian DA (2012) Industry influence in stakeholder‐driven state climate change planning efforts. Policy Stud J 40(2):234–255

Newig J, Challies E, Jager NW, Kochskaemper E, Adzersen A (2018) The environmental performance of participatory and collaborative governance: a framework of causal mechanisms. Policy Stud J 46(2):269–297

Ostrom E (2009) Understanding institutional diversity. Princeton University Press

Parker KB, Margerum RD, Dedrick DC, Dedrick JP (2010) Sustaining watershed collaboratives: The issue of coordinator-board relationships. Soc Nat Resour 23:469–484

Petersen D, Minkler M, Vásquez VB, Baden AC (2006) Community‐based participatory research as a tool for policy change: A case study of the Southern California Environmental Justice Collaborative. Review of Policy. Research 23(2):339–354

Pfeffer J, Salancik GR (2003) The external control of organizations: A resource dependence perspective. Stanford University Press

Ross A, Van Alstine J, Cotton M, Middlemiss L (2021) Deliberative democracy and environmental justice: evaluating the role of citizens' juries in urban climate governance. Local Environ 26(12):1512–1531

Scott T (2015) Does collaboration make any difference? Linking collaborative governance to environmental outcomes. J Policy Anal Manag 34(3):537–566

Siddiki SN, Carboni JL, Koski C, Sadiq AA (2015) How policy rules shape the structure and performance of collaborative governance arrangements. Public Adm Rev 75(4):536–547

Siddiki S, Goel S (2017) Assessing collaborative policymaking outcomes: an analysis of US Marine Aquaculture Partnerships. Am Rev Public Adm 47(2):253–271

Thomson AM, Perry JL (2006) Collaboration processes: Inside the black box. Public Adm Rev 66:20–32

Ulibarri N, Emerson K, Imperial MT, Jager NW, Newig J, Weber E (2020) How does collaborative governance evolve? Insights from a medium-n case comparison. Policy Soc 39(4):617–637

United States Environmental Protection Agency. 2021. Environmental Justice. https://www.epa.gov/environmentaljustice. Accessed October 27, 2021

Weible CM (2008) Expert‐based information and policy subsystems: a review and synthesis. Policy Stud J 36(4):615–635

Weible CM, Sabatier PA (2005) Comparing policy networks: Marine protected areas in California. Policy Stud J 33(2):181–201

Weible CM, Sabatier PA (2009) Coalitions, science, and belief change: Comparing adversarial and collaborative policy subsystems. Policy Stud J 37(2):195–212

Wilkins VM, Keiser LR (2006) Linking passive and active representation by gender: The case of child support agencies. J Public Adm Res Theory 16(1):87–102

Wondolleck, J. M., & Yaffee, S. L. (2000). Making collaboration work: Lessons from innovation in natural resource management. Island Press
Acknowledgements
This research is supported by NSF-USDA Innovations at the Nexus of Food, Energy, and Water Systems (INFEWS) [grant no. 2019-67019-30463].
Ethics declarations
Conflict of Interest
The authors declare no competing interests.
Additional information
Publisher's note Springer Nature remains neutral with regard to jurisdictional claims in published maps and institutional affiliations.
About this article
Cite this article
Siddiki, S., Ambrose, G. Evaluating Change in Representation and Coordination in Collaborative Governance Over Time: A Study of Environmental Justice Councils. Environmental Management 71, 620–640 (2023). https://doi.org/10.1007/s00267-022-01688-7
Received:

Accepted:

Published:

Issue Date:

DOI: https://doi.org/10.1007/s00267-022-01688-7
Keywords
Collaborative policymaking

Collaboration dynamics

Descriptive representation

Substantive representation

Environmental governance