Abstract
Many cities advocate retrofitting green roofs and green walls (GRGW) to create additional green areas, especially in cramped urban areas. Yet, worldwide, only a handful of studies have evaluated the public views towards the benefits and negative issues and promotion policies of this innovative greening option. To address this gap in the literature, we conducted a survey (N = 500) of residents' opinions towards GRGW in Tokyo, a city with mandatory installation of GRGW for almost two decades. Respondents mostly agreed with the contribution of GRGW to thermal comfort, air quality, and cityscape but weakly endorsed other potential benefits. High costs as well as mosquitoes and plant litter nuisances were the most recognized negative issues. Mandatory installation was the least preferred promotion policy. Instead, respondents expected installation on public buildings and provision of installation guidance. Respondents predominantly held a "moderate" view towards both the benefits and negative issues, showing indifferent attitudes towards GRGW. Income level and housing type shaped the overall perceptions, whereas age, sex, and current living environment influenced perceptions of individual aspects. Our findings signified a need for a bottom-up strategy to heighten public awareness for the advanced development of GRGW to complement and prime the top-down mandatory installation policy.
Access options
Buy single article
Instant access to the full article PDF.
USD 39.95
Price excludes VAT (USA)
Tax calculation will be finalised during checkout.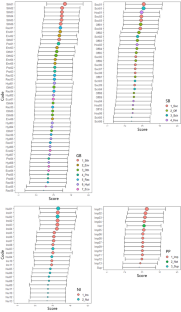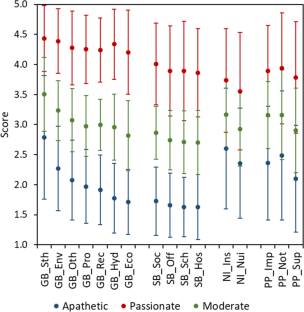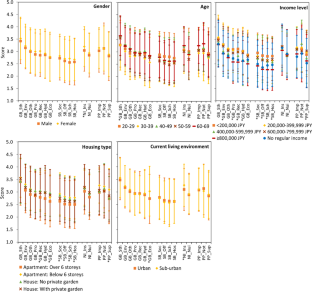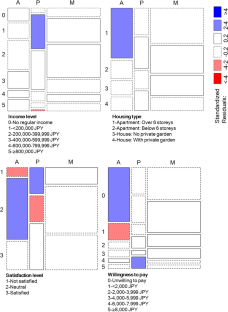 References
Abe Q, Barrett B, Harako E, Ichikawa S (2000) Environmental attitudes and education in Japan. In: Fien J, Sykes H, Mencken D (eds.) Environment, education and society in the Asia-Pacific: Local traditions and global discourses. Routledge, London, p 75–98

Avolio ML, Pataki DE, Pincetl S, Gillespie TW, Jenerette GD, McCarthy HR (2015) Understanding preferences for tree attributes: The relative effects of socio-economic and local environmental factors. Urban Ecosyst 18(1):73–86

Bashan D, Colléony A, Shwartz A (2021) Urban versus rural? The effects of residential status on species identification skills and connection to nature. People Nat 3(2):347–358

Baptiste AK, Foley C, Smardon R (2015) Understanding urban neighborhood differences in willingness to implement green infrastructure measures: A case study of Syracuse, NY. Landsc Urban Plan 136:1–12

Brudermann T, Sangkakool T (2017) Green roofs in temperate climate cities in Europe–An analysis of key decision factors. Urban For Urban. Green 21:224–234

Bureau of Environment (2021) 屋上等緑化実績表(平成12~R02年度) [Rooftop greening record]. Bureau of Environment. https://www.kankyo.metro.tokyo.lg.jp/nature/green/roof_plant/actual.html. Accessed 2 November 2021

Burszta-Adamiak E, Fiałkiewicz W (2019) A review of green roof incentives as motivators for the expansion of green infrastructure in European cities. Sci Rev Eng Environ Sci 28:641–652

Bustami RA, Belusko M, Ward J, Beecham S (2018) Vertical greenery systems: A systematic review of research trends. Build Environ 146:226–237

Butler C, Butler E, Orians CM (2012) Native plant enthusiasm reaches new heights: Perceptions, evidence, and the future of green roofs. Urban Fore Urban. Green 11:1–10

Cahill M, Godwin DC, Tilt JH (2018) Vegetated roofs: Low-impact development, Fact Sheet EM9202. Oregon State University Extension Service, Corvallis, OR

Calheiros CS, Stefanakis AI (2021) Green roofs towards circular and resilient cities. Circ Econ Sustain 1:395–411

Carter T, Fowler L (2008) Establishing green roof infrastructure through environmental policy instruments. Environ Manag 42(1):151–164

Chen X, Shuai C, Chen Z, Zhang Y (2019) What are the root causes hindering the implementation of green roofs in urban China? Sci Total Environ 654:742–750

Chew MY, Conejos S (2016) Developing a green maintainability framework for green walls in Singapore. Struct Surv 34(4/5):379–406

Connop S, Vandergert P, Eisenberg B, Collier MJ, Nash C, Clough J, Newport D (2016) Renaturing cities using a regionally-focused biodiversity-led multifunctional benefits approach to urban green infrastructure. Environ Sci Policy 62:99–111

Conway TM, Ordóñez C, Roman LA, Yuan A, Pearsall H, Heckert M, Dickinson S, Rosan C (2021) Resident knowledge of and engagement with green infrastructure in Toronto and Philadelphia. Environ Manag 68(4):566–579

Dasgupta R, Basu M, Hashimoto S, Estoque RC, Kumar P, Johnson BA, Mitra BK, Mitra P (2022) Residents' place attachment to urban green spaces in Greater Tokyo region: An empirical assessment of dimensionality and influencing socio-demographic factors. Urban Urban Green 67:127438

de la Barrera F, Reyes-Paecke S, Harris J, Bascuñán D, Farías JM (2016) People's perception influences on the use of green spaces in socio-economically differentiated neighborhoods. Urban Urban Green 20:254–264

Douglas AN, Morgan AL, Rogers EI, Irga PJ, Torpy FR (2021) Evaluating and comparing the green wall retrofit suitability across major Australian cities. J Environ Manag 298:113417

Drillet Z, Fung TK, Leong RAT, Sachidhanandam U, Edwards P, Richards D (2020) Urban vegetation types are not perceived equally in providing ecosystem services and disservices. Sustainability 12(5):2076

Dumitru A, Frantzeskaki N, Collier M (2020) Identifying principles for the design of robust impact evaluation frameworks for nature-based solutions in cities. Environ Sci Policy 112:107–116

Dvorak B, Volder A (2010) Green roof vegetation for North American ecoregions: A literature review. Landsc Urban Plan 96(4):197–213

Everett G, Lamond J (2019) Green roof perceptions: Newcastle. UK CBDowners/occupiers J Corp Real Estate 21(2):130–147

Faivre N, Fritz M, Freitas T, de Boissezon B, Vandewoestijne S (2017) Nature-based solutions in the EU: Innovating with nature to address social, economic and environmental challenges. Environ Res 159:509–518

Fernandes CO, da Silva IM, Teixeira CP, Costa L (2019) Between tree lovers and tree haters. Drivers of public perception regarding street trees and its implications on the urban green infrastructure planning. Urban Urban Green 37:97–108

Fernandez-Cañero R, Emilsson T, Fernandez-Barba C, Machuca MÁH (2013) Green roof systems: A study of public attitudes and preferences in southern Spain. J Environ Manag 128:106–115

Ferreira V, Barreira AP, Loures L, Antunes D, Panagopoulos T (2020) Stakeholders' engagement on nature-based solutions: A systematic literature review. Sustainability 12(2):640

Graça M, Queirós C, Farinha-Marques P, Cunha M (2018) Street trees as cultural elements in the city: Understanding how perception affects ecosystem services management in Porto, Portugal. Urban Urban Green 30:194–205

Hosaka T, Numata S (2016) Spatiotemporal dynamics of urban green spaces and human-wildlife conflicts in Tokyo. Sci Rep. 6(1):1–6

Hosaka T, Sugimoto K, Numata S (2017) Childhood experience of nature influences the willingness to coexist with biodiversity in cities. Palgrave Commun 3(1):1–8

Hölscher K, Frantzeskaki N, Lodder M, Allaert K, Notermans I (2020) Co-production guidebook. Connecting Nature. https://connectingnature.eu/sites/default/files/images/inline/Co%20Production.pdf. Accessed 30 January 2022

Irga PJ, Braun JT, Douglas ANJ, Pettit T, Fujiwara S, Burchett MD, Torpy FR (2017) The distribution of green walls and green roofs throughout Australia: Do policy instruments influence the frequency of projects? Urban Urban Green 24:164–174

Japan Meteorological Agency (2021). Tables of Climatological Normals (1991–2020). https://www.data.jma.go.jp/obd/stats/data/en/normal/normal.html. Accessed 2 Nov 2021

Jim CY (2017a) Archaeological and historical exploration of the origins of green roofs. Urban For Urban. Green 27:32–42

Jim CY (2017b) High-rise greenery: Ancient invention with new lease of life. In: Tan PY, Jim CY (eds.) Greening cities: Forms and functions. Springer Nature, Singapore, p 227–249

Jungels J, Rakow DA, Allred SB, Skelly SM (2013) Attitudes and aesthetic reactions toward green roofs in the Northeastern United States. Landsc Urban Plan 117:13–21

Kalantari M, Ghezelbash S, Yaghmaei B (2016) People and green roofs: Expectations and perceptions of citizens about green roofs development, an Iranian case study. Mediterr J Soc Sci 7(2/S2):138–147

Kanechi M, Fujiwara S, Shintani N, Suzuki T, Uno Y (2014) Performance of herbaceous Evolvulus pilosus on urban green roof in relation to substrate and irrigation. Urban Urban Green 13(1):184–191

Kline P (2014) An easy guide to factor analysis. Routledge, London

Kodama T (2017) Environmental Education in Formal Education in Japan Japanese J. Environ. Infl Education 26:21–26

Koyata H, Iwachido Y, Inagaki K, Sato Y, Tani M, Ohno K, Sadohara S, Sasaki T (2021) Factors determining on-site perception of ecosystem services and disservices from street trees in a densely urbanized area. Urban Urban Green 58:126898

Lee JW, Huh KY, Park J (2016) Awareness and satisfaction of citizens on green roof projects (GRPs) in Changwon city, South Korea. J Korean Soc People Plants Environ 19(6):605–614

Liberalesso T, Cruz CO, Silva CM, Manso M (2020a) Green infrastructure and public policies: An international review of green roofs and green walls incentives. Land Use Policy 96:104693

Liberalesso T, Mutevuie Júnior R, Oliveira Cruz C, Matos Silva C, Manso M (2020b) Users' perceptions of green roofs and green walls: An analysis of youth hostels in Lisbon, Portugal. Sustainability 12(23):10136

Lo AY, Jim CY (2012) Citizen attitude and expectation towards greenspace provision in compact urban milieu. Land Use Policy 29(3):577–586

Lockwood JA (2013) The infested mind: Why humans fear, loathe, and love insects. Oxford University Press, New York, NY

Loder A (2014) 'There's a meadow outside my workplace': A phenomenological exploration of aesthetics and green roofs in Chicago and Toronto. Landsc Urban Plan 126:94–106

Madre F, Clergeau P, Machon N, Vergnes A (2015) Building biodiversity: Vegetated façades as habitats for spider and beetle assemblages. Glob Ecol Conserv 3:222–233

Magill JD, Midden K, Groninger J, Therrell M (2011) A history and definition of green roof technology with recommendations for future research. Research Paper 91, Southern Illinois University, Carbondale, IL

Magliocco A, Perini K (2015) The perception of green integrated into architecture: Installation of a green facade in Genoa, Italy. AIMS Environ Sci 2:899–909

Mahdiyar A, Tabatabaee S, Abdullah A, Marto A (2018) Identifying and assessing the critical criteria affecting decision-making for green roof type selection. Sustain Cities Soc 39:772–783

Manso M, Teotónio I, Silva CM, Cruz CO (2021) Green roof and green wall benefits and costs: A review of the quantitative evidence. Renew Sustain Energy Rev 135:110111

Maron A, Ramirez F (2020) Social perception of living walls in Quito: A study of four vertical gardens. IOP Conf Ser: Earth Environ Sci 503:012095

Mayrand F, Clergeau P (2018) Green roofs and green walls for biodiversity conservation: A contribution to urban connectivity? Sustainability 10(4):985

McQuaid S, Dublin C, Fletcher I (2020) Financing and business models guidebook. Connecting Nature. https://connectingnature.eu/sites/default/files/images/inline/Finance.pdf. Accessed 30 January 2022

Mesimäki M, Hauru K, Kotze DJ, Lehvävirta S (2017) Neo-spaces for urban livability? Urbanites' versatile mental images of green roofs in the Helsinki metropolitan area, Finland. Land Use Policy 61:587–600

Miller SM, Montalto FA (2019) Stakeholder perceptions of the ecosystem services provided by Green Infrastructure in New York City. Ecosyst Serv 37:100928

Ministry of Land Infrastructure Transport and Tourism (MLIT) (2019) 令和元年 全国屋上‧壁面緑化施工実績調査 [Survey of nationwide green roofs and walls construction of the first year of Reiwa]. MLIT. https://www.mlit.go.jp/report/press/content/001380405.pdf. Accessed 2 November 2021

Moritani S, Yamamoto T, Andry H, Inoue M, Kato K, Saito H (2013) Effect of combined water and salinity stress factors on evapotranspiration of Sedum kamtschaticum Fischer in relation to green roof irrigation. Urban Urban Green 12(3):338–343

Mulyadi B (2020) ENIS model of environmental education for elementary school students in Japan. E3S Web Conf 202:03019

Nagase A (2020) Novel application and reused materials for extensive green roof substrates and drainage layers in Japan–Plant growth and moisture uptake implementation. Ecol Eng 153:105898

Nagase A, Koyama S (2020) Attractiveness and preference of extensive green roofs depend on vegetation types and past experience with plants in Japan. Urban Urban Green 51:126658

Nagase A, Tashiro-Ishii Y (2018) Habitat template approach for green roofs using a native rocky sea coast plant community in Japan. J Environ Manag 206:255–265

Nagase A, Yamada Y, Aoki T, Nomura M (2018) Developing biodiverse green roofs for Japan: Arthropod and colonizer plant diversity on Harappa and Biotope roofs. Urban Naturalist 1:16–38

Nakabayashi S, Kishii T, Oosawa M (2012) 東京 23 区における屋上緑化施策に関する基礎的研究 公益的施設の屋上緑化の実態から. [On the rooftop gardening policy in the 23 Wards of Tokyo-Focused on the actual condition of the public buildings] J City Plan Inst Japan. 47(3):475–480

Nash C, Ciupala A, Gedge D, Lindsay R, Connop S (2019) An ecomimicry design approach for extensive green roofs. J Living Architecture 6(1):62–81

Organization for Landscape and Urban Green Infrastructure (2021). 屋上緑化雨水貯留流出遅延に関する手引き [Guidance on stormwater storageand delayed runoff of rooftop greening]. https://urbangreen.or.jp/wp-content/uploads/2021/05/okujoryokkausuichoryuryusyutsuchien.pdf. Accessed 2 Nov 2021

Parris KM, Amati M, Bekessy SA, Dagenais D, Fryd O, Hahs AK, Hes D, Imberger J, Livesley SJ, Rhodes R, Threlfall G, Tingley R, van der Ree R, Walsh CJ, Wilkerson ML, Williams NS (2018) The seven lamps of planning for biodiversity in the city. Cities 83:44–53

Pineo R, Barton S (2009) Green roofs, Bulletin #128. University of Delaware Cooperative Extension, Newark, DE

Raymond CM, Frantzeskaki N, Kabisch N, Berry P, Breil M, Nita MR, Geneletti D, Calfapietra C (2017) A framework for assessing and implementing the co-benefits of nature-based solutions in urban areas. Environ Sci Policy 77:15–24

Rupprecht CDD, Cui L (2020) Understanding threats to young children's green space access in unlicensed daycare centers in Japan. Int J Environ Res Public Health 17(6):1948

Rupprecht CDD (2017) Informal urban green space: Residents' perception, use, and management preferences across four major Japanese shrinking cities. Land 6(3):59

Ryan RL (2005) Exploring the effects of environmental experience on attachment to urban natural areas. Environ Behav 37:3–42

Sang ÅO, Knez I, Gunnarsson B, Hedblom M (2016) The effects of naturalness, gender, and age on how urban green space is perceived and used. Urban Urban Green 18:268–276

Saraswat C, Kumar P, Mishra BK (2016) Assessment of stormwater runoff management practices and governance under climate change and urbanization: An analysis of Bangkok, Hanoi and Tokyo. Environ Sci Policy 64:101–117

Sarwar S, Alsaggaf MI (2020) The willingness and perception of people regarding green roofs installation. Environ Sci Pollut Res 27(20):25703–25714

Shafique M, Kim R, Kyung-Ho K (2018a) Green roof for stormwater management in a highly urbanized area: The case of Seoul, Korea. Sustainability 10(3):584

Shafique M, Kim R, Rafiq M (2018b) Green roof benefits, opportunities and challenges: A review. Renew Sust Energ Rev 90:757–773

Schröder R, Kiehl K (2020) Extensive roof greening with native sandy dry grassland species: Effects of different greening methods on vegetation development over four years. Ecol Eng 145:105728

Sutton RK (2014) Aesthetics for green roofs and green walls. Landscape Architecture Program: Faculty Scholarly and Creative Activity. University of Nebraska, Lincoln, NE

Tan PY, Wang J, Sia A (2013) Perspectives on five decades of the urban greening of Singapore. Cities 32:24–32

Tan X, Hirabayashi S, Shibata S (2021) Estimation of ecosystem services provided by street trees in Kyoto. Jpn For 12(3):311

Tedesco S, Giordano R, Montacchini E (2016) How to measure the green façade sustainability? A proposal of a technical standard. Energy Procedia 96:560–567

Teotónio I, Oliveira Cruz C, Matos Silva C, Morais J (2020) Investing in sustainable built environments: The willingness to pay for green roofs and green walls. Sustainability 12(8):3210

Teotónio I, Silva CM, Cruz CO (2018) Eco-solutions for urban environments regeneration: The economic value of green roofs. J Clean Prod 199:121–135

Tsantopoulos G, Varras G, Chiotelli E, Fotia K, Batou M (2018) Public perceptions and attitudes toward green infrastructure on buildings: The case of the metropolitan area of Athens, Greece. Urban Urban Green 34:181–195

Uesugi M (2021) Changes in occupational structure and residential segregation in Tokyo. In: van Ham M, Tammaru T, Ubarevičienė R, Janssen H (eds.) Urban socio-economic segregation and income inequality – A global perspective. Springer, Cham, p 209–226

Vandermeulen V, Verspecht A, Vermeire B, van Huylenbroeck G, Gellynck X (2011) The use of economic valuation to create public support for green infrastructure investments in urban areas. Landsc Urban Plan 103(2):198–206

Vijayaraghavan K (2016) Green roofs: A critical review on the role of components, benefits, limitations and trends. Renew Sust Energ Rev 57:740–752

Wendel HEW, Zarger RK, Mihelcic JR (2012) Accessibility and usability: Green space preferences, perceptions, and barriers in a rapidly urbanizing city in Latin America. Landsc Urban Plan 107(3):272–282

Wilkinson SJ, van der Kallen P, Teale A, Antoniades H (2017) Transforming the commercial property market in Australian cities: Contemporary practices and the future potential in green roof retrofit. In: Eames M, Dixon T, Hunt M, Lannon S (eds.) Retrofitting cities for tomorrow's world. Wiley‐Blackwell, Oxford, p 69–92

Williams KJ, Lee KE, Sargent L, Johnson KA, Rayner J, Farrell C, Miller RE, Williams NS (2019) Appraising the psychological benefits of green roofs for city residents and workers. Urban Urban Green 44:126399

Williams NS, Bathgate RS, Farrell C, Lee KE, Szota C, Bush J, Johnson KA, Miller RE, Pianella A, Sargente LD, Schillera J, Williams KJH, Rayner JP (2021) Ten years of greening a wide brown land: A synthesis of Australian green roof research and roadmap forward. Urban Urban Green 62:127179

Williams NSG, Lundholm J, MacIvor JS (2014) Do green roofs help urban biodiversity conservation? J Appl Ecol 51:1643–1649

Wong NH, Cheong DW, Yan H, Soh J, Ong CL, Sia A (2003) The effects of rooftop garden on energy consumption of a commercial building in Singapore. Energy Build 35(4):353–364

Wong NH, Tan AYK, Tan PY, Sia A, Wong NC (2010) Perception studies of vertical greenery systems in Singapore. J Urban Plan Dev 136(4):330–338

Yuen B, Wong NH (2005) Resident perceptions and expectations of rooftop gardens in Singapore. Landsc Urban Plan 73(4):263–276

Zaid S, Zaid LM, Esfandiari M, Hasan ZFA (2021) Green roof maintenance for non-residential buildings in tropical climate: Case study of Kuala Lumpur. Environ Dev Sustain 24:2471–2496

Zhang G, He BJ (2021) Towards green roof implementation: Drivers, motivations, barriers and recommendations. Urban Urban Green 58:126992

Zhang H, Chen B, Sun Z, Bao Z (2013) Landscape perception and recreation needs in urban green space in Fuyang, Hangzhou, China. Urban Urban Green 12(1):44–52

Zhang L, Fukuda H, Liu Z (2019) Households' willingness to pay for green roof for mitigating heat island effects in Beijing (China). Build Environ 150:13–20

Zhang X, Shen L, Tam VWY (2012) Barriers to implement extensive green roof systems: A Hong Kong study. Renew Sust Energ Rev 16:314–319

Zhang X, Ni Z, Wang Y, Chen S, Xia B (2020) Public perception and preferences of small urban green infrastructures: A case study in Guangzhou, China. Urban Urban Green 53:126700

Zhang X, Ishii N, Amemiya M, Osawa Y (2015) Effect of reducing the street trees in terms of the ratio of green. J City Plan Inst Jpn 50(3):273–278

Zhang X, Shen L, Tam VWY, Lee WWY (2012) Barriers to implement extensive green roof systems: A Hong Kong study. Renew Sust Energ Rev 16(1):314–319
Acknowledgements
We acknowledge with gratitude the funding support awarded by a Research Matching Grant Scheme of the University Grants Council of Hong Kong. The grant support for field studies in Tokyo provided by the Faculty of Liberal Studies and Social Sciences of the Education University of Hong Kong is warmly appreciated. Parts of this research were supported by the FEAST Project (No. 14200116), Research Institute for Humanity and Nature (RIHN), and by JSPS KAKENHI Grant Numbers JP20K15552 and JP20K21030. We thank the professional questionnaire survey service provided by Rakuten Research, Inc. in Tokyo.
Author contributions
Conceptualization: CYJ; Funding acquisition: CYJ; Methodology: CYJ; Formal analysis and investigation: CYJ and LCH; Project administration: CYJ and CDDR; Writing‒original draft preparation: LCH; Writing‒review and editing: CYJ and CDDR.
Ethics declarations
Conflict of Interest
The authors declare no competing interests.
Author Declaration
The authors of the manuscript certify that they have read and approved the final version of the submission. They warrant that the article is their original work, has not received prior publication and is not under consideration for publication elsewhere. They agree to be accountable for all aspects of the work in ensuring that questions related to the accuracy or integrity of any part of the work are appropriately investigated and resolved.
Ethical Approval
The manuscript's authors confirm that they have obtained study-specific approval by their university's ethics committee for their research involving human participants and informed consent from individual adult-only respondents of their questionnaire survey.
Additional information
Publisher's note Springer Nature remains neutral with regard to jurisdictional claims in published maps and institutional affiliations.
Supplementary information
About this article
Cite this article
Jim, C.Y., Hui, L.C. & Rupprecht, C.D.D. Public Perceptions of Green Roofs and Green Walls in Tokyo, Japan: A Call to Heighten Awareness. Environmental Management 70, 35–53 (2022). https://doi.org/10.1007/s00267-022-01625-8
Received:

Accepted:

Published:

Issue Date:

DOI: https://doi.org/10.1007/s00267-022-01625-8
Keywords