Abstract
Cactus has shown great capabilities as a bio coagulant/flocculent in the treatment of wastewater and as a factor for sustainable development of the environment, due to its abundance and non-toxicity for human health. This has encouraged the present study based on the design of experiments to optimize the two operating factors: the bio coagulant dosage and initial pH. The effect of these considered factors on turbidity and chemical oxygen demand (COD) reduction performances was investigated to treat sewage wastewater from plants by the coagulation/flocculation process using the response surface methodology (RSM) based on a central composite faced design (CCFD). The effect of the pH on the supernatant turbidity removal and the COD reduction was very significant whereas that of the coagulant dosage was insignificant on the COD removal efficiency. Experimental results revealed that the maximum reduction of turbidity and COD could be reached at a coagulant dosage of 28 mg/l and a pH of 12. At these optimal conditions, the removal efficiency of turbidity and COD was 98.33% and 96.55% respectively. By the end of the treatment, final values of 0.84 NTU and 20.8 mg/l were obtained for turbidity and COD, respectively. A notable decrease of orthophosphate (O- PO4−2), nitrite (N-NO3−), ammonium (N-NH4+) and suspended matter (SM) was observed. The study also showed that the quadratic regression model could be used as a theoretical basis for the process based on a high coefficient of determination R2 value > 0.96, obtained from the analysis of variances (ANOVA).
We're sorry, something doesn't seem to be working properly.
Please try refreshing the page. If that doesn't work, please contact support so we can address the problem.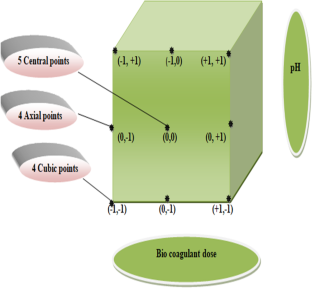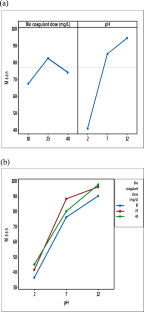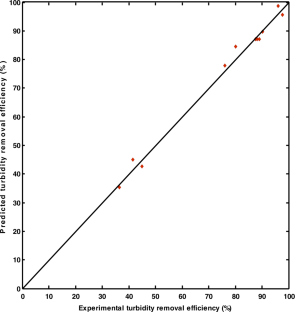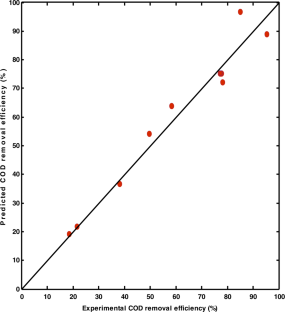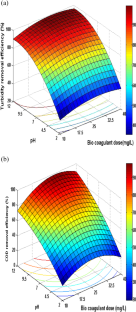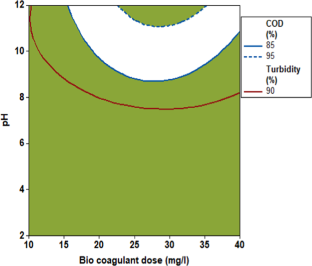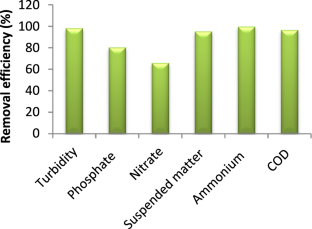 References
Adinarayana K, Ellaiah P, Srinivasulu B et al. (2003) Response surface methodological approach to optimize the nutritional parameters for neomycin production by Streptomyces marinensis under solid-state fermentation. Process Biochem 38:1565–1572. https://doi.org/10.1016/S0032-9592(03)00057-8

Ahmad AL, Wong SS, Teng TT, Zuhairi A (2007) Optimization of coagulation–flocculation process for pulp and paper mill effluent by response surface methodological analysis. J Hazard Mater 145:162–168. https://doi.org/10.1016/j.jhazmat.2006.11.008

Alila S, Boufi S (2009) Removal of organic pollutants from water by modified cellulose fibres. Ind Crops Prod 30:93–104. https://doi.org/10.1016/j.indcrop.2009.02.005

Alinsafi A, Khemis M, Pons MN et al. (2005) Electro-coagulation of reactive textile dyes and textile wastewater. Chem Eng Process Process Intensif 44:461–470. https://doi.org/10.1016/j.cep.2004.06.010

Antov MG, Šćiban MB, Prodanović JM (2012) Evaluation of the efficiency of natural coagulant obtained by ultrafiltration of common bean seed extract in water turbidity removal. Ecol Eng 49:48–52. https://doi.org/10.1016/j.ecoleng.2012.08.015

APHA, WPCF, AWWA (2003) Standard Methods for the Examination of Water and Wastewater, 21st ed. American Public Health Association (APHA). Washington, D.C. USA

Bouatay F, Mhenni F (2014) Use of the Cactus Cladodes Mucilage (Opuntia Ficus Indica) As an Eco-Friendly Flocculants: process Development and Optimization using Stastical Analysis. Int J Environ Res 8: https://doi.org/10.22059/ijer.2014.822

Choi K-J, Kim S-G, Kim S-H (2008) Removal of antibiotics by coagulation and granular activated carbon filtration. J Hazard Mater 151:38–43. https://doi.org/10.1016/j.jhazmat.2007.05.059

Duan J, Gregory J (2003) Coagulation by hydrolysing metal salts. Adv Colloid Interface Sci 100–102:475–502. https://doi.org/10.1016/S0001-8686(02)00067-2

Elibol M (2002) Response surface methodological approach for inclusion of perfluorocarbon in actinorhodin fermentation medium. Process Biochem 38:667–673. https://doi.org/10.1016/S0032-9592(02)00171-1

Jiang J-Q, Lioyd B (2002) Progress in the development and use of ferrate(VI) salt as an oxidant and coagulant for water and wastewater treatment. Water Res 36:1397–1408. https://doi.org/10.1016/S0043-1354(01)00358-X

Khayet M, Zahrim AY, Hilal N (2011) Modelling and optimization of coagulation of highly concentrated industrial grade leather dye by response surface methodology. Chem Eng J 167:77–83. https://doi.org/10.1016/j.cej.2010.11.108

Li Z, Zang Z, Liu D (2009) Studies and application process on flocculent in water treatment in China. EJGE Vol. 14. http://www.ejge.com/2009/Ppr09107.pdf. Accessed 26 June 2018

Lu Z (2002) Medicament of water treatment. Publishing Company of Chemical Industry, Beijing

Mahrouz M, OUHAMMOU M, Lahnine L et al. (2016) Green chemistry for treatment of liquid discharges from a dyeing industry: bio coagulation and flocculation. Moroc J Chem 4:684–694. https://doi.org/10.48317/IMIST.PRSM/MORJCHEM-V4I3.4832

Mane P, Bhosle A, Jangam C, Mukate S (2011) Heavy metal removal from aqueous solution by Opuntia: a natural polyelectrolyte. J Nat Prod Plant Resour 1:75–80. https://www.scholarsresearchlibrary.com/articles/heavy-metal-removal-from-aqueous-solution-by-opuntia-a-naturalpolyelectrolyte.pdf. Accessed 2 April 2017

Miller SM, Fugate EJ, Craver VO et al. (2008) Toward Understanding the Efficacy and Mechanism of Opuntia spp. as a Natural Coagulant for Potential Application in Water Treatment. Environ Sci Technol 42:4274–4279. https://doi.org/10.1021/es7025054

Montgomery DC (2001) Design and Analysis of Experiments. John Wiley&Sons, New York

Nharingo T, Zivurawa MT, Guyo U (2015) Erratum to: Exploring the use of cactus Opuntia ficus indica in the biocoagulation–flocculation of Pb(II) ions from wastewaters. Int J Environ Sci Technol 12:3803–3803. https://doi.org/10.1007/s13762-015-0835-9

Rabahi A, Hauchard D, Arris S et al. (2018) Leachate effluent COD removal using electrocoagulation: a response surface methodology (RSM) optimization and modeling. DESALINATION WATER Treat 114:81–92. https://doi.org/10.5004/dwt.2018.22318

Sharma BR, Dhuldhoya NC, Merchant UC (2006) Flocculants—an Ecofriendly Approach. J Polym Environ 14:195–202. https://doi.org/10.1007/s10924-006-0011-x

Theepharaksapan S, Chiemchaisri C, Chiemchaisri W, Yamamoto K (2011) Removal of pollutants and reduction of bio-toxicity in a full scale chemical coagulation and reverse osmosis leachate treatment system. Bioresour Technol 102:5381–5388. https://doi.org/10.1016/j.biortech.2010.11.091

Uğurlu M, Gürses A, Doğar Ç, Yalçın M (2008) The removal of lignin and phenol from paper mill effluents by electrocoagulation. J Environ Manage 87:420–428. https://doi.org/10.1016/j.jenvman.2007.01.007

Varsha P, Jay P (2012) Mucilage extract of Cocinia indica fruit as coagulant–flocculent for turbidity water treatment. Asian J Plant Sci Res 2:442–445. https://www.researchgate.net/publication/285788842_Mucilage_extract_of_Coccinia_indica_fruit_as_coagulant_flocculent_for_turbid_water_treatment

Vijayaraghavan G, Sivakumar T, Vimal Kumar A (2011) Application of plant based coagulants for waste water treatment. Int J Adv Eng Res Stud E-ISSN2249–8974

Yin C-Y (2010) Emerging usage of plant-based coagulants for water and wastewater treatment. Process Biochem 45:1437–1444. https://doi.org/10.1016/j.procbio.2010.05.030

Zheng Z, Zhang H, He P-J et al. (2009) Co-removal of phthalic acid esters with dissolved organic matter from landfill leachate by coagulation and flocculation process. Chemosphere 75:180–186. https://doi.org/10.1016/j.chemosphere.2008.12.011
Acknowledgements
We would like to express our utmost gratitude to the laboratory staff members of municipal wastewater treatment plant of Ferjioua (Ain bidha Ahrich) for their great help and for granting us permission to collect samples with continuous cooperation; likewise, our sincere thanks and appreciation are extended to the engineers of the LIPE laboratory, Environmental Process Engineering Laboratory, of Salah Boubnider University Constantine 3.
Funding
Environmental Process Engineering Laboratory (LIPE).
Ethics declarations
Conflict of Interest
The authors declare that they have no conflict of interest.
Additional information
Publisher's note Springer Nature remains neutral with regard to jurisdictional claims in published maps and institutional affiliations.
Supplementary information
About this article
Cite this article
Ayat, A., Arris, S., Abbaz, A. et al. Application of Response Surface Methodology For Modeling and Optimization of A Bio Coagulation Process (Sewage Wastewater Treatment Plant). Environmental Management 67, 489–497 (2021). https://doi.org/10.1007/s00267-020-01407-0
Received:

Accepted:

Published:

Issue Date:

DOI: https://doi.org/10.1007/s00267-020-01407-0
Keywords
Wastewater

Bio coagulant

Sustainable development

Response

Analysis of variance