Abstract
Local communities contribute to broader biodiversity protection goals when managing their immediate environment when they establish protected areas. However, their efforts are geographically constrained and often uncoordinated. We compare protected areas established by local communities through the direct democracy process in California, US, to protected areas created and managed by two conservation actors working over larger spatial scales, one private and one public. Despite being geographically constrained to smaller spatial scales, protected areas established by local communities were as effective as those established by larger scale conservation actors at representing different habitat types. However, local ballot protected areas tended to protect more common species. All three protected area networks often performed no better than random in terms of siting protected areas to support narrow range species and rare habitats. Improved accounting of local communities' protection efforts would allow organizations with greater funding flexibility to focus their efforts to increase representation of rarer species and habitats in protected area systems.
Access options
Buy single article
Instant access to the full article PDF.
USD 39.95
Price excludes VAT (USA)
Tax calculation will be finalised during checkout.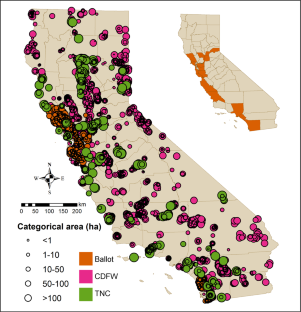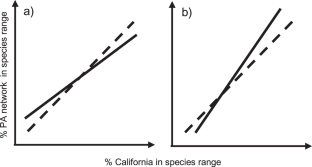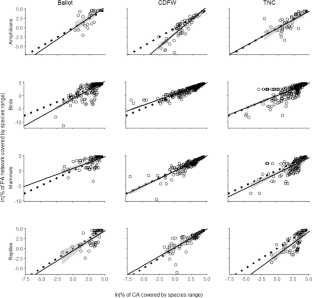 Data Availability
Prior to publication, the primary data used to generate our results will be archived in Dryad with the exception of data restricted by license agreement.
Code Availability
Prior to publication, the code used to generate our results will be archived in Dryad.
References
Altman D (2017) The potential of direct democracy: a global measure (1900–2014). Soc Indic Res 133:1207–1227. https://doi.org/10.1007/s11205-016-1408-0

Amundsen III O (2011) Strategic Conservation Planning, First. Land Trust Alliance, Washington D.C

Andrade GSM, Rhodes JR (2012) Protected areas and local communities: an inevitable partnership toward successful conservation strategies? Ecol Soc 17: https://doi.org/10.5751/ES-05216-170414

Armsworth PR, Fishburn IS, Davies ZG et al. (2012) The size, concentration, and growth of biodiversity-conservation nonprofits. Bioscience 62:271–281. https://doi.org/10.1525/bio.2012.62.3.8

Austin MP, Margules CR (1986) Assessing representativeness. In: Usher MB (ed) Wildlife Conservation Evaluation. Springer Netherlands, Dordrecht, pp 45–67

Aycrigg JL, Davidson A, Svancara LK, et al. (2013) Representation of ecological systems within the protected areas network of the continental United States. PLoS One. https://doi.org/10.1371/journal.pone.0054689

Ballotpedia (2014) Local ballot measures, California

Banzhaf HS, Oates WE, Sanchirico JN (2010) Success and design of local referenda for land conservation. J Policy Anal Manag 29:769–798. https://doi.org/10.1002/pam.20531

Barnes MD, Craigie ID, Dudley N, Hockings M (2016) Understanding local-scale drivers of biodiversity outcomes in terrestrial protected areas. Ann N Y Acad Sci 1–19. https://doi.org/10.1111/nyas.13154

Cabeza M, Moilanen A (2001) Design of reserve networks and the persistence of biodiversity. Trends Ecol Evol 16:242–248. https://doi.org/10.1016/S0169-5347(01)02125-5

California Department of Fish and Wildlife (2020) Conservation Planning Data and Tools. https://wildlife.ca.gov/Conservation/Planning/Data-and-Tools. Accessed 5 Oct 2020

California Department of Fish and Wildlife (2014) CWHR GIS Data – Species Ranges and Habitat Data. https://www.wildlife.ca.gov/data/cwhr. Accessed 30 Mar 2015

Carter SK, Keuler NS, Pidgeon AM, Radeloff VC (2014) Evaluating the influence of conservation plans on land protection actions in Wisconsin, USA. Biol Conserv 178:37–49. https://doi.org/10.1016/j.biocon.2014.07.014

Chang K (2016) 2015 National Land Trust Census. Washington, DC

Coetzee BWT, Gaston KJ, Chown SL (2014) Local scale comparisons of biodiversity as a test for global protected area ecological performance: a meta-analysis. PLoS ONE 9:e105824. https://doi.org/10.1371/journal.pone.0105824

Di Fonzo MMI, Possingham HP, Probert WJM et al. (2016) Evaluating trade-offs between target persistence levels and numbers of species conserved. Conserv Lett 9:51–57. https://doi.org/10.1111/conl.12179

East Bay Regional Park District (2013) Master Plan 2013. Oakland, CA

ESRI (2012) ArcGIS Desktop: Release 10.1 SP1

Fisher JRB, Dills B (2012) Do private conservation activities match science-based conservation priorities? PLoS ONE 7:e46429

Gallo JA, Pasquini L, Reyers B, Cowling RM (2009) The role of private conservation areas in biodiversity representation and target achievement within the Little Karoo region, South Africa. Biol Conserv 142:446–454. https://doi.org/10.1016/j.biocon.2008.10.025

Gaston KJ (1994) Rarity, First. Springer Science & Business Media B.V., Cornwall, England

Gaston KJ, Jackson SE, Cantu-Salazar L, Cruz-Pinon G (2008) The ecological performance of protected areas. Annu Rev Ecol Evol Syst 39:93–113. https://doi.org/10.1146/annurev.ecolsys.39.110707.173529

Graves L (2012) Local Ballot Initiatives: How citizens change laws with clipboards, conversations, and campaigns. Madison, WI

GreenInfo Network (2014) CPAD 2014a (Mar 2014). In: Calif. Prot. Areas Database. www.calands.org. Accessed 30 Mar 2015

Groves C (2003) Drafting a conservation blueprint: a practitioner's guide to planning for biodiversity. Island Press

Holmes G (2013) What role do private protected areas have in conserving global biodiversity? Leeds, United Kingdom

Homer CG, Dewitz JA, Yang L et al. (2015) Completion of the 2011 National Land Cover Database for the conterminous United States-Representing a decade of land cover change information. Photogramm Eng Remote Sens 81:345–354

Jennings MD (2000) Gap analysis: concepts, methods, and recent results*. Landsc Ecol 15:5–20. https://doi.org/10.1023/A:1008184408300

Joppa LN, Pfaff A (2009) High and far: biases in the location of protected areas. PLoS ONE 4:e8273. https://doi.org/10.1371/journal.pone.0008273

Kroetz K, Sanchirico JN, Armsworth PR, Banzhaf HS (2014) Benefits of the ballot box for species conservation. Ecol Lett 17:294–302. https://doi.org/10.1111/ele.12230

Kuempel CD, Chauvenet ALM, Possingham HP (2016) Equitable representation of ecoregions is slowly improving despite strategic planning shortfalls. Conserv Lett 9:422–428. https://doi.org/10.1111/conl.12298

Kukkala AS, Moilanen A (2013) Core concepts of spatial prioritisation in systematic conservation planning. Biol Rev 88:443–464. https://doi.org/10.1111/brv.12008

Lawler JJ, Rinnan DS, Michalak JL et al. (2020) Planning for climate change through additions to a national protected area network: implications for cost and configuration. Philos Trans R Soc B Biol Sci 375:20190117. https://doi.org/10.1098/rstb.2019.0117

Lindenmayer DB, Wood JT, McBurney L et al. (2011) How to make a common species rare: a case against conservation complacency. Biol Conserv 144:1663–1672. https://doi.org/10.1016/j.biocon.2011.02.022

Mann HB, Whitney DR (1947) On a test of whether one of two random variables is stochastically larger than the other. Ann Math Stat 18:50–60. https://doi.org/10.1214/aoms/1177730491

Matsusaka JG (2005) Direct democracy works. J Econ Perspect 19:185–206. https://doi.org/10.1257/0895330054048713

Mayer KE, Laudenslayer WFJ (eds) (1988) A Guide to Wildlife Habitats of California. State of California, Resources Agency, Department of Fish and Game, Sacramento, CA

Neeson TM, Doran PJ, Ferris MC et al. (2018) Conserving rare species can have high opportunity costs for common species. Glob Chang Biol 24:3862–3872. https://doi.org/10.1111/gcb.14162

Nelson E, Uwasu M, Polasky S (2007) Voting on open space: what explains the appearance and support of municipal-level open space conservation referenda in the United States? Ecol Econ 62:580–593. https://doi.org/10.1016/j.ecolecon.2006.07.027

Polak T, Watson JEM, Bennett JR et al. (2016) Balancing ecosystem and threatened species representation in protected areas and implications for nations achieving global conservation goals. Conserv Lett 9:438–445. https://doi.org/10.1111/conl.12268

Pressey RL (1994) Ad hoc reservations: forward or backward steps in developing representative reserve systems? Conserv Biol 8:662–668

R Core Team (2018) R: A Language and Environment for Statistical Computing

Rodrigues ASL, Akçakaya HR, Andelman SJ et al. (2004) Global gap analysis: priority regions for expanding the global protected-area network Bioscience 54:1092–1100

Scott JM, Davis F, Csuti B et al. (1993) Gap analysis: a geographic approach to protection of biological diversity. Wildl Monogr 29:3–41

Stein BA, Kutner LS (2000) Precious Heritage: The Status of Biodiversity in the United States: The Status of Biodiversity in the United States. Oxford University Press

Sterling EJ, Betley E, Sigouin A et al. (2017) Assessing the evidence for stakeholder engagement in biodiversity conservation. Biol Conserv 209:159–171. https://doi.org/10.1016/j.biocon.2017.02.008

The Nature Conservancy (2017) TNC Lands. www.tnclands.tnc.org/

The Nature Conservancy California (2001) California North Coast Ecoregional Plan. San Francisco, CA

Trust for Public Land (2018) Landvote Database. www.landvote.org

Underwood EC, Klausmeyer KR, Morrison SA et al. (2009) Evaluating conservation spending for species return: a retrospective analysis in California. Conserv Lett 2:130–137. https://doi.org/10.1111/j.1755-263X.2008.00018.x

UNEP-WCMC (2019) User Manual for the World Database on Protected Areas and world database on other effective area-based conservation measures: 1.6. Cambridge, UK

Wilcoxon F (1945) Individual Comparisons by Ranking Methods. Biometrics Bull 1:80–83. https://doi.org/10.2307/3001968

Zeiner DC, Laudenslayer WFJ, Mayer KE, White M (eds) (1988-1990) California's Wildlife. California Department of Fish and Game, Sacramento, CA

Zuur AF, Ieno EN, Smith GM (2007) Analysing Ecological Data. Springer, New York, New York, NY
Acknowledgements
We thank organizations who provided data to enable this study (Online Resource 7); CDFW; and colleagues at University of Tennessee, Knoxville; University of California, Davis; Resources for the Future; and The Nature Conservancy for useful discussions. The views expressed by Chad Stachowiak are his own and do not represent the Natural Resources Conservation Service or the United States Government.
Funding
This material is based on work partially supported by the National Science Foundation [grant number 1413990] and USDA NIFA AFRI [grant number 2017-67023-26270].
Authors' Contributions
All authors contributed to the study conception and design. Material preparation, data collection and analysis were performed by Chad Stachowiak, Benjamin Crain, and Paul R. Armsworth. The first draft of the manuscript was written by Chad Stachowiak and Paul R. Armsworth and all authors commented on previous versions of the manuscript. All authors read and approved the final manuscript.
Ethics declarations
Conflict of Interest
The authors declare that they have no conflict of interest.
Additional information
Publisher's note Springer Nature remains neutral with regard to jurisdictional claims in published maps and institutional affiliations.
Supplementary information
About this article
Cite this article
Stachowiak, C., Crain, B.J., Kroetz, K. et al. Protected Areas Established by Local Communities through Direct Democracy Encompass Habitat for Species as Effectively as Protected Areas Planned over Large Spatial Scales. Environmental Management 67, 242–250 (2021). https://doi.org/10.1007/s00267-020-01403-4
Received:

Accepted:

Published:

Issue Date:

DOI: https://doi.org/10.1007/s00267-020-01403-4
Keywords
ballot

biodiversity

conservation planning

gap analysis

nature reserve

open space