Abstract
This study examines the adoption of latrines provided as part of reconstruction efforts after the 2004 tsunami in India. Primary data from 274 households encompassing 1154 individuals were collected from 14 villages. GLM and GLMM tests indicate that sex (more females adopted than males) is a statistically significant factor in latrine adoption (p = 0.046 and p = 0.005, respectively), while income, education, and male age cohorts were significant only in the GLM model. Regression analyses show that six social and demographic variables are somewhat predictive of latrine usage (R2 = 0.123). Thus, while quantitative methods provided a contextual summation, qualitative methods ultimately explained why individuals chose to adopt or abandon the latrines. Interviews (n = 76) and focus group discussions (n = 14) revealed that latrine adoption is influenced by cultural conceptualizations of purity, pollution, and space. For example, conceptualizations of purity and pollution led some households to deem latrines as profane and thus a barrier to the entry of gods, while spatial constraints forced others to convert latrine space to other beneficial uses (e.g., puja room and storage area). Finally, the cost of pumping septic tanks and shared infrastructure arose as barriers to latrine adoption. These barriers underscore the importance of economics as well as community demand, capacity, and cohesion in latrine adoption.
Access options
Buy single article
Instant access to the full article PDF.
US$ 39.95
Tax calculation will be finalised during checkout.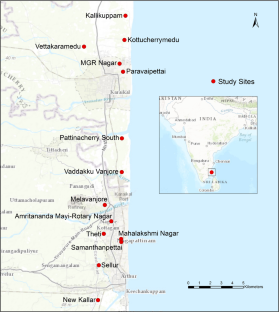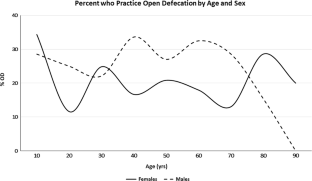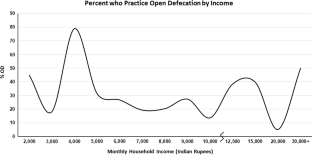 References
Banda K, Sarkar R, Gopal S, Govindarajan J, Harijan BB, Jeyakumar MB, Mitta P, Sadanala ME, Selwyn T, Suresh CR, Thomas VA, Devadason P, Kumar R, Selvapandian D, Kang G, Balraj V (2007) Water handling, sanitation and defecation practices in rural southern India: a knowledge, attitudes and practices study. Trans R Soc Trop Med Hyg 101(11):1124–1130

Barnard A, Spencer J (eds) (2002) Pollution and purity. In Encyclopedia of social and cultural anthropology. Routledge, New York, NY

Barnard S, Routray P, Majorin F, Peletz R, Boisson S, Sinha A, Clasen T (2013) Impact of Indian Total Sanitation Campaign on latrine coverage and use: a cross-sectional study in Orissa three years following programme implementation. PLoS ONE 8(8):e71428

Bartram J, Cairncross S (2010) Hygiene, sanitation and water: forgotten foundations of health. PLoS Med 7(11):e1000367. https://doi.org/10.1371/journal.pmed.1000367

Baxter J, Eyles J (1997) Evaluating qualitative research in social geography: establishing 'rigour' in interview analysis. Trans Inst Br Geogr 22(4):505–525

Bouabid A, Louis GE (2015) Capacity factor analysis for evaluating water and sanitation infrastructure choices for developing communities. J Environ Manag 161:335–343

Caruso, BA, TF Clasen, C Hadley, KM Yount, R Haardorfer, M Rout, M Dasmohapatra, HLF Cooper (2017) Understanding and defining sanitation insecurity: women's gendered experiences of urination, defecation and menstruation in rural Odisha, India. BMJ Global Health 2. https://doi.org/10.1136/bmjgh-2017-000414

Coffey D, Gupta A, Hathi P, Khurana N, Spears D, Srivastav N, Vyas S (2014) Revealed preference for open defecation: evidence from a new survey in rural North India. Econ Political Wkly 49(38):43–55

Coffey D, Spears D (2017) Where India goes: abandoned toilets, stunted development and the costs of caste. Harper Collins, Noida

Crampton JW, Elden S (2006) Space, politics, calculation: an introduction. Soc Cult Geogr 7(5):681–685

Deilami K, Hayes JF, McGree J, Goonetilleke A (2017) Application of landscape epidemiology to assess potential public health risk due to poor sanitation. J Environ Manag 192:124–133

Dickinson KL, Patil SR, Pattanayak SK, Poulos C, Yang J (2015) Natures call: impact of sanitation choices in Orissa, India. Econ Dev Cult Change 64(1):1–29

Doron A, Raja I (2015) The cultural politics of shit: class, gender and public space in India. Post Stud 18(2):189–207

Dyson T, Moore M (1983) On kinship structure, female autonomy, and demographic behavior in India. Popul Dev Rev 9(1):35–60

Epstein TS (1962) Economic development and social change in South India. Oxford University Press, Bombay

Freeman MC, Garn JV, Sclar GD, Boisson S, Medlicott K, Alexander KT, Penakalapati G, Anderson D, Mahtani AG, Grimes JET, Rehfuess EA, Clasen TF (2017) The impact of sanitation on infectious disease and nutritional status: a systematic review and meta-analysis. Int J Hyg Environ Health 220(6):928–949

Fuller JA, Clasen T, Heijnen M, Eisenberg JNS (2014) Shared sanitation and the prevalence of diarrhea in young children: evidence from 51 countries, 2001–2011. Am J Trop Med Hyg 91(1):173–180

Government of India (2018) Sanitation behaviour change. Ministry of Drinking Water and Sanitation, New Delhi

Government of Pondicherry (GoP) (2005) G.O.Ms.No. 29 Revenue department – relief and rehabilitation – policy on reconstruction of permanent houses and infrastructure facilities for the tsunami affected people – participation of NGOs/voluntary agencies, etc. 15 March 2005. Revenue Department, Government of Pondicherry

Government of Tamil Nadu (GoTN) (2005) Guidelines for evaluation of NGO's/other agencies to be followed by District Collectors as per G.O.Ms.No. 25 NC(iii) Dept. 13 Jan. 2005. Government of Tamil Nadu

Gupta A, Coffey D, Spears D (2016) Purity, pollution, and untouchability: challenges affecting the adoption, use, and sustainability of sanitation programmes in rural India. In: Bongartz P, Vernon N, Fox J (eds) In Sustainable sanitation for all: experiences, challenges, and innovations. Practical Action Publishing, Rugby, p 283–298

Heijnen M, Routray P, Torondel B, Clasen T (2015) Shared sanitation versus individual household latrines in urban slums: a cross-sectional study in Orissa, India. Am J Trop Med Hyg 93(2):263–268

Hirve S, Lele P, Sundaram N, Chavan U, Weiss M, Steinmann P, Juvekar S (2015) Psychosocial stress associated with sanitation practices: experiences of women in a rural community in India. J Water Sanit Hyg Dev 5(1):115–126

Hulland K, Martin N, Dreibelbis R, Valliant JD, Winch P (2015) What factors affect sustained adoption of safe water, hygiene and sanitation technologies? A systematic review of literature. EPPI-Centre, University College of London, London

Jewitt S (2011) Geographies of shit: spatial and temporal variations in attitudes towards human waste. Prog Hum Geogr 35(5):608–626

Jewitt S, Mahanta A, Gaur K (2018) Sanitation sustainability, seasonality and stacking: improved facilities for how long, where and whom? Geogr J 184(3):255–268

Jha PK (2003) Health and social benefits from improving community hygiene and sanitation: an Indian experience. Int J Environ Health Res 13(S1):S133–S140

Juran L, Lahiri-Dutt K (2017) Waterscapes in transition: changing uses and perceptions of water in middle class homes in Kolkata, India. Water Hist 9(4):433–451

Katz E (1961) The social itinerary of technical change: two studies on the diffusion of innovation. Hum Organ 20(2):70–82

Khanna T, Das M (2015) Why gender matters in the solution towards safe sanitation? Reflections from rural India. Glob Public Health 11(10):1185–1210

KPMG (2018) The making of "Swachh" India: lessons from the Swachh Bharat Mission – driving behavior change at scale. KPMG in India

Ludwig HF, Browder G (1992) Appropriate water supply and sanitation technology for developing countries in tropical monsoon climates. Environmentalist 12(2):131–139

Macpherson H (2016) Walking methods in landscape research: moving bodies, spaces of disclosure and rapport. Landsc Res 41(4):425–432

McMichael C (2018) Toilet talk: eliminating open defecation and improved sanitation in Nepal. Med Anthropol 37(4):294–310

McMichael C, Robinson P (2016) Drivers of sustained hygiene behavior change: a case study from mid-western Nepal. Soc Sci Med 163:28–36

Montgomery MA, Bartram J, Elimelech M (2009) Increasing functional sustainability of water and sanitation supplies in rural Sub-Saharan Africa. Environ Eng Sci 26(5):1017–1023

Nelder, JA and RJ Baker (2006) Generalized linear models. In Encyclopedia of statistical sciences, S Kotz, CB Read, N Balakrishnan, B Vidakovic, and NL Johnson (eds.). https://doi.org/10.1002/0471667196.ess0866.pub2

O'Reilly K (2006) "Traditional" women, "modern" water: linking gender and commodification in Rajasthan, India. Geoforum 37(6):958–972

O'Reilly K (2012) Geography matters: the importance of land, water and space in sanitation studies. wH2O. J Gend Water 1(1):8–9

O'Reilly K, Dhanju R, Louis E (2017) Subjected to sanitation: caste relations and sanitation adoption in rural Tamil Nadu. J Dev Stud 53(11):1915–1928

O'Reilly K, Louis E (2014) The toilet tripod: understanding successful sanitation in rural India. Health Place 29:43–51

O'Reilly K, Louis E, Thomas EA, Sinha A (2016) Combining sensors and ethnography to evaluate latrine use in India. In: Thomas EA (ed.) Broken pumps and promises: incentivizing impact in environmental health. Springer, Heidelberg, p 195–209

Paterson C, Mara D, Curtis T (2007) Pro-poor sanitation technologies. Geoforum 38:901–907

Pattanayak SK, Yang J, Dickinson KL, Patil SR, Paharaj P, Poulos C (2007) Promoting latrine use: 'midline' findings from a randomized evaluation of a community mobilization campaign in Bhadrak, Orissa. Working Paper 07-02. Research Triangle Institute, Durham

Pattanayak SK, Yang J, Dickinson KL, Poulos C, Patil SR, Mallick R, Blitstein J, Praharaj P (2009) Shame or subsidy revisited: randomized evaluation of social mobilization for sanitation in Orissa, India. Bull WHO 87(8):580–587

Patil SR, Arnold BF, Salvatore AL, Briceno B, Ganguly S, Colford Jr. JM, Gertler PJ (2013) The effect of India's Total Sanitation Campaign on defecation behaviors and child health in rural Madhya Pradesh: a cluster randomized controlled trial. PLoS Med 11(8):e1001709

Rashid M, Pandit D (2018) Determination of appropriate service delivery level for quantitative attributes of household toilets in rural settlements of India from users' perspective. Environ Manag 61(4):637–649

Reckwitz A (2002) Toward a theory of social practices: a development in culturalist theorizing. J Soc Theory 5(2):243–263

Rogers EM (2003) Diffusion of innovations, fifth edition. Free Press, New York, NY

Routray P, Schmidt W-P, Boisson S, Clasen T, Jenkins MW (2015) Socio-cultural and behavioural factors constraining latrine adoption in rural coastal Odisha: an exploratory qualitative study. BMC Public Health 15:880. https://doi.org/10.1186/s12889-015-2206-3

Sarkar B (2008) A practical approach to Vaastu Shastra. Peacock Books, New Delhi

Spears D, Ghosh A, Cumming O (2013) Open defecation and childhood stunting in India: an ecological analysis of new data from 112 districts. PLoS ONE 8(9):e73784. https://doi.org/10.1371/journal.pone.0073784

Srinivas T (2002) Flush with success: bathing, defecation, worship, and social change in South India. Space Cult 5(4):368–386

Tagat A, Kapoor H (2018) 'Sacred nudging' and sanitation decisions in India. India Rev 17(3):301–319

The Hindu (2016) Open defecation still a scourge in Nagapattinam. 26 Dec 2016

The Hindu (2017) Tsunami houses: free, but at what cost? 21 Dec 2017

Torras M, Boyce JK (1998) Income, inequality, and pollution: a reassessment of the environment Kuznets Curve. Ecol Econ 25(2):147–160

Tumwine J, Thompson J, Katui-Katua M, Mujwahuzi M, Johnstone N, Porras I (2003) Sanitation and hygiene in urban and rural households in East Africa. Int J Environ Health Res 13(2):107–115

United Nations General Assembly (UNGA) (2010) Resolution adopted by the General Assembly on 28 July 2010: A/RES/64/292 - the human right to water and sanitation. Agenda item 48, 64th session of the United Nations General Assembly (3 Aug 2010). UNGA, New York, NY, USA

World Bank. 2017. "Improved sanitation facilities (% of population with access)." World Bank Open Data. Available at https://data.worldbank.org/indicator/SH.STA.ACSN

World Health Organization and United Nations Children's Fund (WHO/UNICEF) (2017) Progress on drinking water, sanitation and hygiene: 2017 update and SDG baselines. WHO and UNICEF, Geneva

Yogananth N, Bhatnagar T (2018) Prevalence of open defecation among households with toilets and associated factors in rural south India: an analytical cross-sectional study. Trans R Soc Trop Med Hyg 112(7):349–360
Acknowledgements
Thanks for support from Sanam Aksha and the Laboratory for Interdisciplinary Statistical Analysis (LISA) at Virginia Tech.
Funding
Sustainable Water Undergraduate Research Fellowship from the Virginia Water Resources Research Center (VWRRC), and a New Investigator Award from the National Aeronautics and Space Administration (NASA) and Virginia Space Grant Consortium (VSGC).
Ethics declarations
Conflict of Interest
The authors declare that they have no conflict of interest.
Additional information
Publisher's note: Springer Nature remains neutral with regard to jurisdictional claims in published maps and institutional affiliations.
About this article
Cite this article
Juran, L., Adams, E.A. & Prajapati, S. Purity, Pollution, and Space: Barriers to Latrine Adoption in Post-disaster India. Environmental Management 64, 456–469 (2019). https://doi.org/10.1007/s00267-019-01202-6
Received:

Accepted:

Published:

Issue Date:
Keywords
Sanitation

Infrastructure provision

Built environment

Technological adoption

Behavior change

Semiotics