Abstract
This paper introduces the second phase of the Grain for Green. The first phase ran from 1999 to 2014, and the second phase started in 2015. The second phase of the GfG (GfG/2) addresses some problems of the first phase (GfG/1), in particular the lack of income for the farmers, as well as some changes to the rural areas, in particular the small number of remaining farmers. The paper describes how the GfG/2 (unlike the GfG/1) encourages farmers to organize themselves in cooperatives, or work with investors, and grow fruit trees to generate sustainable incomes. The paper also describes the constraints that prevent the smooth implementation of the GfG/2, in particular the insufficient financial support, the fact that some of the land that should be converted is "essential farmland", and the small and scattered pieces of farmland. The paper argues that in spite of this, the program is likely to succeed, and help farmers generate sustainable incomes. The paper is based in four periods of fieldwork in Chongqing Municipality, Shaanxi Province, and Yunnan Province and extensive interviews of farmers and government officers.
Access options
Buy single article
Instant access to the full article PDF.
USD 39.95
Price excludes VAT (USA)
Tax calculation will be finalised during checkout.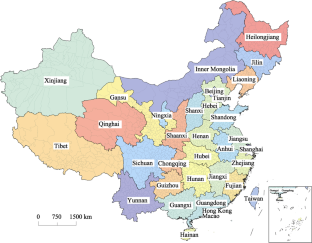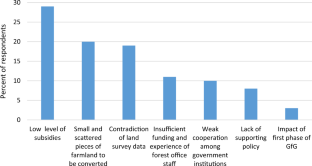 Notes
In 2016 a new phase of the GfG was introduced.

Since farmers joined at different times in different provinces, as the GfG gradually expanded nation-wide after 1999, the time the subsidies end varies according to location.
References
Ang A, Bai J, Zhou H (2016) The great wall of debt: real estate, political risk, and Chinese Local Government credit spreads. Working paper, SSRN 2603022

Bennett MT (2008) China's Sloping Land Conversion Program: Institutional innovation or business as usual? Ecol Econ 65(4):699–711

Delang CO (2016) China's water pollution problems. Routledge, London

Delang CO (2017) China's soil pollution and degradation problems. Routledge, London

Delang CO (2018) The effects of China's Grain for Green program on migration and remittance. Econía Agrar y Recur Nat 18(2):117

Delang CO, Wang W (2013) Chinese forest policy reforms after 1998: the case of the Natural Forest Protection Program and Slope Land Conversion Program. Int For Rev 15(3):290–304

Delang CO, Yuan Z (2015) China's Grain for Green Program. Springer, Heidelberg

Démurger S, Hou YZ, Yang WY (2009) Forest management policies and resource balance in China: an assessment of the current situation. J Environ Dev 18(1):17–41

Ding C (2004) Farmland preservation in China. Land Lines 16(3):9–11

Duo H, Li N (2015) 探索新一轮退耕还林工程农民参与积极性不高的主要原因及解决办法. Inner Mongolia Forestry Investigation and Design. vol. 38(6)

Finance.sina. (2015) 财政部: 大力支持实施新一轮退耕还林还草 (in Chinese). http://finance.sina.com.cn/china/bwdt/20151126/090923857550.shtml

Fu S (2016) 恩施市龙凤镇实施新一轮退耕还林政策的创新与建议. 清江论坛 No. 2

Fu Z, Hao L (2018) Agent-based modeling of China's rural–urban migration and social network structure. Phys A: Stat Mech its Appl 490:1061–1075

Greentimes (2016) 退耕还林, 贵州为何可以"一马当先" (in Chinese). http://www.greentimes.com/green/news/yaowen/zhxw/content/2016-03/29/content_331352.htm

Gruijters RJ (2018) Daughters' and sons' remittances in rural China: findings from a national survey. J Fam Issues 39(11):2911–2934

Hausmann R, Nedelkoska L (2018) Welcome home in a crisis: effects of return migration on the non-migrants' wages and employment. Eur Econ Rev 101:101–132

He C, Ye J (2014) Lonely sunsets: impacts of rural–urban migration on the left‐behind elderly in rural China. Popul Space Place 20(4):352–369

He J (2016) Rights to benefit from Forest? A case study of the timber harvest quota system in Southwest China. Soc Nat Resour 29(4):448–461

Jian C (2015) 五年内坡度25度以上的耕地将全部还林 (in Chinese). Xin Hua Net. http://www.agri.cn/V20/ZX/nyyw/201506/t20150611_4699208.htm

Li C, Cao QC, Fu Z (2015) Present situation and countermeasures of new round of returning farmland in Guangxi. 广西新一轮退耕还林现状及对策. Central South Forest Inventory and Planning 34(4)

Li G, Fang C, Pang B (2014) Quantitative measuring and influencing mechanism of urban and rural land intensive use in China. J Geogr Sci 24(5):858–874

Li G, Shi H (2015) 退耕还林生态补偿标准、农户行为选择及损益 (in Chinese). China Population, Resources and Environment 25(5)

Li Y, Liu Y, Long H, Cui W (2014) Community-based rural residential land consolidation and allocation can help to revitalize hollowed villages in traditional agricultural areas of China: evidence from Dancheng County, Henan Province. Land Use Policy 39:188–198

Liu TY, Chang HL, Su CW, Jiang XZ (2016) China's housing bubble burst? Econ Transit 24(2):361–389

MEP (2016) 关于扩大新一轮退耕还林还草规模的通知 (in Chinese). http://www.mep.gov.cn/gzfw_13107/zcfg/hjjzc/gjfbdjjzcx/stbczc/201606/t20160623_355515.shtml

MLR (2013) 关于第二次全国土地调查主要数据成果的公报 (in Chinese). http://www.mlr.gov.cn/zwgk/zytz/201312/t20131230_1298865.htm

MOYN (2009) The compilation of conversion of cropland to forest and grassland project of Yunnan, Kunming, China. Unpublished report, Yunnan Forestry Department, Kunming, China for the Management Office for the Conversion of Cropland to Forest and Grassland Project of Yunnan Forestry Department (258pp.) (in Chinese).

Mohabir N, Jiang Y, Ma R (2017) Chinese floating migrants: rural-urban migrant labourers' intentions to stay or return. Habitat Int 60:101–110

NDRC (2016) 关于下达2016年退耕还林还草年度任务的通知 (in Chinese). http://www.sdpc.gov.cn/gzdt/201608/t20160802_813859.html

NMGFGW (2014) 《新一轮退耕还林还草总体方案》(in Chinese). http://www.nmgfgw.gov.cn/xxgk/zxzx/tzgg/201503/P020150312376803394255.pdf

People.com (2014) 发改委: 新一轮退耕还林还草政府不搞强迫命令 (in Chinese). http://finance.people.com.cn/n/2014/0928/c1004-25749353.html

SFA (2013) China forestry statistical analysis report. State Forestry Administration, Beijing

SFA (2015) A report for monitoring and assessment of the socio-economic impacts of China's key forestry programs. 国家林业重点工程社会经济效益检测报告 (in Chinese). State Forestry Administration, China Forestry Publishing, Beijing

SFA (2016) 林业发展"十三五"规划 (in Chinese). State Forestry Administration, Beijing. http://www.forestry.gov.cn/uploadfile/main/2016-5/file/2016-5-19-4e0699f79b4b4a2ab03843684dd32c76.pdf

Treacy P, Jagger P, Song C, Zhang Q, Bilsborrow RE (2018) Impacts of China's Grain for Green Program on migration and household income. Environ Manag 62(3):489–499

Uchida E, Xu JT, Rozelle S (2005) Grain for Green: cost-effectiveness and sustainability of China's conservation set-aside program. Land Econ 81(2):247–264

Wang X, Lu C, Fang J, Shen Y (2007) Implications for development of grain-for-green policy based on cropland suitability evaluation in desertifi cation-affected north China. Land Use Policy 24(2):417–424

Ward PS (2016) Transient poverty, poverty dynamics, and vulnerability to poverty: an empirical analysis using a balanced panel from rural China. World Dev 78:541–553

Xie C, Zhang K, Peng W, Wang JN, Liu JJ, Jiang XL, et al. (2015) Trends and demand during the alternating phase of conversion of cropland to forests program—the main results of 2014 social economic M&E of conversion of cropland to forests program. 退耕还林工程交替期的政策趋势及需求——2014退耕还林社会经济效益监测主要结果分析(in Chinese). Forestry Economics. No. 6. https://doi.org/10.13843/j.cnki.lyjj.2015.06.004

Xie C, Wang JN, Peng W, Zhang K, Liu JJ, Yu BC (2016) The New Round of CCFP: Policy Improvement and Implementation Wisdom—Based on the Results of Social and Economic Benefit Inventory of CCFP in 2015. 新一轮退耕还林还草工程: 政策改进与执行智慧——基于2015 年退耕还林社会经济效益监测结果的分析. Forestry Economics 3

XinHua Net (2016) 国家林业局: 新一轮退耕还林工程稳步推进 (in Chinese). http://www.gov.cn/xinwen/2016-07/01/content_5087274.htm

Xu D, Deng X, Guo S, Liu S (2019) Labor migration and farmland abandonment in rural China: empirical results and policy implications. J Environ Manag 232:738–775

Xu JT, Cao YY (2002) Sustainability of Green for Green Program (in Chinese) Int Econ Rev Z2:56–60

Xu Z, Xu J, Deng XZ, Huang JK, Uchida E et al. (2006) Grain for Green versus grain: conflict between food security and conservation set-aside in China. World Dev 34(1):130–148

Yan Y (2019) Unintended land use effects of afforestation in China's Grain for Green Program. Am J Agric Econ, 101(4), pp. 1047–1067

Yang XJ, Hu H, Tan T, Li J (2016) China's renewable energy goals by 2050. Environ Dev 20:83–90

Yeung G (2017) Banking reform in China: a balancing act between financial viability and financial security. In: Handbook on the geographies of money and finance, 454

ZGFZJD (2015) 国家已累计投入4000多亿元用于第一轮退耕还林工程 (in Chinese). http://zgfzjd.com/jiaoyushichuang/17360.html

Zhang K, Xie C, Peng W, Wang J (2016) A new round of returning farmland to forest policy problems that exist in the implementation and policy recommendations. 新一轮退耕还林政策实施中存在的问题及其政策建议 (in Chinese). Forestry Economics 3

Zhao SX, Zhan H, Jiang Y, Pan W (2017) How big is China's real estate bubble and why hasn't it burst yet? Land Use Policy 64:153–162

Zhen NH, Fu BJ, Lü YH, Zheng ZM (2014) Changes of livelihood due to land use shifts: a case study of Yanchang county in the Loess Plateau of China. Land Use Policy 40:28–35

Zhou S, Yin Y, Xu W, Jia Z, Caldwelld I et al. (2007) The costs and benefi ts of reforestation in Liping County, Guizhou Province, China. J Environ Manag 85(3):722–735
Acknowledgements
The work described in this paper has been partially supported by a Faculty Research Grant from the Faculty of Social Sciences of Hong Kong Baptist University, Hong Kong Special Administrative Region, China (project no. FRG2/15-16/098), and partially supported by a grant from the Research Grants Council of the Hong Kong Special Administrative Region, China (project no. 12305116).
Ethics declarations
Conflict of Interest
The author declares that he has no conflict of interest.
Additional information
Publisher's note: Springer Nature remains neutral with regard to jurisdictional claims in published maps and institutional affiliations.
About this article
Cite this article
Delang, C.O. The Second Phase of the Grain for Green Program: Adapting the Largest Reforestation Program in the World to the New Conditions in Rural China. Environmental Management 64, 303–312 (2019). https://doi.org/10.1007/s00267-019-01185-4
Received:

Accepted:

Published:

Issue Date:

DOI: https://doi.org/10.1007/s00267-019-01185-4
Keywords