Abstract
With tourism increasing in remote regions, it is important to be able to estimate potential environmental impacts from the tourists in order to plan and manage natural areas. This study combines measures of ecological sensitivity with data from publicly available geotagged photographs posted on the social media site Flickr to assess the vulnerability of the locations frequented by foreign tourists in the Westfjords region of Iceland between 2014 and 2016. The results suggest that tourists cluster primarily around six hotspots that represented some of the major known tourist destinations of the region. Although tourists generally frequented areas with lower ecological sensitivity and rarely went far beyond the main roads, one of the hotspots was in an area of higher ecological sensitivity. Further, tourists also appeared to have higher intensity stays when they entered areas of higher ecological sensitivity. Overall, these findings highlight the usefulness of combining data from social media in assessing potential environmental impacts of tourism. However, natural resource managers should be aware of limitations in the use of such data.
This is a preview of subscription content, log in to check access.
Access options
Buy single article
Instant access to the full article PDF.
US$ 39.95
Tax calculation will be finalised during checkout.
Subscribe to journal
Immediate online access to all issues from 2019. Subscription will auto renew annually.
US$ 99
Tax calculation will be finalised during checkout.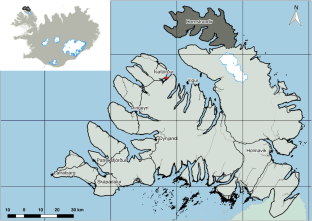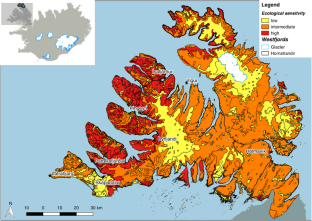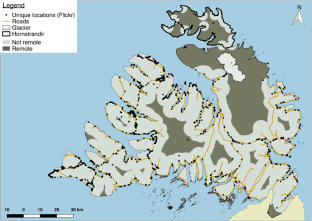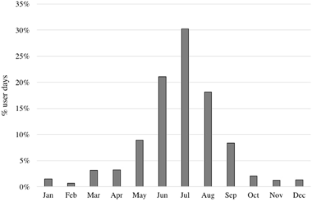 References
Allan JD, Smith SD, McIntyre PB et al. (2015) Using cultural ecosystem services to inform restoration priorities in the Laurentian Great Lakes. Front Ecol Environ 13:418–424. https://doi.org/10.1890/140328

Arctic Climate Impact Assessment (2004) Impacts of a warming Arctic: Arctic climate impact assessment. Cambridge University Press, Cambridge

Arnalds Ó (ed) (2015a) High in the North—cimate, people, and agriculture. In: The soils of Iceland. Springer Science+Business Media, Dordrecht

Arnalds Ó (ed) (2015b) Collapse, erosion, condition, and restoration. In: The soils of Iceland. Springer Science+Business Media, Dordrecht

Boller F, Hunziker M, Conedera M et al. (2010) Fascinating remoteness: the dilemma of hiking tourism development in peripheral mountain areas. Mt Res Dev 30:320–331. https://doi.org/10.1659/MRD-JOURNAL-D-10-00018.1

Brondoni SM (2016) Global tourism management. Mass, experience and sensations Tourism. Symphonya 1:7–24

Carver S, Comber A, McMorran R, Nutter S (2012) A GIS model for mapping spatial patterns and distribution of wild land in Scotland. Landsc Urban Plan 104:395–409

Chen JS (2015) Tourism stakeholders attitudes toward sustainable development: a case in the Arctic. J Retail Consum Serv 22:225–230

Cságoly Z, Sæþórsdóttir AD, Ólafsdóttir R (2017) Tourism changing the edge of the wild. J Outdoor Recreat Tour 17:1–8

Di Minin E, Tenkanen H, Toivonen T (2015) Prospects and challenges for social media data in conservation science. Front Environ Sci 3:63

García-Palomares JC, Gutiérrez J, Mínguez C (2015) Identification of tourist hot spots based on social networks: a comparative analysis of European metropolises using photo-sharing services and GIS. Appl Geogr 63:408–417. https://doi.org/10.1016/j.apgeog.2015.08.002

Gilbert L, Smith J, Berkel D, van Zanten B (2016) Tapping into social media data to identify the public's most valued landscapes. Institute of Outdoor Recreation, Utah State University. IORT-PR-2016-07

Girardin F, Vaccari A, Gerber A, Biderman A, Ratti C (2009) Quantifying urban attractiveness from the distribution and density of digital footprints. Int J Spat Data Infrastruct Res 4:175–200. https://doi.org/10.2902/1725-0463.2009.04.art10

Gísladóttir G, Sæþórsdóttir AD (2005) Ferðamenn og umhverfi. Fræðaþing Landbún 2005:360–363

Hadwen WL, Hill W, Pickering CM (2007) Icons under threat: why monitoring visitors and their ecological impacts in protected areas matters. Ecol Manag Restor 8:177–181. https://doi.org/10.1111/j.1442-8903.2007.00364.x

Heikinheimo V, Di Minin E, Tenkanen H et al. (2017) User-generated geographic information for visitor monitoring in a national park: a comparison of social media data and visitor survey. Int J Geo-Inf 6:85

Hillery M, Nancarrow B, Griffin G, Syme G (2001) Tourist perception of environmental impact. Ann Tourism Res 28:853–867

IPCC (2014) Summary for policymakers. In: Field CB, Barros VR, Dokken DJ (eds) IPCC climate change 2014: impacts, adaptation, and vulnerability. Part A: global and sectoral aspects. Contribution of Working Group II to the Fifth Assessment Report of the Intergovernmental Panel on Climate Change.Cambridge University Press, Cambridge, UK and New York, NY, USA, pp 1–32

Ísafjarðarbær (2014) Ísafjarðarbær í tölum. http://isafjordur.is/um_isafjardarbae/isafjardarbaer_i_tolum/. Accessed 22 Aug 2017

Kádár B (2014) Measuring tourist activities in cities using geotagged photography. Tour Geogr 16:88–104

Kádár B, Gede M (2013) Where do tourists go? Visualizing and analysing the spatial distribution of geotagged photography. Cartogr Int J Geogr Inf Geovisualization 48:78–88

Kajala L, Almik A, Dahl R, et al. (2007) Visitor monitoring in nature areas: a manual based on experiences from the Nordic and Baltic countries. Naturvårdsverket, Stockholm

Karlsdóttir UB (2013) Nature worth seeing! The tourist gaze as a factor in shaping views on nature in Iceland. Tour Stud 13(2):139–155. https://doi.org/10.1177/1468797613490372

Keeler BL, Wood SA, Polasky S et al. (2015) Recreational demand for clean water: evidence from geotagged photographs by visitors to lakes. Front Ecol Environ 13:76–81

Levin N, Kark S, Crandall D (2015) Where have all the people gone? Enhancing global conservation using night lights and social media. Ecol Appl 25:2153–2167. https://doi.org/10.1890/15-0113.1

Maher PT (2017) Tourism futures in the Arctic. In: Latola K, Savela H (eds) The interconnected Arctic—UArctic Congress 2016. Springer International Publishing, Cham, pp 213–220

National Land Survey of Iceland (2017) ISN2004. http://www.lmi.is/en/isn-2004/. Accessed 14 Jan 2017

Óladóttir OÞ (2017) Ferðaþjónusta á Íslandi í tölum: júni 2017. Ferðamálastofa, Reykjavík

Olafsdottir R, Runnström MC (2009) A GIS approach to evaluating ecological sensitivity for tourism development in fragile environments. A case study from SE Iceland. Scand J Hosp Tour 9:22–38

Ólafsdóttir R, Runnström MC (2011) How wild is Iceland? Wilderness quality with respect to nature-based tourism Tour Geogr 13:280–298

Ólafsdóttir R, Runnström MC (2013) Assessing hiking trails condition in two popular tourist destinations in the Icelandic highlands. J Outdoor Recreat Tour 3:57–67

Ólafsdóttir R, Schlyter P, Haraldsson HV (2001) Simulating Icelandic vegetation cover during the Holocene Implications for long‐term land degradation Geogr Ann Ser A, Phys Geogr 83:203–215

Orsi F, Geneletti D (2013) Using geotagged photographs and GIS analysis to estimate visitor flows in natural areas. J Nat Conserv 21:359–368. https://doi.org/10.1016/j.jnc.2013.03.001

Sæþórsdóttir AD (2013) Managing popularity: changes in tourist attitudes in a wilderness destination. Tour Manag Perspect 7:47–58

Sæþórsdóttir AD, Hall CM, Saarinen J (2011) Making wilderness: tourism and the history of the wilderness idea in Iceland. Polar Geogr 34:249–273

Sæþórsdóttir AD (2015) Þolmörk ferðamanna á átta vinsælum ferðamannastöðum á Suður- og Vesturlandi sumarið 2014. Icelandic Tourism Research Centre, Akureyri, Iceland

Sæþórsdóttir AD, Saarinen J (2015) Challenges due to changing ideas of natural resources: tourism and power plant development in the Icelandic wilderness. Polar Rec (Gr Brit) 52:82–91

Schaller H (2014) The footprint of tourism: ecological sensitivity and hiking trail assessment at selected protected areas in Iceland and Hokkaido. Icelandic Tourism Research Centre, Akureyri, Iceland

Sonter LJ, Watson KB, Wood SA et al. (2016) Spatial and temporal dynamics and value of nature-based recreation, estimated via social media. PLoS ONE 11:e0162372. https://doi.org/10.1371/journal.pone.0162372

Spalding M, Burke L, Wood SA et al. (2017) Mapping the global value and distribution of coral reef tourism. Mar Policy 82:104–113. https://doi.org/10.1016/j.marpol.2017.05.014

Stewart EJ, Liggett D, Dawson J (2017) The evolution of polar tourism scholarship: research themes, networks and agendas. Polar Geogr 40:59–84. https://doi.org/10.1080/1088937X.2016.1274789

Straumann RK, Çöltekin A, Andrienko G (2014) Towards (re)constructing narratives from georeferenced photographs through visual analytics. Cartogr J 51:152–165. https://doi.org/10.1179/1743277414Y.0000000079

Sun Y, Fan H, Helbich M, Zipf A (2013) Analyzing human activities through volunteered geographic information: using Flickr to analyze spatial and temporal pattern of tourist accommodation. In: Krisp JM (ed) Progress in location-based Servies, Lecture notes in geoinformation and cartography, Springer, Berlin, Heidelberg, pp 57–69

Taylor VF (2011) GIS assessment of Icelandic wilderness from 1936−2010. Master's Thesis, University of Iceland, Reykjavík

Tieskens KF, Schulp CJE, Levers C et al. (2017) Characterizing European cultural landscapes: Accounting for structure, management intensity and value of agricultural and forest landscapes. Land Use Policy 62:29–39. https://doi.org/10.1016/j.landusepol.2016.12.001

van Zanten BT, Van Berkel DB, Meentemeyer RK et al. (2016) Continental-scale quantification of landscape values using social media data. Proc Natl Acad Sci USA 113:12974–12979. https://doi.org/10.1073/pnas.1614158113

Visit Westfjords (2015) The Westfjords. Visit Westfjords, Ísafjörður, Iceland, p 164

Wang J, Korayem M, Blanco S, Crandall DJ (2016) Tracking natural events through social media and computer vision. In: Hanjalic A, Snoek C, Worring M (eds) Proceedings of the 2016 ACM on Multimedia Conference—MM'16. ACM Press, New York, NY, pp 1097–1101

Wasowicz P (2016) Non-native species in the vascular flora of highlands and mountains of Iceland. PeerJ 4:e1559. https://doi.org/10.7717/peerj.1559

Weaver D (2006) Sustainable tourism: theory and practice, 1st edn. Butterworth Heinemann, Burlington, MA

Wong PP (2004) Environmental impacts of tourism. In: Lew AA, Hall CM, Williams AM (eds) A companion to Tourism, Blackwell Publishing, Oxford, pp 450–461

Wood SA, Guerry AD, Silver JM et al. (2013) Using social media to quantify nature-based tourism and recreation. Sci Rep 3:17–38. https://doi.org/10.1038/srep02976

Zielstra D, Hochmair HH (2013) Positional accuracy analysis of Flickr and Panoramio images for selected world regions. J Spat Sci 58:251–273. https://doi.org/10.1080/14498596.2013.801331
Acknowledgements
The author thanks Dr. Peter Weiss, Pernilla Rein, and the staff at Háskólasetrið Vestfjarða for their assistance with this project, Astrid Fehling for help with the GIS project, Þórir Örn Guðmundsson for help with the itineraries, and Ólafur Arnalds and Sigmundur Helgi Brink for the GIS data on soils. He also thanks A. Fehling, S. Sugiyama, and S. Steinert-Borella, and two anonymous reviewers for their helpful comments on previous drafts. Any remaining errors are his own.
Funding
The study was supported by funding from the Swiss National Science Foundation (IZK0Z2_171645) and from Franklin University Switzerland's Faculty Development Funds.
Ethics declarations
Conflict of interest
The authors declare that they have no conflict of interest.
About this article
Cite this article
Hale, B.W. Mapping Potential Environmental Impacts from Tourists Using Data from Social Media: A Case Study in the Westfjords of Iceland. Environmental Management 62, 446–457 (2018). https://doi.org/10.1007/s00267-018-1056-z
Received:

Accepted:

Published:

Issue Date:
Keywords
Westfjords

GIS

Tourism

Social media

Ecological sensitivity

Iceland