Abstract
We estimated U.S. and Mexican citizens' willingness to pay (WTP) for protecting habitat for a transborder migratory species, the Mexican free-tailed bat (Tadarida brasiliensis mexicana), using the contingent valuation method. Few contingent valuation surveys have evaluated whether households in one country would pay to protect habitat in another country. This study addresses that gap. In our study, Mexican respondents were asked about their WTP for conservation of Mexican free-tailed bat habitat in Mexico and in the United States. Similarly, U.S. respondents were asked about their WTP for conservation in the United States and in Mexico. U.S. households would pay $30 annually to protect habitat in the United States and $24 annually to protect habitat in Mexico. Mexican households would pay $8 annually to protect habitat in Mexico and $5 annually to protect habitat in the United States. In both countries, these WTP amounts rose significantly for increasing the size of the bat population rather than simply stabilizing the current bat population. The ratio of Mexican household WTP relative to U.S. household WTP is nearly identical to that of Mexican household income relative to U.S. household income. This suggests that the perceived economic benefits received from the bats is similar in Mexico and the United States, and that scaling WTP by relative income in international benefit transfer may be plausible.
This is a preview of subscription content, log in to check access.
Access options
Buy single article
Instant access to the full article PDF.
US$ 39.95
Price includes VAT for USA
Subscribe to journal
Immediate online access to all issues from 2019. Subscription will auto renew annually.
US$ 99
This is the net price. Taxes to be calculated in checkout.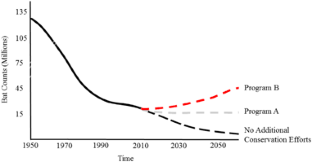 References
Ahtiainen H, Artell J, Czajkowski M, Meyerhoff J (2015) Performance of different approaches in international benefit transfer: insights from a nine country experiment. Working Paper Series of the Department of Economics of the University of Warsaw, no. 28 (176), Warsaw, Poland.

Arrow K, Solow R, Portney PR, Leamer EE, Radner R, Schuman H (1993) Report of the NOAA Panel on Contingent Valuation, National Oceanic and Atmospheric Administration, USA.

Bagstad K, Wiederholt R (2013) Tourism values for the Mexican free-tailed bat (Tadarida brasiliensis mexicana). Human Dimens Wildl 18:307–311

Balmford A, Whitten T (2003) Who should pay for tropical conservation, and how should the cost be met? Oryx 37(2):238–250

Bechtel RB, Verdugo VC, De Queiroz Pinheiro J (1999) Environmental belief systems: United States, Brazil, and Mexico. J Cross Cult Psychol 30(1):122–128

Betke M, Hirsh DE, Makris NC, McCracken GF, Procopio M, Hristov NI, Tang S, Bagchi A, Reichard J, Horn J, Crampton S, Cleveland C, Kunz TH (2008) Thermal imaging reveals smaller Brazilian free-tailed bat colonies than previously estimated. J Mammal 89:18–24

Boyle K (2017) Contingent valuation in practice. In: Champ P, Boyle K, Brown T (eds) A primer on nonmarket valuation, 2nd edn. Springer, The Netherlands

Boyles JG, Cryan PM, McCracken GF, Kunz TH (2011) Economic importance of bats to agriculture. Science 332:41–42

Champ P, Boyle K, Brown T (eds) (2017) A primer on nonmarket valuation, 2nd edn. Springer, The Netherlands

Chestnut LG, Ostro BD, Vichit-Vandakan N (1997) Transferability of air pollution control health benefit estimates from the United States to developing countries: evidence from the Bangkok study. Am J Agric Econ 79(5):1630–1635

Cleveland CJ, Betke M, Federico P, Frank JD, Hallam TG, Horn J, Lopez Jr. JD, McCracken GF, Medellin RA, Moreno-Valdez A, Sansone CG, Westbrook JK, Kunz TH (2006) Economic value of the pest control services provided by Brazilian free-tailed bats in the winter garden region of south-central Texas. Front Ecol Environ 4(5):238–243

Corral-Verdugo V, Armendáriz LI (2000) The "new environmental paradigm" in a Mexican community. J Environ Educ 31(3):25–31

Czajkowski M, Scasny M (2010) Study on benefit transfer in an international setting. How to improve welfare estimates in the case of the countries' income heterogeneity?. Ecol Econ 69:2409–2416

Federico P, Hallam TG, McCracken GF, Purucker ST, Grant WE, Correa Sandoval AN, Westbrook JK, Medellin RA, Cleveland CJ, Sansone CG, Lopez Jr. JD, Betke M, Moreno-Valdez A, Kunz TH (2008) Brazilian free-tailed bats as insect pest regulators in transgenic and conventional cotton crops. Ecol Appl 18(4):826–837

Ferraro PJ (2001) Global habitat protect: limitations of development interventions and a role for conservation performance payments. Conserv Biol 15(4):990–1000

Ferraro PJ, Kiss A (2002) Direct payments to conserve biodiversity. Science 298:1718–1719

Fleming TH, Eby P (2003) Ecology of bat migration. In: Kunz TH, Fenton MB (eds) Bat ecology. University of Chicago Press, Chicago

Giraud K, Loomis J, Johnson R (1999) Internal and external scope in willingness-to-pay estimates for threatened and endangered wildlife. J Environ Manag 56:221–229

Gonzalez-Caban A, Loomis J (1997) Economic benefits of maintaining ecological integrity of Rio Mameyes, in Puerto Rico. Ecol Econ 21:63–75

Hammitt J, Robinson L (2011) The income elasticity of the value per statistical life: transferring estimates between high and low income populations. J Benefit Cost Anal 2(1):2–29

Howell DC (1998) Statistical methods in human sciences. Wadsworth, New York

Kaya M, Seyyar O, Baran T, Turkes T (2014) Bat guano as new and attractive chitin and chitosan source. Front Zool 11:1–10

Kido A, Seidl A (2008) Optimizing protected area entry fees across statekholders: the Monarch Butterfly Biosphere Reserve, Michoacan, Mexico. Environ Dev Econ 13(2):229–243

Lee YF, McCracken GF (2005) Dietary variation of Brazilian free-tailed bats links to migratory populations of pest insects. J Mammal 86(1):67–76

Loeb SC, Rodhouse TJ, Ellison LE, Lausen CL, Reichard JD, Irvine KM, Ingersoll TE, Coleman JT, Thogmartin WE, Sauer JR, Francis CM, Bayless ML, Stanley TR, Johnson DH (2015) A plan for the North American bat monitoring program (NABat). General Technical Report SRS-208. U.S. Department of Agriculture Forest Service, Southern Research Station, Asheville, NC, 100 pp

López-Hoffman L, McGovern E, Varady RG, Flessa KW (2009) Conservation of shared environments: learning from the United States and Mexico. University of Arizona Press, Tucson, AZ

López-Hoffman L, Varady RG, Flessa KW, Balvanera P (2010) Ecosystem services across borders: a framework for transboundary conservation policy. Front Ecol Environ 8:84–91

López-Hoffman L, Wiederholt R, Sansone C, Bagstad KJ, Cryan P, Diffendorfer JE, Goldstein J, LaSharr K, Loomis J, McCracken G, Medellin RA, Russell A, Semmens D (2014) Market forces and technological substitutes cause fluctuations in the value of bat pest-control services for cotton. PLoS ONE 9(2):e87912

López-Hoffman L, Chester CC, Semmens DJ, Thogmartin WE, Rodriguez-McGoffin MS, Merideth R, Diffendorfer JE (2017) Ecosystem services from transborder migratory species: implications for conservation governance. Annu Rev Environ Resour 42:24.1–24.31

López-Hoffman L, Diffendorfer J, Wiederholt R, Bagstad KJ, Thogmartin WE, McCracken G, Medellin RL, Russell A, Semmens DJ (2017) Operationalizing the telecoupling framework for migratory species using the spatial subsidies approach to examine ecosystem services provided by Mexican free-tailed bats. Ecol Soc 22(4):23

McCracken GF (2003) Estimates of population sizes in summer colonies of Brazilian free-tailed bats (Tadarida brasiliensis). In: O'Shea TJ, Bogan MA (eds) Monitoring trends in bat populations of the United States and territories: problems and prospects. U.S. Geological Service, Biological Resources Discipline, Information and Technology Report USGS/BRD/ITR-2003-003, USA, p 274

Mitchell RC, Carson RT (1989) Using Surveys to value public goods: the contingent valuation method. Resources for the Future. Washington, DC

Nicol S, Wiederholt R, Diffendorfer J, Mattsson B, Thogmartin W, Semmens D, Lopez-Hoffman L, Norris DR (2016) A management-oriented framework for selecting metrics used to assess habitat-and path-specific quality in spatially structured populations Ecol Indic 69:792–802

OANDA (2015) Average exchange rates. https://www.oanda.com/currency/average. Accessed 11 Oct 2017

Richardson L, Loomis J (2009) The total economic value of threatened, endangered and rare species: an updated meta-analysis. Ecol Econ 68:1535–1548

Riner DL (2015) A look at the average Mexican household in 2014. American Chamber of Commerce of Mexico

Schultz PW, Zelezny L (1999) Values as predictors of environmental attitudes: evidence for consistency across 14 countries. J Environ Psychol 19:255–265

Shah S, Hoag D, Loomis J (2016) Is willingness to pay for freshwater quality improvement in Pakistan affected by payment vehicle? Donations, mandatory government payments or donations to NGO's. Environ Econ Policy Stud 19(4):807–818. https://doi.org/10.1007/s10018-016-0178-x

Wiederholt, R., Mattsson, B.J., Thogmartin, W.E., Runge, M.C., Diffendorfer, J.E., Erickson, R.A., Federico, P., López-Hoffman, L., Fryxell, J.M., Norris, D.R., and Sample, C. (2017) Estimating the per-capita contribution of habitats and pathways in a migratory network: a modelling approach. Ecogeography, 40: 001-010, https://doi.org/10.1111/ecog.02718
Acknowledgements
This work was funded by a National Science Foundation award (DEB-1118975) to LL-H and NSF award (DEB-1518359) to LL-H and JBL. Additional support was received from the U.S. Geological Survey's John Wesley Powell Center for Analysis and Synthesis working group, Animal Migration and Spatial Subsidies: Establishing a Framework for Conservation Markets. Any use of trade, firm, or product names is for descriptive purposes only and does not imply endorsement by the U.S. Government. I certify that there is no actual or potential conflict of interest in relation to this article.
Ethics declarations
Conflict of Interest
The authors declare that they have no conflict of interest.
About this article
Cite this article
Haefele, M.A., Loomis, J.B., Merideth, R. et al. Willingness to Pay for Conservation of Transborder Migratory Species: A Case Study of the Mexican Free-Tailed Bat in the United States and Mexico. Environmental Management 62, 229–240 (2018). https://doi.org/10.1007/s00267-018-1046-1
Received:

Accepted:

Published:

Issue Date:
Keywords
Bats

Contingent valuation

Habitat

Mexico

United States

Willingness to pay