Abstract
The aim of this paper is to contribute to the exploration of environmental modeling methods based on the elicitation of stakeholders' mental models. This aim is motivated by the necessity to understand the dilemmas and behavioral rationales of individuals for supporting the management of environmental problems. The methodology developed for this paper integrates qualitative and quantitative methods by deploying focus groups for the elicitation of the behavioral rationales of the target population, and grounded theory to code the information gained in the focus groups and to guide the development of a dynamic simulation model. The approach is applied to a case of urban air pollution caused by residential heating with wood in central Chile. The results show how the households' behavior interrelates with the governmental management strategies and provide valuable and novel insights into potential challenges to the implementation of policies to manage the local air pollution problem. The experience further shows that the developed participatory modeling approach allows to overcome some of the issues currently encountered in the elicitation of individuals' behavioral rationales and in the quantification of qualitative information.
This is a preview of subscription content, log in to check access.
Access options
Buy single article
Instant access to the full article PDF.
US$ 39.95
Price includes VAT for USA
Subscribe to journal
Immediate online access to all issues from 2019. Subscription will auto renew annually.
US$ 99
This is the net price. Taxes to be calculated in checkout.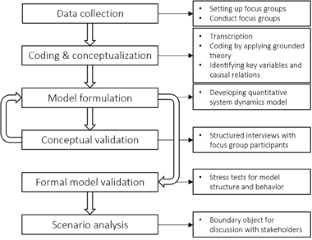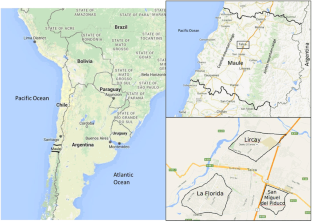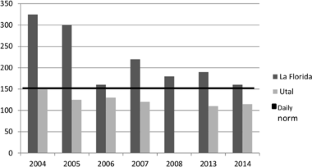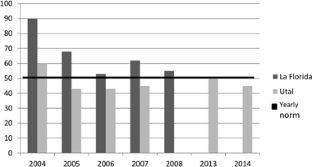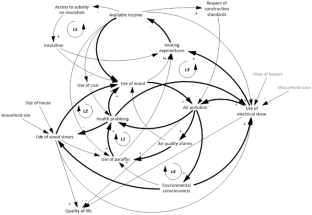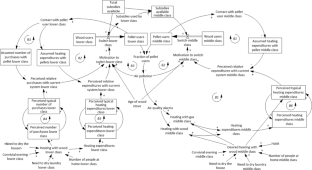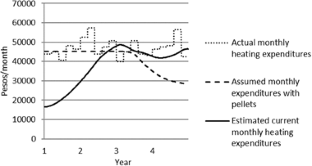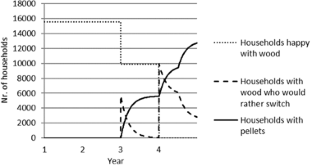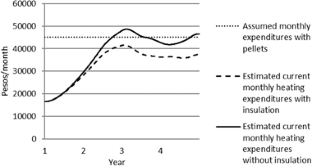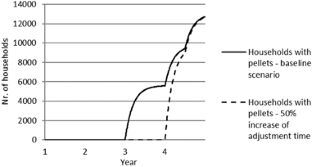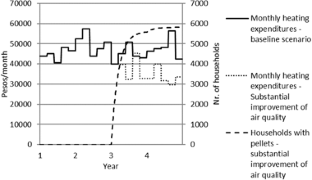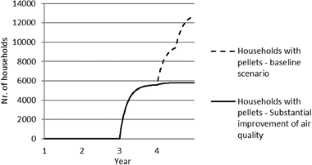 References
Ajzen I (1991) The theory of planned behaviour. Organ Behav Hum Dec 50:179–211

Andersen DF, Richardson G (1997) Scripts for group model building. Syst Dynam Rev 13:107–129

Andersen DL, Luna-Reyes LF, Diker VG, Black L, Rich E, Andersen DF (2012) The disconfirmatory interview as a strategy for the assessment of system dynamics models. Syst Dynam Rev 28(3):255–275

Armah FA, Yawson DO, Pappoe ANM (2010) A system dynamics approach to explore traffic congestion and air pollution link in the city of Accra, Ghana. Sustainability 2:252–265

Barlas Y (1996) Formal aspects of model validity and validation in system dynamics. Syst Dynam Rev 12(3):183–210

Becu N, Barreteau O, Perez P, Saising J, Sungted S (2005) A methodology for identifying and formalizing farmers representation of watershed management : a case study from northern Thailand. In: Bousquet F, Trébuil G, Hardy B (eds) Companion modeling and multi-agent systems for integrated natural resource management in Asia. CIRAD, IRRI, Metro Manila, pp 41-62

Bousquet F, Barreteau O, Le Page C, Mullon C, Weber J (1999) An environmental modelling approach. The use of multi-agents simulations. In: Blasco F, Weill A (eds) Advances in environmental and ecological modelling. Elsevier, Paris, pp 113–122

Cárdenas JC, Stranlund C, Willis C (2000) Local environmental control and institutional crowding-out. World Dev 28(10):1719–1733

Carmona G, Varela-Ortega C, Bromley J (2013) Participatory modelling to support decision making in water management under uncertainty: Two comparative case studies in the Guadiana river basin, Spain. J Environ Manag 128:400–412

Charmaz K (2006) Constructing grounded theory: a practical guide through qualitative analysis. Sage Publications, London

Chávez C, Gómez W, Briceño S (2009) Costo-efectividad de instrumentos económicos para el control de la contaminación. El caso del uso de leña. Cuad De Econ 46:197–224. Noviembre

Chávez CA, Stranlund JK, Gómez W (2011) Controlling urban air pollution caused by households: uncertainty, prices, and income. J Environ Manag 92:2746–2753

Chen MC, Ho TP, Jan CG (2006) A system dynamics model of sustainable urban development: assessing air purification policies at Taipei City. Asian Pac Plan Rev 4(1):29–52

Chen H, Chang YC, Chen KC (2014) Integrated wetland management: an analysis with group model building based on system dynamics model. J Environ Manag 146:309–319

Costanza R, Ruth M (1998) Using Dynamic Modeling to Scope Environmental Problems and Build Consensus Environmental Management 22:183. https://doi.org/10.1007/s002679900095

Coyle G (2000) Qualitative and quantitative modelling in system dynamics: some research questions. Syst Dyn Rev 18:225–244

Crance C, Draper D (1996) Socially cooperative choices: an approach to achieving resource sustainability in the coastal zone. Environ Manag 20(2):175–184

Dray A, Perez P, Jones N, Le Page C, d'Aquino P, White I, Auatabu T (2006) The AtollGame experience: from knowledge engineering to a computer-assisted role-playing game. J Artif Soc Soc Simul 9(1):1–6. http://jasss.soc.surrey.ac.uk/9/1/6.html

Dupont H, Gourmelon F, Rouan M, Le Viol I, Kerbiriou C (2016) The contribution of agent-based simulations to conservation management on a Natura 2000 site. J Environ Manag 168:27–35

Elsawah S, Guillaume JHA, Filatova T, Rook J, Jakeman AJ (2015) A methodology for eliciting, representing, and analysing stakeholder knowledge for decision making on complex socio-ecological systems: from cognitive maps to agent-based models. J Environ Manag 151:500–516

Farnsworth J, Boon B (2010) Analysing group dynamics within the focus group. Qual Res 10(5):605–624

Forrester JW (1992) Policies, decisions and information sources for modelling. Eur J Oper Res 59:42–63

Giordano R, Brugnach M, Plucchinotta I (2017) Ambiguity in problem-framing as a barrier to collective actions: Some hints from groundwater protection policy in the Apulia region. Group Decis Negot 26(5):911–932

Gómez W, Yep S, Chávez C (2013) Subsidios a hogares para inducir adopción de tecnologías de combustión de leña más eficiente y menos contaminantes: Simulación para el caso de Temuco y Padre Las Casas. Estud De Econ 440(1):21–52

Jones NA, Perez P, Measham TG, Kelly GJ, d'Aquino P, Daniell KA, Dray A, Ferrand N (2009) Evaluating participatory modeling: Developing a framework for cross-case analysis. Environ Manag 44:1180–1195

Kelly (Letcher) R, Jakeman A, Barreteau O, Borsuk M, ElSawah S, Hamilton S, Henriksen HJ, Kuikka S, Maier H, Rizzoli A, van Delden H, Voinov A (2013) Selecting among five common modelling approaches for integrated environmental assessment and management. Environ Model Softw 47:159–181

Kim H, Anderson DF (2012) Building confidence in causal maps generated from purposive text data: mapping transcripts of the Federal Reserve. Syst Dynam Rev 28:311–328

Kind L (2004) Notas para o trabalho com a técnica de grupos focais. Psicol em Rev 10(15):124–136

Kitzinger J (1994) The methodology of focus groups: the importance of interaction between research participants. Sociol Health Ill 16(1):103–121

Kollmuss A, Agyeman J (2002) Mind the gap: why do people act environmentally and what are the barriers to pro-environmental behaviour? Environ Educ Res 8(3):239–260

Lavallee A, Hower T, Hovmand P (2010) Scriptapedia/Debriefing.https://en.wikibooks.org/wiki/Scriptapedia

Leal Neto A, de C, Legey LFL, González-Araya MC, Jablonski S (2006) A system dynamics model for the environmental management of the Sepetiba Bay watershed, Brazil. Environ Manag 38:879–888

Lemons J (1989) The need to integrate values into environmental curricula. Environ Manag 13(2):133–147

Le Page C, Abrami G, Barreteau O, Becu N, Bommel P, Botta A, Dray A, Monteil C, Souchère V (2014) Models for sharing representations. In: Etienne M (ed) Companion modelling. Springer, Versailles, pp 69-101

Luna-Reyes LF, Andersen D (2003) Collecting and analysing qualitative data for system dynamics: methods and models. Syst Dyn Rev 19:271–296

Martínez-Alier J, Muradian R (2015) Handbook of ecological economics. Edward Elgar Publishing, Cheltenham

Max-Neef M (1991) Human scale development: conception, application and further reflections. The Apex Press, New York

Meadows DH (1976) The unavoidable a priori. Proceedings of the 1976 International Conference of the System Dynamics Society, Geilo,161-240

Ministerio del Medio Ambiente (2014) Planes de descontaminación atmosférica: Estrategia 2014–2018. Gobierno de Chile, Santiago

Ministerio del Medio Ambiente (2015) Plan de descontaminación atmosférica para las comunas de Talca y Maule. Gobierno de Chile, Santiago

Mostashari A, Sussman J (2005) Stakeholder-assisted modelling and policy design process for environmental decision-making. J Environ Assess Policy Manag 7(3):355–386

Paavola J, Adger WN (2005) Institutional ecological economics. Ecol Econ 53:353–368

Popa F (2015) Motivations to contribute to public goods: beyond rational choice economics. Environ Policy Gov 25:230–242

Reed MS, Graves A, Dandy N, Posthumus H, Hubacek K, Morris J, Prell C, Quinn CH, Stringer LC (2009) Who's in and why? A typology of stakeholder analysis methods for natural resource management. J Environ Manag 90:1933–1949

Renn O, Schweizer PJ (2009) Inclusive risk governance: concepts and application to environmental policy-making. Environ Policy Gov 19:174–185

Ringrose S, Chanda R, Nkambwe M, Sefe F (1996) Environmental change in the Mid-Boteti area of north-central Botswana: biophysical processes and human perceptions. Environ Manag 20(3):397–410

Romm NRA (2015) Conducting focus groups in terms of an appreciation of indigenous ways of knowing: some examples from South Africa. Forum Qualitative Sozialforschung 16(1):Article No. 2

Rouwette EAJ, Vennix JAM, Van Mullekom T (2002) Group model building effectiveness. A review of assessment studies. Syst Dynam Rev 18:5–45

Sanhueza L, Mardones C, Jiménez J (2015) Efectos de la incorporación de fuentes residenciales en mecanismos de compensación de emisiones industriales de PM10. Rev Int Contam Ambient 31(3):279–291

Santos R, Antunes P, Baptista G, Mateus P, Madruga L (2006) Stakeholder participation in the design of environmental policy mixes. Ecol Econ 60:100–110

Shahgholian K, Hajihosseini H (2009) A dynamic model of air pollution, health, and population growth using system dynamics: A study on Tehran-Iran (with computer simulation by the software Vensim). Int J Environ 3(11):372–379

Shortle JS, Horan RD (2001) The economics of nonpoint pollution control. J Econ Surv 15(3):255–289

Stave KA (2010) Participatory system dynamics modelling for sustainable environmental management: observations from four cases. Sustainability 2:2762–2784

Sterman JD (2000) Business dynamics – Systems thinking and modelling for a complex world. Irwin McGraw-Hill, Boston

Stern PC, Fineberg HV (1996) Understanding risk: Informing decisions in a democratic society. National Academy Press, Washington, DC

Stringer LC, Fleskens L, Reed MS, de Vente J, Zengin M (2014) Participatory evaluation of monitoring and modeling of sustainable land management technologies in areas prone to land degradation. Environ Manag 54:1022–1042

Universidad de Concepción (2014) Diagnóstico de la calidad del aire y medidas de descontaminación en Talca y Maule - 2012-614797-7-LP12 - Informe Final. Universidad de Concepción, Concepción

Vennix JAM (1990) Mental models and computer models: design and evaluation of a computer-based learning environment. Dissertation, Radboud University of Nijmegen

Vennix JAM (1996) Facilitating team learning using system dynamics. Wiley, Chichester

Vidal-Legaz B, Martínez-Fernández J, Sánches Picón A, Pugnaire FI (2013) Trade-offs between maintenance of ecosystem services and socio-economic development in rural mountaineous communities in southern Spain: a dynamic simulation approach. J Environ Manag 131:280–297

Videira N, Antunes P, Santos R, Lobo G (2006) Public and stakeholder participation in European water policy: a critical review of project evaluation processes. Eur Environ 16:19–31

Videira N, Antunes P, Santos R, Lopes R (2010) A participatory modelling approach to support integrated sustainability assessment processes. Syst Res Behav Sci 27:446–460

Voinov A, Bousquet F (2010) Modelling with stakeholders. Environ Model Softw 25:1268–1281. https://doi.org/10.1016/j.envsoft.2010.03.007Xu

Xu J, Kang J, Shao L, Zhao T (2015) System dynamics modelling of industrial growth and landscape ecology in China. J Environ Manag 161:92–105
Acknowledgements
The authors acknowledge the Corporación de Desarrollo of the city of Talca and Prof. Martin Schaffernicht from the Universidad de Talca for their help in initiating and setting up the case study, as well as the collaboration of the local participants. The authors also acknowledge the New University of Lisbon, Portugal, the University of Bergen, Norway, the University of Palermo, Italy, and the Radboud University, The Netherlands, for capacitating the undertaking of this research within the European Master Programme in System Dynamics (EMSD). The first author was supported by the EACEA (Education, Audiovisual and Culture Executive Agency of the European Commission) during the EMSD programme. CENSE is supported by the Portuguese Foundation for Science and Technology through the strategic project UID/AMB/04085/2013.
Ethics declarations
Conflict of Interest
The authors declare that they have no conflict of interest.
Electronic supplementary material
About this article
Cite this article
Meinherz, F., Videira, N. Integrating Qualitative and Quantitative Methods in Participatory Modeling to Elicit Behavioral Drivers in Environmental Dilemmas: the Case of Air Pollution in Talca, Chile. Environmental Management 62, 260–276 (2018). https://doi.org/10.1007/s00267-018-1034-5
Received:

Accepted:

Published:

Issue Date:
Keywords
Behavioral drivers

Qualitative research methods

Participatory modeling

System dynamics modeling

Urban air pollution

Talca, Chile