Abstract
In tropical forests farmers are among the most important agents of deforestation. At the interface between societies and their environment, ecosystem services (ES) is an integrated working framework through which natural and anthropogenic dimensions can be addressed. Here, we aimed to understand to what extent farmers impact ES availability. Based on case studies in three locations in the Brazilian Amazon rainforest, we performed statistical analyses at 135 sampling points and 110 farms to link socioeconomic and ES data, both derived from field work. The socioeconomic data characterized agricultural production, sociological characteristics, and quality of life. ES data were obtained from statistical analyses that yielded a multiple ES indicator for each sampling point and farm. Our results produced three main findings: first, the establishment of ES associations is due more to agricultural production characteristics than to sociological and quality-of-life factors. Second, the impact of agricultural production on ES availability depends on the level of total incomes. An increase in incomes causes a decrease in the forest cover that provides many ES and an increase in other areas that provide fewer ES. Finally, our analyses show a very strong site effect that probably expresses the heterogeneity of the biophysical contexts, but also the importance for ES availability of the historical depth of deforestation and/or the role of specific public policies. Finding ways of producing an alternative impact on ES availability and establishing specific ES associations will therefore depend more on changes in the global political context than in individual practices.
This is a preview of subscription content, log in to check access.
Access options
Buy single article
Instant access to the full article PDF.
US$ 39.95
Price includes VAT for USA
Subscribe to journal
Immediate online access to all issues from 2019. Subscription will auto renew annually.
US$ 99
This is the net price. Taxes to be calculated in checkout.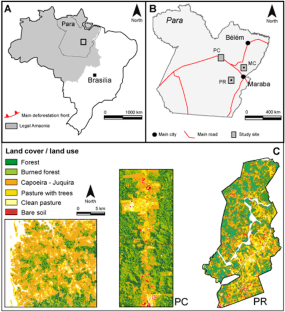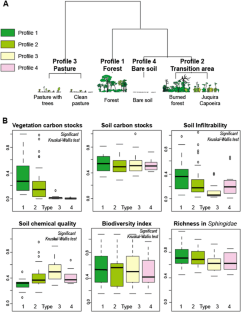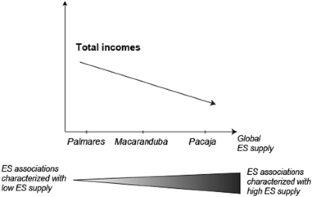 Notes
1.

Life trajectory of an individual refers to his multiple biographical components such as residential, professional or familial components (Hélardot 2006; Noël et al. 2017). These data are collected within a biographical questionnaire; year by year, the informant indicates where he was living, what he did and what the composition of his /her family was.
References
Albaladejo C, Veiga I (2002) Introdução: organizações sociais e saberes locais frente a ação de desenvolvimento. Na direção de um territorio cidadão. Agric Fam Pesqui, Form°ão e Desenvolv 1(3):1–14

Almeida-Gomes M, Rocha C (2014) Landscape connectivity may explain anuran species distribution in an Atlantic forest fragmented area. Landsc Ecol 29:29–40

Arnauld de Sartre A (2013) Des biens communs aux services écosystémiques: changement de discours ou changement de locuteur In Penser les biens communs dans le espaces ruraux: regards croisés, Laboratoire "Dynamiques rurales" de l'Université Toulouse II-Le Mirail, Toulouse, France

Arnauld de Sartre X (2006) Fronts pionniers d'Amazonie. Les dynamiques paysannes au Brésil. Espaces et milieux. CNRS, France

Arnauld de Sartre X, Sebille P (2008) Diversité des itinéraires migratoires des colons d'un front pionnier amazonien. Confins 4. http://confins.revues.org/

Arnauld De Sartre X, Oszwald J, Ramírez B, Rodríguez G, Velazquez J, Sebille P, Lavelle P (2011) Caractéristiques socio-économiques d'une intégration régionale en Amazonie colombienne (région de Florencia, Caqueta). Caravelle. Cahiers du monde hispanique et luso-brésilien 96:91–110

Arnauld de Sartre X, Oszwald J, Veiga I, Castro M, Assis WSde, Michelloti F, Rocha C, Souza H, Sebille P, Dolédec S, Lavelle P (2016) Sustainable development policies and the spread of land-sharing practices – A statistical assessment in a frontier region of the Brazilian Amazon. J Rural Stud 48:65–76

Arvor D (2009) Etude par télédétection de la dynamique du soja et de l'impact des précipitations sur les productions au Mato Grosso (Brésil), Rennes 2

Baker JT, Borris RP, Carte B, Cordell GA, Soejarto DD, Cragg GM, Gupta MP, Iwu MM, Madulid DR, Tyler VE (1995) Natural product drug discovery and development: new perspectives on international collaboration. J Nat Prod 58:1325–1357

Benjaminsen T, Svarstad H (2009) Qu'est-ce que la « political ecology »?. Nat Sci Sociétés 17:3–11

Benton TG, Bryant DM, Cole L, Crick HQP (2002) Linking agricultural practice to insect and bird populations: a historical study over three decades. J Appl Ecol 39:673–687

Beroutchavili N, Bertrand G (1978) Le géosystème ou système territorial naturel. Rev Géographique Des Pyrén Et du Sud-Ouest 49(2):167–180

Breiman L, Friedman J, Stone C, Olsen R (1984) Classification and regression trees. Boca Ratoned, USA

Burel F, Baudry J (1999) Écologie du paysage: Concepts, méthodes et applications. TEC et DOC, France

Caldas M, Walker R, Eugenio A, Stephen P, Stephen A, Simmons C (2007) Theorizing land cover and land use change: the peasant economy of Amazonian deforestation. Ann Assoc Am Geogr 97:86–110

Carrara E, Arroyo-Rodríguez V, Vega-Rivera J, Schondube J, de Freitas S, Fahrig L (2015) Impact of landscape composition and configuration on forest specialist and generalist bird species in the fragmented Lacandona rainforest, Mexico. Biol Conserv 184:117–126

Chazdon R (2003) Tropical forest recovery: legacies of human impact and natural disturbances. Perspect Plant Ecol, Evol Syst 6:51–71

Coomes O (2004) Rain forest 'conservation-through-use'? Chambira palm fibre extraction and handicraft production in a land-constrained community, Peruvian Amazon. Biodivers & Conserv 13:351–360

Cornillon P-A, Matzner-Lober E (2011) Régression avec R. Springer, France

Costa S, Gonzaga L, Miranda IS, Grimaldi M, Silva ML, Mitja D, Lima TTS (2012) Biomass in different types of land use in the Brazil's 'arc of deforestation. For Ecol Manag 278:101–109

Davidson E, de Araujo A, Artaxo P, Balch J, Brown I, Bustamante MC, Coe M, DeFries R, Keller M, Longo M, Munger W, Schroeder W, Soares-Filho B, Souza C, Wofsy S (2012) The Amazon basin in transition. Nature 481:321–328

Erle E, Pontius R (2007) Land-use and land-cover change. In: Cleveland CJ (ed) Encyclopaedia of earth environmental information. Coalition, USA

FAO (2012) State of the world's forests, 2012. Food and Agriculture Organization of the United Nation, Italy

FAO (2015) Global Forest Resources Assessment 2015. FAO Forestry Paper No.1, Food and Agriculture Organization of the United Nation, Italy

Firbank LG, Petit S, Smart S, Blain A, Fuller RJ (2008) Assessing the impacts of agricultural intensification on biodiversity: a British perspective. Philos Trans R Soc B: Biol Sci 363:777–787

Godfray H, Charles J, Blacquière T, Field LM, Hails RS, Petrokofsky G, Potts SG, Raine NE, Vanbergen AJ, McLean. AR (2014) A restatement of the natural science evidence base concerning neonicotinoid insecticides and insect pollinators. Proc R Soc B: Biol Sci 281:20140558

Grau HR, Aide TM, Zimmerman J, Thomlinson J, Helmer E, Zou X (2003) The ecological consequences of socioeconomic and land-use changes in postagriculture Puerto Rico. BioScience 53:1159–1168

Grimaldi M, Oszwald J, Dolédec S, Hurtado M, de Souza Miranda I, Arnauld de Sartre X, Assis W, Castañeda E, Desjardins T, Dubs F, Guevara E, Gond V, Lima T, Marichal R, Michelotti F, Mitja D, Noronha N, Delgado Oliveira M, Ramirez B, Rodriguez G, Sarrazin M, Silva M, Costa L, Souza S, Veiga I, Velasquez E, Lavelle P (2014) Ecosystem services of regulation and support in Amazonian pioneer fronts: searching for landscape drivers. Landsc Ecol 29:311–328

Groffman P, Baron J, Blett T, Gold A, Goodman I, Gunderson L, Levinson B, Palmer M, Paerl H, Peterson G, Poff NL, Rejeski D, Reynolds J, Turner M, Weathers K, Wiens J (2006) Ecological thresholds: the key to successful environmental management or an important concept with no practical application? Ecosystems 9:1–13

Hélardot V (2006) Parcours professionnels et histoires de santé: une analyse sous l'angle des bifurcations. Cah Int De Sociol 120:59–83

Hostiou N, Bonaudo T, Girard N, Lecomte P, Torquebiau E (2003) In: Dugue P, Jouve P (eds) Organisation spatiale et gestion des ressources et des territoires ruraux: actes du colloque international, 25–27 février 2003, CNEARC-SAGERT, ENGREF, CIRAD, 1 Cd-Rom. Montpellier, France, pp 207–214, ISBN 2-9520603-0-4

INPE Prodes (2014) Projeto Prodes Monitoramento da floresta Amazônica Brasileira por satélite. http://www.obt.inpe.br/OBT/assuntos/programas/amazonia/prodes

Kaczan D, Brent MBS, Adamowicz WL (2013) Designing a payments for ecosystem services (PES) program to reduce deforestation in Tanzania: an assessment of payment approaches. Ecol Econ 95(C):20–30

Karsenty A (2015) Major food companies, PES and combating deforestation. Using PES to achieve "zero deforestation" agriculture. Perspective 36:1–4. CIRAD. SSN-L 2275-9190

Keller A, Fournier E, Fox J (2015) Minimizing impacts of land use change on ecosystem services using multi-criteria heuristic analysis. J Environ Manag 156:23–30

Lavelle P, Dolédec S, Arnauld de Sartre XA, Decaëns T, Gond V, Grimaldi M, Oszwald J, Hubert B, Ramirez B, Veiga I, de Souza S, de Assis W, Michelotti F, Martins M, Feijoo A, Bommel P, Castañeda E, Chacon P, Desjardins T, Dubs F, Gordillo E, Guevara E, Fonte S, del Pilar Hurtado M, Lena P, Lima T, Marichal R, Mitja D, Miranda I, Otero T, Praxedes C, Poccard R, de Robert P, Rodriguez G, Sanabria C, Tselouiko S, Velasquez A, Velasquez E, Velasquez J (2016) Unsustainable landscapes of deforested Amazonia: an analysis of the relationships among landscapes and the social, economic and environmental profiles of farms at different ages following deforestation. Glob Environ Change 40:137–155

Le Clec'h S, Oszwald J, Decaens T, Desjardins T, Dufour S, Grimaldi M, Jegou N, Lavelle P (2016) Mapping multiple ecosystem services indicators: toward an objective-oriented approach. Ecol Indic 69:508–521

Le Tonneau, J-P, Sidersky P, Eloy L, Sabourin E (2010) Dynamiques et enjeux des agricultures familiales au Brésil, GeoConfluences

Lena P (1986) Aspects de la frontière amazonienne. In: Frontières, mythes et pratiques (Brésil, Nicaragua, Malaysia). Cahiers des Sciences Humaines, 22 (3/4), 319–343. ISSN 0768-9829

Lewis O (2009) Biodiversity change and ecosystem function in tropical forests. Basic Appl Ecol 10:97–102

McGarigal K, Cushman SA, Neel MC, Ene E (2002) FRAGSTATS v3: spatial pattern analysis program for categorical maps. Computer software program produced by the authors at the University of Massachusetts, MA

Metzger MJ, Rounsevell MDA, Acosta-Michlik L, Leemans R, Schröter D (2006) The vulnerability of ecosystem services to land use change. Agric Ecosyst Environ 114:69–85

Noël D, Villanova-Oliver M, Gensel J, Quéau P Le (2017) Design patterns for modelling life trajectories in the semantic web. In: Brosset D, Claramunt C, Li X, Wang T (eds) Web and Wireless Geographical Information Systems (W2GIS 2017), Vol 10181. Lecture Notes in Computer Science, Springer, Cham

Oszwald J, Arnauld de Sartre X, Decaëns T, Gond V, Grimaldi M, Lefebvre A, De Araujo Fretas RL, Lindoso de Souza S, Marichal R, Veiga I, Velasquez E, Lavelle P (2012) Utilisation de la télédétection et de données socio-économiques et écologiques pour comprendre l'impact des dynamiques de l'occupation des sols à Pacajà (Brésil). Rev Fr De Photo Et De Télédétection 198-199:8–24

Oszwald J, Grimaldi M, Le Clec'h S, Dufour S (2014) Des processus biophysiques aux indicateurs de services écosystémiques: l'apport des approches paysagères. In: Arnauld de Sartre A, Castro M, Dufour S, Oszwald J (eds) Political ecology des services écosystémiques. P. Lang, Bruxelles

Pasquis R (1999) La déforestation en Amazonie brésilienne et son impact sur l'environnement. Bois et Forêts des Tropiques 260(2):53–62

Perz SG, Walker RT, Caldas M (2006) Beyond population and environment: household demographic life cycles and land use allocation among small farms in the Amazon. Human Ecol 34:829–849

Pinton F, Aubertin C (2005) Populations traditionnelles: enquête de frontière. In: Albaladejo C, et al. (eds) L'Amazonie brésilienne et le développement durable, L'Harmattan, France, p 159–178

Polasky S, Nelson E, Pennington D, Johnson K (2011) The impact of land-use change on ecosystem services, biodiversity and returns to landowners: a case study in the State of Minnesota. Environ Resour Econ 48:219–242

Poppy GM, Chiotha S, Eigenbrod F, Harvey CA, Honzák M, Hudson MD, Jarvis A, Madise NJ, Schreckenberg K, Shackleton CM, Villa F, Dawson TP (2014) Food security in a perfect storm: using the ecosystem services framework to increase understanding. Philos Trans R Soc B 369: https://doi.org/10.1098/rstb.2012.0288

Pretty JN, Noble AD, Bossio D, Dixon J, Hine RE, Penning de Vries FWT, Morison JIL (2006) Resource-conserving agriculture increases yields in developing countries. Environ Sci Technol 40:1114–1119

Pywell RF, Heard MS, Woodcock BA, Hinsley S, Ridding L, Nowakowski M, Bullock JM (2015) Wildlife-friendly farming increases crop yield: evidence for ecological intensification. Proc R Soc B: Biol Sci 282(1816):20151740. https://doi.org/10.1098/rspb.2015.1740

Rodrigues A, Ewers R, Parry L, Souza C, Veríssimo A, Balmford A (2009) Boom-and-bust development patterns across the Amazon deforestation frontier. Science 324:1435–1437

Salles D (2006) Les défis de l'environnement: Démocratie et efficacité. Ecologie et Politique, France

Samii C, M Lisiecki, P Kulkarni, L Paler, L Chavis (2013) Protocol: effects of payment for environmental services and decentralized forest management on deforestation and poverty in low and middle income countries: a systematic review. The Campbell Collaboration International Development Coordinating Group, 10, London

Scheffer M, Bascompte J, Brock W, Brovkin V, Carpenter S, Dakos V, Held H, van Nes E, Rietkerk M, Sugihara G (2009) Early-warning signals for critical transitions. Nature 461:53–59

Scheffer M, Carpenter S, Foley J, Folke C, Walker B (2001) Catastrophic shifts in ecosystems. Nature 413:591–596

Smith A, Snapp S, Chikowo R, Thorne P, Bekunda M, Glover J (2017) Measuring sustainable intensification in smallholder agroecosystems: a review. Glob Food Secur 12:127–138

Soares-Filho B, Nepstad D, Curran L, Cerqueira G, Garcia R, Ramos C, Voll E, McDonald A, Lefebvre P, Schlesinger P (2006) Modelling conservation in the Amazon basin. Nature 440:520–523

Théry H (1997) Environnement et développement en Amazonie brésilienne. Belin, France

Théry H (2012) Le Brésil. Armand Colin, France

van Wilgen BW, Richardson DM, Le Maitre DC, Marais C, Magadlela D (2001) The economic consequences of alien plant invasions: examples of impacts and approaches to sustainable management in South Africa. Environ, Dev Sustain 3:145–168

Vance C, Klepeis P, Schmook B, Keys E (2004) Integrated land-change science and tropical deforestation in the southern Yucatan. Oxford University Press, UK

Venables WN, Ripley BD (2002) Modern Applied Statistics with S. Springer, USA

Walker R (2003) Mapping process to pattern in the landscape change of the Amazonian frontier. Ann Assoc Am Geogr 93:376–398

Zimmerer KS (2004) Cultural ecology: placing households in human-environment studies—the cases of tropical forest transitions and agrobiodiversity change. Prog Hum Geogr 28:795–806
Acknowledgements
This research was funded by the Institut des Amériques and two grants from the French Agence Nationale de la Recherche: ANR AMAZ, coordinated by P. Lavelle, and ANR AGES, coordinated by X. Arnauld de Sartre. For the measurements of ecosystem service indicators, our thanks to Thibaud Decaëns, Marlúcia B. Martins, George G. Brown, Eduardo Dias, Florence Dubs, Gregory Ferreira, Ivaneide S. Furtado, Raphaël Marichal, Catarina Praxedes, Rodolphe Rougerie, Alex Velasquez, Patrick Lavelle, Michel Grimaldi, Izildinha de Souza Miranda, William Santos de Assis, Thierry Desjardins, Tâmara Thaiz Santana Lima, Fernando Michelotti, Danielle Mitja, Norberto Cornejo Noronha, Mariana Nascimento Delgado Oliveira, Max Sarrazin, Mário Lopes da Silva Jr, Simão Lindoso de Souza, Elena Velasquez, De Araujo Fretas Rafael Lui, Valéry Gond, Bernard Hubert, Jean-François Tourrand, Alexender Feijoo, Carla Rocha, and Iran Veiga.
Ethics declarations
Conflict of Interest
The authors declare that they have no conflict of interest.
Electronic supplementary material
About this article
Cite this article
Solen, L.C., Nicolas, J., de Sartre Xavier, A. et al. Impacts of Agricultural Practices and Individual Life Characteristics on Ecosystem Services: A Case Study on Family Farmers in the Context of an Amazonian Pioneer Front. Environmental Management 61, 772–785 (2018). https://doi.org/10.1007/s00267-018-1004-y
Received:

Accepted:

Published:

Issue Date:
Keywords
Socioecological systems

Multiple ecosystem service

Deforestation

Family agriculture

Sustainable agriculture

Brazilian Amazon