Abstract
Compensation programs are used globally to increase tolerance for and help offset economic loss caused by large carnivores. Compensation program funding comes from a variety of sources, and in Wyoming and Idaho, USA and Alberta, Canada this includes revenue from hunting and fishing license sales. We review the patterns of livestock depredation and compensation costs of Alberta's predator-compensation program, and compare Alberta's program to compensation programs in neighboring Canadian and American jurisdictions. Current compensation costs in Alberta are well below historic levels, but have been rapidly increasing in recent years due to an increase in depredation events coupled with increased cattle prices. That increase has caused push back from Alberta's hunting and fishing community that finances the compensation program, although less than 3.6% of Alberta's license levy dollars are used for predator compensation. Hunting effort in Alberta is highest on the same privately owned lands with livestock depredation problems, suggesting that private lands support habitats for hunted ungulate species as well as carnivores. Although compensation programs do not prevent depredation events themselves, compensation programs effectively can support the maintenance of wildlife habitats on private lands.
This is a preview of subscription content, log in to check access.
Access options
Buy single article
Instant access to the full article PDF.
US$ 39.95
Price includes VAT for USA
Subscribe to journal
Immediate online access to all issues from 2019. Subscription will auto renew annually.
US$ 99
This is the net price. Taxes to be calculated in checkout.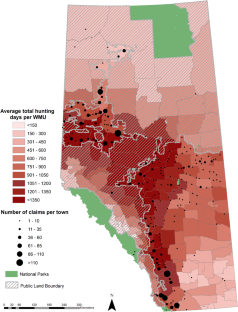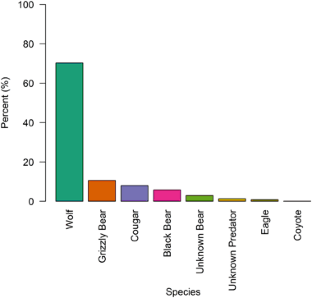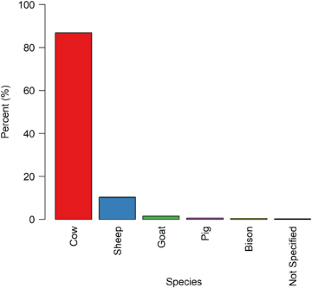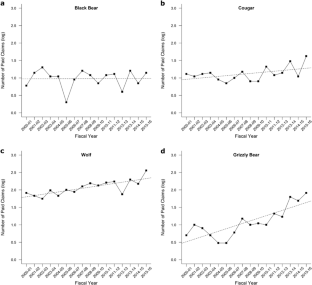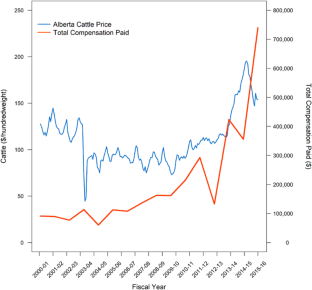 References
Alberta Grizzly Bear Recovery Plan 2008-2013 (2008) Alberta Sustainable Resource Development, Fish and Wildlife Division, Alberta Species at Risk Recovery Plan No. 15. Edmonton, p 68

Anyango-Van Zwieten N, Van Der Duim R, Visseren-Hamakers IJ (2015) Compensating for livestock killed by lions: payment for environmental services as a policy arrangement. Environ Conserv 42:363–372

Berger J, Cain SL (2014) Moving beyond science to protect a mammalian migration corridor. Conserv Biol 28:1142–1150

Bradley EH, Robinson HS, Bangs EE, Kunkel K, Jimenez MD, Gude JA, Grimm T (2015) Effects of wolf removal on livestock depredation recurrence and wolf recovery in Montana, Idaho, and Wyoming. J Wildl Manag 79:1337–1346

Brunson MW, Huntsinger L (2008) Ranching as a conservation strategy: can old ranchers save the New West?. Rangel Ecol Manag 61:137–147

Bulte EH, Rondeau D (2005) Why compensating for wildlife damages may be bad for conservation. J Wildl Manag 69:14–19

Carroll C, Noss RF, Paquet PC (2001) Carnivores as focal species for conservation planning in the Rocky Mountain region. Ecol Appl 11:961–980

Chapron G, Kaczensky P, Linnell JDC, von Arx M, Huber D, Andrén H, López-Bao JV, Adamec M, Álvares F, Anders O et al. (2014) Recovery of large carnivores in Europe's modern human-dominated landscapes. Science 346:1517–1519

Dickman AJ, Macdonald EA, Macdonald DW (2011) A review of financial instruments to pay for predator conservation and encourage human-carnivore coexistence. Proc Natl Acad Sci 34:13937–13944

Dorrance MJ (1983) A philosophy of problem wildlife management. Wildl Soc B 11:319–324

Estes JA, Terborgh J, Brashares JS, Power ME, Berger J, Bond WJ, Carpenter SR, Essington TE, Holt RD, JBC Jackson et al. (2011) Trophic downgrading of planet earth. Science 333:301–306

Fahrig L, Rytwinski T (2009) Effects of roads on animal abundance: an empirical review and synthesis. Ecol Soc 14:21

Fenson B (2016) Hunters still paying for predator compensation. Alta Outdoor 17(8):8

Fish and Wildlife Historical Society (2005) Fish, fur, feathers: fish and wildlife conservation in Alberta 1905–2005. Fish and Wildlife Historical Society and Federation of Alberta Naturalists, Edmonton

Fontúrbel FE, Simonetti JA (2011) Translocations and human-carnivore conflicts: problem solving or problem creating? Wildl Biol 17:217–224

Garshelis DL, Baruch-Mordo S, Bryant A, Gunther KA, Jerina K (2017) Is diversionary feeding an effective tool for reducing human-bear conflicts? Case studies from North America and Europe. Ursus 28:31–55

Gosnell H, Travis WR (2005) Ranchland ownership dynamics in the Rocky Mountain West. Rangel Ecol Manag 58:191–198

Graham A, Beckerman AP, Thirgood S (2005) Human-predator-prey conflicts: ecological correlates, prey losses, and patterns of management. Biol Conserv 122:159–171

Gurba JB (1982) Compensation for vertebrate pest damage. In: Marsh, RE (ed), Proceedings of the 10th Vertebrate Pest Conference. University of California, Davis, pp 90–94

Herfindal I, Linnell JDC, Moa PF, Odden J, Austmo LB, Anderson R (2005) Does recreational hunting of lynx reduce depredation losses of domestic sheep? J Wildl Manag 69:1034–1042

Holmern T, Nyahongo J, Røskaft E (2007) Livestock loss caused by predators outside the Serengeti National Park, Tanzania. Biol Conserv 135:518–526

Horstman LP, Gunson JR (1982) Black bear predation on livestock in Alberta. Wildl Soc B 10:34–39

Jacobsen KS, Linnell JD (2016) Perceptions of environmental justice and the conflict surrounding large carnivore management in Norway – Implications for carnivore management. Biol Conserv 203:197–206

Jenkins CN, Van Houtan KS, Pimm SL, Sexton JO (2015) US protected lands mismatch biodiversity priorities. Proc Natl Acad Sci 112:5081–5086

Knight RL (2007) Ranchers as a keystone species in a west that works. Rangelands 29:4–9

Knopff KH, Webb NF, Boyce MS (2014) Cougar population status and range expansion in Alberta during 1991-2010. Wildl Soc B 38:116–121

Lee T, Good K, Jamieson W, Quinn M, Krishnamurthy A (2017) Cattle and carnivore coexistence in Alberta: the role of compensation programs. Rangelands 39:10–16

Linnell JDC, Aanes R, Swenson JE, Odden J, Smith MF (1997) Translocation of carnivores as a method for managing problem animals: a review. Biodivers Conserv 6:1245–1257

Linnell JDC, Swenson JE, Andersen R (2001) Predators and people: conservation of large carnivores is possible at high human densities if management policy is favourable. Anim Conserv 4:345–349

Maestas JD, Knight RL, Gilgert WC (2002) Cows, condos, or neither: what's best for rangeland ecosystems? Rangelands 24:36–42

Mealor RD, Meiman PJ, Hild AL, Taylor DT, Thompson JS (2011) New Rangeland residents in Wyoming? A survey of exurban landowners. Rangel Ecol Manag 64:479–487

Mech LD (2012) Is science in danger of sanctifying the wolf? Biol Conserv 150:143–149

Messmer TA (2000) The emergence of human-wildlife conflict management: turning challenges into opportunities. Int Biodeter Biodegr 45:97–102

Morehouse AT, Boyce MS (2011) From venison to beef: seasonal changes in wolf diet composition in a livestock grazing landscape. Front Ecol Environ 9:440–445

Morehouse AT, Boyce MS (2016) Grizzly bears without borders: spatially explicit capture recapture in southwestern Alberta. J Wildl Manag 80:1152–1166

Morehouse AT, Boyce MS (2017a) Male dominance interferes with intercept feeding of grizzly bears. Ursus 28:66–80

Morehouse AT, Boyce MS (2017b) Troublemaking carnivores: conflicts with humans in a diverse assemblage of large carnivores. Ecol Soc 22:4. https://doi.org/10.5751/ES-09415-220304

Morehouse AT, Graves TA, Mikle N, Boyce MS (2016) Nature vs. nurture: evidence for social learning of conflict behaviour in grizzly bears. PLoS ONE 11:e0165425

Muhly TB, Hebblewhite M, Paton D, Pitt JA, Boyce MS, Musiani M (2013) Humans strengthen bottom-up effects and weaken trophic cascades in a terrestrial food web. PLoS ONE 8:e64311

Musiani M, Mamo C, Boitani L, Callaghan C, Gates CC, Mattei L, Visalberghi E, Breck S, Volpi G (2003) Wolf depredation trends and the use of fladry in western North America. Conserv Biol 17:1538–1547

Nielsen SE, Cranston J, Stenhouse GB (2009) Identification of priority areas for grizzly bear conservation and recovery in Alberta, Canada. J Conserv Plan 5:38–60

Northrup JM, Whittemyer G (2013) Characterising the impacts of emerging energy development on wildlife, with an eye toward mitigation. Ecol Lett 16:112–125

Noss RF, Quigley HB, Hornocker MG, Merrill T, Paquet PC (1996) Conservation biology and carnivore conservation in the Rocky Mountains. Conserv Biol 10:949–963

Nyhus PJ, Fisher H, Osofsky S, Madden F (2003) Taking the bite out of wildlife damange: the challenges of wildlife compensation schemes. Conserv Pract 4:37–40

Nyhus PJ, Osofsky SA, Ferraro P, Madden F, Fischer H (2005) Bearing the costs of human-wildlife conflict: the challenges of compensation schemes. In: Woodroffe R, Thirgood S, Rabinowitz A. (eds), People and wildlife: Conflict or coexistence? Cambridge University Press, Cambridge, pp 107–121

Obbard ME, Howe EJ, Wall LL, Allison B, Black R, Davis P, Dix-Gibson L, Gatt M, Hall MN (2014) Relationships among food availability, harvest, and human-bear conflict at landscape scales in Ontario, Canada. Ursus 25:98–110

Parks M, Messmer T (2016) Participant perceptions of range rider programs operating to mitigate wolf-livestock conflicts in the western United States. Wildl Soc B 40:514–524

Paton DG, Ciuti S, Quinn M, Boyce MS (2017) Hunting exacerbates the response to human disturbance in large herbivores while migrating through a road network. Ecosphere 8:1–18

Redpath SM, Young J, Evely A, Adams WM, Sutherland WJ, Whitehouse A, Amar A, Lambert RA, Linnell JDC, Watt A, Gutiérrez RJ (2013) Understanding and managing conservation conflicts. Trends Ecol Evol 28:100–109

Ripple WJ, Estes JA, Beschta RL, Wilmers CC, Ritchie EG, Hebblewhite M, Berger J, Elmhagen B, Letnic M, Nelson MP et al (2014) Status and ecological effects of the world's largest carnivores. Science 343. https://doi.org/1241484

Sawyer H, Lindzay F, McWhirter D (2005) Mule deer and pronghorn migration in western Wyoming. Wildl Soc B 33:1266–1273

Sagør JT, Swenson JE, Røskaft E (1997) Compatibility of brown bear (Ursus arctos) and free-ranging sheep in Norway. Biol Conserv 81:91–95

Sayre NF, Carlisle L, Huntsinger L, Fisher G, Shattuck A (2012) The role of rangelands in diversified farming systems: innovations, obstacles, and opportunities in the USA. Ecol Soc 17:43–61

Shivik JA (2006) Tools for the edge: what's new for conserving carnivores. BioScience 56:253–259

Shivik JA, Martin DJ (2000) Aversive and disruptive stimulus applications for managing predation. Wildl Damage Manag Conf 9:111–119

Sommers AP, Price CC, Urbigkit CD, Peterson EM (2010) Quantifying economic impacts of large-carnivore depredation on bovine calves. J Wildl Manag 74:1425–1434

Stenhouse GB, Boulanger J, Efford M, Rovang S, McKay T, Sorensen A, Graham K (2015) Estimates of grizzly bear population size and density for the 2014 Alberta Yellowhead Population Unit (BMA3) and south Jasper National Park. FRI Research Grizzly Bear Program, Hinton, Alberta, Canada

Teichman KJ, Cristescu B, Dairmont CT (2016) Hunting as a management tool? Cougar-human conflict is positively related to trophy hunting. BMC Ecol 16:44. https://doi.org/10.1186/s12898-016-0098-4

Torell LA, Bailey SA (2000) Is the profit motive an important determinant of grazing land use and the rancher motive? Western Agr Econ Assoc Annual Meeting, Vancouver, B.C. http://purl.umn.edu/36451

Treves A, Jurewicz RL, Naughton-Treves L, Wilcove DS (2009) The prices of tolerance: wolf damage payments after recovery. Biodivers Conserv 18:4003–4021

Treves A, Krofel M, McManus J (2016) Predator control should not be a shot in the dark. Front Ecol Environ 14:380–388

Van Bommel L, Johnson CN (2012) Good dog! Using livestock guardian dogs to protect livestock from predators in Australia's extensive grazing systems. Wildl Res 39:220–229

Wagner KK, Scmidt RH, Conover MR (1997) Compensation programs for widlife damage in North America. Wildl Soc B 25:312–319

Walters C (1986) Adaptive management of revewable resources. MacMillan Publishing Company, New York

Wang SW, Macdonald DW (2006) Livestock predation by carnivores in Jigme Singye Wangchuck National Park, Bhutan. Biol Conserv 129:558–565

Wielgus RB, Peebles KA (2014) Effects of wolf mortality on livestock depredations. PLoS ONE 9:e113505

Wilson SM, Madel MJ, Mattson DJ, Graham JM, Burchfield JA, Belsky JM (2005) Natural landscape features, human-related attractants, and conflict hotspots: a spatial analysis of human–grizzly bear conflicts. Ursus 16:117–129

Woodroffe R (2000) Predators and people: using human densities to interpret declines of large carnivores. Anim Conserv 3:165–173
Acknowledgements
We thank the Alberta Conservation Association for access to the predator compensation data. Thanks to the Alberta Government for access to hunting effort data as well as background shapefiles used to make the maps. A. Morehouse was supported by a grant from Shell Canada. M. Boyce acknowledges continuing support from the Alberta Conservation Association and the Natural Sciences and Engineering Research Council of Canada. We thank Todd Zimmerling, Adam Ford, and an anonymous reviewer who provided helpful feedback earlier versions of this manuscript.
Ethics declarations
Conflict of interest
The authors declare that they have no conflict of interest.
Electronic supplementary material
About this article
Cite this article
Morehouse, A.T., Tigner, J. & Boyce, M.S. Coexistence with Large Carnivores Supported by a Predator-Compensation Program. Environmental Management 61, 719–731 (2018). https://doi.org/10.1007/s00267-017-0994-1
Received:

Accepted:

Published:

Issue Date:
Keywords
Alberta

Compensation

Depredation

Human-wildlife conflicts

Livestock

Predator