Abstract
Poor condition of many streams and concerns about future droughts in the arid and semi-arid western USA have motivated novel restoration strategies aimed at accelerating recovery and increasing water resources. Translocation of beavers into formerly occupied habitats, restoration activities encouraging beaver recolonization, and instream structures mimicking the effects of beaver dams are restoration alternatives that have recently gained popularity because of their potential socioeconomic and ecological benefits. However, beaver dams and dam-like structures also harbor a history of social conflict. Hence, we identified a need to assess the use of beaver-related restoration projects in western rangelands to increase awareness and accountability, and identify gaps in scientific knowledge. We inventoried 97 projects implemented by 32 organizations, most in the last 10 years. We found that beaver-related stream restoration projects undertaken mostly involved the relocation of nuisance beavers. The most common goal was to store water, either with beaver dams or artificial structures. Beavers were often moved without regard to genetics, disease, or potential conflicts with nearby landowners. Few projects included post-implementation monitoring or planned for longer term issues, such as what happens when beavers abandon a site or when beaver dams or structures breach. Human dimensions were rarely considered and water rights and other issues were mostly unresolved or addressed through ad-hoc agreements. We conclude that the practice and implementation of beaver-related restoration has outpaced research on its efficacy and best practices. Further scientific research is necessary, especially research that informs the establishment of clear guidelines for best practices.
Access options
Buy single article
Instant access to the full article PDF.
US$ 39.95
Tax calculation will be finalised during checkout.
Subscribe to journal
Immediate online access to all issues from 2019. Subscription will auto renew annually.
US$ 79
Tax calculation will be finalised during checkout.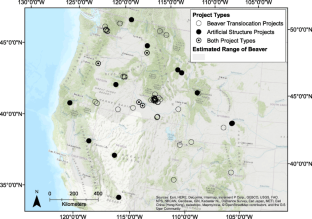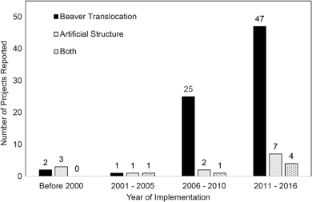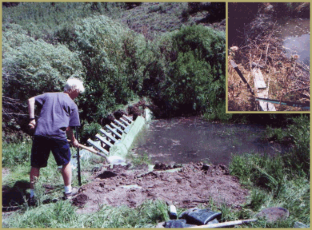 References
Andersen DC, Shafroth PB (2010) Beaver dams, hydrological thresholds, and controlled floods as a management tool in a desert reverine ecosystem, Bill Williams River, Arizona. Ecohydroogy 3(3):325–338

Ault TR, Mankin JS, Cook BI, Smerdon JE (2016) Relative impacts of mitigation, temperature, and precipitation on 21st-century megadrought risk in the American Southwest. Sci Adv 2:e1600873

Baldwin J (2013) Problematizing beaver habitat identification models for reintroduction application in the western United States. Yearb Assoc Pac Coast Geogr 75:104–120

Beechie T, Richardson JS, Gurnell AM, Negishi J (2012) Watershed processes, human impacts, and process‐based restoration. stream and watershed restoration: a guide to restoring riverine processes and habitats, pp 11–49

Belsky AJ, Matzke A, Uselman S (1999) Survey of livestock influences on stream and riparian ecosystems in the western United States. J Soil Water Conserv 54(1):419–431

Bernard H (2011) Research methods in Anthropology: Qualitative and quantitative approaches, 5th edn. AltaMira, Lanham, MD, p 680

Beschta RL, Donahue DL, DellaSala DA, Rhodes JJ, Karr JR, O'Brien MH, Fleischner TL, Williams CD (2013) Adapting to climate change on western public lands: addressing the ecological effects of domestic, wild, and feral ungulates. Environ Manag 51:474–491

Bouwes N, Weber N, Jordan CE, Saunders WC, Tattam IA, Volk C, Wheaton JM, Pollock MM (2016) Ecosystem experiment reveals benefits of natural and simulated beaver dams to a threatened population of steelhead (Oncorhynchus mykiss). Scientific Reports 6

Butler DR (2012) Characteristics of beaver ponds on deltas in a mountain environment. Earth Surf Process Landf 37(8):876–882

Collen P, Gibson RJ (2001) The general ecology of beavers (Castor spp.), as related to their influence on stream ecosystems and riparian habitats, and the subsequent effects on fish- a review. Rev Fish Biol Fish 10:439–461

Cook HA, Zack S (2008) Influence of beaver dam density on riparian areas and riparian birds in shrubsteppe of Wyoming. West North Am Nat 68:365–373

Davee R, Charnley S, Gosnell H (2017) Silvies Valley Ranch, Oregon: Using artificial beaver dams to restore incised streams. USDA Northwest Climate Hub: Research Note PNW-RN-577, 12 pp

Donnelly JP, Naugle DE, Hagen CA, Maestas JD (2016) Public lands and private waters: scarce mesic resources structure land tenure and sage‐grouse distributions. Ecosphere 7:e01208

Feiner K, Lowry CS (2015) Simulating the effects of a beaver dam on regional groundwater flow through a wetland. J Hydrol 4:675–685

Gibson PP, Olden JD (2014) Ecology, management, and conservation implications of North American beaver (Castor canadensis) in dryland streams. Aquat Conserv 24:391–409

Hershkovitz Y, Gasith A (2013) Resistance, resilience, and community dynamics in mediterranean-climate streams. Hydrobiologia 719:59–75

Hood GA, Bayley SE (2008) Beaver (Castor canadensis) mitigate the effects of climate on the area of open water in boreal wetlands in western Canada. Biol Conserv 141:556–567

Hough-Snee N, Roper BB, Wheaton JM, Budy P, Lokteff RL (2013) Riparian vegetation communities change rapidly following passive restoration at a northern Utah stream. Ecol Eng 58:371–377

Huntington J, McGwire K, Morton C, Snyder K, Peterson S, Erickson T, Niswonger R, Carroll R, Smith G, Allen R (2016) Assessing the role of climate and resource management on groundwater dependent ecosystem changes in arid environments with the Landsat archive. Remote Sens Environ 185:186–197

Jenkins SH, Busher PE (1979) Castor canadensis. Mamm Species 120:1–8

Larson JS, Gunson JR (1983) Status of the beaver in North America. Actua Zool Fenn 174:91–93

Lingo HA (2013) Beaver Reintroduction correlates with spotted frog population restoration and terrestrial movement patterns of the newly metamorphosed Columbia spotted frogs in the Owyhee uplands of southwestern Idaho. Boise State University Thesis

Macfarlane WW, Wheaton JM, Bouwes N, Jensen M, Hough-Snee N, Shivick J (2017) Modeling the capacity of riverscapes to support beaver dams. Geomorphology 277:72–99

Macfarlane WW, Wheaton JM, Jensen ML (2014) The beaver restoration assessment tool: a decision support & planning tool for utah. ecogeomorphology and topographic analysis lab, Utah State University, Prepared for Utah Division of Wildlife Resources, Logan, Utah, p 142 http://etal.usu.edu/BRAT/

Magoulick DD, Kobza RM (2003) The role of refugia for fishes during drought: a review and synthesis. Freshw Biol 48:1186–1198

Majerova M, Neilson BT, Schmadel NM, Wheaton JM, Snow CJ (2015) Impacts of beaver dams on hydrologic and temperature regimes in a mountain stream. Hydrol Earth Syst Sci 19:3541–3556

Malison RL, Lorang MS, Whited DC, Stanford JA (2014) Beavers (Castor canadensis) influence habitat for juvenile salmon in a large Alaskan river floodplain. Freshw Biol 59:1229–1246

McKinstry MC, Anderson SH (1999) Attitudes of Private- and Public-Land Managers in Wyoming, USA, Toward Beaver. Environ manag 23 (1):95–101

McKinstry MC, Anderson SH (2002) Survival, fates, and success of transplanted beavers, Castor canadensis, in Wyoming. Can Field-Nat 116:60–68

Miller J, Germanoski D, Waltman K, Tausch R, Chambers J (2001) Influence of late Holocene hillslope processes and landforms on modern channel dynamics in upland watersheds of central Nevada. Geomorphology 38:373–391

Miller JR, Lord ML, Villarroel LF, Germanoski D, Chambers JC (2012) Structural organization of process zones in upland watersheds of central Nevada and its influence on basin connectivity, dynamics, and wet meadow complexes. Geomorphology 139:384–402

Müller-Schwarze D (2011) The beaver: its life and impact. Cornell University Press

Munger JC, Lingo HA (2003) Reintroduction of beaver to aid restoration of the spotted frog population at Stoneman Creek. Technical Report Submitted to the US Bureau of Land Management. Boise, Idaho

Naiman RJ, Johnston CA, Kelly JC (1988) Alteration of North American streams by beaver. BioScience 38:753–762

Natureserve (2017) NatureServe Explorer: An online encyclopedia of life [web application]. Version 7.0. NatureServe, Arlington, VA. USA. http://explorer.natureserve.org. Accessed 27 Sept 2017

Novak M (1987) Beaver. In: Novak M, Baker JA, Obbard ME, Malloch B (eds) Wild furbearer management and conservation in North America. Ontario Trappers Assoc., North Bay

Obbard ME, Jones JG, Newman R, Booth A, Satterthwaite A, Linscombe G (1987) Furbearer harvests in North America. Wild Furbearer Management and Conservation in North America. Ontario Ministry of Natural Resources and the Ontario Trappers Association, pp 1007–1034

Pearl CA, Adams MJ, Haggerty PK, Urban L (2015) Using occupancy models to accommodate uncertainty in the interpretation of aerial photograph data: Status of beaver in Central Oregon, USA. Wildl Soc Bull 39(2):319–325

Petro VM, Taylor JD, Sanchez DM (2015) Evaluating landowner-based beaver relocation as a tool to restore salmon habitat. Glob Ecol Conserv 3:477–486

Pollock MM, Beechie TJ, Wheaton JM, Jordan CE, Bouwes N, Weber N, Volk C (2014) Using beaver dams to restore incised stream ecosystems. BioScience 64:279–290

Pollock MM, Lewallen G, Woodruff K, Jordan CE, Castro JM (2015) The beaver restoration guidebook: working with beaver to restore streams. Wetlands, and Floodplains. Version 1.02. United States Fish and Wildlife Service, Portland, Oregon, p 189, http://www.fws.gov/oregonfwo/ToolsForLandowners/RiverScience/Beaver.asp

Pollock MM, Naiman, RJ, Erickson HE, Johnston CA, Pastor J, Pinay G (1995) Beaver as engineers: influences on biotic and abiotic characteristics of drainage basins. In: Jones CG, Lawton JH (eds) Linking Species & Ecosystems, Chapman and Hall, New York, NY, p 117–126

Polvi LE, Wohl E (2013) Biotic drivers of stream planform implications for understanding the past and restoring the future. BioScience 63:439–452

Reich P, McMaster D, Bond N, Metzeling L, Lake PS (2010) Examining the ecological consequences of restoring flow intermittency to artificially perennial lowland streams: patterns and predictions from the Broken—Boosey creek system in Northern Victoria, Australia. River Res Appl 26:529–545

Schulte BA, Müller-Schwarze D (1999) Understanding North American beaver behavior as an aid to management. In: Busher PE, Dzieciolowski RM (eds) Beaver protection, management, and utilization in Europe and North America, Plenum Press, New York, p 161–177

Swanson SR, Wyman S, Evans C (2015) Practical grazing management to meet riparian objectives. J Rang Appl 2:1–28

Viggers KL, Lindenmayer DB, Spratt DM (1993) The importance of disease in reintroduction programmes. Wildl Res 20:687–698

Warren ER, Hall ER (1939) A new subspecies of beaver from Colorado. J Mammal 20:358–362

Weber N, Bouwes N, Pollock MM, Volk C, Wheaton JM, Wathen G, Wirtz J, Jordan CE (2017) Alteration of stream temperature by natural and artificial beaver dams. PloS One 12(5):e0176313

White SL, Gowan C, Fausch KD, Harris JG, Saunders WC (2011) Response of trout populations in five Colorado streams two decades after habitat manipulation. Can J Fish Aquat Sci 68:2057–2063

Williams JE, Neville HM, Haak AL, Colyer WT, Wenger SJ, Bradshaw S (2015) Climate change adaptation and restoration of western trout streams: opportunities and strategies. Fisheries 40:304–317

Wohl E (2013) Landscape‐scale carbon storage associated with beaver dams. Geophys Res Lett 40:3631–3636
Acknowledgements
This research was supported by the U.S. Department of the Interior Northwest Climate Science Center and the U.S. Department of Agriculture Northwest Climate Hub. We thank the many individuals who graciously shared information about their beaver-related restoration projects with us. Pedro Marques and James Munger provided photographs for Figures 3B and 4, respectively. The manuscript was improved thanks to helpful comments from Jimmy Taylor (ARS), Christopher Pearl (USGS), and four anonymous reviewers. Justin Welty assisted with mapping and database design. Any use of trade, firm, or product names is for descriptive purposes only and does not imply endorsement by the U.S. Government.
Ethics declarations
Conflict of Interest
The authors declare that they have no competing interests.
Electronic supplementary material
About this article
Cite this article
Pilliod, D.S., Rohde, A.T., Charnley, S. et al. Survey of Beaver-related Restoration Practices in Rangeland Streams of the Western USA. Environmental Management 61, 58–68 (2018). https://doi.org/10.1007/s00267-017-0957-6
Received:

Accepted:

Published:

Issue Date:
Keywords
Beaver dam analog

Castor canadensis

Check-dam

Incised stream

Water

Wildlife