Abstract
Modern challenges require new approaches to urban water management. One solution in the portfolio of potential strategies is the integration of distributed water infrastructure, practices, and technologies into existing systems. However, many practical barriers have prevented the widespread adoption of these systems in the US. The objective of this paper is to address these challenges by developing a conceptual model encompassing regulatory, financial, and governance components that can be used to incorporate new distributed water solutions into our current network. To construct the model, case studies of successfully implemented distributed electricity systems, specifically energy efficiency and renewable energy technologies, were examined to determine how these solutions have become prominent in recent years and what lessons can be applied to the water sector in a similar pursuit. The proposed model includes four action-oriented elements: catalyzing change, establishing funding sources, using resource pathways, and creating innovative governance structures. As illustrated in the model, the water sector should use suite of coordinated policies to promote change, engage end users through fiscal incentives, and encourage research, development and dissemination of new technologies over time.
Access options
Buy single article
Instant access to the full article PDF.
USD 39.95
Price excludes VAT (USA)
Tax calculation will be finalised during checkout.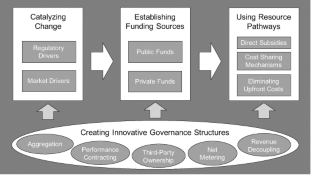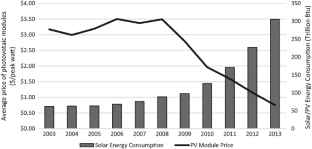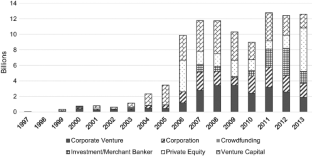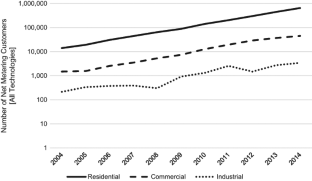 References
Abdallah AM, Rosenberg DE (2014) Heterogeneous residential water and energy linkages and implications for conservation and management. J Water Resour Plan Manag 140:288–297. doi: 10.1061/(ASCE)WR.1943-5452.0000340

Ajami NK, Christian-Smith J (2013) Beyond Water Pricing: An Overview of Water Financing Options in California. Pacific Institute, Oakland, CA

Ajami NK, Thomspon BHJ, Victor DG (2014) The Path to Water Innovation. The Brookings Institution, Washington, DC

Alagappan L, Orans R, Woo CK (2011) What drives renewable energy development? Energy Policy 39:5099–5104. doi:10.1016/j.enpol.2011.06.003

Alanne K, Saari A (2006) Distributed energy generation and sustainable development. Renew Sustain Energy Rev 10:539–558. doi:10.1016/j.rser.2004.11.004

American Water Works Association (2015) 2015 AWWA State of the Water Industry Report. Denver, CO

Arbuckle JG (2013) Clean water state revolving fund loans and landowner investments in agricultural best management practices in Iowa. J Am Water Resour Assoc 49:67–75. doi:10.1111/j.1752-1688.2012.00688.x

Arnold B (2015) 2015 State of Solar Financing, Part I: What is a Yieldco? The Energy Collective. http://www.theenergycollective.com/boydarnold/2215456/what-yieldco

Arora M, Malano H, Davidson B et al (2015) Interactions between centralized and decentralized water systems in urban context: A review. Wiley Interdiscip Rev Water 2:623–634. doi: 10.1002/wat2.1099

Bartos MD, Chester MV (2014) The conservation nexus: Valuing interdependent water and energy savings in Arizona. Environ Sci Technol 48:2139–2149. doi:10.1021/es4033343

Bichai F, Ryan H, Fitzgerald C et al. (2015) Understanding the role of alternative water supply in an urban water security strategy: an analytical framework for decision-making. Urban Water J 12:175–189. doi:10.1080/1573062X.2014.895844

Bingaman J, Shultz GP, Reicher D et al. (2014) The State Clean Energy Cookbook: A Dozen Recipes for State Action on Energy Efficiency and Renewable Energy. Steyer-Taylor Center for Energy Policy and Finance, Stanford, CA

Bird L, Bolinger M, Gagliano T et al. (2005) Policies and market factors driving wind power development in the United States. Energy Policy 33:1397–1407. doi:10.1016/j.enpol.2003.12.018

Blumstein C, Goldman C, Barbose G (2005) Who should administer energy-efficiency programs? Energy Policy 33:1053–1067. doi:10.1016/j.enpol.2003.11.006

Bobinaite V, Tarvydas D (2014) Financing instruments and channels for the increasing production and consumption of renewable energy: Lithuanian case. Renew Sustain Energy Rev 38:259–276. doi:10.1016/j.rser.2014.05.039

Booth S, Doris E, Knutson D, Regenthal S (2011) Using Revolving Loan Funds to Finance Energy Savings Performance Contracts in State and Local Agency Applications Renewable Energy Laboratory, Golden, CO

Bouffard F, Kirschen DS (2008) Centralised and distributed electricity systems. Energy Policy 36:4504–4508. doi:10.1016/j.enpol.2008.09.060

Boyle CE (2014) Adapting to change: Water utility financial practices in the early twenty-first century. Journal-American Water Work Assoc 106:63–64. doi:10.5942/jawwa.2014.106.0015

Brennan TJ (2010) Decoupling in electric utilities. J Regul Econ 38:49–69. doi:10.1007/s11149-010-9120-5

Burns JE, Kang JS (2012) Comparative economic analysis of supporting policies for residential solar PV in the United States: Solar Renewable Energy Credit (SREC) potential. Energy Policy 44:217–225. doi:10.1016/j.enpol.2012.01.045

Byrne J, Hughes K, Rickerson W, Kurdgelashvili L (2007) American policy conflict in the greenhouse: Divergent trends in federal, regional, state, and local green energy and climate change policy. Energy Policy 35:4555–4573. doi:10.1016/j.enpol.2007.02.028

California Energy Commission (2016) Energy Efficiency Financing. http://www.energy.ca.gov/efficiency/financing/. Accessed 15 Jun 2016

Carley S (2009) Distributed generation: an empirical analysis of primary motivators. Energy Policy 37:1648–1659. doi:10.1016/j.enpol.2009.01.003

Carley S (2011) The era of state energy policy innovation: a review of policy instruments. Rev Policy Res 28:265–294. doi:10.1111/j.1541-1338.2011.00495.x

Carley S (2012) Energy demand-side management: new perspectives for a new era. J Policy Anal Manag 31:6–32. doi:10.1002/pam.20618

Carley S, Browne TR (2013) Innovative US energy policy: a review of states' policy experiences. Wiley Interdiscip Rev Energy Environ 2:488–506. doi:10.1002/wene.58

Chini CM, Schreiber KL, Barker ZA, Stillwell AS (2016) Quantifying energy and water savings in the U.S. residential sector.Environ Sci Technol . doi:10.1021/acs.est.6b01559

Clark S (2016) Santa Cruz County water experts take cue from solar industry. Santa Cruz Sentinel. http://www.santacruzsentinel.com/article/NE/20160425/NEWS/160429807

Cleantech Group (2014) i3 Quarterly Innovation Monitor. https://i3connect.com/front_page?ref=%2F. Accessed 11 May 2014

Copeland C (2015) Water Infrastructure Financing: The Water Infrastructure Finance and Innovation Act (WIFIA) Program. Congressional Research Service, Washington, DC

Coughlin J, Cory K (2009) Solar Photovoltaic Financing: Residential Sector Development. National Renewable Energy Laboratory, Golden, CO

Darghouth NR, Barbose G, Wiser R (2011) The impact of rate design and net metering on the bill savings from distributed PV for residential customers in California. Energy Policy 39:5243–5253. doi:10.1016/j.enpol.2011.05.040

Datta S, Gulati S (2014) Utility rebates for ENERGY STAR appliances: are they effective? J Environ Econ Manage 68:480–506. doi:10.1016/j.jeem.2014.09.003

Delta Stewardship Council (2013) The Delta Plan. Chapter 3: A More Reliable Water Supply for California. Delta Stewardship Council, Sacramento, CA. http://deltacouncil.ca.gov/sites/default/files/documents/files/CH_03_2013.pdf

Dhakal KP, Chevalier LR (2016) Urban stormwater governance: the need for a paradigm shift. Environ Manage 57:1112–1124. doi:10.1007/s00267-016-0667-5

Dinica V (2006) Support systems for the diffusion of renewable energy technologies - An investor perspective. Energy Policy 34:461–480. doi:10.1016/j.enpol.2004.06.014

Donnelly K, Christian-Smith J, Cooley H (2013) Pricing Practices in the Electricity Sector to Promote Conservation and Efficiency: Lessons for the Water Sector. Pacific Institute, Oakland, CA

Doris E, Cochran J, Vorum M (2009) Energy Efficiency Policy in the United States: Overview of Trends at Different Levels of Government. National Renewable Energy Laboratory, Golden, CO

Escriva-Bou A, Lund JR, Pulido-Velazquez M (2015) Optimal residential water conservation strategies considering related energy in California. Water Resour Res 51:4482–4498. doi:10.1002/2014WR016821

Freeman R (2014) 3 Green Investments: Yieldcos, Energy REITs and Crowdsourcing. In: Poplar Netw. https://www.poplarnetwork.com/news/3-green-investments-yieldcos-energy-reits-and-crowdsourcing.

Garrison N, Hobbs K (2011) Rooftops to Rivers II: Green strategies for controlling stormwater and combined sewer overflows. Natural Resources Defense Council, New York, NY

Geller H, Harrington P, Rosenfeld AH et al. (2006) Polices for increasing energy efficiency: Thirty years of experience in OECD countries. Energy Policy 34:556–573. doi:10.1016/j.enpol.2005.11.010

Gillingham K, Newell R, Palmer K (2006) Energy efficiency policies: a retrospective examination. Annu Rev Environ Resour 31:161–192. doi:10.1146/annurev.energy.31.020105.100157

Gleick PH (2003) Global freshwater resources: soft-path solutions for the 21st century. Science (80-) 302:1524–1528. doi:10.1126/science.1089967

Goldman CA, Hopper NC, Osborn JG (2005) Review of US ESCO industry market trends: An empirical analysis of project data. Energy Policy 33:387–405. doi:10.1016/j.enpol.2003.08.008

Goldman Sachs, DC Water and Sewer Authority, Calvert Foundation (2016) FACT SHEET DC Water Environmental Impact Bond. http://www.goldmansachs.com/media-relations/press-releases/current/dcwater-environmental-impact-bond-fact-sheet.pdf

Golin C, Cox M, Brown M, Thomas V (2015) The water efficiency gap. Sustain Water Resour Manag 1:315–324. doi:10.1007/s40899-015-0025-4

Gonzales P, Ajami NK (2017) An integrative regional resilience framework for the changing urban water paradigm. Sustain Cities Soc 30:128–138. doi:10.1016/j.scs.2017.01.012

Hamiche AM, Stambouli AB, Flazi S (2016) A review of the water-energy nexus. Renew Sustain Energy Rev 65:319–331. doi:10.1016/j.rser.2016.07.020

Hanak E, Gray B, Lund J et al. (2014) Paying for water in California. Public Policy Institute of California, San Francisco, CA

Hering JG, Waite TD, Luthy RG et al. (2013) A changing framework for urban water systems. Environ Sci Technol 47:10721–10726. doi:10.1021/es4007096

Hornberger GM, Hess DJ, Gilligan J et al. (2015) Water conservation and hydrological transitions in cities in the United States. Water Resour Res 51:4635–4649. doi:10.1002/2014WR015716

Hukka JJ, Katko TS (2015) Appropriate pricing policy needed worldwide for improving water services infrastructure. Journal-American Water Work Assoc 107:E37–E46. doi:10.5942/jawwa.2015.107.0007

Hussain MZ (2013) Financing Renewable Energy: Options for Developing Financing Instruments Using Public Funds. World Bank, Washington, DC

Jacobsson S, Johnson A (2000) The diffusion of renewable energy technology: An analytical framework and key issues for research. Energy Policy 28:625–640. doi: 10.1016/S0301-4215(00)00041-0

Johnstone N, Haščič I, Popp D (2010) Renewable energy policies and technological innovation: evidence based on patent counts. Environ Resour Econ 45:133–155. doi:10.1007/s10640-009-9309-1

Kenney DS (2014) Understanding utility disincentives to water conservation as a means of adapting to climate change pressures. Journal-American Water Work Assoc 106:36–46. doi:10.5942/jawwa.2014.106.0008

Kenney DS, Goemans C, Klein R et al. (2008) Residential water demand management: lessons from Aurora, Colorado. JAWRA J Am Water Resour Assoc 44:192–207. doi:10.1111/j.1752-1688.2007.00147.x

Kenway S, McMahon J, Elmer V et al. (2013) Managing water-related energy in future cities – a research and policy roadmap. J Water Clim Chang 4:161–175. doi:10.2166/wcc.2013.063

Kim C, Lewis R, O'Connor R, Broome G (2014) Innovations and Opportunities in Energy Efficiency Finance. Wilson Sonsini Goodrich & Rosati, New York, NY

Kiparsky M, Sedlak DL, Thompson BH, Truffer B (2013) The innovation deficit in urban water: the need for an integrated perspective on institutions, organizations, and technology. Environ Eng Sci 30:395–408. doi:10.1089/ees.2012.0427

Kirchhoff CJ, Dilling L (2016) The role of U.S. states in facilitating effective water governance under stress and change. Water Resour Res 52:2951–2964. doi:10.1002/2015WR018431

Kirkpatrick AJ, Bennear LS (2014) Promoting clean energy investment: an empirical analysis of property assessed clean energy. J Environ Econ Manage 68:357–375. doi:10.1016/j.jeem.2014.05.001

Kondo MC, Low SC, Henning J, Branas CC (2015) The impact of green stormwater infrastructure installation on surrounding health and safety. Am J Public Health 105:e114–e121. doi:10.2105/AJPH.2014.302314

Kreycik C, Coughlin J (2009) Financing Public Sector Projects with Clean Renewable Energy Bonds (CREBs). National Renewable Energy Laboratory, Golden, CO

Kushler M, York D, Witte P (2004) Five years in: An examination of the first half-decade of public benefits energy efficiency policies. American Council for an Energy-Efficient Economy, Washington, DC

Lantz E, Doris E (2009) State Clean Energy Practices: Renewable Energy Rebates. National Renewable Energy Laboratory, Golden, CO

Larsen TA, Hoffmann S, Lüthi C et al. (2016) Emerging solutions to the water challenges of an urbanizing world. Science (80-) 352:928–933. doi:10.1017/CBO9781107415324.004.

Leurig S, Brown J (2014) Bond Financing Distributed Water Systems: How to make better use of our most liquid market for financing water infrastructure. Ceres, Boston, MA

Levinson DM (2002) Financing Infrastructure Over Time. J Urban Plan Dev 127:146–157

Lohan T (2016) San Francisco Makes History With New Water Bond. News Deeply. https://www.newsdeeply.com/water/articles/2016/05/23/san-francisco-launches-water-funding-initiative

Loock M (2012) Going beyond best technology and lowest price: On renewable energy investors' preference for service-driven business models. Energy Policy 40:21–27. doi:10.1016/j.enpol.2010.06.059

Luthy RG, Sedlak DL (2015) Urban water-supply reinvention. Daedalus 144:72–82. doi:10.1162/DAED_a_00343

Makropoulos CK, Butler D (2010) Distributed water infrastructure for sustainable communities. Water Resour Manag 24:2795–2816. doi:10.1007/s11269-010-9580-5

Mantz BA, Thomas HL (2012) Utility impact fees: practices and challenges. Journal-American Water Work Assoc 104:63–64. doi:10.5942/jawwa.2012.104.0053

Masini A, Menichetti E (2012) The impact of behavioural factors in the renewable energy investment decision making process: Conceptual framework and empirical findings. Energy Policy 40:28–38. doi:10.1016/j.enpol.2010.06.062

Mathews JA, Kidney S, Mallon K, Hughes M (2010) Mobilizing private finance to drive an energy industrial revolution. Energy Policy 38:3263–3265. doi:10.1016/j.enpol.2010.02.030

Mehan GT, Kline I (2012) Pricing as a demand-side management tool: implications for water policy and governance. Journal-American Water Work Assoc 104:61–66. doi:10.5942/jawwa.2012.104.0011

Menz FC, Vachon S (2006) The effectiveness of different policy regimes for promoting wind power: experiences from the states. Energy Policy 34:1786–1796. doi:10.1016/j.enpol.2004.12.018

Miara A, Tarr C, Spellman R et al. (2014) The power of efficiency: optimizing environmental and social benefits through demand-side-management. Energy 76:502–512. doi:10.1016/j.energy.2014.08.047

Milford L, Muro M, Morey J et al. (2012) Leveraging State Clean Energy Funds for Economic Development. The Brookings-Rockefeller Project on State and Metropolitan Innovation, Washington, DC

Motyka M, Boufarah B, Sanborn S, Stevens T (2015) U.S. renewable M&A Revs up despite headwinds. Electr J 28:80–89. doi:10.1016/j.tej.2015.05.006

Mukheibir P, Howe C, Gallet D (2014) What's getting in the way of a "One Water" approach to water services planning and management? An analysis of the challenges and barriers. Water J Aust Water Assoc 41:67–73

National Association of Energy Service Companies (2016) What is an ESCO? http://www.naesco.org/what-is-an-esco. Accessed 15 Jun 2016

Nicola DJ (2013) Environmental Impact Bonds. Duke University's Fuqua School of Business, Durham, NC

Nissen W, Williams S (2016) The link between decoupling and success in utility-led energy efficiency. Electr J 29:59–65. doi:10.1016/j.tej.2016.02.003

Niu H, Clark C, Zhou J, Adriaens P (2010) Scaling of economic benefits from green roof implementation in Washington, DC. Environ Sci Technol 44:4302–4308. doi:10.1021/es902456x

North Carolina Clean Energy Technology Center (2016) Database of State Incentives for Renewables and Efficiency (DSIRE). http://dsireusa.org/. Accessed 4 Apr 2016

Office of Electricity Delivery and Energy Reliability (2016) Distributed Energy. http://energy.gov/oe/technology-development/smart-grid/distributed-energy. Accessed 14 Mar 2016

Office of Energy Efficiency and Renewable Energy (2015) Qualified energy conservation bonds. http://energy.gov/eere/slsc/qualified-energy-conservation-bonds. Accessed 1 Nov 2015

Owens B (2014) The rise of distributed power. General Electric Company, Denver, CO

Penn I (2015) Clean-energy lender Renovate America tops $1 billion in loans. Los Angeles Times. http://www.latimes.com/business/la-fi-solar-renovate-america-20151113-story.html

Plowe J, McMahon D, Phillips J, Rosen G (2014) Alternative capital markets solutions in renewable energy finance. J Struct Financ 20:46–48. doi:10.3905/jsf.2014.20.3.046

Prindle B, Eldridge M (2007) The Twin Pillars of Sustainable Energy: Synergies between Energy Efficiency and Renewable Energy Technology and Policy. American Council for an Energy Efficient Economy, Washington, DC

Puentes R, Thompson J (2012) Banking on Infrastructure: Enhancing State Revolving Funds for Transportation. The Brookings-Rockefeller Project on State and Metropolitan Innovation, Washington, DC

Rogers P, De Silva R, Bhatia R (2002) Water is an economic good: How to use prices to promote equity, efficiency, and sustainability. Water Policy 4:1–17. doi: 10.1016/S1366-7017(02)00004-1

Sanchez MC, Brown RE, Webber C, Homan GK (2008) Savings estimates for the United States environmental protection agency's ENERGY STAR voluntary product labeling program. Energy Policy 36:2098–2108. doi:10.1016/j.enpol.2008.02.021

Sener C, Fthenakis V (2014) Energy policy and financing options to achieve solar energy grid penetration targets: Accounting for external costs. Renew Sustain Energy Rev 32:854–868. doi:10.1016/j.rser.2014.01.030

Sharma A, Burn S, Gardner T, Gregory A (2010) Role of decentralised systems in the transition of urban water systems. Water Sci Technol Water Supply 10:577–583. doi:10.2166/ws.2010.187

Siddiqi A, Kajenthira A, Anadn LD et al. (2013) Bridging decision networks for integrated water and energy planning. Energy Strateg Rev 2:46–58. doi:10.1016/j.esr.2013.02.003

Solar Energy Industries Association (2016) Solar Investment Tax Credit (ITC). http://www.seia.org/policy/finance-tax/solar-investment-tax-credit. Accessed 10 Jun 2016

Sousa JL, Martins AG, Jorge H (2013) Dealing with the paradox of energy efficiency promotion by electric utilities. Energy 57:251–258. doi:10.1016/j.energy.2013.02.040

Sovacool BK (2009) The importance of comprehensiveness in renewable electricity and energy-efficiency policy. Energy Policy 37:1529–1541. doi:10.1016/j.enpol.2008.12.016

State and Local Energy Efficiency Action Network (2014) Financing Energy Improvements on Utility Bills: Market Updates and Key Program Design Considerations for Policymakers and Administrators. Prepared by: Mark Zimring, Greg Leventis, Merrian Borgeson, Peter Thompson, Ian Hoffman and Charles Goldman of Lawrence Berkeley National Laboratory, Golden, CO. https://www4.eere.energy.gov/seeaction/system/files/documents/onbill_financing.pdf

Stillwell AS (2015) Sustainability of public policy: example from the energy–water Nexus. J Water Resour Plan Manag 0:A4015001. doi:10.1061/(ASCE)WR.1943-5452.0000522

Strupeit L, Palm A (2015) Overcoming barriers to renewable energy diffusion: Business models for customer-sited solar photovoltaics in Japan, Germany and the United States. J Clean Prod 123:1–13. doi:10.1016/j.jclepro.2015.06.120

Sullivan D, Wang D, Bennett D (2011) Essential to energy efficiency, but easy to explain: frequently asked questions about decoupling. Electr J 24:56–70. doi:10.1016/j.tej.2011.09.007

The Edison Foundation Institute for Electric Innovation (2014) State Electric Efficiency Regulatory Frameworks. Washington, DC

The Johnson Foundation at Wingspread (2014) Optimizing the structure and scale of urban water infrustructure: Integrating distributed systems. Racine, WI

Timilsina GR, Kurdgelashvili L, Narbel PA (2012) Solar energy: Markets, economics and policies. Renew Sustain Energy Rev 16:449–465. doi:10.1016/j.rser.2011.08.009

Upton GB, Snyder BF (2015) Renewable energy potential and adoption of renewable portfolio standards. Util Policy 36:67–70. doi:10.1016/j.jup.2015.08.002

U.S. Energy Information Administration (2016a) May 2016 Monthly Energy Review. Washington, DC

U.S. Energy Information Administration (2016b) Solar Photovoltaic Cell/Module Shipments Report. Washington, DC

U.S. Energy Information Administration (2016c) Electricity. https://www.eia.gov/electricity/ Accessed 1 Feb 2016

U.S. Environmental Protection Agency (2010) Green Infrastructure Case Studies: Municipal Policies for Managing Stormwater with Green Infrastructure. Washington, DC

U.S. Environmental Protection Agency (2015) The Electricity System. https://www.epa.gov/energy/electricity-system#about

U.S. Partnership for Renewable Energy Finance (2011) Tax Credits, Tax Equity and Alternatives To Spur Clean Energy Financing. Washington, DC

Valderrama A, Davis P (2015) Wanted: Green Acres. How Philadelphia' s Greened Acre Retrofit Program is catalyzing low-cost green infrastructure retrofits on private property. San Francisco, CA

Wang Y, Brown M (2014) Policy drivers for improving electricity end-use efficiency in the USA: an economic–engineering analysis. Energy Effic 7:517–546. doi:10.1007/s12053-013-9237-3

Water Environment Research Foundation (2006) Distributed Water Infrastructure for Sustainable Communities - A Guide for Decision-Makers. Alexandria, VA

Werbeloff L, Brown RR (2016) Using policy and regulatory frameworks to facilitate water transitions. Water Resour Manag 10.1007/s11269-016-1379-6

Wesoff E (2015) AES Launches Asset-Backed Securities Based on Portfolio of Distributed Solar Generation. In: Greentech Media. http://www.greentechmedia.com/articles/read/AES-Launches-Asset-Backed-Securities-Based-on-Portfolio-of-Distributed-Sola. Accessed 1 Jan 2016

Wester J, Timpano KR, Cek D, Broad K (2016) The psychology of recycled water: Factors predicting disgust and willingness to use. Water Resour Res 52:3212–3226. doi:10.1002/2015WR018340

Wheater HS, Gober P (2015) Water security and the science agenda. Water Resour Res 51:5406–5424. doi:10.1002/2015WR016892

William R, Goodwell A, Richardson M et al. (2016) An environmental cost-benefit analysis of alternative green roofing strategies. Ecol Eng 95:1–9. doi:10.1016/j.ecoleng.2016.06.091

Wiser R, Pickle S (1997) Financing Investments in Renewable Energy: The Role of Policy Design and Restructuring. Environmental Energy Technologies Division, Ernest Orlando Lawrence Berkeley National Laboratory, Berkeley, CA

Wustenhagen R, Menichetti E (2012) Strategic choices for renewable energy investment: Conceptual framework and opportunities for further research. Energy Policy 40:1–10. doi:10.1016/j.enpol.2011.06.050

Zhai P (2013) Analyzing solar energy policies using a three-tier model: a case study of photovoltaics adoption in Arizona, United States. Renew Energy 57:317–322. doi:10.1016/j.renene.2013.01.058
Acknowledgements
We would like to acknowledge the S.D. Bechtel Jr. Foundation and the National Science Foundation Engineering Research Center for Reinventing the Nation's Urban Water Infrastructure (ReNUWIt) (Award No. EEC-1028968) for providing financial support for this work. We appreciate the editorial board and an anonymous reviewer whose comments improved the quality of the manuscript.
Ethics declarations
Conflict of Interest
The authors declare that they have no competing interests.
About this article
Cite this article
Quesnel, K.J., Ajami, N.K. & Wyss, N. Accelerating the Integration of Distributed Water Solutions: A Conceptual Financing Model from the Electricity Sector. Environmental Management 60, 867–881 (2017). https://doi.org/10.1007/s00267-017-0914-4
Received:

Accepted:

Published:

Issue Date:

DOI: https://doi.org/10.1007/s00267-017-0914-4
Keywords