Abstract
In this paper, we analyze the spatio-temporal distribution of vegetation fires in Peninsular Malaysia, Sumatra, and Borneo in the severe El Niño year of 2015, concentrating on the distribution of fires between mineral soils and peatland areas, and between land cover types in peatland areas. The results reveal that 53% of all Moderate Resolution Imaging Spectroradiometer (MODIS) fire detections were recorded in peatlands that cover only 12% of the study area. However, fire occurrence in the peatland areas was highly dependent on land cover type. Pristine peat swamp forests (PSF) experienced only marginal fire activity (30 fire detections per 1000 km2) compared to deforested undeveloped peatlands (831–915 fire detections per 1000 km2). Our results also highlight the extreme fire vulnerability of the southern Sumatran and Bornean peatlands under strong El Niño conditions: 71% of all peatland hotspots were detected in the provinces of South Sumatra and Central Kalimantan, which contain 29% of peatlands in the study area. Degraded PSF and all deforested peatland land cover types, including managed areas, in the two provinces were severely affected, demonstrating how difficult it is to protect even managed drained agricultural areas from unwanted fires during dry periods. Our results thereby advocate rewetting and rehabilitation as the primary management option for highly fire prone degraded undeveloped peatland areas, whenever feasible, as a means to reduce fire risk during future dry episodes.
Access options
Buy single article
Instant access to the full article PDF.
USD 39.95
Price includes VAT (USA)
Tax calculation will be finalised during checkout.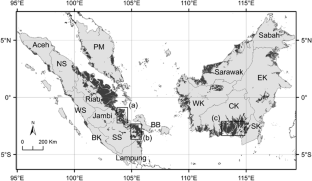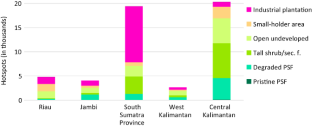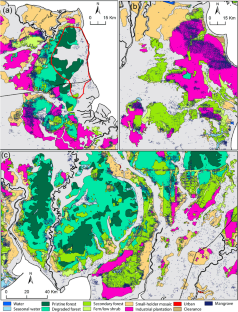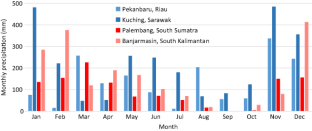 References
Aldrian E, Susanto RD (2003) Identification of three dominant rainfall regions within Indonesia and their relationship to sea surface temperature. Int J Climatol 23:1435–1452. doi:10.1002/joc.950

Atwood SA, Reid JS, Kreidenweis SM, Yu LE, Salinas SV, Chew BN, Balasubramanian R (2013) Analysis of source regions for smoke events in Singapore for the 2009 El Niño burning season. Atmos Environ 78:219–230. doi:10.1016/j.atmosenv.2013.04.047

Biancalani R, Avagyan S (eds) (2014) Mitigation of climate change in agriculture series 9: Towards climate-responsible peatlands management. Food and Agriculture Organization (FAO) of the United Nations (UN), Rome

Dennis RA, Mayer J, Applegate G, Chokkalingam U, Pierce Colfer CJ, Kurniawan I, Lachowski H, Maus P, Pandu Permana R, Ruchiat Y, Stolle F, Suyanto, Tomich TP (2005) Fire, people and pixels: linking social science and remote sensing to understand underlying causes and impacts of fires in Indonesia. Hum Ecol 33:465–504. doi:10.1007/s10745-005-5156-z

Field RD, Shen SSP (2008) Predictability of carbon emissions from biomass burning in Indonesia from 1997 to 2006. J Geophys Res 113:G04024. doi:10.1029/2008JG000694

Field RD, van der Werf GR, Shen SSP (2009) Human amplification of drought-induced biomass burning in Indonesia since 1960. Nat Geosci 2:185–188. doi:10.1038/ngeo443

Field RD, van der Werf GR, Fanin T, Fetzer EJ, Fuller R, Jethva H, Levy R, Livesey NJ, Luo M, Torres O, Worden HM (2016) Indonesian fire activity and smoke pollution in 2015 show persistent nonlinear sensitivity to El Niño-induced drought. PNAS 113:9204–9209. doi:10.1073/pnas.1524888113

Gaveau DLA, Salim MA, Hergoualc'h K, Locatelli B, Sloan S, Wooster M, Marlier ME, Molidena E, Yaen H, DeFries R, Verchot L, Murdiyarso D, Nasi R, Holmgren P, Sheil D (2014) Major atmospheric emissions from peat fires in Southeast Asia during non-drought years: evidence from the 2013 Sumatran fires. Sci Rep 4:6112. doi:10.1038/srep06112

Giglio L, Descloitres J, Justice CO, Kaufman YJ (2003) An enhanced contextual fire detection algorithm for MODIS. Remote Sens Environ 87:273–282. doi:10.1016/S0034-4257(03)00184-6

Giglio L (2010) MODIS collection 5 active fire product user's guide, version 2.4. http://www.fao.org/fileadmin/templates/gfims/docs/MODIS_Fire_Users_Guide_2.4.pdf. Accessed 11 Feb 2016

Goldammer JG (2006) History of equatorial vegetation fires and fire research in Southeast Asia before the 1997–98 episode: a reconstruction of creeping environmental changes. Mitig Adapt Strateg Glob Change 12:13–32. doi:10.1007/s11027-006-9044-7

Hayasaka H, Noguchi I, Putra EI, Yulianti N, Vadrevu K (2014) Peat-fire-related air pollution in Central Kalimantan, Indonesia. Environ Pollut 195:257–266. doi:10.1016/j.envpol.2014.06.031

Heil A, Langmann B, Aldrian E (2006) Indonesian peat and vegetation fire emissions: study on factors influencing large-scale smoke haze pollution using a regional atmospheric chemistry model. Mitig Adapt Strateg Glob Change 12:113–133. doi:10.1007/s11027-006-9045-6

Hooijer A, Page S, Jauhiainen J, Lee WA, Lu XX, Idris A, Anshari G (2012) Subsidence and carbon loss in drained tropical peatlands. Biogeosciences 9:1053–1071. doi:10.5194/bg-9-1053-2012

Hooijer A, Vernimmen R (2013) Peatland maps for Indonesia. Quick assessment and nationwide screening (QANS) of peat and lowland resources and action planning for the implementation of a national lowland strategy. Government of Indonesia and Partners for Water Programme: Netherlands. https://www.deltares.nl/app/uploads/2015/03/QANS-Peat-mapping-report-final-with-cover.pdf. Accessed May 2017

Huijnen V, Wooster MJ, Kaiser JW, Gaveau DLA, Flemming J, Parrington M, Inness A, Murdiyarso D, Main B, van Weele M (2016) Fire carbon emissions over maritime Southeast Asia in 2015 largest since 1997. Sci Rep 6:26886. doi:10.1038/srep26886

Kim PS, Jacob DJ, Mickley LJ, Koplitz SN, Marlier ME, DeFries RS, Myers SS, Chew BN, Mao YH (2015) Sensitivity of population smoke exposure to fire locations in equatorial Asia. Atmos Environ 102:11–17. doi:10.1016/j.atmosenv.2014.09.045

Langner A, Siegert F (2009) Spatiotemporal fire occurrence in Borneo over a period of 10 years. Glob Change Biol 15:48–62. doi:10.1111/j.1365-2486.2008.01828.x

Marlier ME, DeFries RS, Kim PS, Koplitz SN, Jacob DJ, Mickley LJ, Myers SS (2015) Fire emissions and regional air quality impacts from fires in oil palm, timber, and logging concessions in Indonesia. Environ Res Lett 10:085005. doi:10.1088/1748-9326/10/8/085005

Miettinen J, Liew SC (2010) Degradation and development of peatlands in Peninsular Malaysia and in the islands of Sumatra and Borneo since 1990. Land Degrad Dev 21:285–296. doi:10.1002/ldr.976

Miettinen J, Shi C, Liew SC (2011) Influence of peatland and land cover distribution on fire regimes in insular Southeast Asia. Reg Environ Change 11:191–201. doi:10.1007/s10113-010-0131-7

Miettinen J, Shi C, Liew SC (2012a) Two decades of destruction in Southeast Asia's peat swamp forests. Front Ecol Environ 10:124–128. doi:10.1890/100236

Miettinen J, Hooijer A, Wang J, Shi C, Liew SC (2012b) Peatland degradation and conversion sequences and interrelations in Sumatra. Reg Environ Change 12:729–737. doi:10.1007/s10113-012-0290-9

Miettinen J, Shi C, Liew SC (2016) Land cover distribution in the peatlands of Peninsular Malaysia, Sumatra and Borneo in 2015 with changes since 1990. Glob Ecol Conserv 6:67–78. doi:10.1016/j.gecco.2016.02.004

National Weather Service (2017) Cold and warm episodes by season. National Weather Service, Climate Prediction Centre, MD. http://www.cpc.ncep.noaa.gov/products/analysis_monitoring/ensostuff/ensoyears.shtml. Accessed May 2017

Page SE, Siegert F, Rieley JO, Boehm H-DV, Jaya A, Limin S (2002) The amount of carbon released from peat and forest in Indonesia during 1997. Nature 420:61–65. doi:10.1038/nature01131

Page S, Hosciło A, Wösten H, Jauhiainen J, Silvius M, Rieley J, Ritzema H, Tansey K, Graham L, Vasander H, Limin S (2009) Restoration ecology of lowland tropical peatlands in Southeast Asia: current knowledge and future research directions. Ecosystems 12:888–905. doi:10.1007/s10021-008-9216-2

Page SE, Rieley JO, Banks CJ (2011) Global and regional importance of the tropical peatland carbon pool. Glob Change Biol 17:798–818. doi:10.1111/j.1365-2486.2010.02279.x

Page SE, Hooijer A (2016) In the line of fire: the peatlands of Southeast Asia. Philos Trans R Soc B 371:20150176. doi:10.1098/rstb.2015.0176

Rieley JO, Page SE (eds) (2005) Wise use of tropical peatlands: focus of Southeast Asia. ALTERRA—Wageningen University and Research Centre and the EU INCO—STRAPEAT and RESTORPEAT Partnership, Wageningen

Salinas SV, Chew BN, Miettinen J, Campbell JR, Welton EJ, Reid JS, Yu LE, Liew SC (2013) Physical and optical characteristics of the october 2010 haze event over Singapore: a photometric and lidar analysis. Atmos Res 122:555–570. doi:10.1016/j.atmosres.2012.05.021

Selvaradjou S-K, Montanarella L, Spaargaren O, Dent D, Filippi N, Dominik S (2005) European digital archive of soil maps (EuDASM)—metadata of the soil maps of Asia. Office of the Official Publications of the European Communities, Luxembourg. http://eusoils.jrc.ec.europa.eu/esdb_archive/EuDAsm/Asia/indexes/map.htm. Accessed Nov 2015

Siegert F, Ruecker G, Hindrichs A, Hoffmann AA (2001) Increased damage from fires in logged forests during droughts caused by El Niño. Nature 414:437–440. doi:10.1038/35106547

Sizer N, Anderson J, Stolle F, Minnemeyer S, Higgins M, Leach A, Alisjahbana A (2014) Fires in Indonesia spike to highest levels since June 2013 haze emergency. World Resource Institute, Washington DC. http://www.wri.org/blog/2014/03/fires-indonesia-spike-highest-levels-june-2013-haze-emergency. Accessed 9 Mar 2016

Tacconi L (2016) Preventing fires and haze in Southeast Asia. Nat Clim Change 6:640–643. doi:10.1038/nclimate3008

Tahir-Qadri S (ed) (2001) Fire, smoke and haze: the ASEAN response strategy. The Asian Development Bank, Manila

van der Werf GR, Randerson JT, Giglio L, Collatz GJ, Mu M, Kasibhatla PS, Morton DC, DeFries RS, Jin Y, van Leeuwen TT (2010) Global fire emissions and the contribution of deforestation, savanna, forest, agricultural, and peat fires (1997–2009). Atmos Chem Phys 10:11707–11735. doi:10.5194/acp-10-11707-2010

Wahyunto, Ritung S, Subagjo H (2003) Maps of area of peatland distribution and carbon content in Sumatra, 1990–2002. Wetlands International - Indonesia Programme & Wildlife Habitat Canada (WHC), Bogor

Wahyunto, Ritung S, Suparto, Subagjo H (2004) Maps of area of peatland distribution and carbon content in Kalimantan, 2000 – 2002. Wetlands International - Indonesia Programme & Wildlife Habitat Canada (WHC), Bogor

Wetlands International (2010) A quick scan of peatlands in Malaysia. Wetlands International-Malaysia, Petaling Jaya. https://luk.staff.ugm.ac.id/rawa/Wetlands/PeatlandsInMalaysia.pdf. Accessed May 2017

Wösten JHM, Clymans E, Page SE, Rieley JO, Limin SH (2008) Peat–water interrelationships in a tropical peatland ecosystem in Southeast Asia. Catena 73:212–224. doi:10.1016/j.catena.2007.07.010
Acknowledgements
The authors would like to thank Prof. Susan Page from the University of Leicester for valuable comments on an early version of this manuscript.
Ethics declarations
Conflict of interest
The authors declare that they have no competing interests.
About this article
Cite this article
Miettinen, J., Shi, C. & Liew, S.C. Fire Distribution in Peninsular Malaysia, Sumatra and Borneo in 2015 with Special Emphasis on Peatland Fires. Environmental Management 60, 747–757 (2017). https://doi.org/10.1007/s00267-017-0911-7
Received:

Accepted:

Published:

Issue Date:
Keywords
Indonesia

Plantation

Peatland management

Hotspot