Abstract
This study determines the magnitude of the market signaling effect arising from Leadership in Energy and Environmental Design certification for green buildings and explores the mechanisms behind the signaling effect. Previous studies have shown that signaling or marketability plays an important role in the pursuit for Leadership in Energy and Environmental Design and equivalent green-building certification. By analyzing all new construction projects receiving Leadership in Energy and Environmental Design certification from 2000 to 2012 in the US, this study estimates the relative importance of 'green' signaling. This broad perspective using project-level data enables an analysis of some drivers of signaling and the pursuit of marketing benefits. The roles of local competition and market conditions, as well as municipal regulations are examined, especially as they differ between types of building owners (e.g., for-profit firms, governments, nonprofits). The results indicate that the non-building performance value—value captured by Leadership in Energy and Environmental Design signals above and beyond the specific building attributes that Leadership in Energy and Environmental Design certifies—dominates the attainment of Leadership in Energy and Environmental Design scores around certification tier thresholds. Further, strong evidence of spatial clustering of this non-building performance value for some owner types indicates that for-profit owners may be more responsive to local competition than non-profit owners. Local legislative mandates predict greater signaling intensity by government-owned buildings, as expected, but for-profit-owned projects tend to signal less, even after controls for local conditions. The results highlight the importance of local conditions, including peer effects and regulations, in driving non-building performance values across a wide range of green buildings.
This is a preview of subscription content, log in to check access.
Access options
Buy single article
Instant access to the full article PDF.
US$ 39.95
Price includes VAT for USA
Subscribe to journal
Immediate online access to all issues from 2019. Subscription will auto renew annually.
US$ 99
This is the net price. Taxes to be calculated in checkout.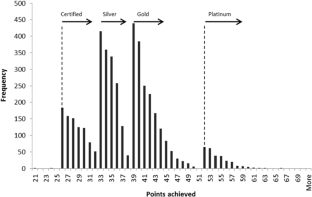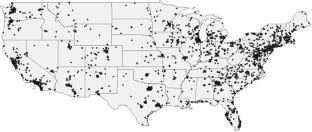 Notes
1.

This assumption relies on the design of the LEED NC certification scheme, where thresholds are based on proportions of the base points available and that attained scores rely on a bundle of attributes that all positively contribute to environmental performance. This allows the construction of a signaling factor, which applies on average or in aggregate, although it cannot calculate signaling for a particular building (i.e., on a case-by-case basis).

2.

Regulations are limited to municipal regulations for two reasons. First, the cross-sectional model would have no variation in national-level regulations. Second, local regulations are where there is the most variation in policies (Matisoff et al. 2016).
References
Amacher GS, Koskela E, Ollikainen M (2004) Environmental quality competition and eco-labeling. J Environ Econ Manage 47(2):284–306. doi:10.1016/s0095-0696(03)00078-0

Anselin L (1995) Local indicators of spatial association—LISA. Geogr Anal 27(2):93–115

Aupperle KE, Carroll AB, Hatfield JD (1985) An empirical examination of the relationship between corporate social responsibility and profitability. Acad Manage J 28(2):446–463. doi:10.2307/256210

Chegut A, Eichholtz P, Kok N (2014) Supply, demand and the value of green buildings. Urban Stud 51(1):22–43. doi:10.1177/0042098013484526

Cooremans C (2011) Make it strategic! Financial investment logic is not enough. Energy Effic 4(4):473–492. doi:10.1007/s12053-011-9125-7

D'Antonio PC (2007). Costs and benefits of commissioning LEED-NC™ Buildings. Paper presented at the National Conference on Building Commissioning, Chicago

Deng Y, Wu J (2014) Economic returns to residential green building investment: The developers' perspective. Regional Science and Urban Economics 47:35–44. doi:10.1016/j.regsciurbeco.2013.09.015

Eichholtz P, Kok N, Quigley JM (2009). Why do companies rent green? Real property and corporate social responsibility. Working Paper W09-004, Berkeley Program on Housing and Urban Policy, University of California, Berkeley

Eichholtz P, Kok N, Quigley JM (2010) Doing well by doing good? Green office buildings. Am Econ Rev 100(5):2492–2509

Feiock RC, Krause RM, Hawkins CV, Curley C (2014) The integrated city sustainability database. Urban Aff Rev 50(4):577–589. doi:10.1177/1078087413515176

Fuerst F, McAllister P (2011a) Green noise or green value? Measuring the effects of environmental certification on office values. Real Estate Econ 39(1):45–69. doi:10.1111/j.1540-6229.2010.00286.x

Fuerst F, McAllister P (2011b) Eco-labeling in commercial office markets: do LEED and Energy Star offices obtain multiple premiums? Ecol Econ 70(6):1220–1230. doi:10.1016/j.ecolecon.2011.01.026

Fuerst F, Oikarinen E, Harjunen O (2016) Green signalling effects in the market for energy-efficient residential buildings. Appl Energ 180:560–571. doi:10.1016/j.apenergy.2016.07.076

Gliedt T, Hoicka CE (2015) Energy upgrades as financial or strategic investment? Energy Star property owners and managers improving building energy performance. Appl Energ 147:430–443. doi:10.1016/j.apenergy.2015.02.028

Green Building Pages. (2015). LEED-Mandating Agencies. http://www.greenbuildingpages.com/links/weblinks_LEED.html

Kahn ME, Vaughn RK (2009) Green market geography: The spatial clustering of hybrid vehicles and LEED registered buildings. B E J Econom Anal Policy 9(2):1935–1682

Kats GH (2003). Green Building Costs and Financial Benefits. http://www.dcaaia.com/images/firm/Kats-Green-Buildings-Cost.pdf

Kok N, McGraw M, Quigley JM (2011) The diffusion of energy efficiency in building. Am Econ Rev: Papers Proc 101(3):77–82

Lewyn M (2014) How often do cities mandate smart growth or green building? Real Estate Law J 43(2):211–230

Lyon TP, Maxwell JW (2008) Corporate social responsibility and the environment: a theoretical perspective. Rev Environ Econ Policy 2(2):240–260. doi:10.1093/reep/ren004

Mapp C, Nobe M, Dunbar B (2011) The cost of LEED—An analysis of the construction costs of LEED and non-LEED banks. J Sustainable Real Estate 3(1):254–273. doi:10.5555/jsre.3.1.m702v24r70455440

Matisoff DC, Noonan DS, Flowers ME (2016) Policy monitor—Green buildings: economics and policies. Rev Environ Econ Policy 10(2):329–346. doi:10.1093/reep/rew009

Matisoff DC, Noonan DS, Mazzolini AM (2014) Performance or marketing benefits? The case of LEED certification. Environ Sci Technol 48(3):2001–2007. doi:10.1021/es4042447

May PJ, Koski C (2007) State environmental policies: analyzing green building mandates. Rev Policy Res 24(1):49–65. doi:10.1111/j.1541-1338.2007.00267.x

Milgrom P, Roberts J (1986) Price and advertising signals of product quality. J Polit Econ 94(4):796–821. doi:10.2307/1833203

Mills E, Friedman H, Powell T, Bourassa N, Claridge D, Haasl T, Piette MA (2004). The cost-effectiveness of commercial-buildings commissioning, a meta-analysis of existing buildings and new construction in the United States: Lawrence Berkeley National Laboratory, Portland Energy Conservation Inc., Energy Systems Laboratory, Texas A&M University.

Moran PAP (1950) Notes on continuous stochastic phenomena. Biometrika 37(1/2):17–23. doi:10.2307/2332142

Newsham GR, Mancini S, Birt BJ (2009) Do LEED-certified buildings save energy? Yes, but…. Energ Build 41(8):897–905. doi:10.1016/j.enbuild.2009.03.014

Pivo G, Fisher JD (2010) Income, value, and returns in socially responsible office properties. J Real Estate Res 32(3):243–270

Qiu Y, Yin S, Wang Y (2016) Peer effects and voluntary green building certification. Sustainability 8(7):632

Sen S, Bhattacharya CB (2001) Does doing good always lead to doing better? Consumer reactions to corporate social responsibility. J Mark Res 38(2):225–243. doi:10.2307/1558626

Sharpe LJ (1970) Theories and values of local government. Polit Stud 18(2):153–174. doi:10.1111/j.1467-9248.1970.tb00867.x

Shewmake S, Viscusi WK (2015) Producer and consumer responses to green housing labels. Econ Inq 53(1):681–699. doi:10.1111/ecin.12140

Silverman BW (1981) Using kernel density estimates to investigate multimodality. J R Stat Soc Series B (Methodol) 43(1):97–99

Simcoe T, Toffel MW (2014) Government green procurement spillovers: evidence from municipal building policies in California. J Environ Econ Manage 68(3):411–434. doi:10.1016/j.jeem.2014.09.001

Singh A, Syal M, Grady SC, Korkmaz S (2010) Effects of green buildings on employee health and productivity. Am J Public Health 100(9):1665–1668. doi:10.2105/AJPH.2009.180687

Steel BS, Pierce JC, Warner RL, Lovrich NP (2014) Environmental value considerations in public attitudes about alternative energy development in oregon and Washington. Environ Manage 55(3):634–645. doi:10.1007/s00267-014-0419-3

Turban DB, Greening. DW (1997) Corporate social performance and organizational attractiveness to prospective employees. Acad Manage J 40(3):658–672. doi:10.2307/257057

Turner C, Frankel M (2008). Energy performance of LEED for new construction buildings: New Buildings Institute.

Wood DJ (1991) Corporate social performance revisited. Acad Manage Rev 16(4):691–718. doi:10.2307/258977
Ethics declarations
Conflict of Interest
The authors declare that they have no conflict of interest.
About this article
Cite this article
Chiang Hsieh, L., Noonan, D. Strategic Behavior in Certifying Green Buildings: An Inquiry of the Non-building Performance Value. Environmental Management 60, 231–242 (2017). https://doi.org/10.1007/s00267-017-0869-5
Received:

Accepted:

Published:

Issue Date:
Keywords
LEED

Signaling

Non-building performance value

Spatial clustering

Local regulation